Independent R&B Soul Artist Jeiris Cook records inspiring song entitled Dreams
Jeiris New Song Dreams, was written to remind everyone to continue working on your goals.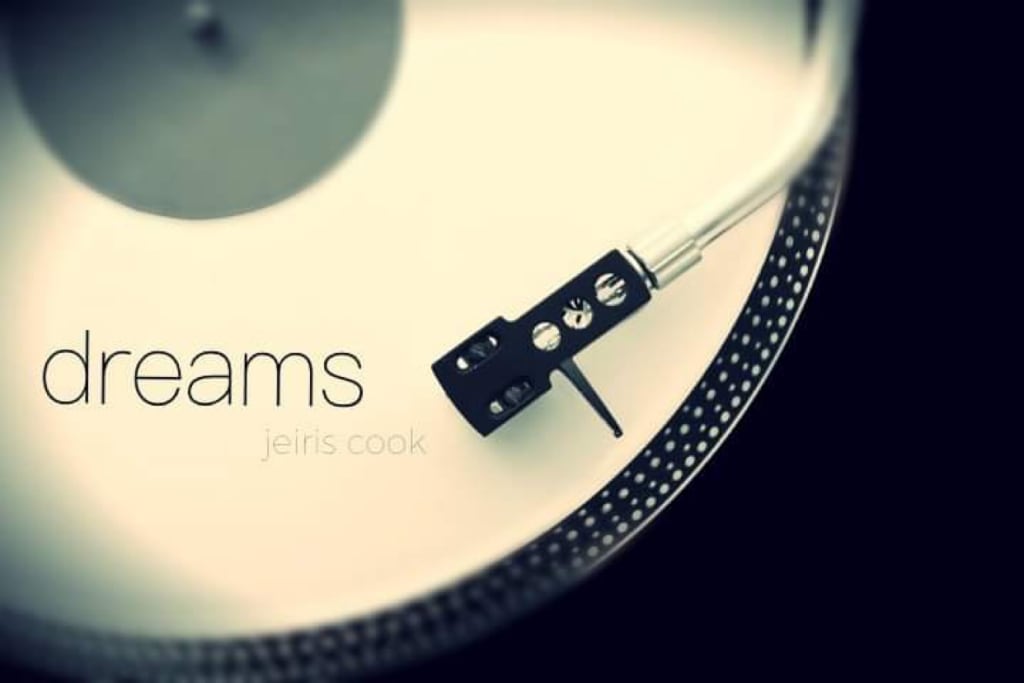 Photo Courtesy of Jeiris Cook (Dreams)
A throwback to his R&B roots, Jeiris Cook releases an EP that looks to inspire the masses to dream big through personal experience. A procedure to remove 3 wisdom teeth in June, left Cook with his jaw wired shut until early August. Undeterred, Cook sang the chorus entirely through clenched teeth, giving greater resonance to the release's title. This will be the third single of 2020 for the up and coming artist. The project was released on December 16th, 2020 on all digital platforms, and Dreams has been placed on over 15 Spotify Playlists.
The song Dreams was written to reignite the desire in everyone to continue working towards your goals despite living in a Pandemic. Everyone will agree 2020 has been a very emotional, stressful, and heartbreaking year. There is a verse in the song Jeiris said, "I really don't subscribe to living a life that ain't really mine" This statement is referencing refusing to settle for less than what you are worth. Do yourself a favor a listen to Dreams, and download the song to your playlist.
Dreams was recorded in Oak Ridge, NJ at Jeiris Cook Productions and mixed and mastered at The Vault Music Studio in Boonton NJ.
This release comes on the heels of two prior, Bad To The Bone (August) & The Villain (October). Both are available on all digital platforms wherever music is sold.
LISTEN TO DREAMS HERE ON APPLE MUSIC
Jeiris Cook was raised on musical diet of vintage Motown and 90s R&B He beloved in serving up his own blend of Music Therapy. Percussive style of play, and you become a witness to a performance that is both unique and memorable. His mission is simple, to produce music that is therapeutic in the way that some foods are. Music is food for the soul. Jeiris Cook is an R&B Artist who can sing any genre with his own flavor added to it.
Jeiris is currently working on projects with notable producers in the music industry releasing new music, and entertaining everyone through Monae Management Music Therapy Sessions.
Since joining Monae Management, Jeiris Cook Music has been featured on Urban Magazine, Vocal Media, Medium.com, The Blue Print Media, New Jersey Stage Publication, and Emmy Award Winner Randy Stress TV Show The Stress Free Zone Sports & Entertainment, and Enspire Magazine.
His song, "The Villian" has been featured on three Spotify playlists. Spotify Release Radar, The Seeking Land Playlist, and On Your Radar Playlist.
Monae Management
Monae Management hosted a holiday concert entitled "Home For The Holidays with Jeiris Cook" on December 20th 2020 at 6PM EST on Jeiris Cook Music Facebook page. Due to the Pandemic we are unable to gather for Christmas Plays, or Holiday Concerts. So we went virtual this year by live-streaming the event on Facebook & Periscope. The virtual event received 5,089 views and counting. You can watch Monae Management Music Therapy Sessions on Monae Management YouTube Channel.
Monae Management is a new company in Greenville, North Carolina founded by Veronica Charnell. Veronica is a Radio Personality for Two Time Stellar Award Winning Station Soar Radio where she hosts The Lady Boss Radio Show. She is also a Singer, Songwriter, Executive Producer, and Artist Manager.
We offer Artist Management Services to help position the artist for the next level in their music career. We also offer Creative Management Services, Image & Branding Consulting, and Publicity Services.
Monae Management mission is to build Iconic Brands that make an impact in today's society, and leave a legacy for the generations to come.
###
For business, media inquires or partnership opportunities contact:
Contact: Veronica Charnell, Manager
Organization: Monae Management
Website: https://monaemangement.com
Monae Management www.jeiriscook.com

Monae Management
We believe in building Iconic Brands
We specialize in Managing Artists, Influencers, & Models. We Offer PR Services as well. We love to write about Lifestyle, Entertainment, & Business. Follow the Journey on Instagram @monaemanagement
See all posts by Monae Management →