In the Cool Night Air Like Shalimar
my playlist: songs to live by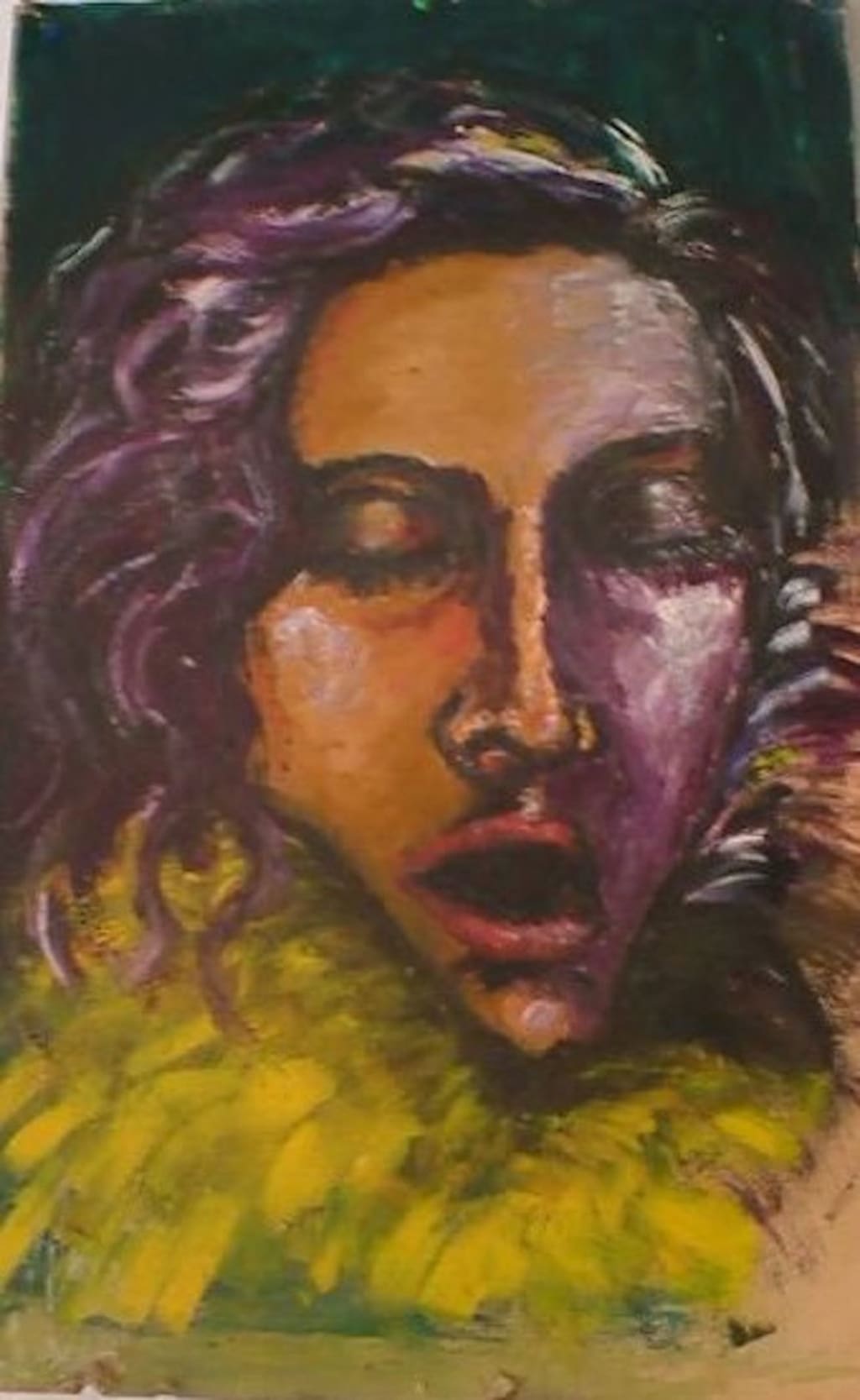 The One & Only Madame George. acrylic on cardboard. M Wilson
Softly by Gordon Lightfoot: This song is inextricably and forever linked to my first bottle of perfume. I turned 14 when the album "The Way I Feel" came out. I got it and the perfume, called "Somewhere", for my birthday.
Both the song and the fragrance collided with my coming of age. Dreamy with romantic awakenings I'd lie in my bed listening to Gord sing: "Softly she sighs, sweetly she lies, never sleeping, her fragrance all in my keeping…" There you go - that's how "Somewhere" married "Softly"!
I have never been able to find that scent again but I can always listen to Lightfoot singing that soothing and gentle song.
Coyote by Joni Mitchell: About 10 years after "Softly" and "Somewhere", my friend Scottie used to blast "Coyote" over his sound system. He was a carpenter among other things and he'd be building something in his loft and dancing at the same time. He had a slender wiry frame and I thought he must actually be Joni's Coyote. A decade later, Scott died of AIDS related illness. I was infinitely sad and inconsolable that I didn't get to say a proper goodbye. But when I listen to Joni's song, I remember him, dancing with a sparkle in his eye, and through the lyrics he tells me that it's okay now: "No regrets, Coyote".
Madame George by Van Morrison: When I first moved away from my hometown to the big city I was kind of lonely. No one does melancholy and commiseration like Van Morrison and so his album "Astral Weeks" was getting all the air time at my place.
One day, while listening to "Madame George", I cracked open my paints and created my vision of the mysterious and compelling eponymous character. I called the portrait "The One and Only Madame George", a quote from the many genius lyrics in the 10 minute track. The swirling, shimmering instrumentation and murmured vocals guided my brush.
Halfway in, there's this: "…and the smell of sweet perfume comes drifting through, in the cool night air like Shalimar". More perfume! Many years later, my own one and only got me a bottle of "Shalimar" and it's even better than "Somewhere".
Van did two versions of "Madame George": the cut on "Astral Weeks" is dreamy and mystical and long, whereas the rendition on "TB Sheets" is a raucous party done in half the playing time as the other. I like them both but the Madame suits mystical better and its a great track to dance to - all by yourself.
This live performance is stellar:
Palladio from Diamond Music by Karl Jenkins: One summer afternoon, I lay down with my toddler at nap time. The radio played quiet classical music and there was a warm breeze wafting through the window. As my daughter fell asleep, I felt all the burdens of single motherhood leave my tired body and mind, and I drifted into some kind of semi sleep state.
I felt like I was falling into a beautiful place and it was to a soundtrack of the most gorgeous symphonic music I'd ever heard. To pulsing strings I rode on waves of light, tumbling and spiralling into a glittering world of complete calm and joy.
When I awoke it seemed I'd been travelling in other lands for hours. In fact, it'd only been a matter of minutes. The radio announcer was just saying the name of the music that had infiltrated my strange sleep. Fittingly, the compilation is called "Diamond Music" and ever since then, when the world becomes too much, I listen to its first movement (which is what played that day) -
Any Other Way by Jackie Shane: I loved Jackie from the first time I heard and saw her glamorous self. Jackie spent some dynamic musical years in Toronto, where I live, and there's a big mural of her on a building downtown. Her music, her voice, her very being are more important now than ever - with the rise of anti-trans hate and legislation, Jackie Shane stands as a triumphant testimony to living as one's authentic self. She was a brave and talented trans woman before those words existed and she exists today in her music to let us know that she wouldn't have it "Any Other Way" - and neither should you.
Alienation by Oxalis - This song is a departure for me but then so was the pandemic. We'd just entered what felt like our 100th lockdown (but was actually the 3rd) and it seemed I was melting into the furniture - an amorphous blob in pink pyjamas. I needed a kick in the head and this band delivered. The driving beat and heady lyrics ("My identity is not a sin/but something from deep within") did the trick. I listen to it now (and other cuts from their album) when I've slid too far into "Softly" territory. It doesn't hurt that the video is full of Batman and Robin kicking ass.
Thank you for reading. Feel free to hit the heart or leave a comment (or a tip or a coffee even). Also, subscribe, if you like.
About the Creator
Harper Collins published my novel "The Gorgeous Girls". My feature film screenplay "Sideshow Bandit" has won several awards at film festivals. I have a new feature film screenplay called "A Girl Like I" and it's looking for a producer.
Reader insights
Be the first to share your insights about this piece.
Add your insights