How Well Do You Know Your Musicals?
Buzzers at the ready people, it's quiz time!
After Netflix's release of Tick, Tick...Boom! in November I have had Jonathon Larson's songs on a loop in my brain ever since. Doesn't matter if I'm in the shower, or at work, or trying to sleep because wherever I go it's just: "don't panic, don't jump ship, can't fight it, like taxes" on and on and on!
And it's not only songs from Tick, Tick...Boom! that get stuck in my head oh nooo, I've been a certified Theatre Kid since I was about ten years old so I have twelve year's worth of musical songs stuck in my head. And I'm sure I'm not the only one...
There are millions of Hamilton fans, obsessed Into The Woods lovers, those of you who just really love that one specific song from High School Musical 2 (sing it with me now...."I don't dance!"...).
No matter if you know every lyric to Dear Evan Hansen's soundtrack or if you know all the choreography from Starlight Express, maybe you should put your knowledge to the test with my first EVER quiz-style article!
Make sure to keep a note of your answers!
How many questions will you get right? Let's just hope it isn't zero!
QUESTION 1. Finish these Hamilton lyrics from the song "Say No To This": "I hadn't slept in a week, I was weak, I was awake. You've never seen a bastard orphan..."
A. "sitting down by the lake."
B. "more in need of a break."
C. "weighing up all the stakes."
QUESTION 2. Who played Cathy in the film adaptation of The Last Five Years?
A. Anna Kendrick
B. Emily Blunt
C. Emma Watson
QUESTION 3. In Encanto, the new Disney musical, what were Bruno's powers?
A. He doesn't have powers
B. He can read people's minds
C. He can see the future
QUESTION 4. What is the first song called in Wicked?
A. No One Mourns The Wicked
B. Defying Gravity
C. The Wizard And I
QUESTION 5. Finish these Dear Evan Hansen lyrics from the song "Disappear": "Even if you've always been that barely-in-the-background kind of guy , you still matter. And even if you're somebody who can't escape the feeling..."
A "that you should never try."
B. "that it would be easier to cry."
C. "that the world's passed you by."
QUESTION 6. Who wrote the musical "Rent"?
A. Lin-Manuel Miranda
B. Jonathon Larson
C. Stephen Sondheim
QUESTION 7. Taron Egerton played Elton John in the musical Rocketman, but what other musical did he sing an Elton John song?
A. Trolls
B. Sing!
C. The Lego Movie
QUESTION 8. Finish these Into The Woods lyrics from the song "Agony": "Agony , far more painful than yours. When you know she would go with you if there only were...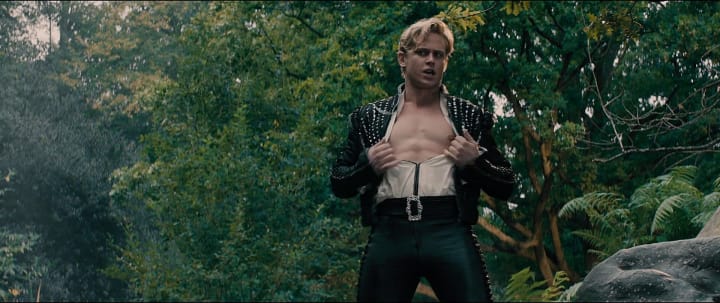 A. doors
B. chores
C. floors
QUESTION 9. What is Penny's last name in Hairspray?
A. Princeton
B. Pingleton
C. Plithton
QUESTION 10. Cell Block Tango is an iconic song, but can you name all the men mentioned in the song?
A. Bernard, Ezekiel, Wilbur, Uncle Tom, Charlie, Al
B. Bernie, Ezra, William, Uncle Sam, Charlie, Alfie
C. Bernie, Ezekiel, Wilbur, Uncle Sam, Charlie, Al
AND NOW FOR THE ANSWERS!
B, A, C, A, C, B, B, A, B, C
If you got 1-3: You kind of know your musicals, maybe it's time to do a musical marathon!
If you got 3-6: Wowee! You know your stuff! I hope you're proud of all that knowledge!
If you got 7-10: The winner takes it all! You know everything there is to know about musicals, I bet your brain is 90% lyrics!
Well, I have to say I'm impressed at my own knowledge. I may not have been on stage in a couple years or learned choreography for an ensemble piece in a while but you know what they say...you can take the kid out of musical theatre, but you can't take musical theatre out of the kid! (And honestly, who am I kidding? No one says that...I just made that up!)
-
I have to say I had a lot of fun making this quiz, and so whether or not it's popular I really enjoyed it! I'm hoping in the future perhaps there is a place for quizzes within the Vocal community but for now - I hope you enjoyed this one!
If you liked this article feel free to leave a heart to show your love! Any tips, subscriptions, or even a pledge would absolutely make my day - but no pressure!
If you want to get to know the author behind the article follow me @leighooper on Twitter and Instagram.
Thanks for reading, I hope to see you soon!
About the Creator
A writer in her twenties with a head full of ideas and a room full of books✨
My Twitter and Instagram handles are: @leighooper
Reader insights
Be the first to share your insights about this piece.
Add your insights