How to Switch Amazon Music Playlists to Spotify
This post will explain what's changed in the latest version of Amazon Music Prime, how Amazon Music compares to Spotify, and how to transfer the Amazon Music playlists you create to Spotify seamlessly.

Article Source: bit.ly/3IYStOJ
Directory
Part 1: Changes in the Updated Amazon Music Prime
Part 2: Comparison of Amazon Music and Spotify
Part 3: How to Transfer Amazon Music Playlists to Spotify
What are the benefits after the revision:
Amazon has expanded the accessible catalog for Prime members from the previous two million tracks directly to 100 million tracks.
For Prime subscribers who love podcasts, the ability to listen to popular podcasts on-demand without commercials is a definite benefit. Amazon Music Prime subscribers will then have access to shows from CNN, NPR, ESPN, and The New York Times; the Wondery premium podcast catalog; and new Amazon exclusives.
You have access to brand-new, exclusive programs and shows. For instance, Amazon is currently introducing brand-new Amazon Exclusive podcasts across genres.
What are the disadvantages after the revision:
Although the number of songs accessible to Prime users has increased dramatically. But they can only access the full music catalog in random play mode. In contrast, previous Amazon Prime members could access up to 2 million songs for streaming through a simple search and download songs for offline listening without Internet service.
With the upgrade, only a selection of All-Access playlists that Amazon has created specifically for each user's personal listening preferences are available to stream and play offline for Prime subscribers.
The power to freely choose songs is lost. This means that users must skip through many tracks each time to find the one they need. And Amazon Music has a limited number of "skips". If you want unlimited skips, you'll have to pay to upgrade to Amazon Music's unlimited version.
Old Prime subscribers encountered many inconvenient issues with the upgrade, including lost music, vanished playlists, the inability to listen to songs offline, etc.
You can view the comparison table here.
You can see from the table that if you currently have Amazon Prime, you can upgrade to Amazon Music Unlimited for $8.99 per month and have unrestricted access to a collection of up to 100 million songs as well as the option to listen to a wide range of music in HD/Ultra HD sound quality.
Obviously, there is a monthly fee of $14.99 for an Amazon Prime membership. Other advantages of Amazon Prime include free two-day shipping on millions of eligible items, free access to Prime Video's tens of thousands of TV shows and movies, free reading of more than a thousand books, comics, and magazines, and an extra 10% off certain Whole Foods Market purchases both in-store and online. If you need music for certain purposes, signing up for Prime and later upgrading to Unlimited membership is a wise move.
Nonetheless, I advise using the free Spotify Free edition if all you want to do is stream music. Although it has advertisements, its most benefit is that you can choose any song and play it on both the desktop and online. You can also upgrade to Spotify Premium for $9.99 per month, the exact cost of a non-Prime subscription to Unlimited if you want offline playback and greater audio quality. The fact that Amazon announced on January 15, 2018, that it was discontinuing the option for importing or uploading personal music to Amazon Music is another significant distinction between Amazon Music Unlimited and Spotify. Also always supported is Spotify.
If you read the comparison and think that switching from Amazon Music to Spotify is a better option for you, then you should definitely read the next section. The next section will show you how to transfer your Amazon Music tracks to Spotify.
Part 3: How to Transfer Amazon Music Playlists to Spotify
If you've been using streaming audio and video platforms for a while, you should be well aware that the music or videos downloaded from them are just some encrypted temporary cache files. So how do we want to transfer all the playlists created by Amazon Music itself to Spotify before changing music platforms? You need a fantastic tool called TunePat Amazon Music Converter.
Step 1: On your computer, launch TunePat Amazon Music Converter. You can access the Amazon Music Web Player by clicking the "Open Amazon Music Web Player" button in the screen's center. Then, refer to the directions in the upper right corner of the spotlight to access your Amazon Music account. To be directed to the account login screen, tap the "Sign In" option.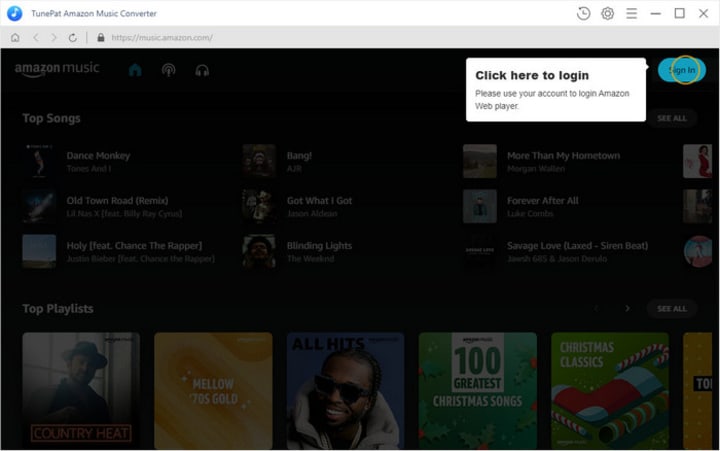 Step 2: Be important to finish this step if you're new to using TunePat Amazon Music Converter. The default settings will be used if you don't modify the output parameters.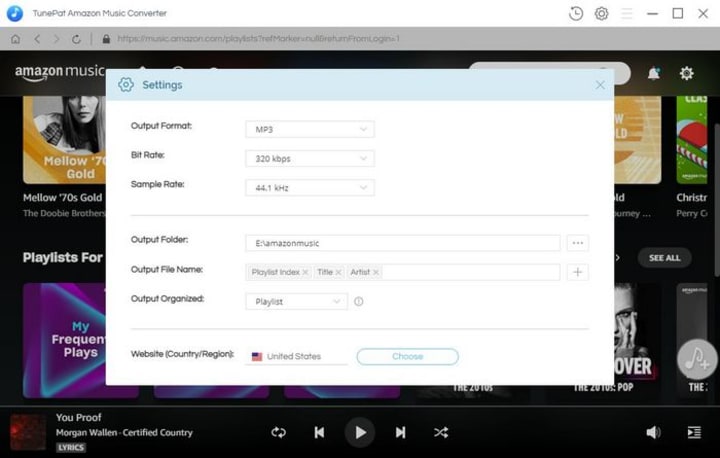 The "Settings" panel will appear after you click the Gear icon in the top right corner. Here, you can adjust a few output parameters to suit your requirements, such as output format, sound quality, file name, etc. Local audio files in MP3 or AAC format can be uploaded using the Spotify app. Please select one of them.
Step 3: When you open an Amazon Music playlist that you want to convert, a "Add to List" button will appear. The moment you press this button, the song will start playing in the pop-up window. Just choose the songs you want to convert and click "Convert Now" to get started.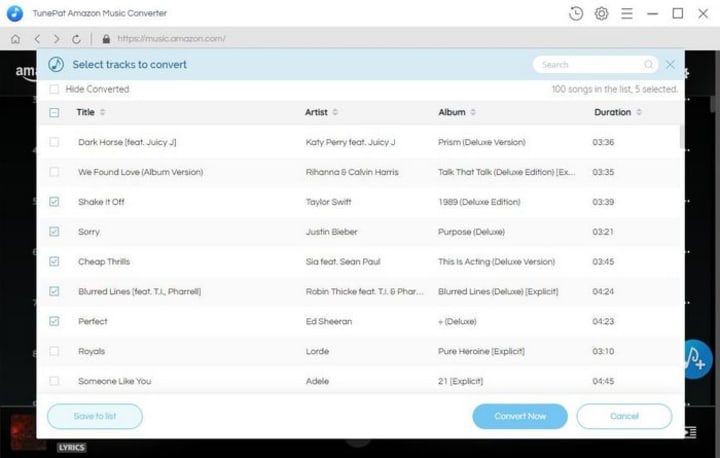 Step 4: All that's left to do is wait patiently for the conversion to finish. When finished, a folder containing the output files will immediately appear. The chosen Amazon Music playlist has been successfully exported and saved to your computer in regular audio format, as you can see.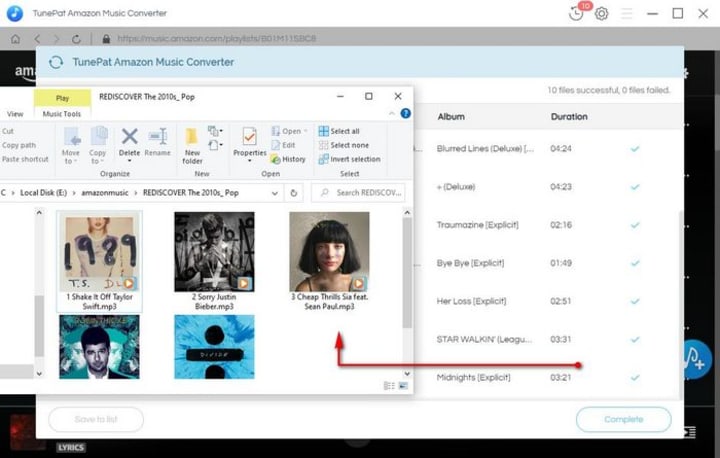 Step 5: The Spotify app should now be opened to upload these Amazon Music songs. Select "Settings" by clicking your username in the top right corner. Turn on the "Show Local Files" button after scrolling to Local Files. Select the target folder by pressing "ADD A SOURCE". The playlists from Amazon Music that you downloaded can be found in Your Spotify Library's Local Files folder after a short wait.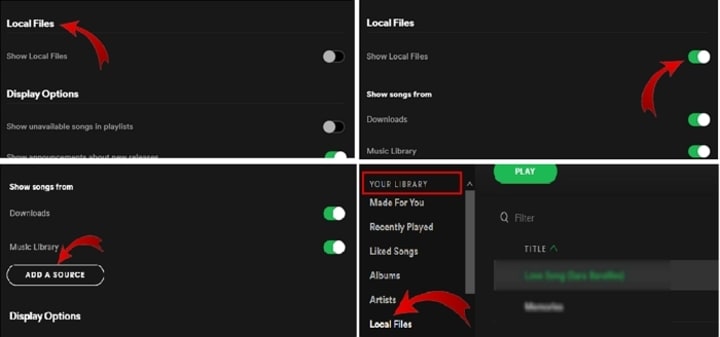 Find more tips from TunePat.
Reader insights
Be the first to share your insights about this piece.
Add your insights