How To Blow up on Spotify
by Trenten Priest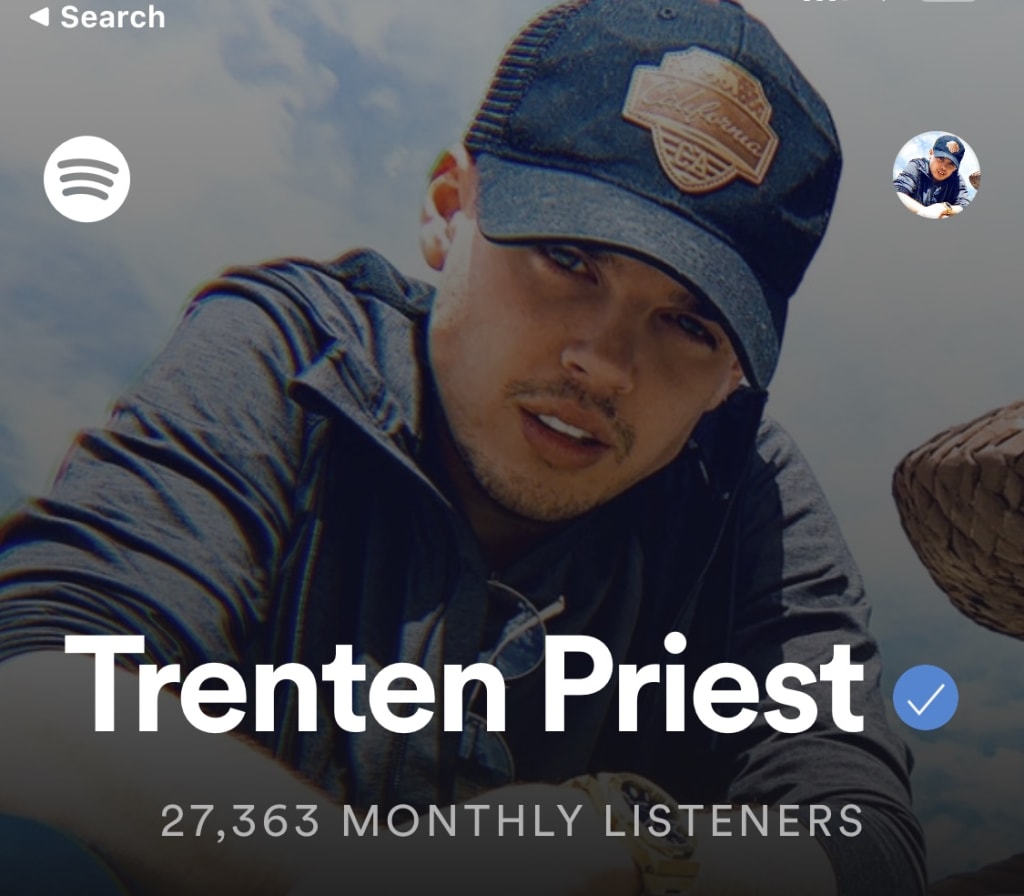 27,363 monthly listeners 5/23/20
Hello my name is Trenten Priest, and today I'm going to tell you how I got my numbers up on Spotify. Now before you read this article know that when I wrote it I had 27 thousand monthly listeners .. well let's see how much I have now? Search up "Trenten Priest" or click the embedded link below, check out my music, and give me a FOLLOW if the number is still around 25k, then maybe my method works? I think yes!
If this is your first release or you've only released a couple songs then this is for YOU. If you are stuck at the same amount of monthly listeners and you want to take it higher, then this article is for YOU!
Now before we go into this advice that will for sure get your music poppin on Spotify. You must first download the Spotify for Artists app and make sure that you have claimed your profile! If you do not know what Spotify for Artists then you must live under a rock and that's okay... Spotify for Artists is where we will track your progress!! I will provide a link below to sign up.
First step to getting numbers on Spotify is ... drum roll please... GOOD MUSIC!
of course my friends you must have good music before you grow this solid fanbase of your dreams..
The second thing you can do is to use ALL of your social media to your advantage. But use different content for example, fans on my Instagram @TrentenPriest like seeing pictures of me but fans on my FaceBook like reading articles or interviews that I'm featured in. Your fans can tell whether you are being genuine or just trying to sell your music. Know the difference, and always keep this in mind.
Okay now are you ready for the next step?! PLAYLISTING you must get your music on, yeah that's right playlists! Doesn't matter wether they are big or small get on as MANY playlists as you can. Spotify will see this and will register it as people liking your music so much they want to hear it with their other songs! If it comes down to it you can make your own playlists, add you and your friends music and get them to share, kind of like I did for this playlist below. If you are interested in being on this playlist please give it a like! and email me your song to [email protected] and I would be happy to put you on it!
Okay now the fourth thing is Press Releases this is very important! After you have noticed your numbers going up congrats you have gained traction! Now it's time to let everyone know YOU ARE SERIOUS. Google blogs that you can submit information regarding your music or find people through facebook.. do whatever you need to do to get people to hear your music and writing to a lot of blogs is a good way to do that. Here is an interview I did with Teen Music Insider, so you can see what some nice publication looks like. I'm also featured on Medium, Vents Magazine and other sources you can find through google searching "Trenten Priest".
Another thing to remember is spend your money on your music!! Your music is your business. Not putting money into your music . Is like opening a club and hiring no promoters??? That would make the club have so much work to do to get it packed.. so the less money you spend on promotion the more time you will spend promoting your music yourself, when you could've been making more songs! Here is a Playlist company that I use called Plvylists.com and they seem to work great! (message me on my instagram @TrentenPriest for a 20% off Coupon Code).
Another thing you need to know about blowing up your Spotify is that building a catalog is very important! Spotify's algorithms has a lot to do with how consistent of an artist you are. For example let's say you drop 3 songs back to back and your numbers are finally going up. And then you think that's enough and so you chill out on releases till next year...NO THIS IS NOT HOW YOU DO IT! Spotify along with your fans want to see you constantly making content! You can see my catalog above, and I plan on dropping many more songs by the end of 2020!
One last and final good piece of advice that I will give you is to gather up a team! Get other artists like you ask them questions get FEATURES from them. Networking definitely has a lot to do with blowing up your numbers on Spotify .
I hope you enjoyed reading this and if you have any questions Feel free to message me on Instagram @TrentenPriest or click the embed link below, and I will help with whatever you need!