Hidden Musical Gems: A London Playlist
Do like great music? You can't miss these amazing and undiscovered international musicians!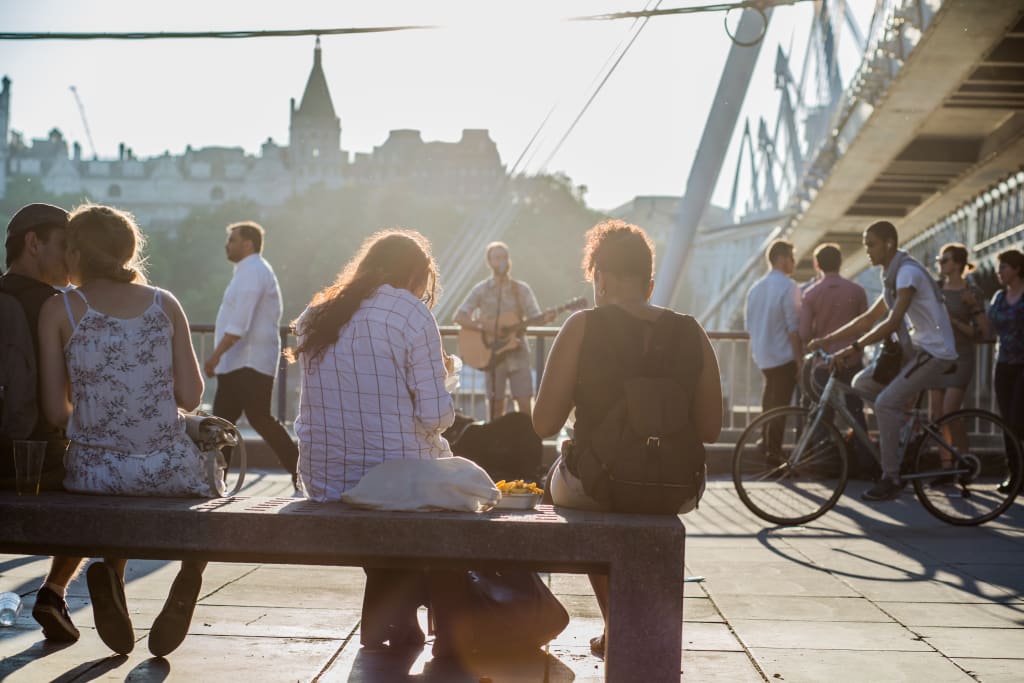 Summer evenings in London can be magical! (Photo by Dave George on Unsplash)
Did you know that Ed Sheeran started as a busker in London?
It's true! Before becoming the global phenomenon we know today, young Ed Sheeran was one among hundreds of buskers who share their music every day in the great city of London.
Busking? What's That?
A "busker" is essentially a street musician or performer. The expression was used mostly in the United Kingdom (UK), but now it has become international. Originally, the term comes from the Spanish word "buscar", which means "to seek".
And that's exactly what London buskers do!
They seek corners throughout the city where they can share their music with the world. They seek recognition to turn their music into a way of living. They seek freedom to do what they love.
Interesting fact: Busking has been a respected tradition in London (and the UK) for more than 400 years. It's been especially relevant since the 20th century. However, sadly, more and more street musicians are disappearing from the corners of this beautiful city.
Why? You can find out more on this page dedicated to saving street music in London. In short, the reason for the decline of busking is that local residents in high profile areas are convincing policymakers to make street music illegal and limit busking spaces. Now, several initiatives are in motion to ban busking from the most iconic parts of London, essentially making it impossible for musicians to survive financially.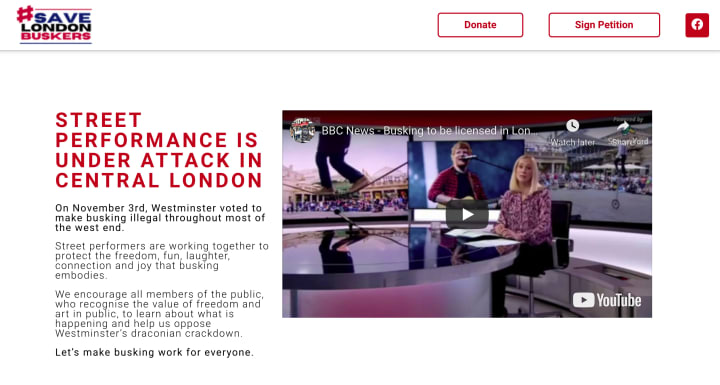 As I've mentioned in some of my articles, I lived in London for a year (pre-Covid), while I was completing my postgrad studies. Those times were some of the most amazing and challenging of my life. But, during the good and the bad times, something about London was always with me: Music.
Whether it was a sunny day walking down South Bank, or a sad and cloudy day rushing by Tate Modern to get home, listening to beautiful street music always made my day!
This is what busking looks like on a summer evening:
If you've ever been to London, you may have realized that street music is one of its best features. It's part of what makes it magical!
Both tourists and locals can take a break from the busy pace of London life and enjoy music made by brilliant, yet unknown artists. These musicians can take you down memory lane with their covers or charm you with their original tracks.
London is one of the most cosmopolitan cities in the world, and its buskers are truly among the greatest hidden gems in the city!
The Playlist
Aside from musical gag-laws, the Covid pandemic has left many musicians struggling in London (and the rest of the world). For example, right now they can't play in public or give concerts (to respect safety measures, of course!). Additionally, Brexit is driving foreign talent away from the UK.
For that reason, I decided to curate this playlist, featuring some of the incredibly talented buskers that I discovered in London. Why? Because the world needs to know about them!
"London Vibes: Amazing Buskers!" has all the chill vibes. It's perfect to work from home, study, work on your (Vocal) writing, cook, drive, or just have a chill day at home listening to amazing music!
I recommend it especially if you're feeling down during the lockdown (I can tell you from experience, it really cheers me up!).
Note: All of the tracks that I recommend in this article are on the playlist. Plus, many other wonderful additions!
So, Who Are the People Behind the Music?
London buskers are regular people, like you and me, who are doing their best to chase their dreams. Their goal is to share their music, make a living and make other humans happy.
Almost every day, I got to see these amazing musicians performing live by the Tate Modern museum.
Among them, you'll find composers, singers and songwriters who are as talented as any currently famous artists.
Here are some of the people behind the tracks featured on this playlist:
Alex is originally from Australia, and he is a genuinely talented, down to earth guy with an amazing voice (like many artists on this playlist). He's one of the buskers that I found who has the most released songs. Also, he only plays original songs when he's busking. That's very hard to do as a street musician. His songs have real star quality and amazing lyrics!
My favorite tracks: Spirit Girl and Searching
This Alex is a talented British composer, producer, trumpet player and singer. His upbeat music is the perfect ingredient to turn any regular day into a feel-good day. His single Pterodactyl is super catchy and its music video takes me straight back to my childhood. I would say this guy is definitely a "master of the cool vibes". How much better can it get?
My favorite tracks: Neon Light and Pocket of My Heart
Andreas is from Germany and he's one of the few piano buskers in London. A diamond among precious gems! His original compositions are emotional and atmospheric with beautiful melodies. If you like uplifting and relaxing music, I highly recommend listening to his albums Alone in the Wild, Wayfaring and Mosaic. His music will fill your ears and your heart!
My favorite tracks: Sunsets At South Bank and Squirrels (I even included this last one in my article about squirrels).
Andi is a musician from Argentina and he's a bit better known. As the title of his single hints, he likes to travel Around The World! His EPs are a real treat for musical ears. His songs are usually upbeat and light, but he also has very deep and heartfelt pieces. You can find some of his original songs in the playlist, including a few beautiful acoustic versions.
My favorite tracks: Allergic to Love and Your Own Terms (Acoustic)
Ludwig is a British-German songwriter and singer. His music can be considered as "Folk Rock Acoustic Pop" (so pretty much a little bit of everything!). As he says it, he puts "the "Rock and Roll" into folk. And listening to his music, that's actually quite accurate. Most importantly, his voice gives me a bit of Elvis vibes. No more explanation needed!
My favorite track: How Many Lands and How Many Seas
Marc is also a singer and songwriter from Argentina. His song In My Arms, was composed for his niece. It's very genuine and emotional (maybe I'm a little biased because it reminds me of my own niece when I listen to it). He has a warm and dreamy voice, which joined by his guitar (or piano) make a perfect combination for soothing the soul. Listen to him for yourself!
My favorite tracks: In My Arms and My Words
Kenyon is from New Zealand and Patricia from Spain. This pair of unique and talented artists (previously known as 'Hokitika') create "one of a kind" musical experiences, which I can only describe as ethereal. The combination of percussions, alternative instruments, synthesizers and hauntingly beautiful vocals will take you to mysterious places far away!
My favorite tracks: Ángeles and Jungle
Sasha is also a singer and songwriter from New Zealand. He has the classic rich and husky voice that many singers would love to have! His covers have received a lot of attention on YouTube, especially the ones for Let Her Go by Passenger and Give Me Love by Ed Sheeran. However, he also writes his own songs, which have a relaxed and dreamlike vibe.
My favorite track: This Close
There are many other incredible buskers in London! It would take too much writing space to make each one of them justice, but here are some of their social media profiles: Gabriele Pollina, Harry Issit, Dead Maria, John Wood, Francesco Nasone, Sebastian Diez, Charlotte Campbell, Archie Shuttler, among many others.
Ending on a Happy (Musical) Note
I really hope you enjoyed this article and these musical recommendations!
Throughout my time in London, street music made my experience more beautiful. If you're a tourist or if you live in London (or anywhere else) and music makes your heart happy:
Please support this petition so busking can continue to make London (and the world) a happier place!
After all, busking has given us great musicians like Ed Sheeran, Passenger and Dermot Kennedy. And we really don't want to miss out on that kind of amazing talent, do we?
Extra tip: If you want to support the musicians on this playlist, here are some additional things that you can do:
Follow them on social media.
Sponsor them on Patron and/or buy their music on their website.
Listen on streaming platforms (Spotify, Apple Music, Bandcamp, etc).
Share their music with your friends and spread the "London vibes".
And of course...sign the petition!
Now, music lover, please get your headphones on...
and enjoy these hidden musical gems!
-
Thank you for reading! If you liked this article please give it a like, or even better, share it with your friends and family on social media. If it's within your possibilities, tips are also greatly appreciated. Every bit of support means a lot to me as a writer!
You can find more of my articles here and/or follow me on Instagram as @marins.miniblog.
Cheers, Marina

Marina Fortuño
I'm a work in progress! I love writing, mostly short stories, informative bits and heartfelt pieces to make people happy.
My only goal is to continue growing as a writer!
Find me:
IG: @marins.miniblog
TW: @marina_writing
See all posts by Marina Fortuño →