Graveyard Sounds & Sam Shepard: Explosions in the Sky's "Take Care, Take Care, Take Care" at 10
I still remember the echoes down Santa Monica Blvd.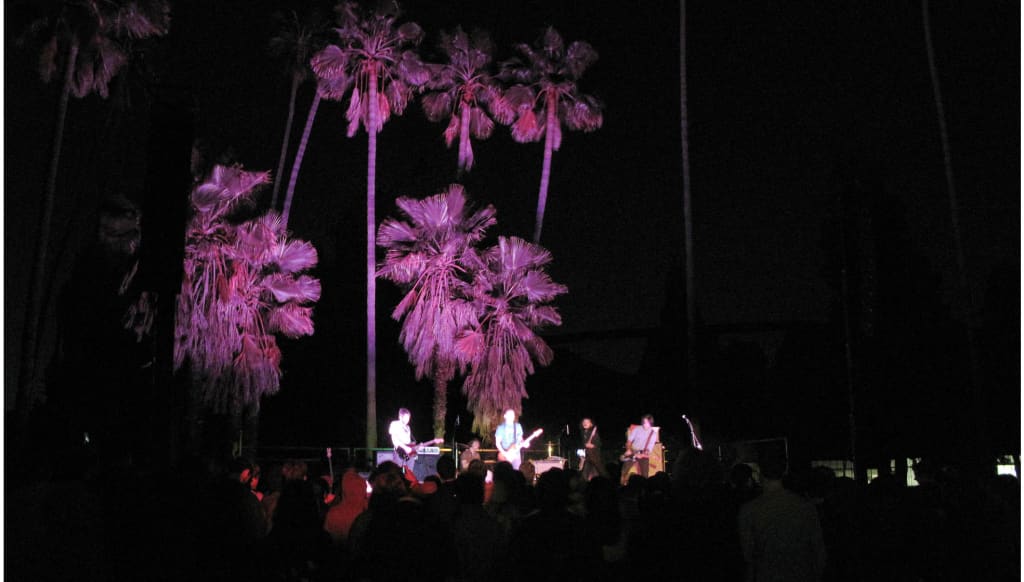 Hollywood Forever Cemetery, April 30th, 2011. If you look closely, you can see me angrily sticking my head out of a theatre lobby about a mile away.

Want to know when my next personal essay is going to drop? Want to get weekly, curated recommendations? Want exclusive short fiction? Want to do other cool things like writing exercises and just have fun?
Get all of the above + more. You won't regret it.
Okay, now you may begin.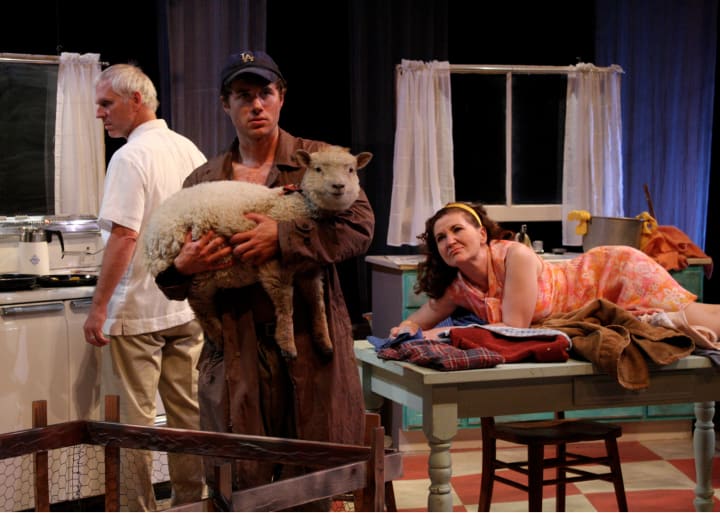 The Open Fist Theatre Company, upon destruction of its own old facilities -- bulldozed to make way for, you guessed it, apartments -- relocated to a spacious and, by L.A. small theatre standards, imposing 99-seat theatre on Santa Monica Boulevard in 2005.
It was a theatre company that became known for staging outlandish new works such as an adaptation of a Zappa album or overbudgeted vanity projects for self-parody-level divas like Shoshana Bean. When I joined the company, however, it was simply the place where one of my acting teachers did most of her work.
What they don't tell you about joining a theatre company is the amount of work you have to do before you ever step foot on the stage. Whether it's ushering non-stop, painting sets, or going into the rafters and helping adjust lighting, there's no shortage of stripes-earning grunt work to do.
But I was eager. This was after all an award-winning company. So, I stayed late and helped with technical rehearsals. I tended bar even if they didn't have a liquor license. I helped out with auditions and I even got to be in charge of stage managing Hollywood Fringe Festival shows. One of my first gigs there was House Manager for an admittedly brilliant production of Sam Shepard's "Curse of the Starving Class," directed by one of the original San Francisco cast members (who was also the original Red Skull in that 90's Captain America movie, a fact about which I endlessly bothered him.)
A House Manager, if you didn't know, is the person who essentially runs the lobby. On slow nights (say, a Tuesday or Wednesday night show) that's when they get some writing or movie-watching done. On a busy night, however, there's a lot of money to count, cups to clean, trash to pick up, alcohol to re-stock for intermission, and so on, so forth.
On April 30th, 2011, a particularly packed night early in our show's run (thanks to a slew of good reviews), there I was, at once both happy and angered to be there. That's because one of my favorite bands in the world, Explosions in the Sky, was playing a concert in a famous cemetery not a mile down the road.
I stuck my head out the front door on that brisk April night and peered down Santa Monica Boulevard and I saw shining lights emanate from the Hollywood Forever cemetery. I swore I could hear the monstrously loud, cascading chords of "Last Known Surroundings" echo down the otherwise desolate street...

Last Known Surroundings
Were I able to catch this magical cemetery concert, it would not have been my first Explosions in Sky rodeo. While this is maybe content for another essay, I had already caught them four times between 2006 and 2008, one of which was a three-night stint at the Great American Music Hall in San Francisco.
Yet, something was different this time. "Take Care, Take Care, Take Care" is a divisive record among Explosions fans and I'm not one to really tell you if it's objectively good or not. All I can say is this album hit different. Maybe it was strange ghostly sounds hidden in the tracks, maybe it was sprawling awe of "Postcard from 1952," or maybe it was the unexpectedly fast aggression of the first single, "Trembling Hands." It might not have reached the levels of previous albums in the eyes of some critics or fans, but in my love for this, I wasn't alone.
Years before, at a friend's apartment in San Francisco, all friend #1 wanted to do was get high and watch Spike Lee's Jungle Fever while friend #2 wanted to get high and listen to Explosions in the Sky. Already floating in space from the effects of their good bud, friend #1, whose apartment we were visiting, was understandably annoyed.
In 2011, I sent her the above video for "Last Known Surroundings" and she let go of her Explosions in the Sky resentment in an instant and immediately understood what the hype was about, whether she could really articulate it or not.
My then-girlfriend-now-wife came to understand it too.
Postcard from 1952
September, 2011, we both made a journey to San Diego to see Explosions together. It was a club show at Soma, which was located in a strip mall. While not as gorgeous or monumental-feeling as a cemetery show in Hollywood, it was still something.
We had grown to love this band together in the months we had been together. Between falling asleep together to songs from this album and "The Earth is Not a Cold Dead Place" and my incessant car-listening, she caught on real quick how special this band was.
When it came time, less than four years later, to plan the music for our wedding, it didn't take us long to at least settle on our stand-in song for "Here Comes the Bride": "Your Hand in Mine." If you didn't know, it's basically Explosions' "Stairway to Heaven." A no-brainer. To make it extra special, I made sure we used the version with an orchestra from the score to Peter Berg's Friday Night Lights.
And, obviously, the recessional song was going to be "Everlong" so that we could walk away from our first kiss as husband and wife ready to fucking party.
The song that alluded us, however, was the processional for the wedding party. What were they going to walk down the aisle to?
Then, my fiancé remembered the music video with the chubby baby waddling happily on his front lawn. With the large bubbles and 1950s aesthetic. The music video for "Postcard from 1952," which you can watch above.
Of course! Postcard! Duh! Was there ever any other choice? (Yes, "The Mighty Rio Grande" by This Will Destroy You was a very close second.)
"Postcard" opens with such an ease, the kind of ease that could help focus the general air of excitement at a wedding, minutes before the bride reveals herself. We only used the opening section, which has a slow build and quiet, chiming guitars that eventually build to an avalanche of sound that was probably better left off the wedding ceremony floor.
But this record is more than a wedding song or a cemetery...

BUT WAIT! THIS FIRST!
Did you know I don't share my fiction on Vocal? I do share it in my newsletter, however... I am also going to share a lot more you won't find here.

A Post-Grad Soundtrack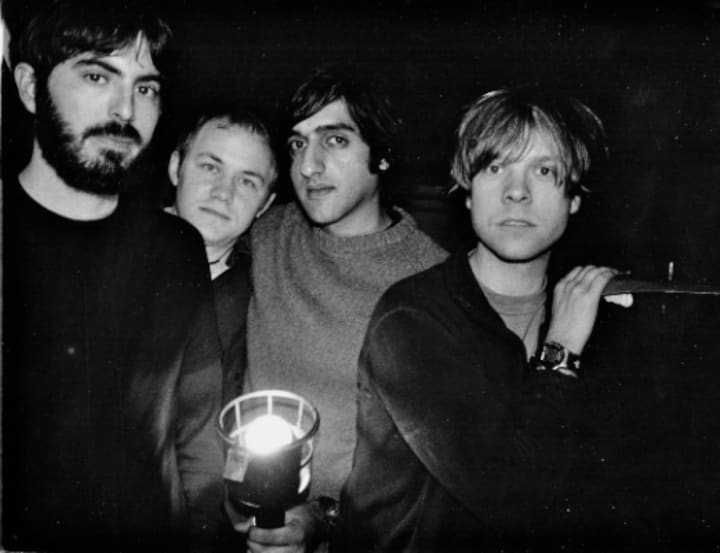 So much of my high school life was defined by the music of this band, especially the most melancholic moments.
I broke up with a girl and wrote a poem about her and, because of the song, "First Breath After Coma," likened my time with her to being in -- you guessed it -- a coma. That did not go over well, least of all with her mother.
I remember listening to an early copy of "All of a Sudden I Miss Everyone," trapped at a party at the Portuguese Hall without any of my closest friends, tasked with watching the toddlers and kindergarten aged children in the basement area while the adults got black-out drunk upstairs.
I remember the time a friend bought me the re-issue of "How Strange, Innocence" on CD for my birthday and it was the sweetest thing I didn't expect to happen.
They were, for lack of a less groan-inducing term, the soundtrack of my youth. Whether it was a Four Loko on a football field with older friends or post-teenaged sex cuddling when my mom was away at one of her many jobs, Explosions was there for me.
However, after the safety of school disappeared come college graduation in February 2011, they then became the soundtrack to my alienation.
When "Take Care..." came out, I was in the most vulnerable place I had ever been. I studied Acting in college and was then thrust out unto the world, unsure if that was, in fact, what I wanted to do. A useless degree soon became a useless pursuit and I had to reckon with that.
Listening to the echoes of their sounds down the street as I stood in that theatre lobby, I was disappointed I didn't work harder to get my job as House Manager covered and guilt there was a part of me that did not want to be there, despite all my efforts. I'd later realize it was probably because they were calling to me that I was not meant to be in that theatre -- they wanted me in that cemetery, whether they knew it or not.
Yet, there I was, working my ass off so the higher-ups at this theatre would notice me, to give me a chance to be on their stage. It wasn't until about a year later I learned from a former member I would probably never step foot on the stage. They had their people already, they just wanted my dues and the free labor.
Like a score to a Peter Berg film, "Take Care..." managed to score the anxiety of life on my own. The fear of becoming an adult. The fear I would absolutely fail.
Night after night for a few years, I listened to the album and as the closer, "Let Me Back In" carried me off to sleep, the sounds of apparitions in the noise gradually assured me I would be okay. Listen after listen, it transformed from haunting to hopeful until one day, the anxieties all but went away -- only to be replaced with new anxieties fit for a real adult, which felt like a strange victory in itself.
Then came downtown Los Angeles.
5 Years Later...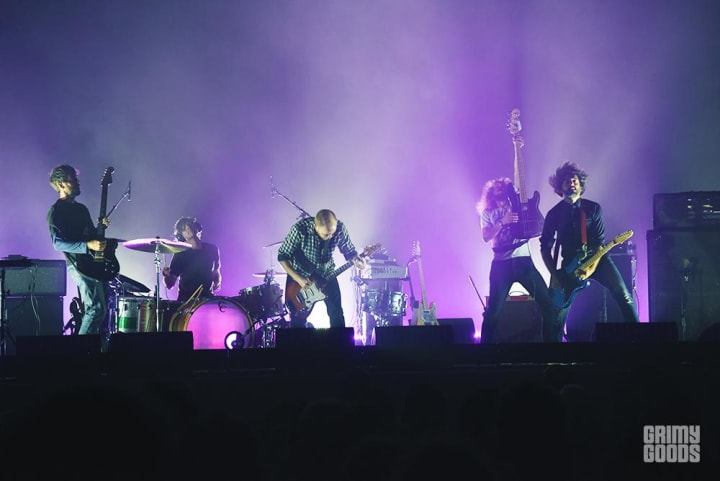 May 5th, 2016 --
Married, employed, happy, my wife and I entered The Theatre at the Ace Hotel in Downtown Los Angeles for what would be my 10th Explosions in the Sky concert, having just enjoyed a Cinco de Mayo margarita moments before. At this point, short of seeing the birth of my son or death of my mom, this band followed me through everything. They even follow me on Instagram, which is a fact I will always cherish yet never fully understand.
Once a child in their audience, I was now a fully-formed grown-up (for the most part) who managed to push through those endless swells of post-grad anxiety, doubt, and self-hate, thanks in part to "Take Care, Take Care, Take Care."
Aside from an unexpectedly beautiful light show, I essentially knew what to expect. I was there not as someone who wanted to discover something new or have my mind blown, necessarily, just someone who could wear the live sounds of this band like an old, warped, comfortable sweater.
I was able to experience this and simultaneously experience every other moment I ever shared with the band all at once. The unforgettable Be The Riottt Festival in San Francisco, 2006. The 3 nights in a row in 2008. The show in San Diego, 2011. Or the time they opened, inexplicably, for my favorite band of all time, Nine Inch Nails, on my 24th birthday, as if it were for me and me alone. Like Siddhartha staring into the river, everything old and everything new happened all at once and it felt wonderful.
Best of all, two rows away from us were people at their very first show, high on shrooms, taking in the lights and the sounds. Early in the set, as "The Only Moment We Were Alone" roared to a close in a skyscraper of sound and blaring light, only to go pitch black in an instant, we heard one of the newcomers exclaim, in the midst of the crowd's stunned silence, "Oh, shit!"
Nothing could have made me happier.
Happy 10 years to this insanely formative album.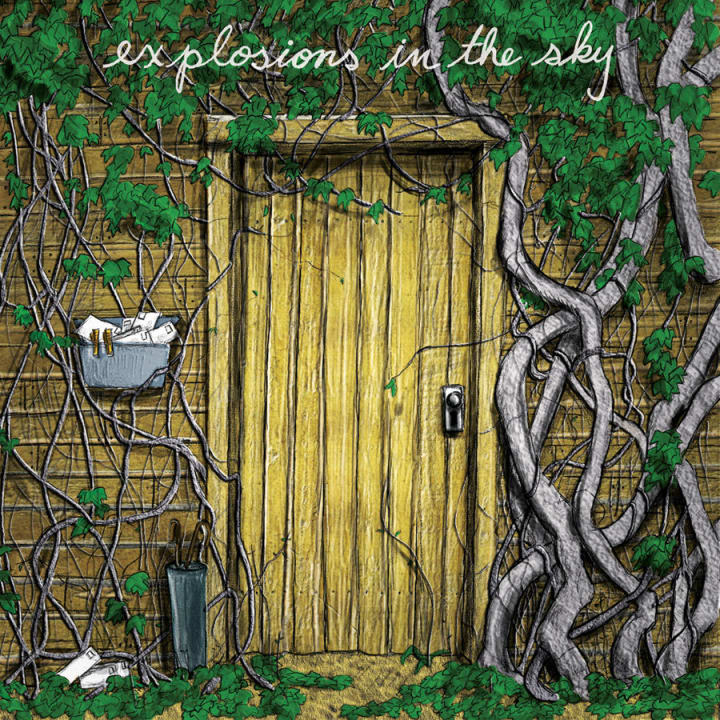 Thank you for caring.
1st step: Buy "Take Care, Take Care, Take Care" here. You won't regret it.
2nd step: See the heart and tip buttons below this story? Click the heart (A/K/A like this story) and throw me a tip, if you want. And if you don't see it, it looks like this:

Hard to miss when it's this big, huh?
3rd step: Sign up for my email list.
You'll get new personal essays, short fiction, writing prompts/exercises, curated recommendations, and more. Sign up, please. Please and thank you.
Finally: Follow me on Twitter. Every time I publish a new essay, I usually write a sweet Twitter thread about it. Oh, and Instagram, if you want to be as cool as Explosions.
Take care,
Andrew
About the Creator
Author, music snob, husband, parent, amateur neck cracker. A quintuple threat, if you will. This is a space for personal essays, life stories (and lessons learned), as well as unfinished/belongs-nowhere-else fiction. Enjoy!
Reader insights
Be the first to share your insights about this piece.
Add your insights