'Gorilla'
James Taylor's 1975 album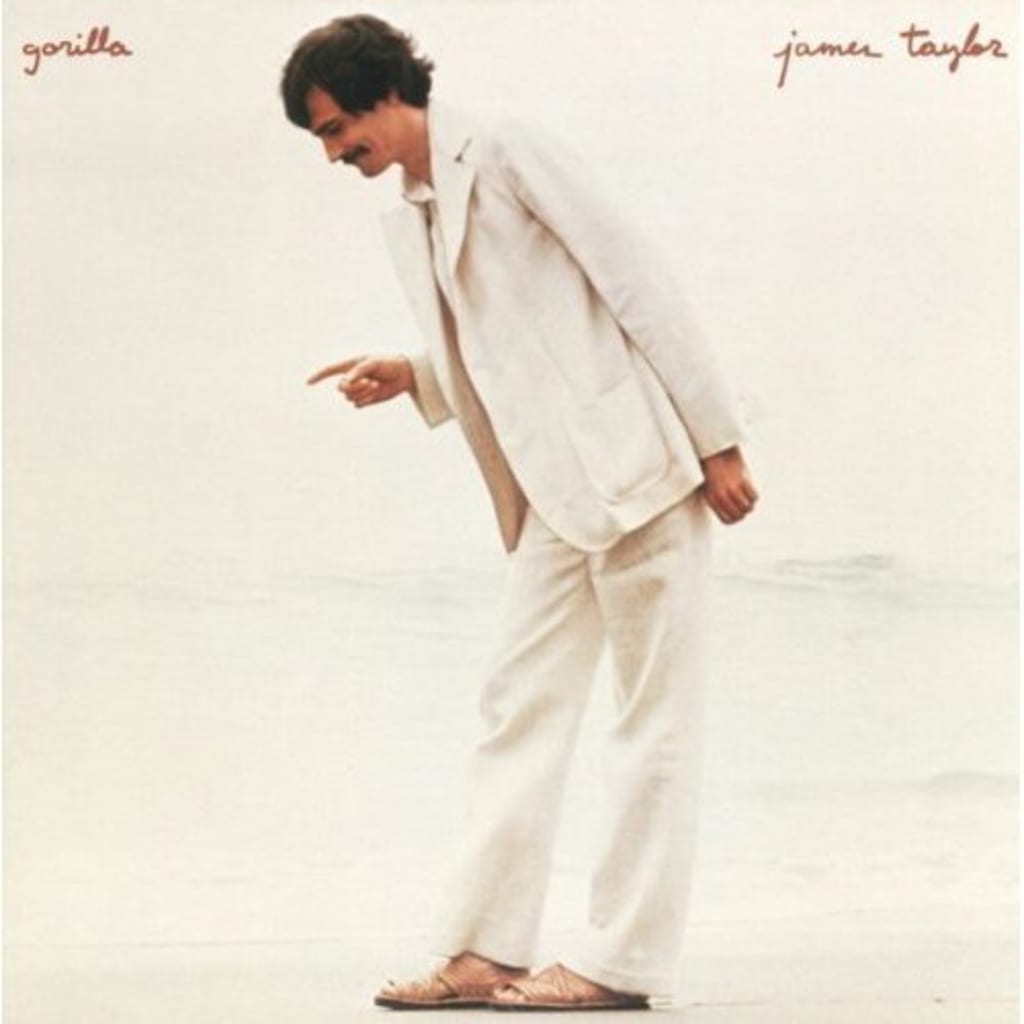 Coming off the disappointing public reception to the Walking Man album, James Taylor's sixth studio album was hugely important to his continued career success. So once again, he changed producers, returning not to his manager and original producer Peter Asher, but instead to the famed Warner Brothers production team of Lenny Waronker and Russ Titelman, the men who together and alone were behind such Warner megahits as Randy Newman's Sail Away, Gordon Lightfoot's Sundown, and Ry Cooder's Paradise and Lunch.
Gorilla was recorded in Los Angeles at Warner Brothers Studios and The Burbank Studios during March and April 1975 . The album featured a good number of guest musicians, many of them veterans of the Warner fold favored by Waronker and Titelman, such as Randy Newman, Nick deCaro and Victor Feldman, as well as star sidemen like David Grisman, Lowell George, David Crosby and Graham Nash, and of course Carly Simon. The formula worked, as the album spawned a pair of huge hits, and a number of songs just as good or better than the pop radio fare.
The album begins with the sun-drenched and breezy "Mexico," featuring David Crosby and Graham Nash on backing vocals, strong backing from the Section (Danny Kortchmar, Russ Kunkel, Lee Sklar) and plenty of Latin percussion by Milt Holland. A Taylor original, the song was a major summertime hit in 1975 and was enough of a party song that Jimmy Buffett himself eventually recorded a version and added it to his live sets.
Next is "Music," a lovely tribute to James's main passion that features Andy Newmark on drums, Willie Weeks on bass, Milt Holland on congas, Gayle Lavent on harp and Al Perkins on pedal steel. It's already clear at this point that Taylor has rediscovered his muse.
The third track is the album's biggest hit, and the only cover on the album, the Motown classic "How Sweet It Is (To Be Loved By You)," written by the classic Holland-Dozier-Holland team and already a huge hit for Marvin Gaye in 1964. Gaye's version hit number 6 in the Billboard charts in 64 and James did him one better, going to number 5. Keys to the success of the track were Carly Simon's distinctive covocal and David Sanborn sweetening the song with his trademark alto saxophone. The song recalled the success that Taylor and Simon had had a year earlier when they covered the song "Mockingbird" for her album.
"Wandering" was not quite a Taylor original, but a traditional song to which he added lyrics and reconstructed. Nick DeCaro provides accordion but otherwise the song is James at his most folky.
The title track follows, a real departure for Taylor that is notable for a guest appearance by mandolin master David Grisman and clarinet by Jules Jacob (not to mention ukulele work by James himself). It's a humorous piece, and while never destined for classic status it works well here.
"You Make It Easy" is a sultry original about the temptations facing a married man on the road. It features prominent piano and Fender Rhodes from Clarence McDonald, drums by Andy Newmark, more sax work from David Sanborn, bass by Willie Weeks and electric guitar by Danny Kortchmar.
"I Was A Fool To Care," which started side two once upon a time, is a love song to Carly Simon but with a twist. Like "You Make It Easy," it looks at love through how easily it becomes betrayal and how love and lust can make one oblivious to his or her own best interests. It's one of the strongest tracks on the album, with subtle brasswork by Chuck Findley and George Bohanon, but to my mind takes second place to the following song.
"Lighthouse" is a great ballad, featuring great harmonies by Crosby and Nash, and horn organ by Randy Newman. along with the reliable "Section " of Kortchmar, Sklar, and Kunkel on guitar, bass and drums respectively. Using the metaphor of a lighthouse to describe himself in both hopeful and disastrous terms, with a chorus bright enough that like all party songs, Jimmy Buffett eventually covered it. On Gorilla it is the highlight among many strong spots in my opinion.
"Angry Blues" is a change of pace, with Lowell George playing a mean electric guitar and providing vocal harmonies along with Valerie Carter. Andy Newmark on drums and Willie Weeks on bass are the rhythm section.
The offbeat ballads resume with a track called "Love Songs," which opens with a lovely clarinet line from Jules Jacob followed by a lovely guitar part from James, laid over a bed of Russ Kunkel's congas. Legendary percussionist Victor Feldman adds his magic to the song, along with wind chimes by Milt Holland and pedal steel from Al Perkins. Gayle Lavent adds harp to the mix as well. It's one of Taylor's most interesting compositions, changing moods continuously over nearly six minutes and daring you not sing along with James's layered vocals, especially the "la, la, la"s near song's end.
"Sarah Maria" is a pretty lullaby written for James's daughter Sarah Maria (Sally) Taylor, featuring Nick Decaro on accordion , David Grisman on mandolin and Victor Feldman on marimba and closes the album in a sentimental fashion.
Following Gorilla, Taylor was back in the upper echelon of pop music. He had only one album left on his contract with Warner Brothers, but it was very clear he was now in the game for the long haul.
70s music
Writer, Drummer, Singer, Percussionist, Star Wars and Disney Devotee.
sclifeonthespectrum.wordpress.com
Receive stories by Sean Callaghan in

your feed
On August 10th, JP Saxe released a song with Charlotte Lawrence. The song was a duet version of a previously released song of Saxe's from March of this year.

There are songs that get a person into their feelings. Feelings of sadness, hopefulness, happiness, and the feeling to be loved. HONNE's "Warm On A Cold Night" is a song that displays the affection between a man and a woman. The lyrics as well as the music production shows love in a different light.

Music icon Billy Joel has penned 33 Top 40 hits and crafted 12 studio albums in his career of 30+ years. He's claimed his goal in songwriting is to create songs that "meant something during the time in which I lived…and transcended that time." With his own life as subject matter for his numerous works, fans like myself reflect the success of his goal when claiming his songs as meaning something to our own lives too. With that said, here are five of my favorite Billy Joel songs that have either impressed me, or have meant something in my life.

With the abundance of bands, solo artists, rappers, DJs, and singing groups, there is a massive amount of musicians that one would have to surpass to climb their way onto the top music charts. And if that seems hard enough to get onto the charts, imagine how hard it is to get your name and music out there so people will begin to listen and appreciate the music that you have created. There are millions of people that put themselves out there and post their own videos on YouTube. Whether you rap, sing, or play a weird musical instrument, all that you dream for is for someone to discover your talent. Luckily enough for those who have such dreams, there are in fact musicians who became famous through YouTube.

1. ALONE PART 1 - XXXTENTACION "If the seasons change, will you remain the same?" "I don't wanna be alone. Please, I don't wanna be alone"

Mamamoo's powerful maknae is back with her signature sultry sound in her new single, "Maria." The Song: I'm not sure what I was expecting from this single, but this definitely wasn't it! I really like this song and the whole vibe it has. It's a unique blend of Latin pop and trap house music that works a lot better than one would think. I feel like Hwasa is always experimenting with her music, which I love. Her sound is very different from what idols usually put out for their solo music. Thinking back to a couple solo debuts we've had this year so far such as Lovelyz's Sujeong and Hwasa's fellow Mamamoo member Solar, they were great debuts but were very typical pop songs. I think Hwasa brings something very different to the table as a solo artist.