Good Vibes Ally
Music to Show Pride and Support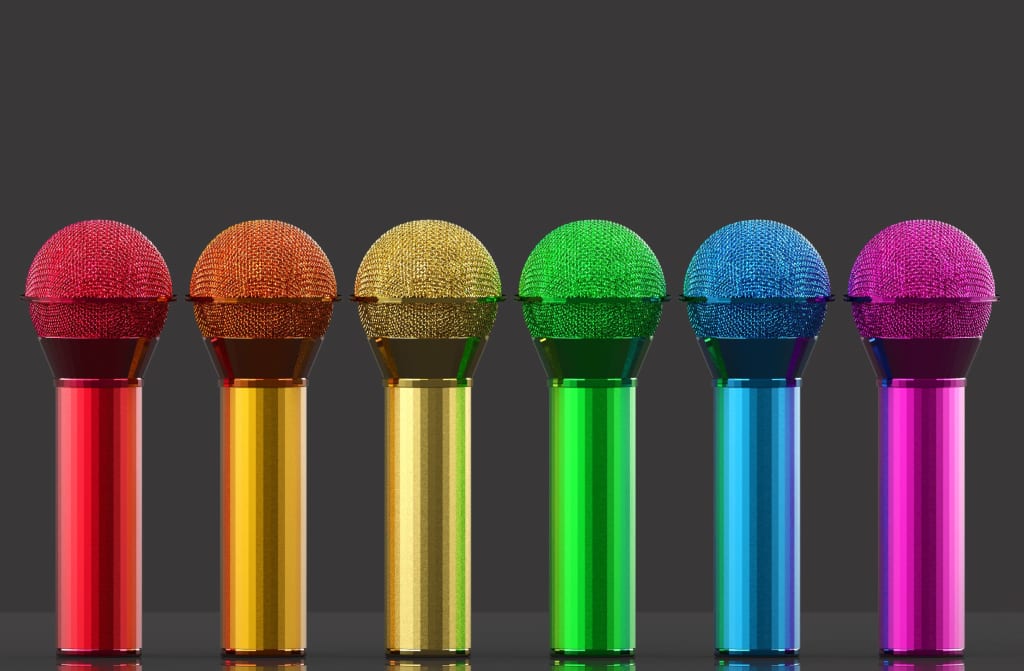 Voice Your Support With Music and Pride
America has come a long way in a short period of time; however, we still have some more ground to cover when it comes to accepting all people no matter their creed or sexuality. A month full of awareness and support is a great way to demonstrate support for our LGBTQ communities, as well as being made aware of the struggles they still face in feeling comfortable openly in society amongst the so called 'normal' people.
June is "Pride" month and it should be used as a social template, for all of us to follow when the month is over. When June ends, the struggles of our LGBTQ citizens to be treated and viewed as equals do not.
I remember being an ally for as long as I can remember knowing what it meant to be "sexually" different. I was a young boy and my mother explained to me what was different about our family friend (when I noticed and asked), who was a hair-stylist, and why it was ok that he was different. The acceptance and tone my mother had in explaining our friend to me, as a young boy, has always stuck with me, and proves that hate is not inherent in people; it has to be taught and then reinforced.
I received many haircuts throughout my young life from our gay family friend and never felt weird or gave it a second thought to be in close contact with him. However, growing up in the Midwest, I received a lot of homophobic responses and reactions to receiving haircuts from him. This has always disappointed and saddened me, so I've made it a point to always show support and help fight for fair and equal treatment of our LGBTQ friends.
The following music is a great soundtrack to help keep those of us that consider ourselves friends and allies of the LGBTQ communities grounded and focused on continuing our support in the fight to achieve civil rights for all of our people.
1. The Cure - The Love Cats
I don't think any "Pride" soundtrack would be complete if it didn't contain a song by The Cure. Really any song could be included but this song, "The Love Cats" has a great analogy of love having to sneak around in the shadows and under the cover of night just has our LGBTQ citizens have had to do for far too long. Let this song energize us all to be allies for this cause and fight.
2. The B-52's - Love Shack
The B-52s, "Love Shack" is a great feel good song and one that let's everyone know that love rules. The love that we all share with those in our lives is no less important or right if it's not sexually conventional. This song motivates all to show your pride and support with confidence.
3. Elton John - Sacrifice
The video for Elton John's "Sacrifice" may show a conventional love story and the sacrifices that individuals believe they face when loving another human. Elton's words and emotion behind this love song transcend the conventions or normalcy and prove that when we show kindness and love for all humans we are actually not sacrificing anything, but rather building a better world. "It's no sacrifice at all", when it comes to loving another human.
4. Queen - I Want to Break Free
Freddie Mercury sing's about wanting to 'break free' in this more up-beat love song. Love is love and those that feel it want to show it freely and openly. Freely showing love to others is the greatest human emotion that can be shared, and this song proves how important it is to feel free in doing just that.
5. U2 - Pride (In the Name of Love)
In the name of "Love" U2 sings of life being taken from us. This song reminds us that loving those different amongst us should be no crime and punishable by death. We must be allies and support equality for all - to show their love and right to be loved.
6. Celine Dion - My Heart Will Go On
I include this Celine Dion song for a personal experience I had about 10 years ago in Kauai, Hawaii at the Nawiliwili Tavern. One Saturday a month the bar supports the local LGBTQ community by hosting a night just for them in the bar. While on deployment as a Navy Diver, the group of sailors I was in charge and I stumbled upon this quaint little place on the one Saturday a month in question. We were met with a mostly empty bar with a few men at a table singing Karaoke. A young man belted out this song and it was actually the best amateur rendition of the song I've ever heard to this day. The small table of 4 men grew to a crowded bar within a matter of hours and all us straight-men were welcomed and our pictures celebrating with our LGBTQ brothers and sisters are now proudly displayed upon the tavern's walls.
7. Village People - YMCA
Another addition from the night at the Niwiliwili Tavern in Kauai, HI. This song by the Village people may be the cliché "Pride" entry but I don't think the list could be complete without this lively song - that always energizes any night in the club or bar. Straight or LGBTQ, we can all agree that this is a feel good song.
8. Lou Reed - Walk on the Wild Side
Lou Reed slows it down in his song, "Walk on the Wild Side" and opens up our eyes to all the wild weirdness that is actually normal and should be accepted by all in the human race. The comfortable jazzy sounds of Reed's anthem to subcultures of society perfectly represents the beliefs and identities culture places on our LGBTQ community, making them feel outcast.
9. Melissa Etheridge - Come to My Window
Melissa's deep raspy and powerful voice moves us to appreciate the passion and love she feels while telling her lover she's on her way. The feelings whether straight or gay are no different and the message behind Etheridge's song and music proves that simply with "Come to My Window"
We all want a place to belong and to be loved.
10. Queen - We Are the Champions
Queen makes another appearance and concludes this soundtrack with their powerful anthem declaring "We Are the Champions". This is the perfect fight song and motivator for all of us to support and be allies to the LGBTQ community and the "Pride" movement that fights tirelessly demanding equal rights for all!
"We will keep on fighting to the end" - until all of us are respected and treated equally - not matter who or how they love.
Wander with Love
The month of June is a time to reenergize support for our fellow LGBTQ citizens and show them the love and compassion that they all so rightfully deserve. No one soundtrack or playlist can capture the struggles or what it means to be part of or a supporter of the LGBTQ community. The most important message that can be taken from any song is really to "Wander with Love" no matter where you are, what you are doing, or who you are with.
June shouldn't be the only time of the year when "Love" is allowed to be expressed freely and openly. When it comes to free love it should be the month of June everyday.
I hope these 10 songs motivate you as they do me, and also help keep the fire of support for our LGBTQ friends burning, hot and brightly, until they are afforded the rights and love we all are entitled to enjoy.
We should have "Pride" in all people all the time.

Meko Kaprelian
I love the adventure in traveling and how it realigns your social compass to help point you in the right direction. We are here on Earth to learn from one another not destroy each other. I hope to learn from writers here on Vocal.
See all posts by Meko Kaprelian →