'Going for the One'—Songs Cast a Light on You
Workings of Yes!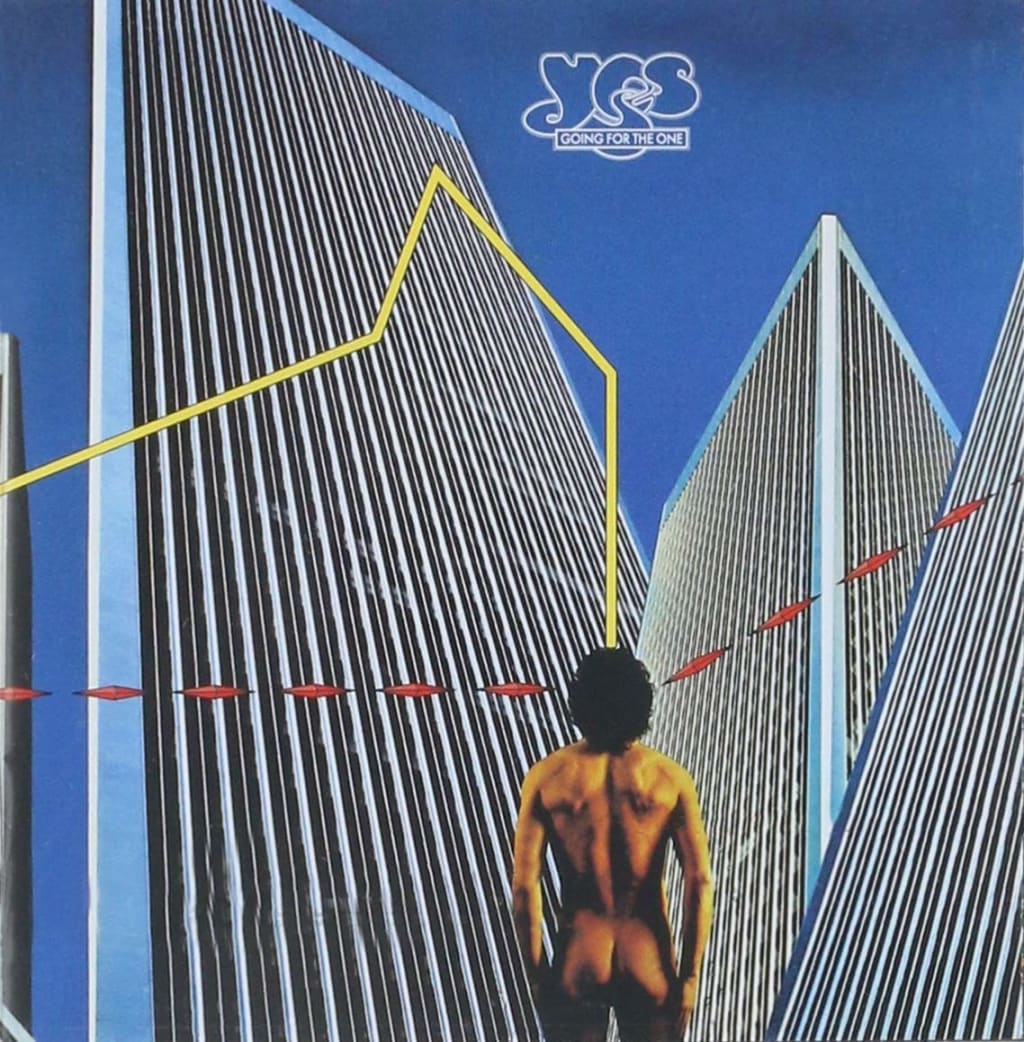 Going for the One album cover by Hipgnosis.
In 1976, after much touring for Relayer and working on solo albums, Yes took the time to record their next album, this time in Montreux, Switzerland. Though keyboardist Patrick Moraz was involved initially, he was let go from the band. Rick Wakeman was invited back as a session musician, eventually being persuaded to be a full member again. And so, the Tales from Topographic Oceans lineup of Jon Anderson (vocals), Steve Howe (guitar), Chris Squire (bass), Rick Wakeman (keyboard), and Alan White (drums) put out Going for the One. Released in July 1977, it was a bit more of an eclectic album, but the material presented made the album a good listen after nearly three years of no new studio albums from Yes.
"Going for the One" live in Glasgow November 1977.
1. "Going for the One"
The title track opens with a rocking pedal steel guitar. The song, which alludes to sports, feels somewhat like surf music compared to the prog rock epics that Yes has made. There is a sense of fun and looseness that harks back to much earlier songs in the Yes catalog, such as "Looking Around" from their debut. One may also be reminded of the Fragile era via the verse "Roundabout, sounding out, love you so." The pacing out of verses like "Touching, touch time / Travel, twilight" is reminiscent of similar sections of "Siberian Khatru" and "The Revealing Science of God." Such lyrics are heavily associated with Anderson, and this is, after all, a song credited solely to him. He even seems to poke a bit of fun at himself:
Now the verses I've sang Don't add much weight To the story in my head So I'm thinking I should go and write a punchline
If one listens closely, they can also hear Squire sing "Open windows" earlier in the song. This is something that was unnoticed by some fans for a while, but it is a nicely added layer. And Alan White drums well to the pace of this song. When we are reminded of love at the end, the vibe of the song escalates to new heights, and Wakeman contributes a flamboyent and effective sonic statement to the ending.
2. "Turn of the Century"
We are then brought to a song that feels deeper, so to speak. "Turn of the Century" is credited to Anderson, Howe, and White. It has a very melancholic tone reflected in both the instruments and the vocals. We are told about a man named Roan, whose wife dies in winter. One can feel the desperation in Roan's plea, "'Don't deny me!'" He later creates a sculpture of her that comes to life. Inspiration for this came from La bohème and Pygmalion. The music and lyrics work so well in forming what may possibly be the most sad yet poignant Yes song. The words "All those many years ago" are delivered in such a way that really make the past events feel so far away, and yet no less emotional.
There is an instrumental section that feels like thoughts of contemplation as time passes. It escalates, and then there is a release of infinite elation, the day breaking as fingers are kissed, hands are held, and love continues to thrive. Prose cannot quite capture the beauty of this moment in the song. Once the lyrics are done, Howe's guitar provides a sentimental epilogue.
In 1995, Steve Howe performed "Turn of the Century" with Renaissance's Annie Haslam together on Magna Carta's Yes tribute album Tales from Yesterday.
"Parallels" rehearsal.
3. "Parallels"
The church organ announces the arrival of the next song, and we are thrown right into "Parallels." This is a song that Chris Squire wrote and considered putting on his 1975 solo album Fish Out of Water. He ultimately decided that it did not fit the material there. Ironically, this would have perhaps made it the fish out of water among the other songs had it been included. But of course, there was also no room left on the vinyl record. Squire does an excellent job with his bass throughout the song and provides prominent vocal harmonies. It truly does feel like a Squire idea fully realized by Yes. It would be included on the set list for the Yes50 Tour as a tribute to the late Chris Squire.
One might think of the lines on the album cover even though they are not all parallel. The verse "To build a shining tower" also brings the cover art to mind. There's another reminder of "Roundabout" via the verse: "Set it spinning turning roundabout." "It's the beginning of a new love in sight" seems well-placed, seeing as how we are in the middle of some sort of love story different from the tale told in "Turn of the Century." The words "You know we've got the power" may possibly allude to the power to come to a resolution in a relationship. White's drumming really stands out as the song reaches its natural conclusion.
Though "Parallels" would be performed live from 1977 to 1980, it would not see a resurgence until 2008. Since then, it has popped up on different tours that have followed.
"Wonderous Stories" music video.
4. "Wonderous Stories"
According to two fan recollections on Forgotten Yesterdays, "Wonderous Stories" was performed in Huntsville, Alabama, on June 6, 1976, on the tour that preceded this album. This is the most gentle track on the Going for the One album, making it a very accessible Yes song for more casual listeners. But this Anderson-written song still has a sense of spirituality to it. It is very soothing, and Wakeman's melodic keys are very prevalent, painting the soundscape. The lyrics "As he spoke my spirit climbed into the sky" convey that the words of the storytelling preacher have the power to make the listeners ascend to a state of tranquility and understanding. Perhaps that sounds like a cliche, but it's the power that "Wonderous Stories" can have on people.
5. "Awaken"
"Awaken" is another Yes epic, this one being over 15 minutes long. I have heard it described as the fifth Topographic song. And while this is an Anderson-Howe-written song by that same lineup, it is difficult for me to perceive it as such since I'm so used to it being on a separate album. It sounds different from those songs to my ears, but let's see if there are any recurring motifs.
"Awaken" begins with a solo by Wakeman, which has been extended at some Yes concert performances of the song. The opening "High Vibration" section was performed at the Philadelphia and Reading shows in 1975 during the Relayer tour. We hear, "Wish the sun to stand still / Reaching out to touch our own being." The sun is mentioned in various Yes songs, but it is very prominent on Tales. Lyrically, this song might be considered a bit simpler compared to other Yes epics, as such words as "Suns | High | Streams | Through" are sung in an elongated fashion. But this still fits the mold of abstract lyrics of epics, such as those found on Tales from Topographic Oceans. There are more complex-sounding lyrics like "Reregaining the flower of the fruit of his tree." There is a quiet section containing a church organ in the middle of the song. It has a mysterious vibe comparable to the middle of "South Side of the Sky." In 2016, the band Anderson Rabin Wakeman made this quieter section a little heavier, reinventing it in a refreshing way.
And then we are treated to music reaching a peak. As he would later do in 1991 on the Union Tour, one can imagine Anderson pointing outward and spinning around as he sings "In all encircling mode." And then there are lyrics about sailing that may bring Topographic Oceans to mind:
Master of time Setting sail Over all our lands And as we look Forever closer Shall we now bid Farewell farewell...
There are choral passages performed by the Richard Williams Singers, (directed by Wakeman) and the Ars Laeta of Lausanne. One can really picture this song in the grandest of cathedrals. It closes with a reprise of the "High Vibration" lyrics, with music swirling and perhaps making listeners feel like they are waking up from a dream so beautiful that it can never be forgotten. Anderson once wrote on his website bio, "I loved listening to 'Awaken,' at last we had created a Masterwork." It is indeed a song that he has enjoyed revisiting over the decades. Notably, he performed it with an orchestra and the band Todmobile in 2013.
"Vevey (Revisited)"
Conclusion
Montreux proved to be a nice change of setting that contributed to the creative sparks behind this album. It spawned many recordings that would resurface in various places. The instrumental "Montreaux's Theme" and Chris Squire's rendition of "Amazing Grace" have appeared on the 1991 YesYears box set, and then the 2003 Rhino reissue on Going for the One. Different instrumental tracks titled "Vevey" (or some form of it) have appeared on that box set, that reissue, and studio session footage used for the YesYears documentary. The session footage itself has surfaced on various YouTube channels.
Over the years, the songs of Going for the One have been performed live frequently, especially in the 21st century. In 2013, the whole album was performed in track list order as part of the Three Album Tour. As such, Going for the One is one of those Yes albums that hardly feels obscure to Yes concert attendees. The album stands as a testament to the fact that even after reaching what some may perceive as Yes's creative peak, the band was still willing to go on. Even after reaching a peak, the music could reach out to touch our own being.