Go-Go's 'Talk Show': Something to Talk About
Celebrating 35 Years of the Go-Go's Talk Show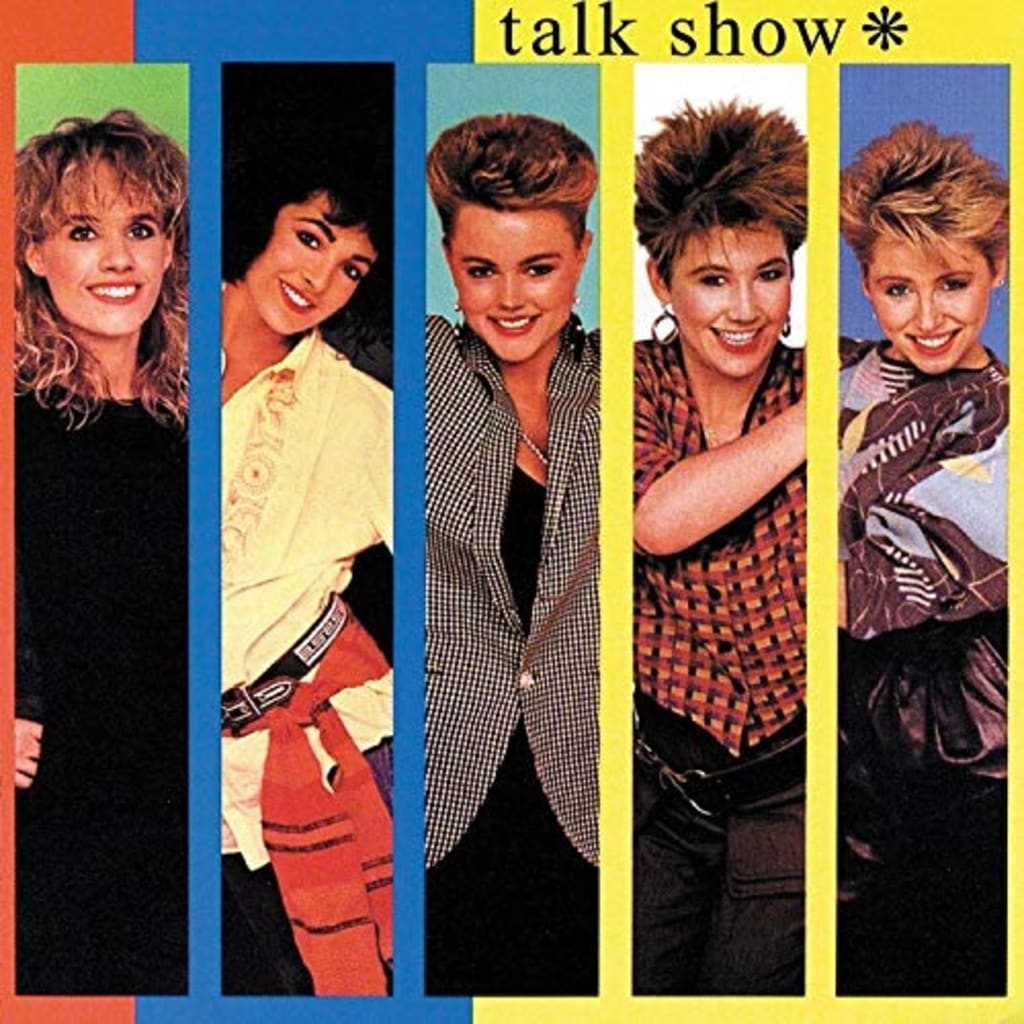 ©1984 I.R.S. Records
It's been 35 years since all-female rock band the Go-Go's released the group's third studio effort, Talk Show. Therefore, in celebration of this milestone, I've decided to pluck it from obscurity, and revisit its virtues for posterity.
Talk Show hails from the heydays, of when new wave and MTV ruled, all the way back to the early spring of 1984, but I can still remember it like it was yesterday. I achingly recall how the previous year had been sheer agony for myself, and fellow Go-Go's fanatics, as Belinda, Jane, Charlotte, Kathy and Gina seemed to all but disappear from the 80's music scene, despite making a big splash with their two important and impactful releases; "Vacation" and Beauty and the Beat, both of which I have discussed previously (those can be found by clicking on the above mentioned album titles). As 1983 slowly progressed, I frantically scoured Rolling Stone and Billboard, as well as my local magazine stands for any scrap or morsel about my favorite band, but only rare dribbles were found few and far between, for the entirety of that year.
Finally, word arrived that the Go-Go's were across the pond in England, recording the eagerly awaited third album, with producer Martin Rushent (best known for his work with The Stranglers, Buzzcocks, and The Human League). This thrilling news was soon followed by an unwanted update, that the new album had been delayed, due to Charlotte Caffey's ailment with carpal tunnel syndrome. Reading this unwelcomed tidbit quickly dashed my hopes for new music arriving anytime in the immediate future. Luckily, after waiting out an extended absence, that felt like an eternity, the Go-Go's eventually returned to the spotlight in March of 1984, with an astoundingly robust and electrifying new collection of songs. My appetite was first whetted with Talk Show's lead-off hit single "Head Over Heels," accompanied by its neon-tinged music video, which brightly signaled the return of the Go-Go's, while gratifying my ears, albeit temporarily. While wearing the grooves off my "Head Over Heels" 45 rpm record and its B-side, "Good for Gone," I began frantically calling my local record stores daily to find out when I would be getting my hands on that elusive third album. Fortunately, my nearly two-years of suffering for a new Go-Go's album was rewarded on March 19, 1984, with a fantastic collection of ten prodigious songs. I can still remember my overpowering exhilaration, as I raced home from my local record shop to play my newly acquired LP.
As soon as I placed the needle into the groove, my ears were filled with the opening piano riffs of "Head Over Heels," which I'd already committed to memory during the month-long countdown to the full-length album. Then, I was entranced by the unexpected power of "Turn to You," which still remains as my all-time favorite Go-Go's track. As the record progressed, I was amazed by how much I loved each and every track; from the hypnotic synth intro of "You Thought," the exquisite harmonies of "Beneath the Blue Sky" and the beautiful melancholia of "Forget That Day." Side one was all killer, no filler. I couldn't have been happier.
Shaking with excitement, I quickly flipped the record over, and continued to be blown away by the guitar drenched "I'm the Only One," the fiery "Capture the Light," and the dramatic "I'm With You." While "Yes or No" was instantly hummable, and had an extremely catchy melody, its potential at greatness was sadly diluted, by annoyingly fluffy and trite lyrics. I'm not sure if this was due to a lack of inspiration, on behalf of Ron and Russell Mael (of quirky Los Angeles band Sparks) or Jane Wiedlin's infamous addiction to Webster's Rhyming Dictionary. Despite Talk Show's minor shortcomings (album closer "Mercenary" and the already discussed "Yes or No"), overall it undoubtedly demonstrated newfound growth and maturity in musicianship, lyrical content, plus a noticeable new confidence in Carlisle's phrasing and vocal delivery.
Producer Martin Rushent amped up the guitar crunch, and added subtle sprinkles of piano and synths, consciously choosing to veer away from the girl group echoes of Richard Gottehrer's previous album productions, which added a much-needed renewal to the Go-Go's sound. Bassist Kathy Valentine handled the lion's share of lead guitar licks, due to Caffey's battle with carpal tunnel, which added a noticeable frenetic ferocity throughout the album's 10 tracks. Talk Show's material was masterfully accentuated by Gina Schock's unyielding and metronomic pounding of the drums, undeniably proving that Schock indeed, still had the beat.
Unfortunately, the album's accompanying Prime Time Tour failed to live up to expectations. I caught two shows during Talk Show's tour cycle, and each performance confirmed the first public signs of trouble in paradise. Not only was it glaringly obvious the band members were going through the motions or "phoning it in" on stage, but also painfully apparent they were not thrilled to be spending time in each other's company. Shortly after the tour's completion, Jane Wiedlin announced she was leaving the Go-Go's, to pursue a solo career. This was hardly surprising to me, as I'd witnessed her unhappiness on tour, as she sat down and looked pouty at both of the shows I attended during performances of "Forget That Day." This song allegedly became a specific point of contention within the band. Written by Wiedlin, "Forget That Day" seemed to create a sore spot between Wiedlin and Carlisle, as Wiedlin stated she'd originally wanted to sing lead vocals on the track, but was overruled by Carlisle and the other band members.
Sadly, Talk Show proved to be the female fivesome's final full-length offering for 17 years, until Belinda Carlisle and company reunited for 2001's God Bless the Go-Go's. After Talk Show, the band members' demons were eventually revealed on an unflattering episode of VH-1's Behind the Music. It seemed as if certain band members were hell-bent on fulfilling the prophetic declaration of becoming the "catty girls, dreamers, and whores" Caffey and Wiedlin described in "This Town," on the band's debut album Beauty and the Beat, instead of exercising the option to maintain sealed lips. However, there are no audible signs of turmoil anywhere to be found while listening to Talk Show. In fact, listeners would be hard pressed to hear any evidence of an imploding rock band's behind the scenes drama, infighting, or substance abuse issues. Perhaps the only hint of discord exists solely on the album's front cover, as the separate compartmentalization of each band member could unintentionally convey the group's disjointed state of existence?
No matter the surrounding circumstances of the time, the Go-Go's third studio effort still sounds as effervescent as an "uncorked bottle of cold champagne," as Christopher Connelly described it in Rolling Stone's original 4-star album review in 1984. Although listening again in its entirety some 35 years after its initial release, I can't help but wonder if Kathy Valentine should've initially been designated the band's lead guitarist. I'm curious if the band's fate would've remained the same if Valentine and Caffey had switched instruments from the very beginning. At the very least, what impact could that significant difference have made on Beauty and the Beat or "Vacation"? I guess we'll never know the answer to that question, but the Go-Go's gave us some superlative music that still manages to transcend time.
About the Creator
I'm a music journalist, blogger and crate digger. I began writing about music during college and again as a freelancer. Links to my published pieces can be found on my music blog at: popmartzoo.com and/or follow me on Twitter:@popmartzoo
Reader insights
Be the first to share your insights about this piece.
Add your insights