Playlists
February Mix for SISTER Collective
40 Minutes of Hard, in Your Face, Bass Music...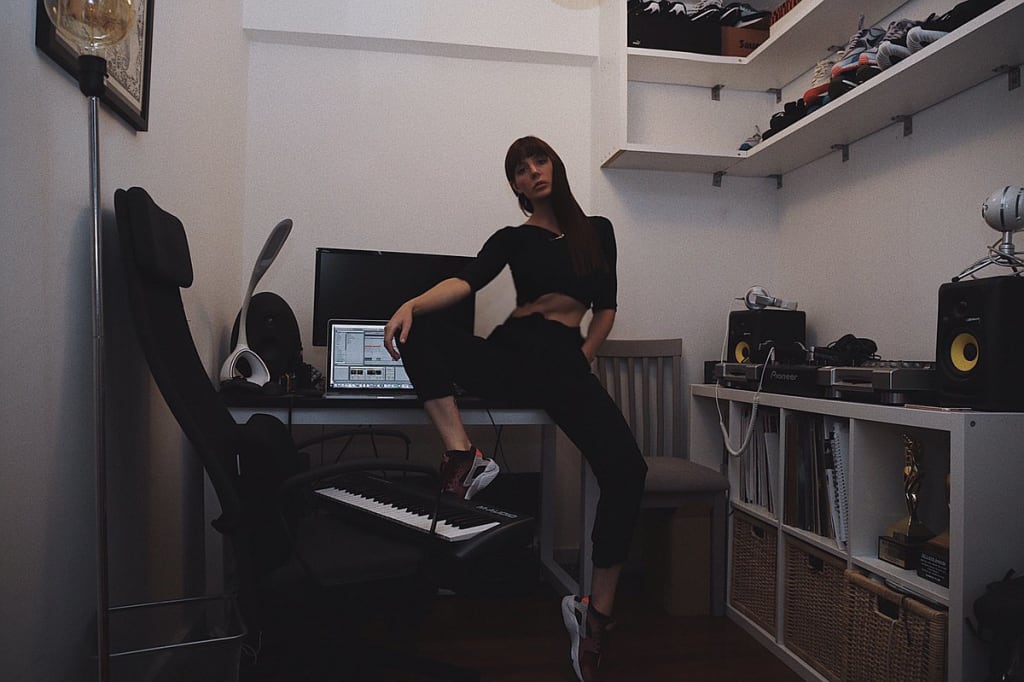 SO… it's the last day of the month, it's snowing pretty hardcore here in London, and I am going to share with you my February mix. It is pretty special. It's probably one of my favourite mixes I've ever done and it's for the legendary Carly Wilford and her SISTER collective. Usually when I'm asked to do a mix, I stress about it endlessly, and I end up doing what I think someone wants to hear rather than what I would play if someone gave me free reign. I did my usual stressing, then I realised I had to just be me. Fuck what I think people want to hear, this is the music I love, the music I play. This mix is probably the best representation of one of my sets I think I have ever done. It is a journey through Dubstep, hip hop, grime, and trap. It is a seamless genre stepper, if I do say so myself.
There's a lot of new, some big names, some not so big, some SoundCloud discoveries and some old school favourites (Hi, Culprate Passenger remix, I love you).
Usually, when I do mixes they are around 25 minutes long, largely because I have the attention span of a flea and also because I will build a huge playlist and very quickly eliminate over half of it. I also mix fast. I don't like to let songs linger in a mix, much like I wouldn't live. I want to hold interest. In this mix, I have let some songs linger longer than others but my chop-changy style, familiar build ups to new drops, is still very much there throughout the 40 minutes.
This was an important thing for me. Carly is an inspiration, a DJ, and presenter on an international level, just returned from touring with OWSLA (the dream). Electric blue hair and a sultry cool about her, I first heard of her through Napgirls, an all girl organisation working to bring equality and empowerment to women in the electronic music scene.
We NEED more women like Carly. Her radio shows are broadcast worldwide including on Kiss FM Australia, Dash US and Data Transmission. I am honoured and humbled that she asked me to mix for her.
Okay, so my NEW track of the month has got to be "Got the Love" by Mat Zo, Kill The Noise, and Big Gigantic Featuring Jennifer Harstwick, which is the second track in the mix. It is epic in every sense of the word, but my all time favourite from this mix has to go to "Loadstar" by Passenger, the Culprate Remix. I STILL get chills when I hear this. Culprate is a pure genius.
Here it is, 40 minutes of hard, in your face, BASS…
Kendrick Lamar - "Humble" (Skrillex remix)
Mat Zo, Kill The Noise, Big Gigantic - "Got the Love" (Feat. Jennifer Harstwick)
Ghetts - "Slumdog Millionaire"
Barely Alive - "Poison Dart" (Busted by Herobust)
Reach - "Had Me Like" (Feat. Lox Chatterbox)
Zomboy & Eptic - "Bop It"
Boombox Cartel - "B2U" (Feat. Ian Everson)
Migos - "Beast"
Alison Wonderland - "Get Ready" (Tasker & Leaderboy remix)
MYTH X Trophy - "Flex"
Loadstar - "Passenger" (Culprate Remix)
Stormzy - "Return of the Rucksack"
Trampa - "Rocket Fuel"
Future - "Mask Off" (Marshmello Remix)
Rulezz & Woogie - "Kalashnikov"
Dillon Francis - "Hello There" Feat. Yung Pinch (Rude Kid Remix)
Rigby - "A Million"
Jakes - "[email protected] [email protected]"
Alison Wonderland - "Happy Place"
Mark Instinct & Armanni Reign - "Pour It Out" (VIP)
If anyone can ID this song it would be amazing, it is just called "GO CALM WITH THE RIDE" on my Rekord Box and I have no idea where it came from…?
Travis Scott - "Butterfly Effect"