Eddie Vedder Talks With Chris Cornell's Daughter About Coping With Pain: Video
The Pearl Jam frontman, guest on the Lily Cornell podcast, remembers the Roskilde tragedy and talks about Chris Cornell.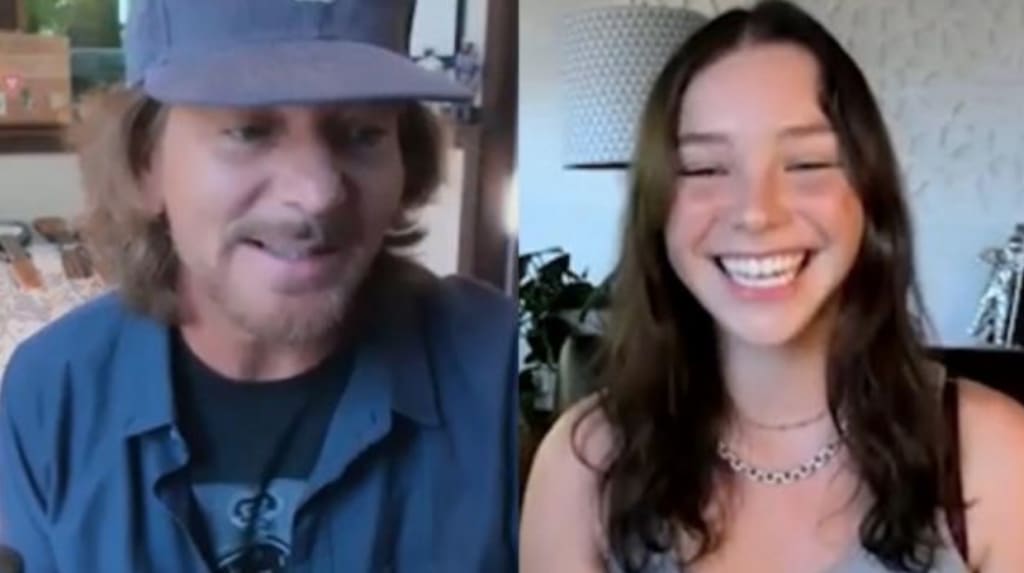 Filming on the film Black Days, dedicated to Chris Cornell's last days of life, will begin in September as revealed online by the NME music site.
The project will be produced by production company AmeriFilms LLC in collaboration with Road Rage Films.
Black Days will have as its protagonist the actor Johnny Holiday, who already appeared in When love burns the soul - Walk the Line, and will tell what happened to the singer of Soundgarden and Audioslave before his death.
Chris Cornell was found lifeless in 2017 after the artist hanged himself in his room at the MGM Grand Detroit hotel.
The producers have ensured that filming will take place following all safety protocols and the performers will be busy on set with a reduced presence of crew members.
The cast of the feature film will also include actress Desiré Varona in the part of Vicky Cornell, the wife of the music star.
The Pearl Jam frontman was a guest on the most recent episode of the video series launched by Chris Cornell's daughter on IGTV, "Mind Wide Open," which also featured Duff McKagan of Guns N 'Roses, among others. During the chat with Lily Cornell, Eddie Vedder recalled the frontman of Soundgarden and Audioslave - which took place on May 18, 2017 - and confronted the daughter of the voice of "Black hole sun" on different themes such as pain, empathy and activism.
"I am thrilled that Eddie has offered to participate in the 'Mind Wide Open'. Your and your family's support for my series means a lot to me, "Lily Cornell said in a statement taken by Consequence of Sound to announce the episode. "He has always been like an uncle to me and is one of the pillars of my life. I know how important his voice is to people around the world and I deeply appreciate everything he represents, so I'm really excited for others to watch and listen to his insights. "
On the sidelines of the episode, available in the video above, Eddie Vedder reflected on some painful experiences he has gone through and has had to go through throughout his life. Recalling the tragedy at the Roskilde festival in Denmark where nine people lost their lives during the Pearl Jam set on June 30, 2000, Vedder said:
"The case of Roskilde is curious, where there were problems among the public due to the weather conditions, and where a horrible situation was created in which people lost their lives near the barriers. It's absurd to talk about it with you, because right before we got on stage we learned the news that our great friends Chris and Susan had just had a daughter. Her name was Lily, and we shed a few tears of joy ".
"We came on stage thinking of you, and we felt full of strength and excited," Eddie Vedder later told Lily. "And after 40 minutes from the start of the show these terrible events happened".
The Pearl Jam frontman thus told Chris Cornell's daughter how Pete Townsend and Roger Daltrey were helpful for him in overcoming that disaster and the pain associated with that event, since the Who experienced a similar event. to that of Roskilde when eleven people lost their lives before the concert of the "Tommy" band in 1979 at the Riverfront Coliseum in Cincinnati. Vedder narrated:
"Pete said to me, 'You can do it,' and I said, 'I can't. I don't know, Pete, I don't think I can do it. He added: 'No, you can deal with all this'. He encouraged me to get back on my feet ".
During the recent episode of "Mind Wide Open" Eddie Vedder recalled the late frontman of Soundgarden and Audioslave and other musicians - such as Kurt Cobain of Nirvana and Layne Staley of Alice in Chain - who tragically lost their lives. Chatting with Lily, Vedder said:
"Your dad clearly had the music, and his lyrics are dark, Kurt, his lyrics are dark too, Layne's lyrics are dark. And they weren't people who said: 'I'll pretend to write a dark song'. For all of them it was real ".
The Pearl Jam frontman also chatted with Lily about Billie Eilish, reflecting on the impact of grunge music from the early 90s and that of the voice of "Bad guy" on today's audience. Vedder narrated: "A lot of people listen to Billie Eilish. I remember our first album, which contains some sad passages and I think: 'Well, it's a bit depressing that tens of millions of people are connected to this'. But, it was probably a useful thing for everyone ".
Among other things, Eddie Vedder, in addition to discussing the Coronavirus pandemic with Lily, recalled some moments and stories related to his friendship with Chris Cornell. The Pearl Jam frontman has named Soundgarden's "Badmotorfinger" as one of his all-time favorite albums.