"Drink Champs" Podcast Joins Warner Music Group
Cultural storytelling about the hip hop community.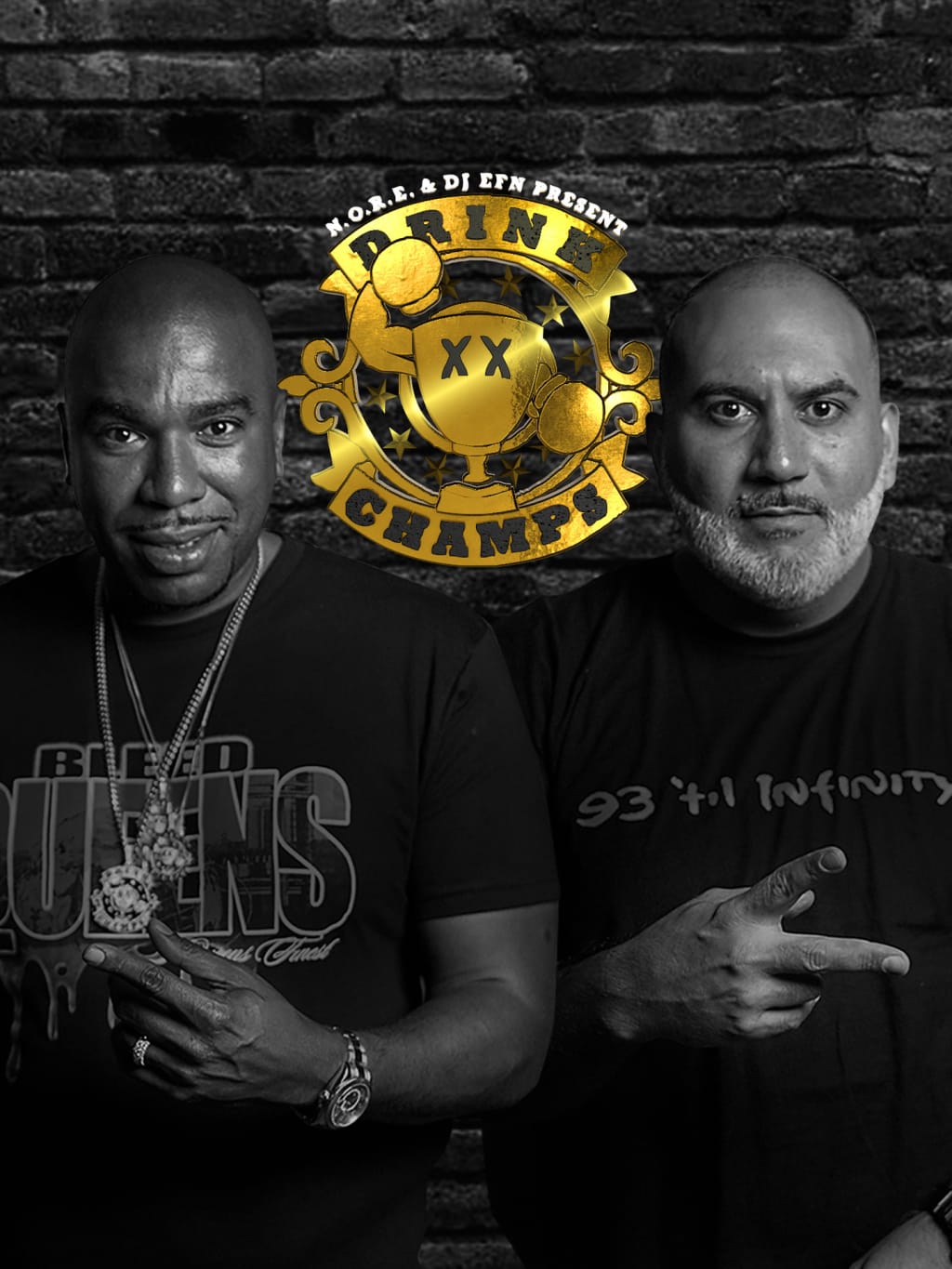 You have to give it up for the Warner Music Group. The company seems to have a well-considered strategy to expand into podcasting. It's not a "throw it against the wall and see what sticks" Spotify strategy, which has engendered a pullback. Warner has moved carefully, keeping close to its wheelhouse. The company also collaborates with talented people.
So it wasn't a surprise when Warner Music Group's in-house podcast network, Interval Presents, announced Drink Champs is joining its programming slate under an exciting new audio licensing deal. The partnership expands Interval Presents' growing audio roster, and the podcast's first episode of the collaboration premieres on January 27.
Drink Champs is joining Interval Presents' impressive programming slate of culture-driven audio content at the intersection of music, pop culture, and social impact alongside Rap Radar hosted by music journalists Brian "B. Dot" Miller and Elliott Wilson, Holding Court with Eboni K. Williams, The Last Resort hosted by indigenous artist and activist Xiuhtezcatl, as well as previously announced upcoming projects with Oscar-winning actress Lupita Nyong'o and pop star Jason Derulo.
"Drink Champs has been at the forefront of cultural conversations for nearly a decade and has created some of the most iconic moments at the intersection of culture and music. They've built an incredible platform that we've admired from afar, and now we're incredibly excited to welcome them to Interval Presents," said Allan Coye, General Manager of Interval Presents and WMG's Senior Vice President of Digital Strategy & Business Development. "Our collaboration will focus on further amplifying N.O.R.E. and EFN's unique and unfiltered approach to storytelling and bringing the show to new podcast listeners."
The show has not been without controversy. Last October, Kanye West was hit with a $250 million lawsuit brought by the family of George Floyd, following remarks the rapper made about his death.
Lawyers representing the family issued a cease and desist letter to West and said his comments were a "repugnant attempt to discount George Floyd's life and to profit from his inhumane death".
It comes after the rapper made an appearance on Drink Champs, where he claimed Mr Floyd was killed by a fentanyl overdose, in contrast to a medical examiner's evidence.
Thankfully, the show typically invites guests that don't have the extremism of Mr. West. I've listened to the show, and it is exactly as promoted, as a night of boozy conversation and boisterous storytelling. The hosts and guests engage together in fun, light-hearted conversation — looking back at their paths to success, highlighting their lives, friendships, and iconic moments within their careers.
Any time multiple people are talking like in a party-like atmosphere, recording a podcast can present problems with volume level, equalization, and people talking over one another. Drink Champs co-hosts and production people have mastered this logistical challenge. The co-hosts' voices are clear, and multiple conversations flow without distortion and add to the depth of the atmosphere.
A long-form podcast — episodes can last over two hours — with a conversational art for exploring ideas, friendship and the most interesting anecdotes from the hip-hop community, Drink Champs excels at unconventional, cultural storytelling.
"I'm feeling good about partnering with Interval Presents and joining the all-star team they've got. We're ready to take things to the next level for us and the culture at large! Let's go!!" said N.O.R.E., rap artist and co-host of the podcast.
"We were impressed with the network's dedication to the culture and the support we've received to expand our show to reach new heights, allowing us to further pioneer and break barriers in the space!" said DJ EFN, co-host of the Drink Champs podcast.
Drink Champs launched in 2015. Each episode features co-hosts N.O.R.E. and DJ EFN enjoying free-flowing conversations over drinks with special guests and celebrities including Dave Chappelle, Alicia Keys, Patti LaBelle and more. The guests discuss the highs and lows of the hip-hop world from the past to the present, while reminiscing about their careers and events that brought them to today.
The podcast recently won Best Hip-Hop Platform at the 2022 BET Hip-Hop Awards and was nominated for Best Music Podcast for the 2023 iHeartRadio Podcast Awards.
The next episode of Drink Champs, and the first under Interval Presents, premieres January 27, 2023, with new episodes dropping every Friday. Until then, check out some of the recent episodes. It's a party in your ears!
About the Creator
I am a South Jersey-based author who is a writer for the Pod-Alization podcast blog on Substack, Ear Worthy on Medium, Podcast Reports on Blogger, Auditorily on Vocal and The Listening Post on Tealfeed.
Reader insights
Be the first to share your insights about this piece.
Add your insights