Documentary Review: 'The United States of Insanity'
The fans of Insane Clown Posse are the subject of The United States of Insanity.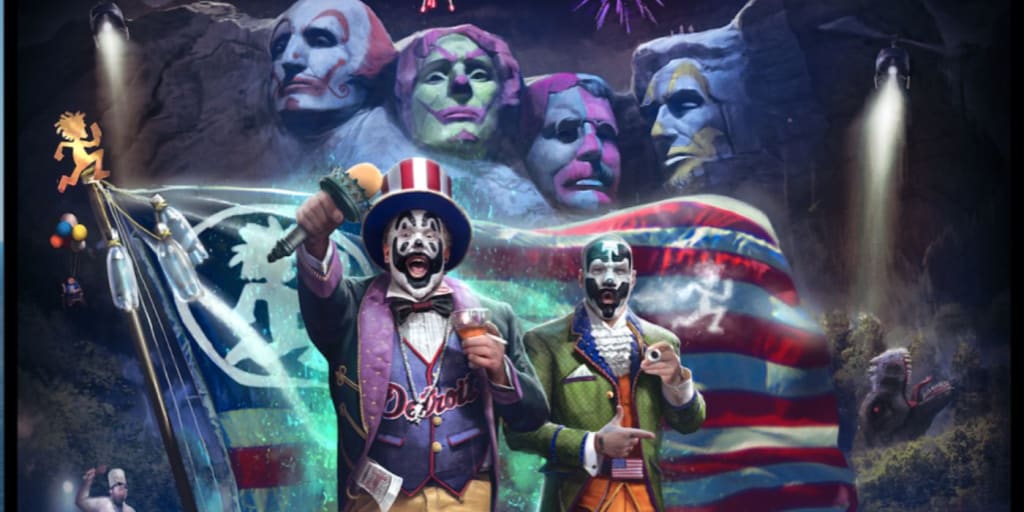 My favorite writer is a man named Nathan Rabin. Nathan's writing is funny, weird, sophisticated and distinctly his own. I admire his voice and envy the clever turns of phrase. It is because I admire Nathan so much that I was able to enter the new documentary, The United States of Insanity, a documentary about the Insane Clown Posse, with less skepticism than I am sure most critics entered with. You see, several years ago, in his brilliant book, You Don't Know Me But You Don't Like Me, Nathan announced that he was a Juggalo. The fact that someone who I truly hold up as a peer and inspiration is a Juggalo opened my eyes to the phenomenon, not as one that I could identify with but one I could understand and respect.
So, what is a Juggalo you ask? It's a name given to fans of the rap duo known as the Insane Clown Posse. Juggalo is more than merely a label to these fans, it's an insignia of inclusion, a signifier that you aren't just a fan, you are part of a community that considers itself a family. That label however, is also one that the government has taken and twisted into something sinister, a criminal gang. The United States of Insanity tells that story, how Juggalos have become a complex and bizarre cultural battleground.
Directed by Brenna Sanchez and Tom Putnam, The United States of Insanity begins by explaining who the Insane Clown Posse are and how they have arrived where they are today. In the late 80's in Detroit, Michigan, Joseph Bruce and Joseph Utsler met as children and became fast friends. Bonding over their difficult upbringing on the far lower end of the socio-economic spectrum, the duo bonded over a shared love of professional wrestling and gangsta rap, both of which would influence their unlikely careers.
Taking on the personas of Violent J and Shaggy 2 Dope, their rise to success was testament to their work ethic. As we hear in the documentary, the hustle of Violent J and Shaggy 2 Dope was unmatched as they promoted their work just as hard as they created it and slowly built a cult following. The duo became the Insane Clown Posse almost by accident as one night Violent J showed up at a concert venue in Detroit with clown wigs. Soon fans were joining in on the clown aesthetic and a hook was born.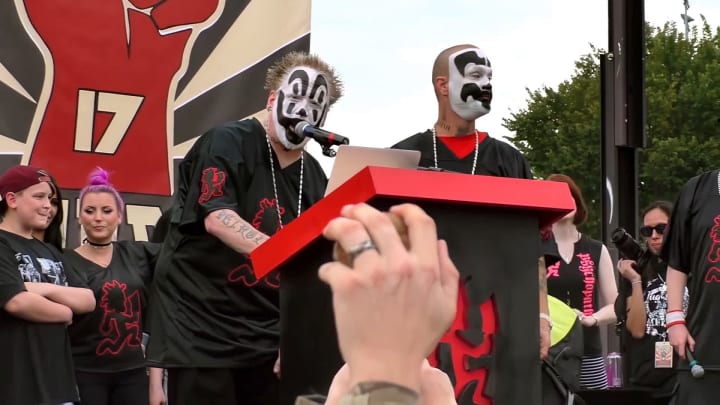 Even as their music was rejected by mainstream audiences, a cult began to form, one that would begin over time to grow and grow as their clown aesthetic and wildly violent, horror-core lyrics began to create its own niche in the music industry. The story of The Insane Clown Posse's success is one of the more bizarre and fascinating pop culture stories of the last three decades. By any account The Insane Clown Posse should never have worked and yet they have stood the test of time and thrive based on the incredible love and loyalty of the fans who've found them.
That's what makes having The Insane Clown Posse's fanbase designated as a street gang so strange and poignant. Juggalos are made up of outcasts from broken homes seeking acceptance and finding it among a group of likeminded and loving people. But, as the documentary even handedly portrays, some Juggalos are violent criminals who use the aesthetic of ICP to set themselves apart. Is that Violent J and Shaggy 2 Dope's fault? I say no, but others who have spent time studying gang behavior disagree.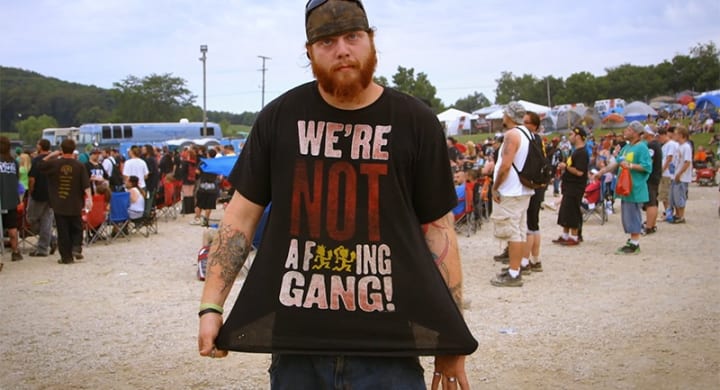 I was surprised at how fair the directors of The United States of Insanity are. The filmmakers go out of their way to allow news reporters and members of law enforcement to state their case regarding Juggalos and while it is clear that these criminals are outliers who have assumed the aesthetic of ICP fans for their own means, as demonstrated in the documentary, it's not entirely unreasonable for law enforcement or the media to explore the use of Juggalo by those who choose to use it outside the bounds of fandom.
That said, do I agree that Juggalos should be considered a street gang? Do I think Juggalos should be profiled by police or harassed just for the music they love and deeply identify with? Of course not, that's alarmist thinking. There are kernels of truth to how others co-opt the Juggalo aesthetic but there is nothing to indicate that Juggalos are any more of a threat to their community than your average sports fan who adopt a team aesthetic or even your average Star Wars fan who co-opt Disney's famed property for their own use.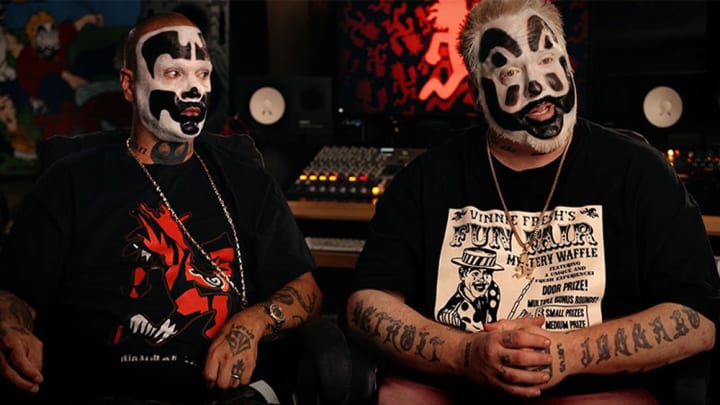 The United States of Insanity is a terrific documentary, even-handed, entertaining and insightful about a fascinating subset of popular culture. I enjoyed learning about ICP and how they've inspired their large and loyal audience. The documentary does well to show both the aesthetic and emotional connection that Juggalos have drawn between themselves and ICP and how seriously and earnestly Violent J and Shaggy 2 Dope feel about their connection to their fans.
The United States of Insanity is on a roadshow tour with Fathom Events and will be shown in theaters across the country on Tuesday, October 26th, 2021.
About the Creator
Hello, my name is Sean Patrick He/Him, and I am a film critic and podcast host for Everyone's a Critic Movie Review Podcast. I am a voting member of the Broadcast Film Critics Association, the group behind the annual Critics Choice Awards.
Reader insights
Be the first to share your insights about this piece.
Add your insights