Depeche Mode Albums Ranked
We just can't get enough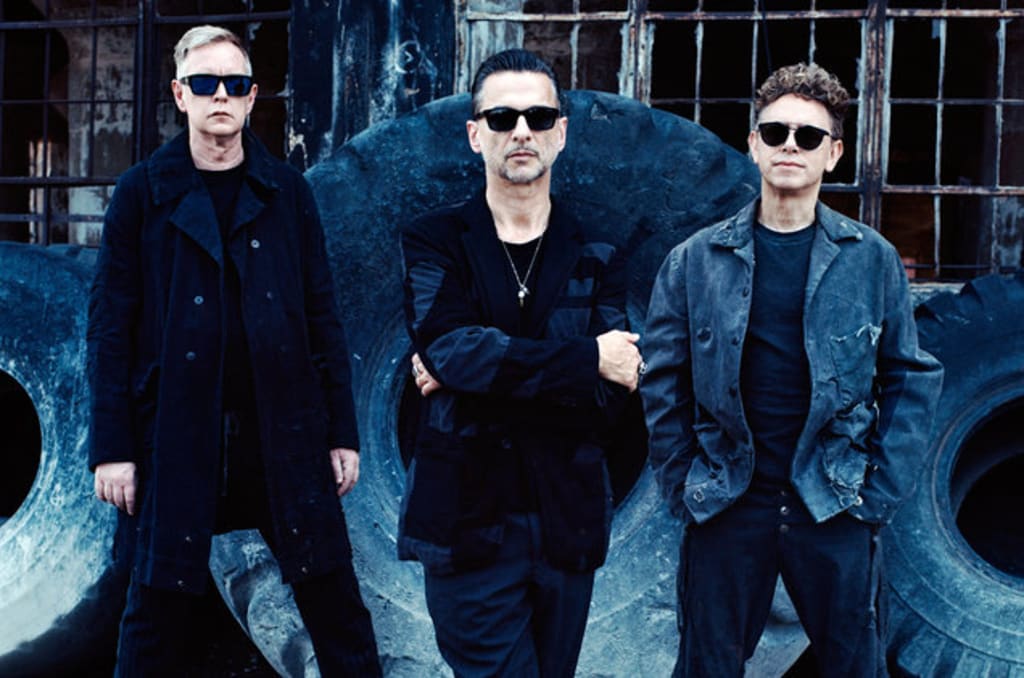 Depeche Mode are my all time favourite band. All fourteen albums in a career spanning nearly four decades have left a mark on me. I have some very solid favourites and found it very hard to rank them all, but I think all the albums are great. I've seen them live during their Delta Machine tour and I was amazed. They're not as young as they once were but they stull gave a lot of energy and passion into the performance and I was amazed by Martin Gore the most. I love his lyrics and I felt him being the main song-writer for the group was one of the best decisions the group had ever made.
Depeche Mode are a band that I'm passionate about, so ranking all the albums was no easy task. I'm only going to count the fourteen studio albums at this time. Maybe when they release some more albums in the feature, I might come back and rewrite this article featuring the recent stuff. This was hard to do, I've looked at other rankings for inspiration, but I still felt stuck. I reall y found it hard to rank because Depeche Mode don't really have any bad albums.
14. Speak & Spell
Starting off the list with their debut album: the only one with Vince Clark who went on to form Yazoo, The Assembley and Erasure. The album is very different to the other works as it doesn't include Gore's signature lyrics. Just Can't Get Enough is catchy and I like New Life, but I the album is not as energetic as some of their later stuff and some of it feels experimental with no real direction.
13. Construction Time Again
I like this album, but it's not my favourite. The songs sound really dated whereas other albums have that timeless feel to it. Whilst you can tell it's a Depeche Mode album, it hasn't got the star quality that some of the later albums have. I like the politically charged tracks though.
12. Some Great Reward
Another good album, it's only low on the list because I don't remember much about the album other than it being one of the first albums I bought on Vinyl.
11. A Broken Frame
If I recall, I remeber the band expressing dislike towards this album. I don't think it's that bad of an album myself. I really like the new directions and risks they took because it helped shaped the band what they became today. I'm very fond of the song Leave in Silence.
10. Spirit
This is one of their most recent releases. It's quite good and I like their lead single, Where's The Revolution. It's politically charged and the album as a whole is another fantastic one.
9. Delta Machine
Another one of their recent albums. I think it's a stronger album than Spirit. I love Sooth My Soul, Goodbye and Angel. I remember seeing them live during their Delta Machine tour and they welcomed with Welcome to my World.
8. Sounds of the Universe
When people are asked what their least favourite Depeche Mode album is they tend to go with the more recent ones or anything post-Alan Wilder with the exception of Playing The Angel. Now people say either Delta Machine or Spirit are the weakest. Before people said either this or Exciter were their weakest. But I really like Sounds of the Universe, it feels experimental. All the songs fit together and my favourite songs here are Wrong, Corrupt and In Chains.
7. Music for the Masses
This album is a fine balance between synthpop and mainstream pop taking a break from the darker stuff they were famous for. Never Let Me Down and Strange Love remains one of their classic songs.
6. Ultra
I think this album is really overlooked and their most underrated in my opinion. Barrel of a Gun and Home are fantastic. The production behind the tracks are fanstatic. It's also a miracle that this album saw the light of day after all the problems going on in the band.
5. Exciter
Not many people seem to like this album because the lyrics are considered bland compared to other albums, but I love the production on this album. Dream on and Free Love are wonderful songs in my opinion. Dead of Night suffers in that regard, but I still like the song for what it is.
4. Playing the Angel
Another great album from naughties, and easilly one of my favourites. Someone made a music video about George Bush using the track John the Revaltor and I think it was perfect. A Pain That I'm Used To reminds me of the Ultra era.
3. Black Celebration
I really like the mellow sounds and lyrics to the songs on this album. I love the title track builds everything up. My favourite songs on this album are Question of Lust, Black Celebration, Stripped and But Not Tonight. I think this album is also a lot gentler than some of the other albums which makes it stand out for me. It's also the first Depeche album I ever bought. I remember downloading the songs on iTunes and loving them so much I went and bought the rest of the album.
2. Violator
Violator is an amazing album and also their most popular one. If you asked most fans what's your favourite Depeche Mode album, many people would say this one. It's got classics like Personal Jesus and Enjoy the Silence. Both songs are ones that are constantly getting covered for a good reason. The band could have easilly stopped here, but they've kept on going nearly thirty years later and released some really great albums since their signiture record.
1. Songs of Faith and Devotion
Violator nearly topped it, but I have a personal connection to this album more than the others. Not only was it Alan Wilder's last album with Depeche Mode it's also one of the darkest and emotive for me. It has the sensual tracks like In Your Room and One Caress and the badass track I Feel You. This entire album is perfection for me. The fact that the album was made during the darkest time of the bands lives makes me appreciate it even more.