Dancing To The Music Of Life
A rhythmical journey
How does one compile a soundtrack to a life that has been so varied and unpredictable? A life full of joy, on one hand, but seared with pain, hurt trauma, parental rejection, and mind-boggling struggles? Nothing can ever really convey the impact and the uneven rhythm of such a life.
I love music. Sure, you might say, most people do. But I was born into a soul and reggae culture in Kingston, Jamaica; one that breathed music and dancing from the womb. Before children were out of nappies they could hum the most popular songs and do the moves to match. This love of music came in very handy when I was 10 and found out that my father didn't want girls, only boys, and my sister and I were grudging inconveniences to him, and also on numerous other occasions when I felt a sense of joy, or sadness, always a trigger or a comfort to my needs.
I am not one for particular music genres to boast of eclectic tastes. As long as the music stirs me in some way, whether poignant, sad, uplifting or quirky, and regardless of culture or language, it becomes a favourite. My music tastes reflect my complex personality and ever changing moods: from being frivolous and humorous to sombre, spiritual; and intellectual, but my dancing is constant. Even at this age (over 60) I cannot stop dancing, even to ringtones! There is an innate compulsion to move. So all my songs tend to reinforce a constant beat that moves both my body and spirit, while taking me out of myself. This would explain why the list of 12 songs I've compiled not only tells a story about my personal journey, but also has some remarkable memories attached to it.
I came to England as a naive teenager in the early '70s and I was terribly homesick at first, missing all the sun, care and warmth of the community I left behind. Everything seemed dour, cold and detached when I arrived here, stifling my extrovert personality and making me wish I was 'back home'. Music became my refuge though I was too young to appreciate the remarkable heritage I had experienced up to that point. I look back at that period now, one which I took for granted, marvelling at its creativity, significance and unique impact on the world.
My mother was well known in our community so she knew Jamaican greats like Jimmy Cliff and his parents, Prince Buster himself (who had a record shop not far from her) and even Bob Marley before he was a Rasta and famous. I was just too young to appreciate their worth or the global impact they would come to have.
Not surprisingly, a few months after arriving in the UK, I found some nostalgic comfort in Marley's No Woman No Cry. It brought back the hustle, bustle and numbing poverty of Kingston which burst out of the lyrics with a power that gripped the soul. Every time he said "My feet is my only carriage, so I've got to push on through', I could almost see him leaving his friends to continue on his barefoot journey because there were few cars in those days, the buses were haphazard, and people had to walk everywhere, if they wanted to shop or see their relatives! Transport was either a bicycle for the fortunate ones, or simply bare feet.
Marley's song was often paired with Ben E King's Stand By Me, one of the most amazingly simple songs of care and love that often left me in tears with its intensity, sincerity and feeling. For years I thought it couldn't be sung any better until it was reworked in a live show with some of his famous friends, like Al Green, and it was unbelievably awesome. However, I still love to hear King's classic version, too.
The first really different song I fell in love with was Neil Diamond's Play Me. I woke up one morning in 1982 to hear Terry Wogan on BBC Radio 2 introducing the song I had never heard before and loved the sound of Neil's voice, the smooth melody and beautiful, soothing delivery. The whole album captivated me entirely and I couldn't stop playing it after I'd got it. Ever since then, I have been an ardent fan of his, often sitting and listening to him for ages. There was something truly charismatic and engaging about the guy. One could say that, around this time, emotionally, I actually started leaving my homeland behind.
By the mid-80s I was more settled: married, with two youngsters and feeling better about my life, while gradually falling in love, too, with my new country. However, it was a bitter sweet time for me in my marriage as I tried to adjust to suddenly having the demands of children and a husband to cater for, while being far away from any support myself. My mother, stepfather and sisters were back in Jamaica and America, and my father had long died. I felt very alone and isolated, especially when my husband had all his family present, and I suffered some racism from them.
I found myself warming to Bob Seger and The Silver Bullet Band, with their album The Distance. Yet it seemed rather strange at the time, as that kind of band would never have appealed to me before. There was a kind of wild rebelliousness in their sound, of someone determined to enjoy their life, no matter what came at them, and I guess that message touched my deep sense of frustration. I loved Roll Me Away best of all. The words "I too am lost, I feel double-crossed and I'm sick of what's wrong and what's right" resonated well beyond music. I guess I felt trapped in some way in my situation and perhaps wanted to feel free, but from what?
By the late 80s, I needed motivating, and Tina Turner did the trick, reminding me constantly that I was Simply The Best, even if I didn't fully feel it or believe it! I guess my unhappiness came from not being able to fulfil my dreams at the time, for a variety of reasons. We were in the Air Force then, moving around regularly and I did not enjoy that nomadic life. As soon as I got a new job as a teacher, which I loved, I had to give it up for my husband's posting to another area, another school, another life. I needed constant motivation amid the disruption to remind me of my worth and talents.
Things got better in the 90s when we left the military and settled into civilian life. We could both do what we wanted then. I had started a business which made a huge community impact, bringing me lots of attention but not enough money, and slowly resentment raised its head. By 2000 our relationship was nearly rock bottom as the blame and accusations crept in on both sides. I fretted a lot about my future without any family support, as I knew I had to leave our marriage to find myself, to find my purpose and self-fulfilment. Celine Dion's I'm Alive kept me anchored, and my self-esteem just about acceptable, until the emotional storm abated.
I left the marriage in 2002 and had two awful years of family deaths to follow it as well - losing my mother, stepfather and a 38 year old sister during that time. It became too much for me. Racked with pain, loss and guilt, I curled up into a ball for months on my bed and hibernated with grief. I couldn't face anyone and had no idea how to cope with all the losses, especially after the long marriage had gone, too. I decided to read: 78 self-help books in two years and emerged from my grief like a butterfly with brand new wings.
I also discovered UB40 and their jaunty style of singing that helped the pain. Things You Say You Love, in particular, seemed to suit my desolate mood admirably. It made a huge impression on me because it was originally made in Jamaica by The Jamaicans in 1967, so was already familiar to me. But UB40's version had a magic all of its own. Perhaps I liked it then because I felt as though I had lost a lot, and had come through a wringer, while its accusatory tone matched the guilt I felt. That phase slowly passed as I rebuilt my life as a single person.
Since my arrival in England, I have always loved the Eurovision Song Contest to the extent that, three years ago, during the pandemic, I listened to every single one of the 1,500+ entries to the competition. I don't know if that's a first, but I wanted to make playlists of my own favourites from each year, and what a marathon that was! However, in the process, I learnt a lot about the contest, its origins, the evolution of the songs themselves and the gradual ways in which the contest, artists and presentation have changed over the years. One of my favourites came fourth in 2010 - In a Moment Like This by the Danish duo, Christina Chanée and Nevergreen. I was still single then and I have a yen for little romantic songs that afford some escape. I loved the simple endearing lyrics, the great performance and the energy of the singers. It left an indelible impression on me.
Four years later, I met the next special person to share my life when he bashfully attended an event at a meet up group I organised. I was feeling too ill to even be looking for anyone, but our eyes met as soon as he walked in, and that was it! I didn't think we had that much in common at the the time though, until months later when I spent a weekend at his home and woke up to the most amazing album which he said was one of his favourites: Mamelang by Zulu Heartbeat. It was kind of surreal bonding with this White guy over breakfast to powerful African beats, but there were lots I didn't know about him, like his vast, diverse music taste and loving, easy, humorous approach to life. We have learnt so much from each other in the last eight years and couldn't be closer now. Sapheli Sizwe is my favourite from the album which has an absolute feast of songs.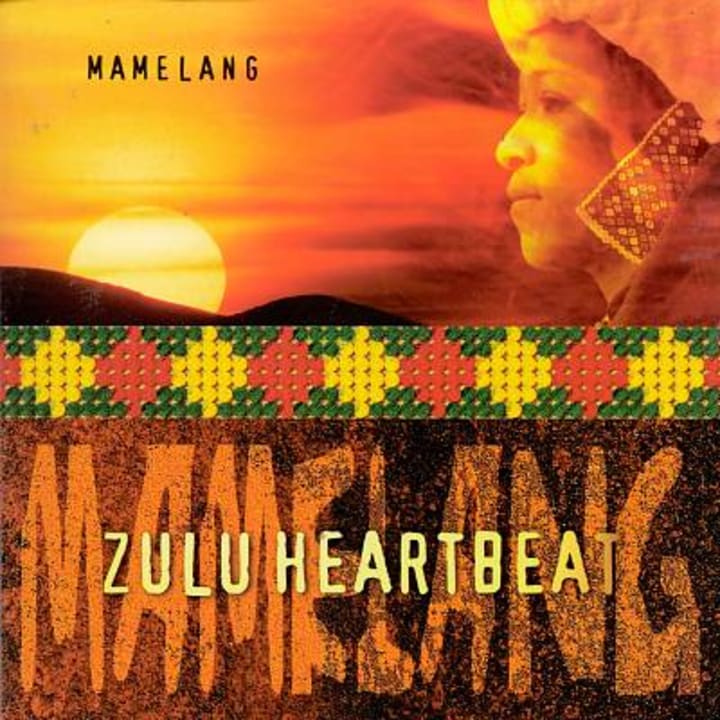 My next big Eurovision favourite came a few months into 2015 with the Italian entry, Grande Amore by Il Volo. I have never heard such an amazing song, and was rather disappointed when it didn't win, but placed third. The power of that song lifted my heart to new heights. I couldn't stop playing it for days later. Perhaps it had something to do with the fact that I was in a better place by then, loving life, laughing a lot, and feeling cherished. The song was so apt for that moment in my life, but was also very different from the usual Eurovision entries.
My next choice reflects where I am now. It is one of the playlist from the powerful BBC drama, I May Destroy You. It is called Pynk, sung by Janelle Monae feat. Grimes. It is certainly not my usual type of song, but the moment the first bars began, I was hooked on it. There was something about the punchy rhythm and the fearless words that made me want to simply move and move. I cannot sit still when I hear it, and have it as part of my exercise playlist which I hear every day. Girl bands do not normally appeal but the cheeky way they sang this one made its own impact and added something extra to the drama.
I am at peace with all aspects of my life, despite a debilitating illness, especially being a fully fledged Briton who adores this country. I'm far more experienced, with that early naivety long gone, and doing exactly what I want with my writing, presenting and podcasting, surrounded by the numerous songs that I love to hear and the main person I care about. Sometimes it just seems magical! My kids are abroad, and they are the only missing part. Though it hasn't been an easy journey, I wouldn't change one bit of it either, as all that I've experienced has helped to make up this resilient, confident, determined person who is dancing her way through life with a smile. I guess I will be listening and dancing to all kinds of music for the rest of my life, and I cannot think of anything more wonderful to savour!
I started with Bob Marley, and will end with him. This last song sums up my values and one of the things I cherish most of all: living in harmony and love together with others, no matter who we are, or what age we are. Marley's One Love sums it up brilliantly and has the knack of making me feel fantastic, too, just glad to be alive every time I play it!
About the Creator
British Podcaster/Empowerment coach/DEI Consultant. Author: 7 Steps To Finding And Keeping 'The One'! and The New Theory of Confidence. Graduate/Doctor of Open Univ; Postgrad of Cambridge Univ. Keen on relationships, motivation and books.
Reader insights
Outstanding
Excellent work. Looking forward to reading more!
Top insights
Compelling and original writing

Creative use of language & vocab

Easy to read and follow

Well-structured & engaging content

Excellent storytelling

Original narrative & well developed characters
Expert insights and opinions

Arguments were carefully researched and presented

Eye opening

Niche topic & fresh perspectives

Heartfelt and relatable

The story invoked strong personal emotions

Masterful proofreading

Zero grammar & spelling mistakes

On-point and relevant

Writing reflected the title & theme
Add your insights