Dance n Chill Kmusic Hits
Dance n Chill till you drop with this playlist. Also, find out why I picked these songs.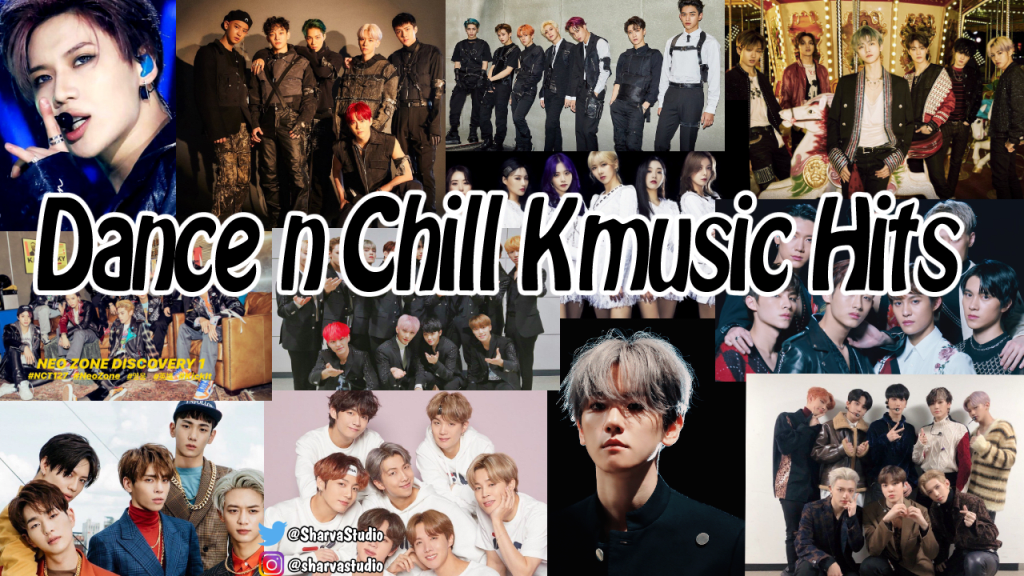 As an introvert who already enjoys being inside, the quarantine hasn't been too troubling for me. But I do realize how hard it can be for those who love the outdoors or hanging out with friends & such. So, I decided to create a playlist of my favorite Kmusic songs and let you know why I picked them. Here are my Kmusic Hit Picks:
1) 2 Fast By SuperM
This is my favorite song from the first SuperM Album. The song is smooth and sexy. The best part is the "RnB Slow Jam" moment towards the end being sung by Baekhyun, Leader of SuperM. They was the first Kpop group I ever listened to. Their music has led me to a bunch of new artists to listen to. They're working on their second album at the moment. Here's a playlist to help you get to know the members and their music better:
2) Betcha By Baekhyun
Baekhyun, Leader of SuperM & Member of EXO, is a very talented solo artist as well. He has an album called City Lights and each song is pure RnB GOLD!! It's one of the few albums where I'll enjoy all the songs without skipping one. Baekhyun is currently working on his second album and I'm very excited about it. Here's a playlist of Baekhyun related videos:
3) Day and Night By Taemin
Taemin is a member of SHINee, SuperM, and is also a solo artist. This is one of my favorite songs from him. It's just very relaxing to listen to. The music video is very chill and I love the aesthetic. Taemin is such a versatile artist. I'm pretty sure he has touch on most music genres out there. Same for his group, SHINee. Here's a Taemin Playlist:
4) Ya Ya Ya By EXO
My favorite song from EXO's latest Album, Obsession. This song is straight from the 90s! This is the song you play at the cookout and everybody starts dancing. I love the vibe it gives off and I hope to one day hear this sung live at least once .
5) Baby Don't Like it By NCT 127
This song has some Old-School feels to it. The vocals work together very well. On top of that, you have Mark & Taeyong rapping which brings the whole song together. I can see someone chillin' in their house listening to this. NCT 127 have a new album out now with their main track called "Kick It". The music is exciting to watch. If you want a challenge during quarantine, try to learn the choreography. Good Luck! Here's a NCT Playlist:
6) Ridin' by NCT DREAM
This song from NCT DREAM's latest album will have you feelin' some type of way. Their vocals + Visuals draw you in. The song is very catchy to me. After only listening to it once, I was Ridin' & Rollin' through my house. You should check out their new album and this playlist I put together:
7) We Go NaNaNa By WayV
WayV is part of NCT but they have a unique style that is all their own. This group has hits and I want to see what they'll come up with next. I picked this song because it's upbeat and put me in a good mood which is something that is very need in this time. Here's a WayV Playlist you can watch:
8) Anpanman By BTS
This was probably the first song I heard from BTS besides "2nd Grade". This song just gets me going! The energy is intense and I listen to it daily. This is the jam that someone would be blasting out their speakers while they're rolling through their neighborhood. Here's a playlist of BTS:
Other songs on the Playlist: (Check these groups out!!)
1) Blooming Day By EXO-CBX
2) SSFW By Chanyeol
3) Young & Free By EXO's Xiumin & NCT's Mark
4) Long Flight by NCT's Taeyong
5) PIRI By DREAMCATCHER
6) I Got A Boy By Girl's Generation
7) New Heroes By NCT & WayV's Ten
8) Winter Wonderland By SHINee
9) CLAP By SEVENTEEN
10) Twilight By ATEEZ
11) Snapping By Chung Ha
12) Magnetic By Monsta X & Sebastián Yatra
13) Oh NaNa By K.A.R.D
14) DDU-DU DDU-DU By BlackPink
15) Give It To Me By SISTAR
16) Red Flavor By Red Velvet
17) Adios By Everglow
Hope you enjoy my playlist and song recommendations! Now Go Dance n Chill!
What do you think of my playlist? I know there's a LOT of great songs missing but I'm still pretty new to Kmusic. What are some of your favorite songs?
Instagram: https://instagram.com/sharvastudio
Twitter: https://twitter.com/SharvaStudio
Ko-fi: https://ko-fi.com/sharva

SharvaStudio
Writer / Artist
I discuss topics involving Korean/Black Culture, especially in the Kmusic community. I create art as well. Always learning new things! I hope we'll have great conversations.
My Socials: https://linktr.ee/sharvastudio
See all posts by SharvaStudio →