Celebrating Ten Years of Pussy Riot
"Russian officials should not stay unpunished; they cannot have this kind of absolute power over us." - Maria Alyokhina, 2014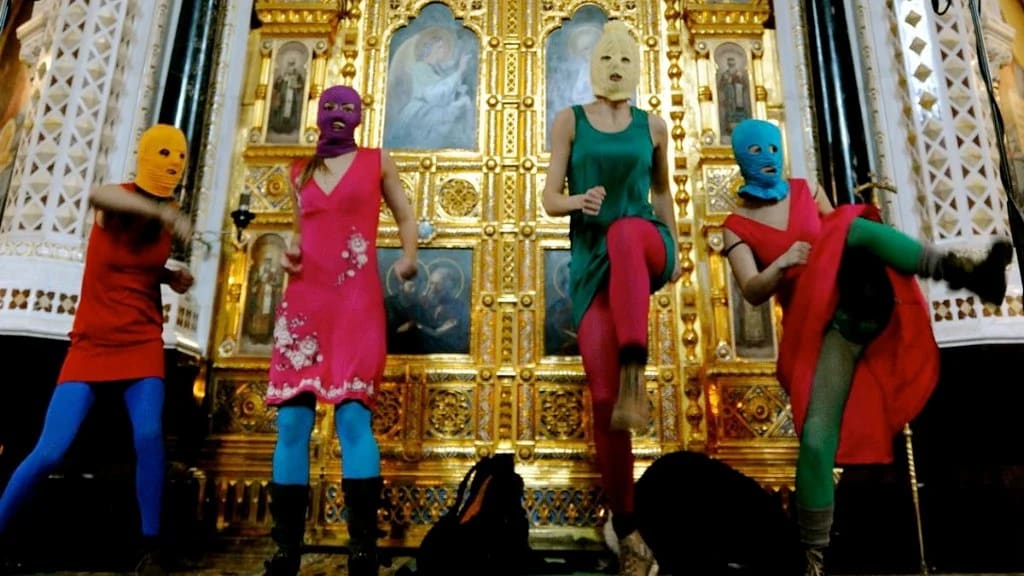 Punk Prayer
Celebrating Ten Years of Pussy Riot: A Brief Biography Breakdown – The Story so Far
"Russian officials should not stay unpunished; they cannot have this kind of absolute power over us." - Maria Alyokhina, 2014.
This August marked the tenth anniversary since the birth of Russian feminist punk rock group Pussy Riot. The group first gained media attention when two members, Yekaterina Samutsevich and Nadezhda Tolokonnikova played a recording of Pussy Riot's song 'Ubey seksista' (Kill the Sexist) at a lecture on feminist punk. The two members used to belong to another anti-government protest collective called Voina (translating as war), but the group disbanded in 2009. In Vonia's aftermath, Pussy Riot staged a series of public performances, beginning with Release the Cobblestones. Masked members in colourful balaclava's performed on top of scaffolding on the subway, while ripping feather pillows and throwing the contents onto the track below. This was then followed by another performance on top of the roof at a Russian Detention Centre, which was holding fellow members who had been arrested a week earlier at the mass protests against the results of the recent State Duma elections. Nataliya Galkina and other Pussy Riot members were then arrested and charged 500 rubbles (£6) for breaking the rules around conducting rallies, after their Putin Zassa performance, (translating as Putin Has Pissed Himself) while letting off smoke bombs at Moscow's Red Square .
Pussy Riot's presence continued to gain media attention and notoriety by causing tension during Putin's controversial re-election in 2012, which in turn, divided the Russian people. Accusations of electoral fraud sparked several protests and demonstrations, some of which, involved thousands of protesters widespread throughout Russia. The group highlights taboo subjects within the social and political discourse of modern Russia, such as anti-feminist traditions, supporting LGBT groups and other historically marginalised groups, and being openly anti-Putin in their songs. On occasion the group are faced with negative backlash that aim to deter and stop their protests, some of whom, act with violence.
Pussy Riot's next stunt shook the status quo and the groups A Punk Prayer (2012) became known as one of the best political protests of the 2010's. Five members (out of the eleven total members) disguised in winter clothes entered the Cathedral of Christ the Saviour of the Russian Orthodox Church in Moscow. They began to jump around the altar of the church, while punching the air, and of course wearing their iconic coloured balaclava's. The women also laid prostrate on the floor imitating prayer. Dancing to a parody of the song Hail Mary (also known as Ave Maria), the lyrics urged the Virgin Mary to help get rid of Putin and highlighted the intimate relationship between the church and Russian intelligence (KGB) . The song also criticised anti-feminist traditions of the church, while repeating the slogan, 'Stran Gospodnya,' meaning the 'Shit of the Lord.' Met with outrage and international attention, particularly from the West, members Nadezhda Tolokonnikova and Maria Alyokhina were arrested and charged with hooliganism and insult to feeling. They were imprisoned for two years and denied bail. Another member Yekaterina Samutsevich was also arrested on March 16, 2012 but was later released. The two women continued to stage defiance as they starved themselves in protest, never giving up their values, and ultimate mission (to change Russia).
Once Alyokhina and Tolokonnikova were free (2014), the two women were no less deterred and 'pledged to devote their energies to changing the political system in Russia and improving conditions inside its prisons.' Alyokhina described her prison sentence as a time of "endless humiliations", including forced gynaecological examinations every day for three weeks, she said that they were released as part of a wide-ranging amnesty. She continued: "I decided to become a human rights activist when I realised how easy it was for officials to make a decision and force women to be examined in the most intimate parts of their bodies. Russian officials should not stay unpunished, they cannot have this kind of absolute power over us. "
Tolokonnikova commented saying "Russia is built along the same lines as a prison camp at the moment, so it's important to change the prison camps so that we can start to change Russia,". "Everything is just starting, so fasten your seat belts." In 2018, four members staged a protest at the World Cup Final, where they ran across the pitch during the second half of the match . The members were then charged by Russian authorities, while members claimed to have been denied access to a lawyer. The group has since built their presence on social media, earning themselves over 100,000 plus subscribers on YouTube. Members also continue to be vocal about their support for Alexi Navalyn Putin's opposition and strive to change the life of women and minorities in Russia.
Putin advocates and traditionalists perceive feminism as an ugly curse, that is the very ruin of a women, and is not an ideal wife. It comes to no surprises that the attitudes towards women in Russia is of second-class citizens and a resistance group such as Pussy Riot is the effect of this very repression. The groups 'art' is subjected to ridicule and violence for highlighting a reality for most women living in Putin's Russia. In addition to, holding said individual responsible and accountable for enabling the conditions for inequality. There is a mighty gap of gender inequality in Russia. Domestic violence was decriminalised by the government in 2017. Physical domestic abuse is rife, and its decriminalisation justifies violence towards women, and thus allows women to live in a dangerous environment that threatens their life's.
As a spectator born and living in the West, Pussy Riot's actions are admirable, brave and (it is my belief) necessary. The groups very existence provides life to the idea of equality, and a new type of Russia. Pussy Riot is proof that it is time for Russia to move on from its post-Communist state and into a new era that is free of fear, prejudice, and discrimination. Although it is a beautiful conception, it will be hard and tedious to achieve, Pussy Riot, will create a legacy that I am sure we will see soon and many years to come.
Bibliography
Anon, (n.d.). Pussy Riot in Translation. [online] Available at: https://www.full-stop.net/2012/08/17/blog/helen-stuhr-rommereim/pussy-riot-in-translation/ [Accessed 30 Apr. 2021].
BBC. (2013). Pussy Riot - A Punk Prayer. [online] Available at: https://www.bbc.co.uk/programmes/p01hs5t8 [Accessed 30 Apr. 2021].
Belarus Lukashenko: Hundreds arrested at mass protests in Minsk. (2020). BBC News. [online] 7 Sep. Available at: https://www.bbc.co.uk/news/world-europe-54044750.
Chebankova, E. 2016. "Theoretical Debates within Contemporary Russian Feminism." Russian Politics 1 (3): 223–251.
Johnson, J. E. 2016. "Fast-Tracked or Boxed In? Informal Politics, Gender, and Women's Representation in Putin's Russia." Perspectives on Politics 14 (3): 643–659.
Marie, L. (2020). Pussy Riot as a Case Study of Music as a Form of Protest. [online] California Sanity. Available at: https://californiasanity.com/2020/09/14/pussy-riot-as-a-case-study-of-music-as-a-form-of-protest/ [Accessed 30 Apr. 2021].
NME (2018). Who are Pussy Riot? A guide to the Russian activist group who crashed the World Cup Final. [online] NME. Available at: https://www.nme.com/blogs/nme-blogs/who-are-pussy-riot-russia-activist-group-world-cup-final-pitch-invasion-2354987 [Accessed 28 Apr. 2021].
Open Culture. (2012). A History of Pussy Riot: Watch the Band's Early Performances/Protests Against the Putin Regime | Open Culture. [online] Available at: https://www.openculture.com/2014/03/a-history-of-pussy-riot.html.
Rozanov, D. (2011). Voina: artists at war. [online] open Democracy. Available at: https://www.opendemocracy.net/en/odr/voina-artists-at-war/ [Accessed 30 Apr. 2021].
Sperling, V. 2012. "Nashi Devushki: Gender and Political Youth Activism in Putin's and Medvedev's Russia." Post-Soviet Affairs 28 (2): 232–261.
The Guardian. (2013). Freed Pussy Riot members say prison was time of "endless humiliations." [online] Available at: https://www.theguardian.com/world/2013/dec/23/freed-pussy-riot-amnesty-prison-putin-humiliation.
The Mail & Guardian. (2013). Freed Pussy Riot members more defiant than ever. [online] Available at: https://mg.co.za/article/2013-12-25-freed-pussy-riot-members-more-defiant-than-ever/ [Accessed 30 Apr. 2021].
Welle (www.dw.com), D. (n.d.). Pussy Riot: bad lawyers, or band betrayal? | DW | 11.03.2013. [online] DW.COM. Available at: https://www.dw.com/en/pussy-riot-bad-lawyers-or-band-betrayal/a-16661751 [Accessed 30 Apr. 2021].
Williams, J.K. (2019). Bedtime stories for young feminists. [online] J.K. Williams. Available at: https://jkwilliamsoriginalwork.wordpress.com/2019/07/09/bedtime-stories-for-young-feminists/ [Accessed 28 Apr. 2021].
bands
I have a BA in English Literature and Creative Writing, and I am currently studying for my Masters in International Relations and Politics.
I am also a mum to a beautiful baby boy, and a dedicated coffee advocate ☕️
Receive stories by Laura-Jasmin Nuttall in

your feed