'Breaking Hearts'
Elton John's 80s comeback continues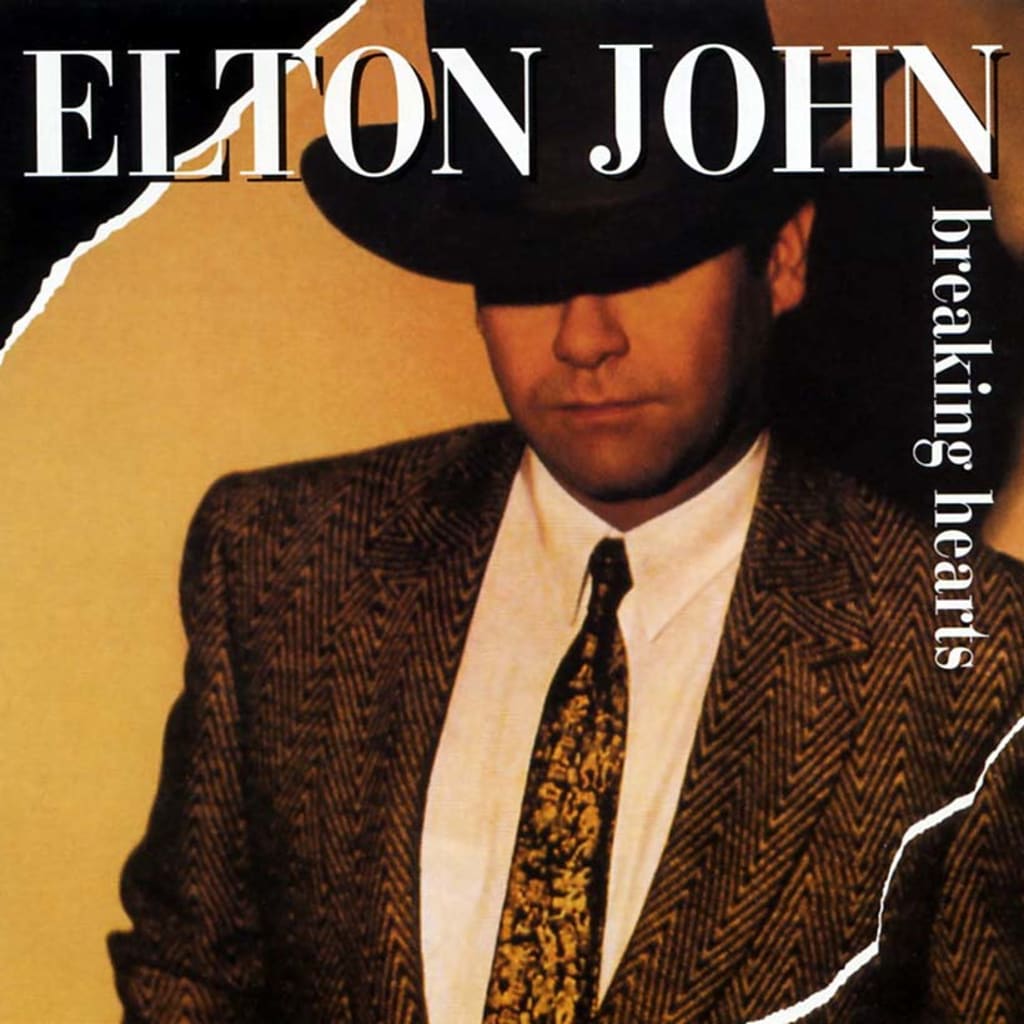 After the success of Too Low for Zero, Elton John decided to keep basically the same production team for its follow-up album, Breaking Hearts. The classic band of Davey Johnstone on guitars, Dee Murray on bass, and Nigel Olsson on drums returned, as did producer Chris Thomas. Bernie Taupin was now firmly back as Elton's full time lyricist. The album (like its predecessor) was recorded at AIR Studios in Montseratt. The engineer on the album was Renate Blauel, to whom Elton would later be briefly married.
The album opens with "Restless," an electric guitar and synthesizer-laden track. Elton played all the keyboards on this album. Following this album, each album would feature a secondary keyboardist. The classic harmony blend of Davey, Dee, and Nigel once again shines in this song. The song could be considered a commentary on the Cold War, with its "walls have ears" and "big brothers watching" allusions. Continuing the Cold War symbolism, the second track on the album uses the Berlin Wall as an example of how nasty the reputation of a woman the narrator's friend is dating. The song, "Slow Down Georgie (She's Poison)" is a pretty straightforward rocker, with a lot of great guitar work from Davey Johnstone, and backing vocal magic from Davey, Dee, and Nigel. Lyrically, the song is a warning from a friend, against dating a woman due to her nature.
"Who Wears These Shoes?" was released as a single, and once again shows off the backing-vocals prowess of Davey, Dee, and Nigel. One thing you will notice from the first three tracks is the prevalence of synthesizers and electric guitars, in lieu of Elton's once-dominant piano.
Next is "Breaking Hearts (Ain't What It Used To Be)," which finally brings Elton's piano back into the spotlight with a serviceable ballad, reminiscent of songs like "Goodbye," and "Elton's Song," from earlier albums.
A massive, "one... two... three" snare drum flourish from Nigel Olsson launches the rocking, yet lyrically stupid, "Li'l 'Frigerator." Elton accents the song with some nice Hammond Organ parts, and Andrew Thompson provides a nice sax solo.
Next is "Passengers," another song that was released as a single. The music is based on a South African folk song, called "Isoto Lezayone," of which a version was recorded by Phineas McHize, who was awarded a writing credit along with Davey Johnstone, in addition to John and Taupin. Bernie's lyrics can be interpreted as an attack on South Africa's racist apartheid system, at the time.
Next is "In Neon," a slower number, and fine album cut. It features prominent Fender Rhodes and harpsichord played by Elton, and once again features great backing vocals by Davey, Dee, and Nigel.
"Burning Buildings" comes next, which is a piano-driven ballad, and again features great backing vocals.
"Did He Shoot Her" features Davey Johnstone on sitar, but otherwise sounds like a relic of its time, with its pronounced synthesizers.
Closing the album is its hit single, "Sad Songs (Say So Much)," which is an example of Elton playfully putting an upbeat melody to complement Taupin's melancholy lyrics, previously used in songs such as "I think I'm Going to Kill Myself," and "Better Off Dead."
Elton still includes "Sad Songs" in his concert setlist, to this day.
Sadly, Breaking Hearts would be the last Elton John album to feature Dee Murray on bass, as he and Nigel Olsson were dismissed once again following the accompanying world tour, despite providing backing vocals on Reg Strikes Back, in 1988. Murray would sadly die from melanoma in 1992.