Black Sabbath: "The End" Live
Review of Black Sabbath's Final Show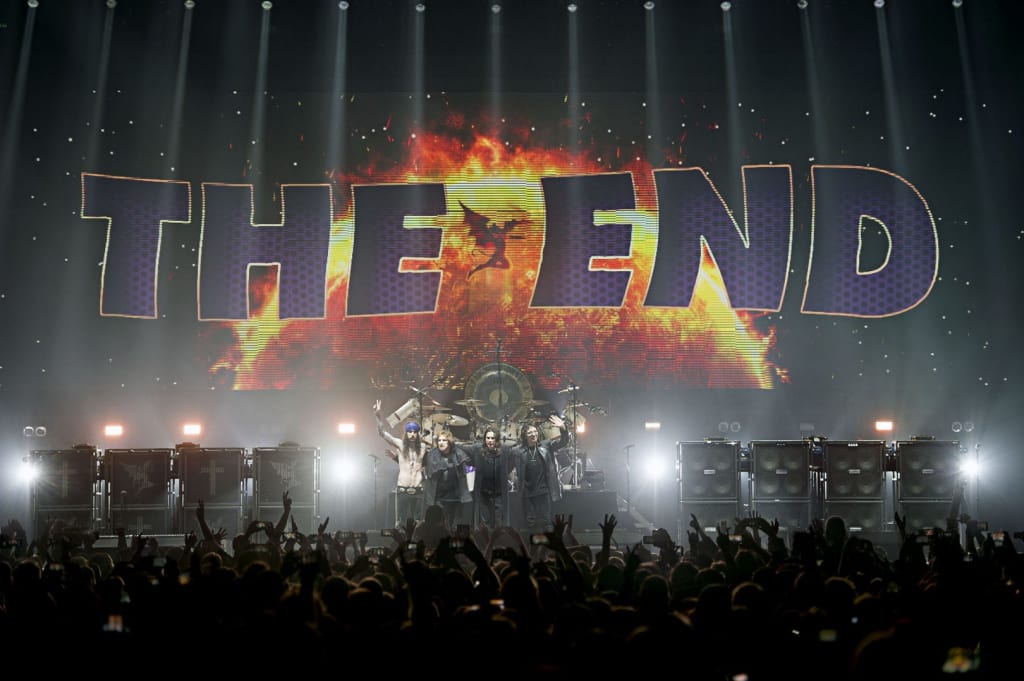 Black Sabbath take their final bow at Birmingham's Genting Arena in February 2017
Black Sabbath—the world's best heavy metal band. Every band has its "peak," but it is clear from Sabbath's final show that the near 50-year-old Birmingham boys still have metal deep in their roots.
When I think of the most defining groups of the last 50-plus years, three names come to mind: The Beatles defined pop/rock; Led Zeppelin defined heavy rock; but Black Sabbath truly defined and paved the way forward for heavy metal. Throughout their troubled history—including changing their lead singer, break up, reunion and health difficulties—Sabbath has continued to push the boundary on heavy metal and provide inspiration for thousands of established, new, and emerging artists.
Fifty years after their creation in Birmingham, England, it's February 4, 2017. As the 15,000+ strong crowd files into the arena, music history is about to be made. This is Black Sabbath's "The End" tour, but this is a show like no other—after a half-century career, this is Black Sabbath's final show. Ever.
After a storming opening set by Rival Sons, who during their speeches state Sabbath as one of their biggest influences, the lights go down and the sold-out crowd roar with excitement as the opening film is projected on to the arena height curtain disguising the stage. An Alien-esque egg rolls back to reveal the Devil, who then sets out to destroy civilisation as we know it. The Devil works his way through cities and towns before basing himself deep within a skyscraper. Shackled, he leans back and summons all of his power before letting out a deafening scream that echoes around the arena. Breathing fire towards the curtain, two words emerge from the flames...
"Black Sabbath."
With this, Tony Iommi slides into the opening notes of "Black Sabbath," the first song from the first album, to open the final show. Flames emerge from the stage as the curtain is drawn back to reveal Ozzy, Tony, Geezer, and drummer Tommy Clufetos. This is a show like never before.
Sabbath works their way through a show-stopping two-hour set including their greatest hits: "War Pigs," "N.I.B," and "Children Of The Grave," to name just a few. The crowd go absolutely wild, forming a large circle in the packed standing area before pushing eager audience members at each other from opposite corners. This is not just a concert, this is more like a religious pilgrimage through some of music's most defining songs.
Ozzy, who often remains cautiously silent in words throughout Sabbath's recent shows, is unusually vocal during the show—one comment from him being, "We've been going for 50 years, I can't f***ing believe that s**t."
Tony's mind-blowing solo medley—including "Sabbath, Bloody Sabbath" and "Megalomania"—gears the crowd up towards a final four songs. "Iron Man" receives one of the best reactions of the night, with every member of the audience shouting and chanting along with Ozzy, who smiles in amazement at what must still be a surreal moment even after 50 years.
As the band exits the stage after "Children of the Grave," Ozzy can be seen peering from behind the amps and equipment before shouting to the crowd, "One more song!" to which the audience is quick to chant in reply.
For the final time, Sabbath return to the stage, straight after talking to Sharon Osbourne, who is watching the entire show from stage right. The lights drop for one final time, as the unmistakable notes of "Paranoid" fill the arena.
As confetti and balloons fill the room, Ozzy, Geezer and Iommi play their final song, ever.
This truly was a show like no other, and I had the privilege of being there. A night to remember for the rest of my life—and as the band join together to take their final bow (pictured above), you felt like you were seeing the end of a moment-in-time.
Black Sabbath had officially come to an end, in style. With their Facebook picture changing to their logo with 1968-2017 written below, their reign over heavy-metal was over, but the legacy they leave behind will never end.
If you would like to experience this jaw-dropping show, the full show was recorded in full HD and is available to purchase as "The End: Live in Birmingham" on two CDs, two CDs/DVDs, Blu-Ray, and three LPs.