Beast Coast: Where Are Groups in Rap?
And also album expectations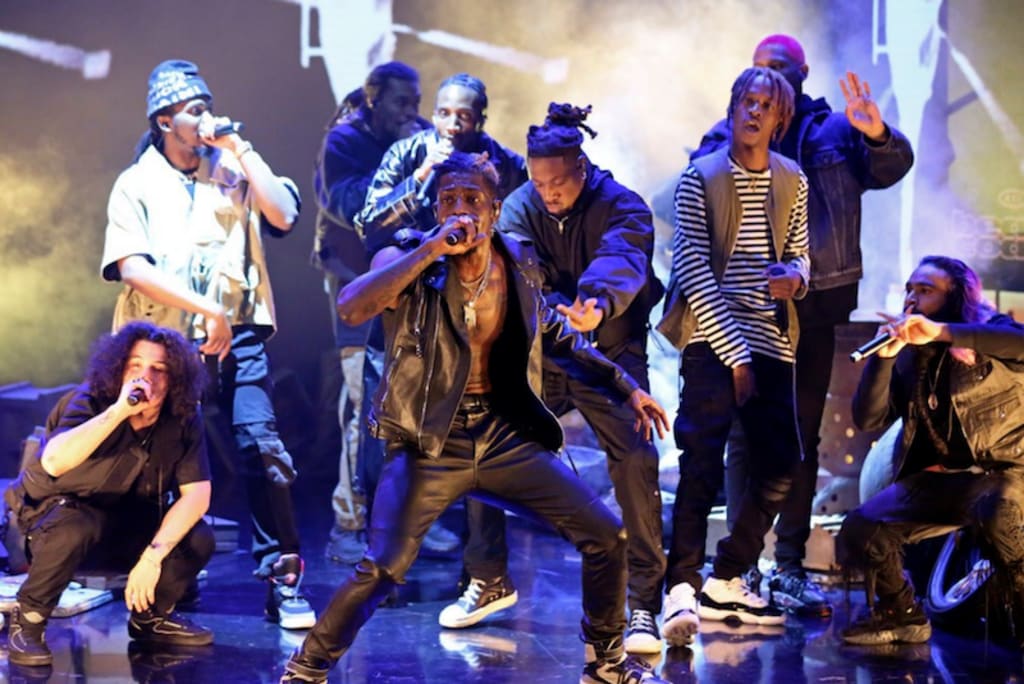 Beast Coast is the collective group consisting of the Underachievers, Flatbush Zombies, and Pro Era, all three groups originating from New York and creating their fame from the ground up. As part of the promotion for their upcoming Beast Coast Tour (and what fans assume will also be a Beast Coast album), they released two singles, "Left Hand" and "Coast Clear," both produced by Powers Pleasant, one of Pro Era's producers.
While both songs seem to have the same end goal, boasting their achievements and lyrical ability, and creating a track that fans can dance and vibe to, "Coast Clear" sounds more like a rap ballad, but the bass and subject matter prevents it from truly being so.
Rather than simply reviewing both songs, I want to discuss the logistics of Beast Coast themselves and what it means for Indie, underground and mainstream hip hop. But if you're wondering, I love both tracks and I'm happy to see Beast Coast working together as one for the first time in a few years.
The Underacheivers, founded in 2011, consist of Issa Gold and AK. Flatbush Zombies, founded in 2010, consists of Meechie Darko, Erick Arc Elliott and Zombie Juice. Pro Era, the largest group in Beast Coast, consists of CJ Fly, Joey Bada$$, Nyck Caution, Kirk Knight, Powers Pleasant, Chuck Strangers, Rokamouth, Dessy Hinds, Aaron Rose, Jakk the Rhymer, and J.A.B. Former members of Pro Era, founded in 2008, include Dymeond Lewis, T'nah Apex, Swankmaster RAW and Capital Steez (RIP).
As aforementioned, Beast Coast is made up of three groups or crews or clans, or whatever you'd like to call them. I know the words are essentially the same, but in music they have different meanings (at least they do according to Murs from Hip Hop DX). [Clip] If I understand correctly, Pro Era is a collective, while The Underacheivers and Flatbush Zombies are groups. This is because Pro Era operates a bit differently. Though they can operate as one, they primarily create music on their own and may link up within the group to create smaller groups, like Nyck @ Knight.
Re-Emergence of Groups in Music
Music groups almost went extinct in music for awhile, and for good reason. There is a lengthy history of music groups being scammed and played by their record labels and managers (NWA, TLC, New Edition, etc.). Also, having more than one performer, means that checks are often split multiple ways. There are also different strengths, weaknesses and creative desires that have to be taken into consideration with each project. And of course, personal issues and differences between group members play a role in business matters. But, there are also important logistical reasons that groups can be beneficial. Like in the cases of Pro Era and Flatbush Zombies, having an in house producer, or in house producers, make creating a track much easier and means that paperwork takes a lot less time.
Groups also encourage friendly competition. When one person on the group spits a great verse, others feel the need to go harder. We haven't seen many recent groups established, but we may see them make a resurgence.
Who is Who?
Perhaps the biggest downfall of a group is the sonic affect on the listener. Crowding too many people on one track can be very confusing for the listener when they're trying to distinguish who's who. It's not a problem for more seasoned fans, but for people listening for the first time, it can be overwhelming. Think of the initial reaction that people had to Wu-Tang's "Protect Ya Neck," they were pretty confused. This would especially pose a problem if more Pro Era members were included in tracks as time goes on. At this point, only four Pro Era members have been on these latest Beast Coast singles (five, if you count Pow P as producer), but when more members are added in, it can get even more confusing. Pro Era managed this well with their own group projects by limiting the group members on each track, with the exception of tracks like "Suspect/Third Eye Shit" and "Last Cypher."
Social media and the internet present more opportunities for collaboration among artists and the dying prominence and importance of music executives has pushed many artists to pursue independent careers, which allows artists to pursue music and performances without worrying about splitting a set amount from their recording contract. Hopefully, this means that we'll see more rap groups emerge. I love seeing groups in both R&B and hip hop and the different vibes that different members bring to tracks.
Album Expectations
The Beast Coast album comes out on May 24th, 2019, which is about a week away. Beast Coast has been uploading promotional videos on the Flatbush Zombies YouTube channel. First, they did Basement Cypher with Big Tigger, which was fantastic and a really good way to rope in old school hiphop heads and rap apologists and also, just people who are a fan of bars and freestyles. They also have Zombies' series LSD25 on, which is very similar to Loiter Squad or The Eric Andre Show in its simultaneous absurdity and innocence and also its comedy style and I love it. In Nyck Caution or Connor McNagger's (or Ricky Rage, I'm not sure which is which right now) segment, he mentions the name Escape from New York, which a lot of people were wondering about.
I have a couple of ideas as to what to expect in terms of the name. First, I think it may be about making use of all kinds of rap, rather than just boom-bap or nostalgia inspiring rap, which is what Pro Era was known for for awhile (and is what they're still known for in some cases). In all of their separate projects, I think all artists in Beast Coast have shown that they are versatile and like to make many different kinds of music, so I'd love to see them continue to explore that. My second theory is that rather than remaining popular in New York, the name illustrates their potential and desire to continue succeeding. I would love for those to be puddle deep compared to the actual meaning, but I would also be happy if I thought of what they intended for the meaning to be. In terms of song types I would love to hear a ballad on this album, just to see how all ten artists will tackle it. I'm also curious as to if Kirk Knight will be producing anything on this album and how it would sound transitioning between songs produced by Kirk Knight and those by Pow P. I also hope that there's a cypher type song, sort of like Suspect or Left Hand. A song where they all have their own verse and tackle a similar subject. But I'll be happy to just have the album, honestly.
About the Creator
25. I'm a writer and illustrator. I like films, television, books, music, politics and being black.
Reader insights
Be the first to share your insights about this piece.
Add your insights