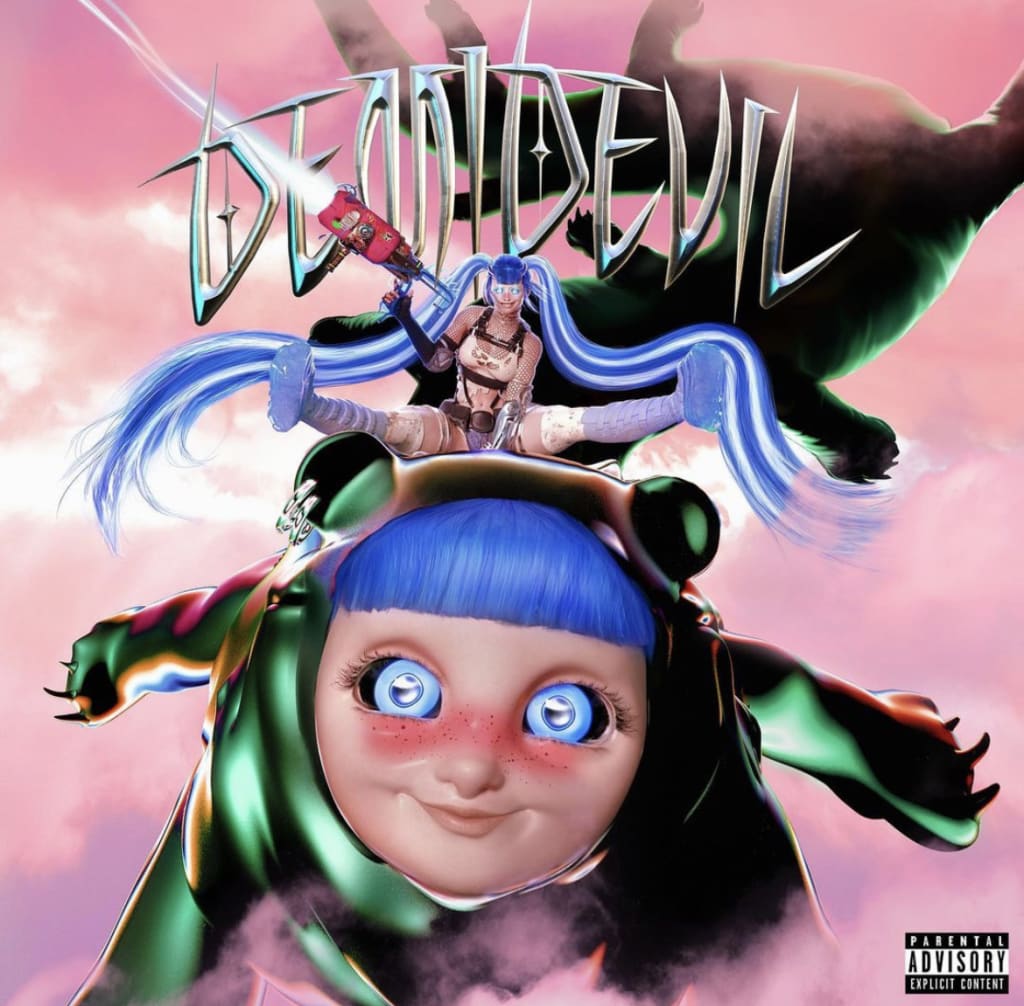 My favorite blueberry brat has released her mixtape, DEMIDEVIL, and let's just say there was some highs, some lows, some surprises, and a lot of amazing beats. So let's just get into this strangely great mixtape.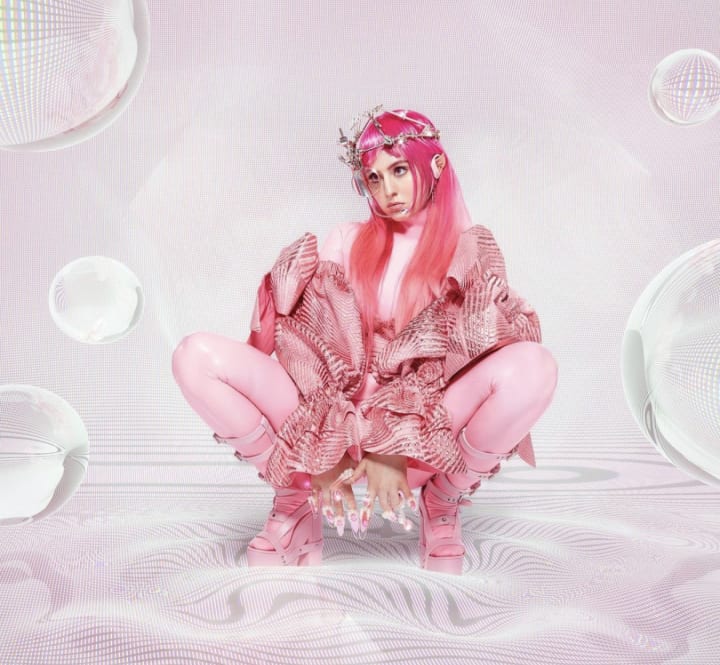 Track 1 - Daisy
Already beginning the mixtape with a banger. No matter how many times I listen to "Daisy" it gets better and better. It ages like fine wine. I'm truly hypnotized with this edgy and bossy pop song. The song is overflowing with confidence and I love the lyrics. My favorite line is probably, "Fuck a princess, I'm a King" and "Being a bitch is my kink", those lines just hit hard. Then ash's voice is amazing on this song. I love the little rasp in her voice, her playful tone, and the cockiness in her voice. This song fits her voice so well. It's a match made in heaven. I love this song so much, and it's a banger.
10/10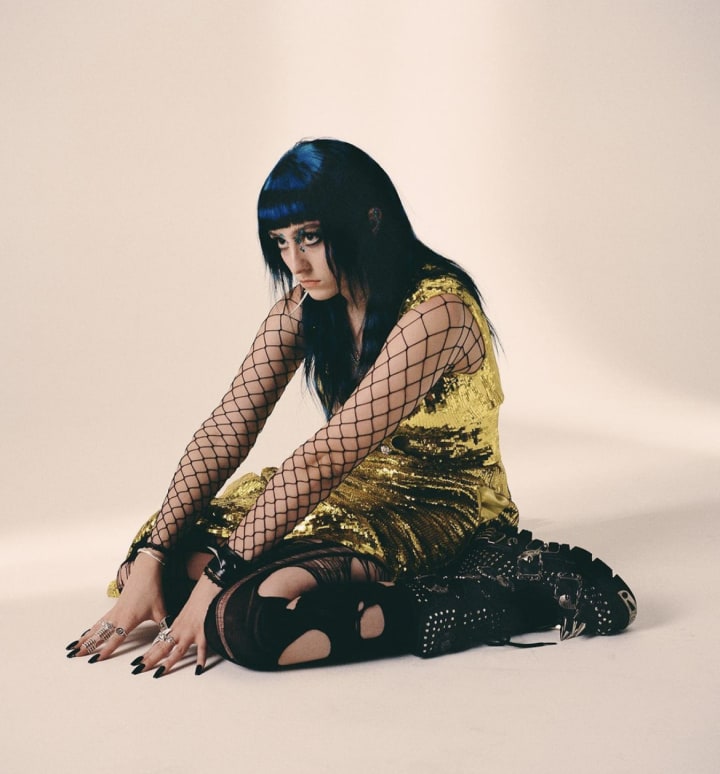 Track 2 - Toxic
Onto another banger. Again this song is so hypnotic. I'm put in a trance when I listen to this song. Again this is a boss bitch anthem and is like a fuck you to men who are trying to bring girls down in the music industry. It's common knowledge that women have to work 4x more than men and have to deal with misogyny and dumb shit in the music industry, so I love how Ashnikko is like 'Hell no! No man made me! I made myself!' It's such a confident song and it is so catchy. The chorus is stuck in my head, and I love the lyrics. My favorite line is, "Self-made, self-paid, How dare you speak my name." It's such a good edgy pop song about being a boss bitch, and I am here for it.
10/10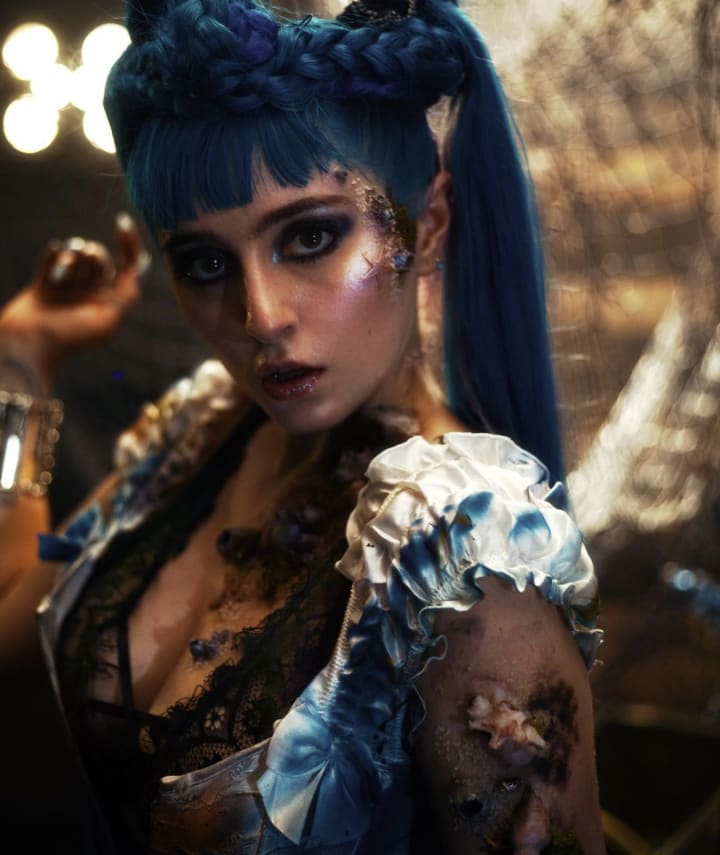 Track 3 - Deal With It Ft. Kelis
Now onto the first collaboration with Kelis, which was such a surprise to me because Kelis is the last person I imagined collaborating with Ashnikko. I was shocked to see Kelis on the track, but I'm glad we got this collab. Now onto the song, at first I wasn't a fan. It was boring and it just didn't stick to me on the first few listens. Then when the whole mixtape came out, I listen to it again, and it has grown on me. It's a cute little pop song about getting over a stupid boy. It gets more catchy the more you listen to it, and I love the part with the "ooh-aahh-oohh" in the background that sounds like a siren calling to me. I love that part a lot. Overall it's a cute song, at first I didn't care for it, but now I like it.
8/10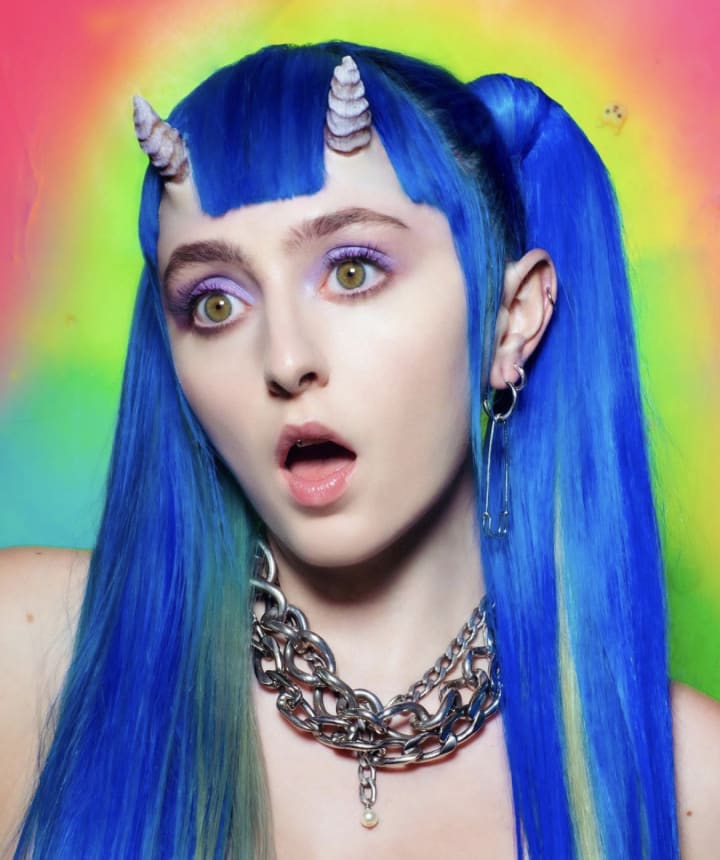 Track 4 - Slumber Party Ft Princess Nokia
Alright, first I have to fangirl a bit because Princess Nokia is on this track, and I love Princess Nokia. I also love Ashnikko, so this collab is a dream come true for me. I can die now knowing they made a song together, and it is a good song. The instrumental is weird as hell, but it makes this song really fun and it's so damn catchy. Then Ashnikko's voice in the chorus is hypnotizing. I don't know what it is, but the vocals really hit in this song. Then with Princess Nokia, she brings her own flavor and is so incredible. They pair each other so nicely. "Slumber Party" is a bop, and is basically about hooking up with a girl and spinning around the slumber party trope where men fantasize about girls at slumber parties, but now the girls are having fun at slumber parties and Ash got with this dude's girlfriend which is iconic. Also, this girl is a heartbreaker I guess because one line says, "My heart palpitations, she looks like the type to break it," which I really like that line. Overall it's a fun little song, and side note I learned the word cunnilingus because of this song, so that's cool I guess.
9/10
Track 5 - Drunk With My Friends:
Now we are partying in "Drunk With My Friends," but I am not having fun at this party. I don't really click with this song, and I'm not a fan of how mumbling Ash's voice is on this track. She probably made it sound mumbling and a bit muffled to showcase how she's drunk with her friends and partying hard which is smart for the song, but I just don't like it. It's ok, but it is pretty bland for me, and I don't have much else to say about this song. "Drunk With My Friends," is an ok song and that is it.
6.5/10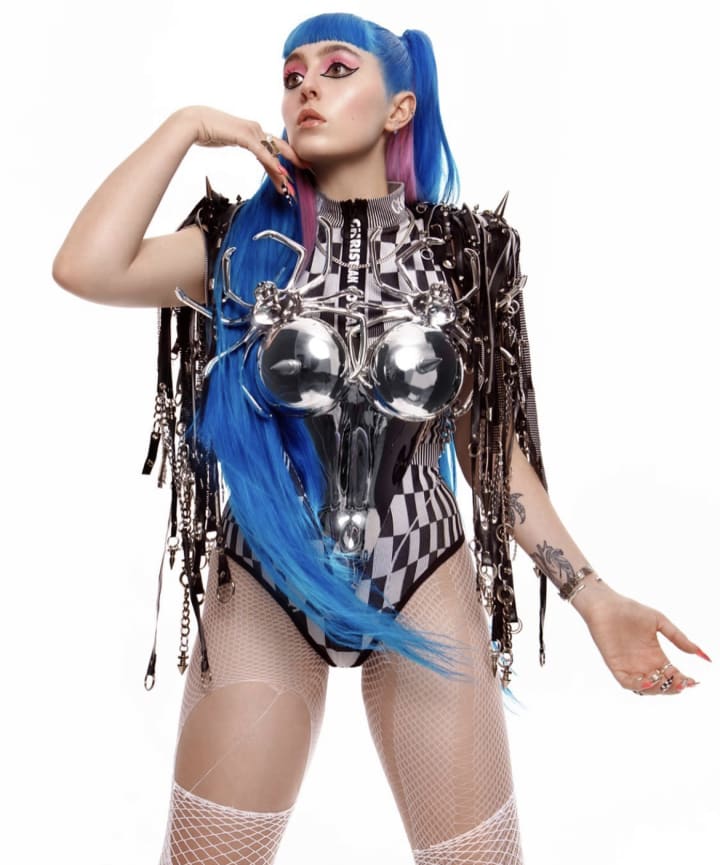 Track 6 - Little Boy
We got another song about stupid boys, and this is one of my other favorite songs on the mixtape. There is a bit of vulnerability in this song, and talking about how men underestimated Ashnikko and treated her like shit. I love that we got a song that is rawer because with Ashnikko most of her songs are about being a king and being confident, so this is a refreshing song from her. It has this bittersweet feeling to it, with it about being treated like shit but finding out you are worth something. I love the little bit of complexity in the song, and not just in the context but in the production as well. From the vocals and instrumental, it's haunting in a way and honestly, the ending gave me goosebumps. It's so hypnotic and intoxicating, and I love this song.
10/10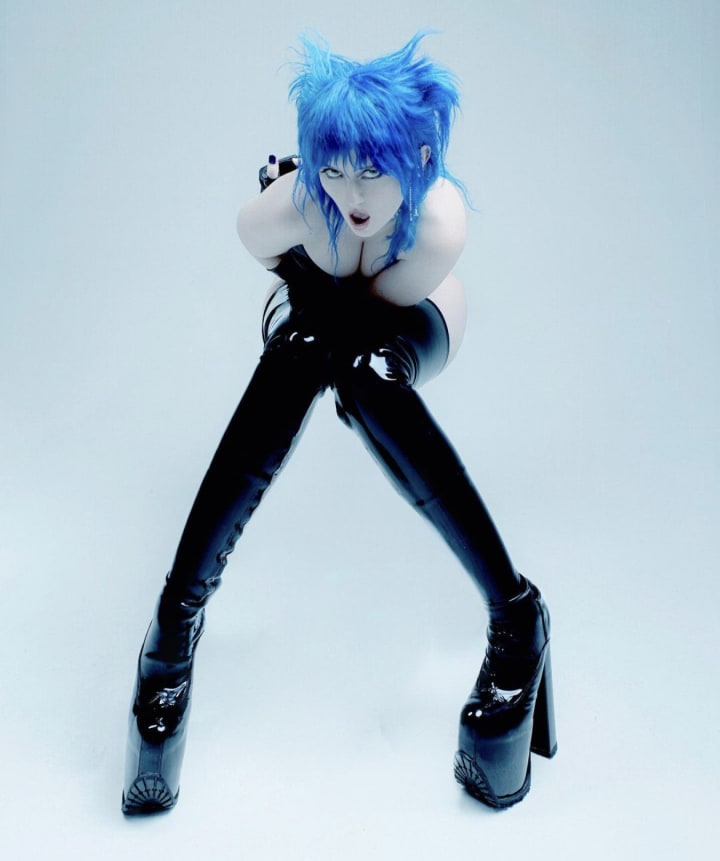 Track 7 - Cry ft Grimes: 9/10
Now onto "Cry" where my dreams came true. Ash gave us a rock kind of song, delivered vocals and emotions, and got Grimes on here, so I won again. This song is so fucking good, and when it was first released it was perfect timing because I was dealing with stupid boys so this song was there for me. I love how Ash sings on this song. She sounds like she is actually about to cry, and I love how raw her vocals are. The emotion and anger in her voice just hits me like lightning, and then with Grimes coming in creates a beautiful juxtaposition with Ash's rough voice and Grimes mechanical soft voice. It is a great pairing. I love this song a lot, and this collab is amazing.
9/10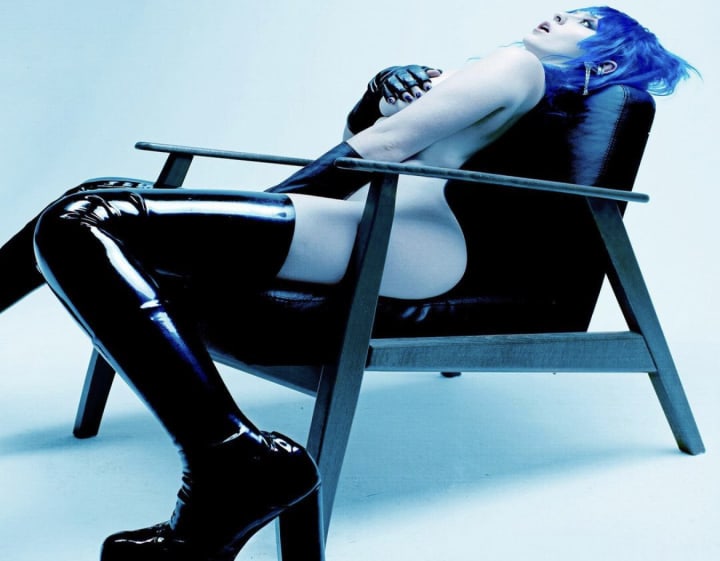 Track 8 - L8r Boi
'L8r Boi'. Obviously Ashnikko played with Avril Lavigne's song "Skater Boy", and I love how she reverses the song into how the ballet girl is independent and doesn't need the skater boy who was dragging her down. It's a nice twist on the song, and I love how it still has that punk feel to the original song. It's a cute song, and Ashnikko fits punkish songs so well. In general, Ashnikko fits well with all types of genres, but she fits punk songs so well and I hope she does more in the future. Overall "L8r Boi" is a cute song.
8/10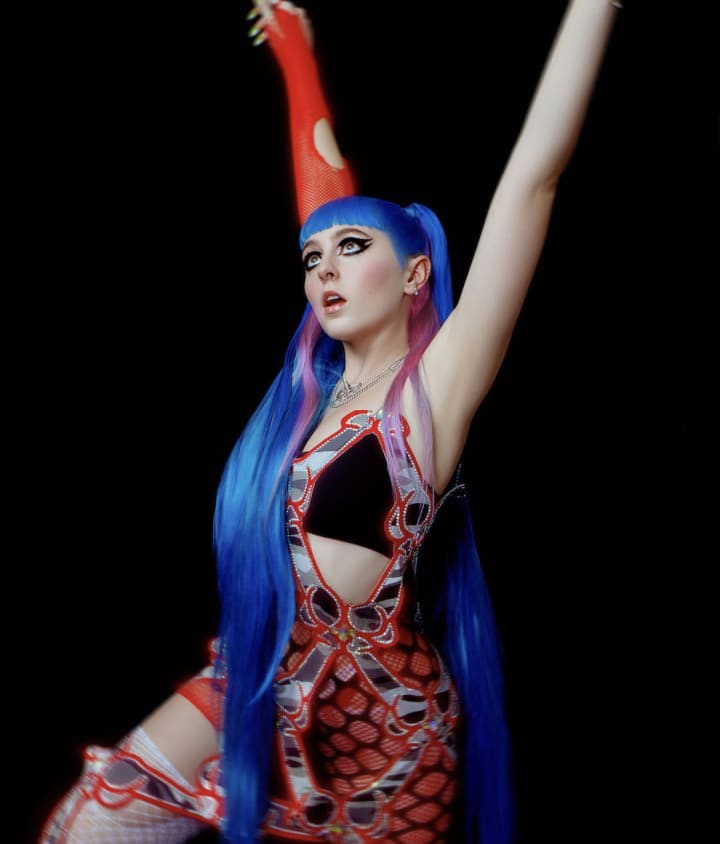 Track 9 - Good While It Lasted
We are now onto Ashnikko's most different song to date. Also her most emotional song to date. I am repeating myself I feel like, but I love how raw Ashnikko vocals are in this song. It's so emotional and feels like she is on the brink of tears. It is also so refreshing because usually Ash doesn't release songs like this. Songs like 'Daisy, "Stupid" "No Brainer" are songs full of confidence and about being a boss, but this song is vulnerable and sad. There is pain in her voice and lyrics, and I love how Ashnikko showed this side of herself, and I really appreciate seeing this side of her.
9/10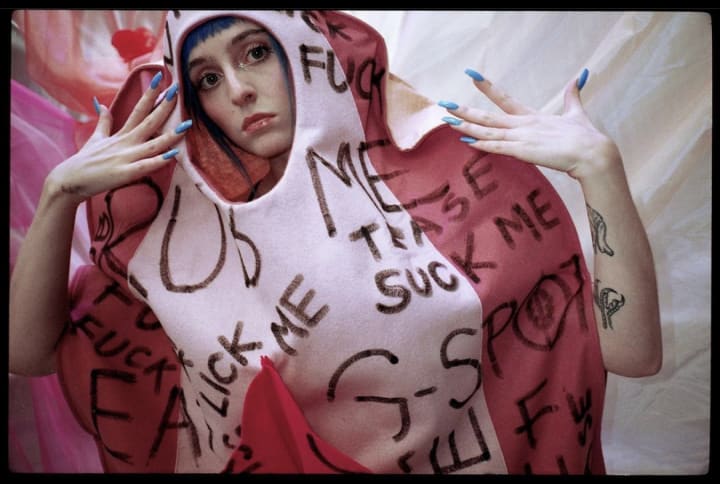 Track 10 - Clitoris! The Musical
Clitoris The Musical was released like a year ago during her video of Ash Wednesday where she was selling jeans and made out with a pair of jeans. It was a weird but funny video, and Clitoris The Musical is a weird but funny song. It's cute and playful, but other than that I don't care for it. I do like Ashnikko vocals, she is a really good singer, but other than that yeah. I don't care for this musical, and I wish it wasn't the ending to the mixtape because it's such a lukewarm ending, but oh well.
6/10
Well, that was DEMIDEVIL and it was better than I expected. Going into this, I thought this whole mixtape would be full of bad bitch songs, which isn't a bad thing. I like bad bitch songs, but it was nice to see sadder songs like "Little Boy" and "Good While It Lasted", pop bangers like "Deal With It" to more punkish songs like "Cry", and amazing collabs with Princess Nokia, Kelis, and Grimes. "Demi Devil" is a versatile project, and Ashnikko is becoming an edgy pop princess and I am here for it. I really enjoyed Demil Devil, and it was worth the wait.
Demi Devil - 8.5/10
Song Ranking:
1. Little Boy
2. Daisy
3. Toxic
4. Cry Ft. Grimes
5. Slumber Party Ft. Princess Nokia
6. Good While It Lasted
7. Deal With It Ft. Kelis
8. L8r Boi
9. Drunk With My Friends
10. Clitoris! The Musical
Reader insights
Be the first to share your insights about this piece.
Add your insights