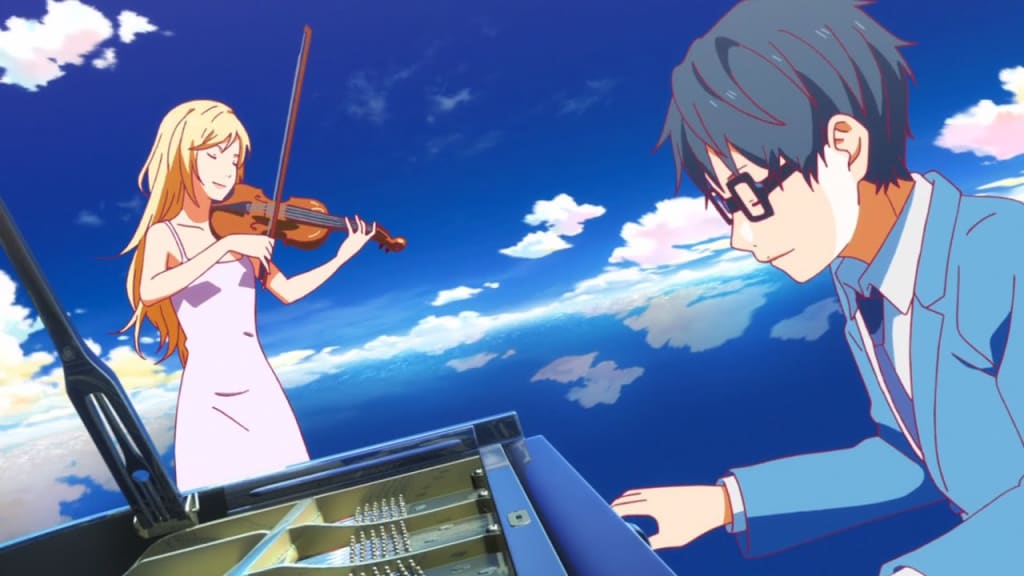 Welcome to day 9!! If you missed the first few days here is the idea behind the 30-day anime challenge. I saw this post on Pinterest and thought it was a fun little challenge to do for the first month of the New Year. I did a challenge similar to this back in 2013 so I am curious to see if my tastes have changed much in the past 10 years.
I think the purpose of this challenge is to just post a picture but me being the extra person that I am, I will write a blog about each topic.
This is different from what I am used to blogging, which makes me excited to test my creativity and go back to find the answers to these writing prompts. On day one I found that I couldn't just pick one anime so I decided for each of these questions I will be doing 5 for every topic.
Feel free to join me in the comments below! I'd love to hear your answers too!!
Subscribe to not miss a day of anime content
Day 9 Anime with the best soundtrack
I have been a musician since I was little, Music runs in my family, and even as a child watching movies I could hear and feel the soundtracks. My family used to play a soundtrack and we would have to guess the movie from it. To this day my family can't watch a movie without commenting on the soundtrack. So it is safe to say I have been looking forward to this day.
Soundtracks often go overlooked and don't get the recognition they deserve, yet they are such a key part of making a great movie or anime. The soundtrack speaks to you on a deeper level and causes you to be overwhelmed with emotions by what you watching.
It was a lot of fun to write about animation and different art styles, but considering I am not an artist or animator that topic is still pretty unknown to me. Now I am not a professional musician but I do feel as if I am way more qualified to talk about the soundtracks I loved and why.
Because I am only listing 5 I am going to be leaving the studio ghibli movies out. Otherwise, I would just list 5 of their movies. studio ghibli is incredible at creating pleasing and peaceful soundtracks, which I listen to daily. If you need good study music or music to help you sleep I highly recommend putting on a studio ghibli playlist. With that in mind here are my top 5 favorite soundtracks from an anime.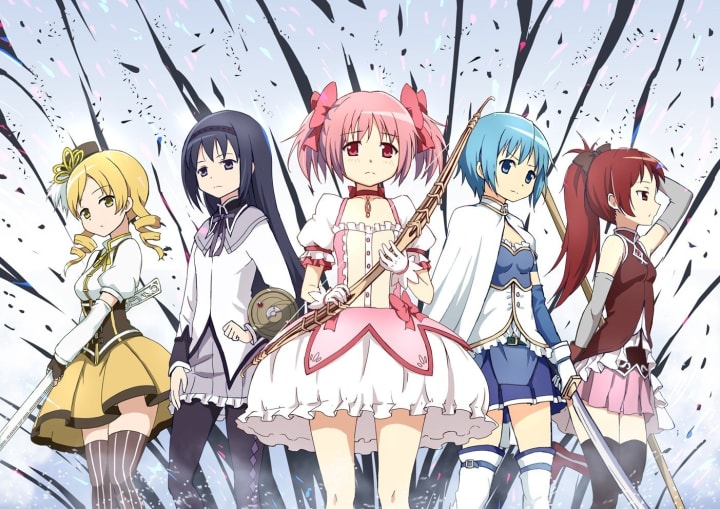 Madoka Magica ( Puella Magi Madoka Magica )
Storyline: One night, 14-year-old Madoka Kaname has a terrible nightmare - against the backdrop of a devastated city, she witnesses a girl fight a losing battle against a dreadful being lingering above, while a cat-like magical creature tells Madoka the only way to change that tragic outcome is for her to make a contract with him and become a magical girl. The next day, the teen's dream seemingly becomes reality as the girl she saw in her dream - Homura - arrives at Mitakihara Middle School as a transfer student, mysteriously warning Madoka to stay just the way she is. But when later on her and her best friend Sayaka encounter the same cat-like magical creature from her dream - who introduces himself as Kyubey - the pair discovers that magical girls are real, and what's more, they can choose to become one. All they must do is sign a contract with Kyubey and agree to take on the duty to fight abstract beings called 'witches' that spread despair to the human world, and in return, each one of them will be granted any single wish they desire. However, as Homura's omen suggests, there might be far more to becoming a magical girl than Madoka and Sayaka realize.
This anime had my mind blown. The first time I watched it I had no idea what I was getting myself into. With that in mind, the soundtrack is incredible. This is a magical girl anime, but with a dark twist, and the music captured this perfectly. It is upbeat, lighthearted, meditative, and ominous.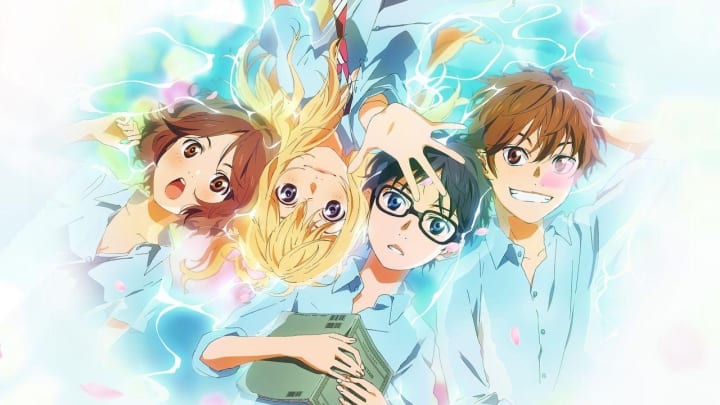 Your lie in April
Storyline: Kousei Arima was a genius pianist until his mother's sudden death took away his ability to play. Each day was dull for Kousei. But, then he meets a violinist named Kaori Miyazono who has an eccentric playing style. His monotonous life was about to change forever.
Of course, an anime about musicians made it on my list. Not only are the scenes with them playing incredibly emotional, but every scene has such deep and touching music. This anime goes through some heavy topics and the soundtrack's ability to pull at your heartstrings is incredible.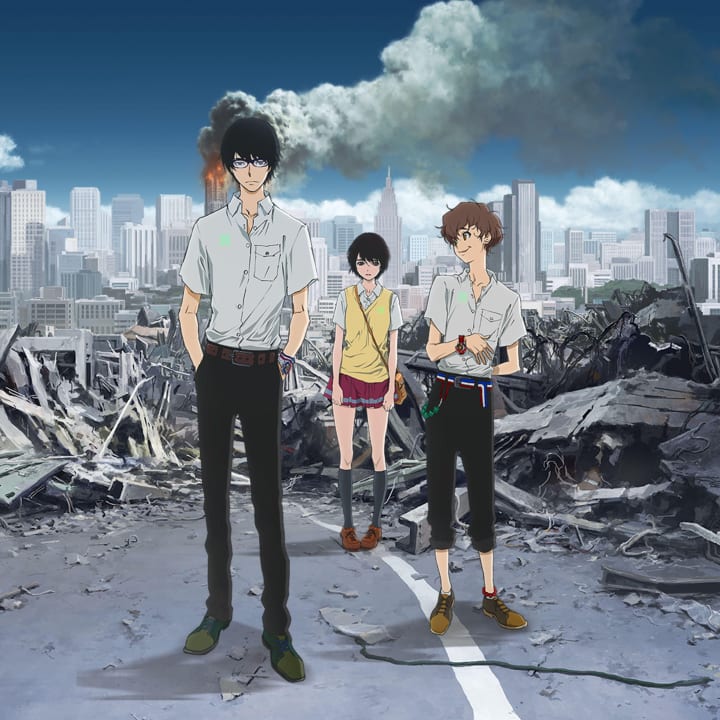 Terror in Resonance
Storyline: In an alternate version of the present, Tokyo has been decimated by a shocking terrorist attack, and the only hint to the identity of the culprit is a bizarre video uploaded to the internet. The police, baffled by this cryptic clue, are powerless to stop the paranoia spreading across the population.
This was one of my favorite anime I watched last year. It is a storyline unlike any I have seen before. With such a dark and twisted story the music in the show has to be a reflection. I believe they did a beautiful job of giving us a piece of thrilling, deep music that tells a story about each character. I feel as if Terror in Resonance soundtrack is a masterpiece that just happens to be made for an anime.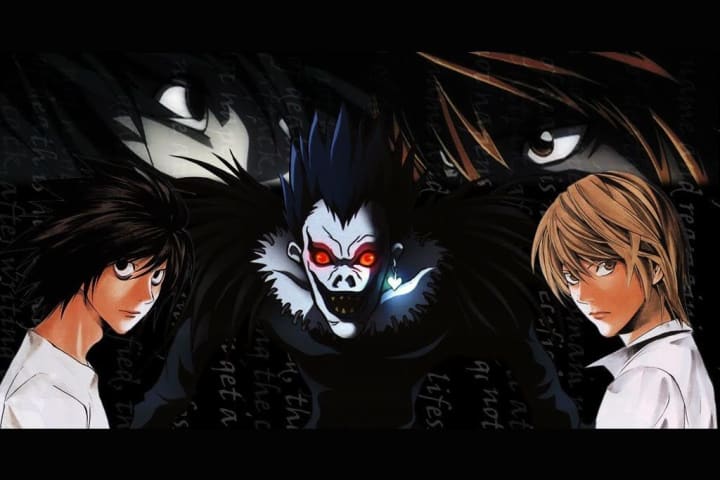 Death Note
Storyline: Have you ever felt like the world would be a better place if certain people weren't around? Such grim daydreams might occur when watching the dismal daily news, but on one fateful day, Light Yagami finds that these daydreams can become reality. By pure happenstance, he comes across a black notebook entitled "Death Note", whose text states that whoever's name is written on its pages will die. With the aid of the death god Ryuk, Light takes it upon himself to rid the world of its corruption, ushering in a new era of purity one death at a time. But as Ryuk foretells, Light's actions will not go unchallenged...
Death note is a top-tier anime. The creators of this show gave us heart-pounding episodes, mind-blowing plot twists, and a soundtrack that captured each moment of the show. This was the first anime I thought of when it came to anime soundtracks. One of my favorite parts of the show is the deep catholic church singing they use, it always gave me the chills and I knew as soon as I heard it that something big was about to go down.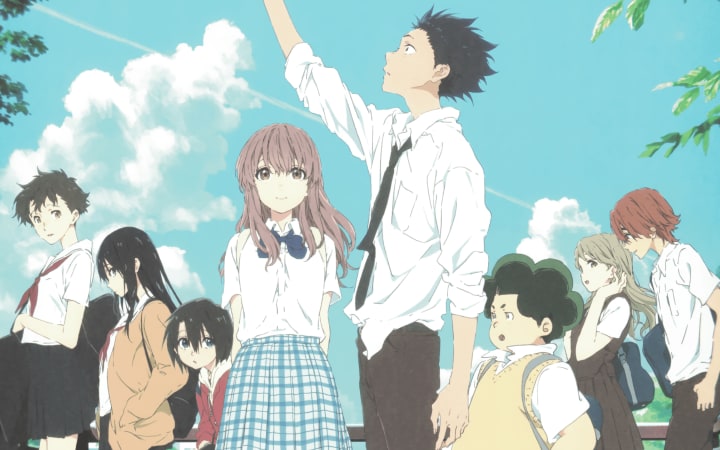 A silent voice
Storyline: The story revolves around Shôko Nishimiya, a grade school student who has impaired hearing. She transfers to a new school, where she is bullied by her classmates, especially Shôya Ishida. It gets to the point where she transfers to another school and as a result, Shôya is ostracized and bullied himself, with no friends to speak to and no plans for the future. Years later, he epicly sets himself on a path to redemption.
A Shape of Light: A Silent Voice Soundtrack is unlike any other soundtrack on here. It's not catchy, and most of its instrumentals aren't the usual classical tracks filled with rousing strings, melodic piano, fantastical woodwind, brass, or angelic choruses. Even still it sounds soft and bare, at times uncomfortable. But it's all for the viewer to understand the characters' vulnerability and isolation, how they perceive their social environment and how they truly feel. This soundtrack reminded me of studio ghibli soundtracks, in their ability to pull at heartstrings you might have forgotten you had.
The soundtrack of an anime can bring such deep and profound emotion. It is the soul of an anime because even though it is unseen it brings life to the anime. The next anime you watch I challenge you to not only keep your eyes on the screen but also your ears tuned into the masterpiece hidden in the soundtrack.
Keeping with the listening theme tomorrow I will list my top 5 favorite voice actors/actresses.
What is your favorite anime soundtrack? Have you seen any of the ones I listed above?
I'd love to hear in the comments below
Thanks for reading!!
Check out day 8 Favorite Anime Art Style
Bye for now!
About the Creator
✨Anime Blogger✨
I watch too much anime and would love to turn it into a creative outlet!
Blogging every Friday about anime topics, giving honest reviews, and staying up to date with all things anime
Socials
Reader insights
Be the first to share your insights about this piece.
Add your insights