An Imaginary Soundtrack to 2020
From personal favourites old and new, to songs that distinctly spoke to the mood of these terrible times, these are the tracks and the artists I returned to again and again to help endure this abysmal year.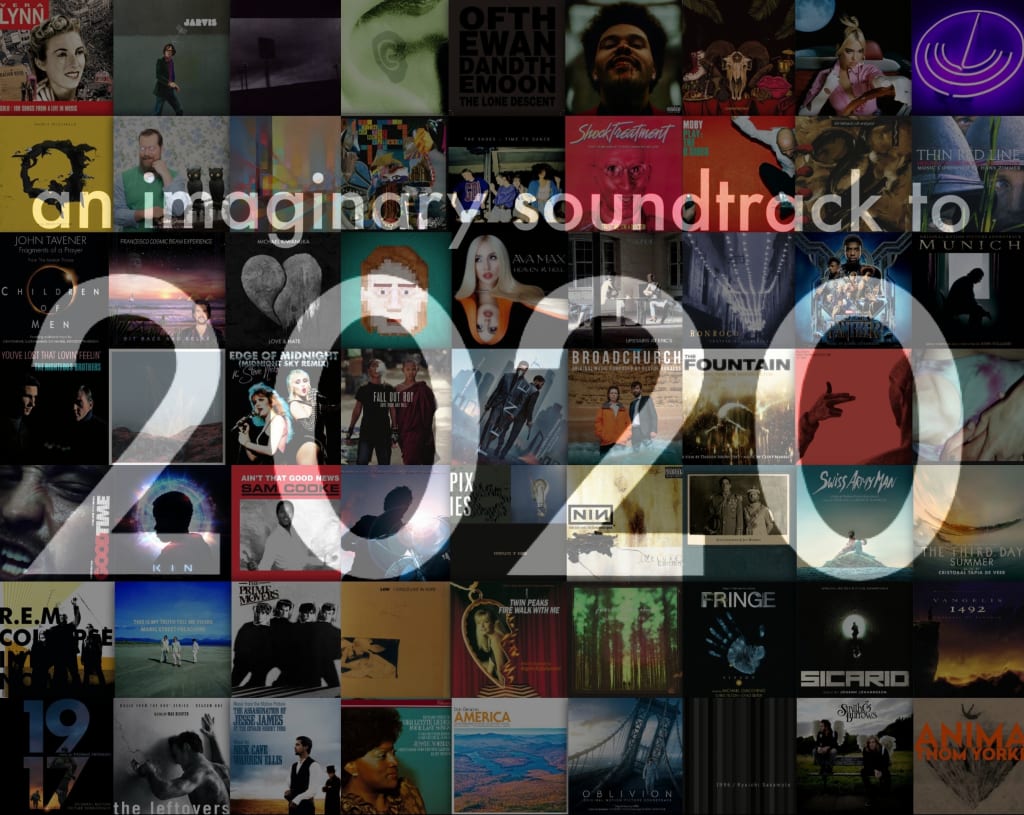 This playlist was a tough one to whittle down, but I eventually settled on the following selection of 66 songs, each from a different artist, ranging across a wide array of genres and moods. I arranged them into this very particular order that you see here, as a means of creating a good tonal ebb and flow, and also finding decent matches between the end of one song, and the beginning of the next. However, you can always play it on shuffle mode, and it ought to work just fine. I hope you enjoy...
• Vera Lynn - 𝙒𝙚'𝙡𝙡 𝙈𝙚𝙚𝙩 𝘼𝙜𝙖𝙞𝙣
This song felt important to include for many reasons. For one, Dame Vera Lynn herself passed away in June of 2020, at the age of 103, right in the middle of a pandemic that relegated the world to a state akin to wartime, which consequently made Lynn's music gain a newfound resurgence - especially 'We'll Meet Again', which gained a new context in the current era of friends and family having to self-isolate and quarantine from one another for weeks and months on end, to try and keep ourselves and everybody else safe for long enough until we could all... well, meet again.
However, the song's renewed popularity was not only because of an earnest public attempt at goodwill to all, nor as a tribute to the late Vera as well, but also because of the satirically bitter irony it provoked by its very usage, considering one of the song's most famous appearances was in the final moments of Stanley Kubrick's Dr. Strangelove, and 2020 was nothing if not a very Dr. Strangelove kind of year, seeing as humanity was brought to its knees by a global crisis that was only exacerbated by governmental arrogance and stupidity putting more lives at risk than should have ever been deemed acceptable.
Couple that with such decisions as made by those in the UK who held unmasked, non-socially distanced V.E. Day parties back in May, singing 'We'll Meet Again' in a display of what can only be described as the kind of unsubtle dramatic irony you'd normally see in a horror movie, all just a month before Vera Lynn died, and well... this song is simply rife with complicated emotions tied to it, and it couldn't not be on here somewhere.
• Jarvis Cocker - 𝙍𝙪𝙣𝙣𝙞𝙣𝙜 𝙏𝙝𝙚 𝙒𝙤𝙧𝙡𝙙
An abrupt shift from the patriotic, hopeful mood of 'We'll Meet Again', into the profane, acerbically cynical mood of Jarvis Cocker's 'Running The World' - an abbreviation of the song's full lyric, which is, um... most definitely not safe for work, shall we say.
But even so, the song's highly politically charged contents were relevant back in 2006, when Cocker included it as a hidden track on his debut solo album Jarvis, and in the same year appeared during the end credits of Alfonso Cuarón's Children of Men (which is where I first heard it, and which will be mentioned again later on in this list); now in 2020, bordering on 2021, the song's lyrics are more relevant now than they've perhaps ever been.
(Plus, it just feels cathartically good to sing along to, y'know...?)
• Godspeed You! Black Emperor - 𝙏𝙝𝙚 𝘿𝙚𝙖𝙙 𝙁𝙡𝙖𝙜 𝘽𝙡𝙪𝙚𝙨
How many times have you heard people compare the feeling of 2020 to Danny Boyle's 2002 film, 28 Days Later? Specifically the iconic, haunting opening scene where Cillian Murphy's Jim wanders around the quiet, empty streets of a post-epidemic London?
It's a sequence scored not with music by the film's composer John Murphy, but by an excerpt from Godspeed You! Black Emperor's 'East Hastings' - specifically the 'Sad Mafioso' sub-section of the overall song's sprawling 18 minute movement - from their album, F♯ A♯ ∞.
(A remarkable thing about this is that GY!BE rarely ever license out their music for film or television, 28 Days Later being one of the few exceptions. In fact, the last time I can remember hearing their work actually licensed for something in recent memory was their song '9-15-00' from Yanqui U.X.O. being employed in the trailer for the Karyn Kusama/Nicole Kidman thriller, Destroyer.)
It was in Boyle's film that I first heard the Canadian post-rock band's intense, beautifully apocalyptic music (though I wouldn't know it until many years later), and it was this - alongside their music's usage in the motion comic web-series Broken Saints - that got me hooked on their work.
But rather than choosing 'East Hastings' for this list, I went with the track that precedes it on F♯ A♯ ∞ , which is 'The Dead Flag Blues', because during the opening weeks of lockdown, this was the song that I felt most encapsulated the atmosphere of desolation and portent that unavoidably lingered in the air...
• George FitzGerald (feat. Lil Silva) - 𝙍𝙤𝙡𝙡 𝘽𝙖𝙘𝙠
I happened to become acquainted with the music of George FitzGerald back in late 2019, after having watched the excellent first season of Amazon's Homecoming, and researching what source music had been used by the series director, Sam Esmail (of Mr. Robot fame), in lieu of hiring a single composer to create a bespoke instrumental soundtrack, as season two would later go on to do with composer Emile Mosseri. One of the songs that popped up, alongside film score tracks by the likes of David Shire, Michael Small, and Pino Donaggio to name a few, was 'Roll Back' in the very first episode. It's a melancholy, minimalist electronic song, with only four lines/one verse repeated several times until the song's conclusion, but the pensive mood created by the subtle production, and the shining vocals of Lil Silva, combine to great effect with the song's all-too-pertinent talk of wanting to "roll back to yesterday".
• John Grant - 𝙂𝙧𝙚𝙮 𝙏𝙞𝙘𝙠𝙡𝙚𝙨, 𝘽𝙡𝙖𝙘𝙠 𝙋𝙧𝙚𝙨𝙨𝙪𝙧𝙚
John Grant is not only one of the best vocalists in music today (and one of my favourite artists to ever exist, period), but easily one of the best lyricists as well, and with the 2015 title track from his third album, he vividly describes with pinpoint acuity, dark humour, and bleakly blunt poeticism the feeling of being aimlessly adrift in a sea of depression that's emboldened by the existential helplessness of existing during times of great turmoil and death that you are powerless to fully comprehend, let alone know how to stop, because you barely know how to get by in your own little life.
(I swear it's more fun to listen to than my description makes it sound.)
• The War On Drugs - 𝙋𝙖𝙞𝙣
Those epically fuzzed-out guitars at the end always give me full-body goosebumps, no matter how many times I've listened to this song since its release in 2017. (Also, the lyrics "am I moving back in time? / just standing still?" and "I'm aware of the time we lost / like a demon in the doorway waiting to be born" hit a little different nowadays...)
• White Lies - 𝙃𝙤𝙡𝙙 𝘽𝙖𝙘𝙠 𝙔𝙤𝙪𝙧 𝙇𝙤𝙫𝙚
I can't tell you how many times I've woken up in the morning this year to the sound of this song playing unprompted in my mind. I don't know what it is about it that makes this so, but I'm not complaining, seeing as I've been a White Lies stan since I was fifteen, circa 2008.
• GusGus - 𝙊𝙪𝙩 𝙤𝙛 𝙋𝙡𝙖𝙘𝙚
One of those songs that the Spotify algorithm randomly conjured forth to autoplay after some other album I'd been playing had finished, this grew on me quite rapidly after my initial unexpected listening, with its warm stereo-swapping electro goodness a perfectly balanced mixture of forlorn lyrics, offset by sweeping, bouncy, dance-ready synths. (Also, FUN FACT: GusGus previously worked with the aforementioned John Grant on his second album, Pale Green Ghosts. So hey, I guess that algorithm's not completely random after all, huh?)
• Billie Eilish - 𝙚𝙫𝙚𝙧𝙮𝙩𝙝𝙞𝙣𝙜 𝙞 𝙬𝙖𝙣𝙩𝙚𝙙
I can't fully explain why it is that this one song of Billie's struck such a chord with me so early on in the year, that at one point I just lay down and played it over and over and over again on a loop in a single listening session, because I couldn't get enough. Billie's achingly beautiful, pristine vocals are a part of it, for sure. The deceptively simple, lovely main melody is another. And her brother Finneas' typically ingenious production made every repeated listen unfurl with discovery of various little sonic details I hadn't caught previously. But it's the kind of song whose magic you don't want to peer too closely at, and figuratively dissect in order to find out how it works; you just want to let its magic speak for itself.
• Global Communication - 12:18
An old favourite of mine for chilling out and sleeping to, this 12 minute slice of aural bliss is a gorgeous ambient journey through free-floating, cascading wisps of divine female vocals, looping and harmonising and disassembling and reconstituting in and out of a heavenly chorus.
Sleep was frequently a difficult thing to easily fall into this year, with so much latent anxiety and bone-deep stress and intrusive thoughts provoked by the ceaseless barrage of doom-laden news being virtually impossible to ignore, so this song was a big help on certain dark nights of the soul where all other music failed to calm my mind, and the alternative of deafening silence was just not a viable option.
• :Of The Wand and the Moon: - 𝘼 𝙋𝙮𝙧𝙚 𝙤𝙛 𝘽𝙡𝙖𝙘𝙠 𝙎𝙪𝙣𝙛𝙡𝙤𝙬𝙚𝙧𝙨
For reasons I can't quite recall, one night I was looking for drone-y, acoustic, medieval-esque music of the sort often used in folk horror soundtracks - (basically, I wanted the kind of music played diegetically by the people in the background of Midsommar) - and in my search, :Of The Wand and the Moon: came to my attention, with their album The Lone Descent. And after that, the song I played the most often from that album was the propulsively entrancing 'A Pyre of Black Sunflowers'.
Plus, it was through their Spotify profile that I laid my eyes upon one of the funniest things I saw all year, which was an artist listed in the "Fans also like" section who is named: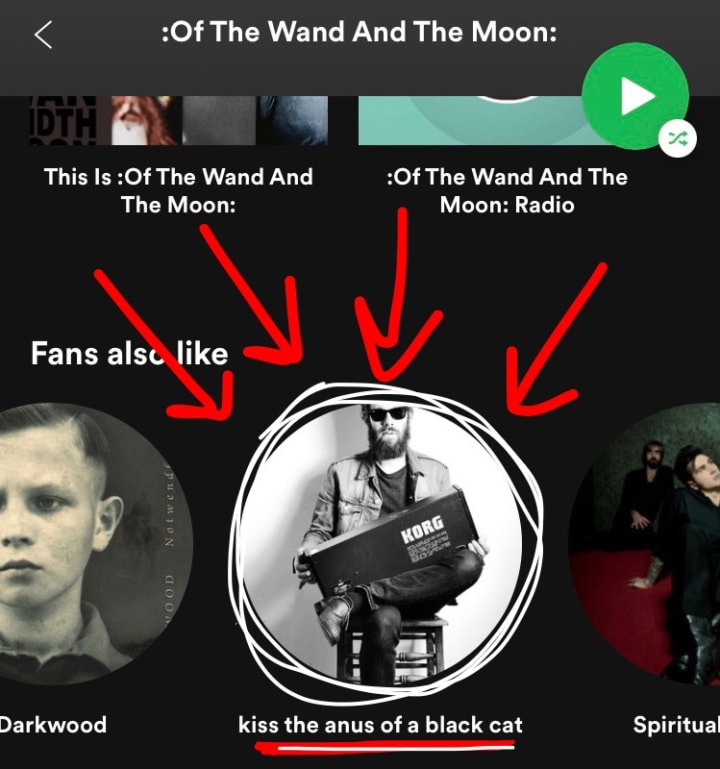 • The Weeknd - 𝘽𝙡𝙞𝙣𝙙𝙞𝙣𝙜 𝙇𝙞𝙜𝙝𝙩𝙨
It's kind of an uncommon occurrence that I get along with whatever songs may at any given time be massively, inescapably popular, and rarer still that I continue to like those songs after hearing them replayed countlessly on the radio, in adverts, in TikTok videos (so. many. TikToks), and so on.
But one such song that's stood this endurance test remarkably well for me all these months later is The Weeknd's synthwave dance-pop mega-hit, 'Blinding Lights', which is perhaps the best piece of music he's made to date.
• Klaxons - 𝙂𝙤𝙡𝙙𝙚𝙣 𝙎𝙠𝙖𝙣𝙨
I didn't seek this song out. My brain did.
One day, I was just at work, pricing and organising products in the stockroom as I had been for months, when all of a sudden, this song bubbled up unannounced to the surface of my consciousness. All I could hear of it was this repeated "ooh-ooh-ooh-ooh-ooh-ooh ooh, a-aaah!" vocal line, and it was driving me crazy because for the life of me, I couldn't remember what it was from.
Took me ages to re-identify it, but eventually I found it was Klaxons' big 2007 hit, 'Golden Skans' - an old song from my adolescence that I guess had seeped its way deep down into the wrinkles of my brain, only to resurface during a random moment at a time when nearly everything from before 2020 is a potential nostalgia fix my brain seeks to return to for comfort.
• The Shoes - 𝙏𝙞𝙢𝙚 𝙏𝙤 𝘿𝙖𝙣𝙘𝙚 (𝙀𝙭𝙩𝙚𝙣𝙙𝙚𝙙 𝙑𝙚𝙧𝙨𝙞𝙤𝙣)
Now we enter the dance-y part of the playlist, where one can throw some caution to the wind, and indulge in a bit of wild carefree abandon as you lose yourself to dance.
(N.B. - Daft Punk's 'Lose Yourself to Dance' is not included. Nor is LCD Soundsystem's 'Dance Yrself Clean'. Either would have been fitting for this joke, but they just weren't a part of my listening experience this year. So it goes.)
• Richard O'Brien, Barry Humphries, Darlene Johnson, Jessica Harper, Manning Redwood, Nell Campbell & Patricia Quinn - 𝙎𝙝𝙤𝙘𝙠 𝙏𝙧𝙚𝙖𝙩𝙢𝙚𝙣𝙩
I've not yet properly seen The Rocky Horror Picture Show, and yet I have seen its unfairly forgotten sequel/"equal", Shock Treatment.
What can I say? I'm a contrarian! (Or am I? No. Yes. Maybe. It depends.)
Anyway, everyone should watch Shock Treatment - not only because it presciently predicted decades ahead of time the rise of reality television, and how its influence on American culture, combined with racism, jingoism, commercialism, and evangelism, would ultimately create the perfect storm of circumstances that allowed Donald Trump to ever become President of the United States...
...but also because the soundtrack slaps.
• Carpenter Brut - 𝙏𝙪𝙧𝙗𝙤 𝙆𝙞𝙡𝙡𝙚𝙧
A lot of synthwave music out there can kind of blend together, but with Carpenter Brut, however, their work stands above the pack thanks to their balls-to-the-wall compositions packing an almighty punch, hitting just that little bit harder with the layers of texture, melodies, and thumping beats they implement to such pulse-pounding effect.
(Plus, have you seen that music video? The one that inspired the creation of the Shudder series, Blood Machines? It's absolutely metal...)
• Dua Lipa - 𝘿𝙤𝙣'𝙩 𝙎𝙩𝙖𝙧𝙩 𝙉𝙤𝙬
Much like with 'Blinding Lights', Dua Lipa's disco/funk/house-infused track 'Don't Start Now', from her second album Future Nostalgia, is another massively successful piece of pop confectionary that was just everywhere in 2020, but which nonetheless still remained so good after an over-saturation of multiple listens that it never lost its shine for me.
• Blanck Mass - 𝙋𝙡𝙚𝙖𝙨𝙚 (𝙕𝙤𝙡𝙖 𝙅𝙚𝙨𝙪𝙨 𝙍𝙚𝙢𝙞𝙭)
For this Blanck Mass spot on the list, it was a toss-up between either this song, or the track 'House vs. House' from his album Animated Violence Mild, the latter song and album being one of my absolute top go-to records of the entire year. But I went with this, because A) I love me some Zola Jesus, and B) this was another one of those songs I had repeating on a loop on multiple days, because once was not nearly enough. (It's just too short! It leaves you wanting more, gosh darn it!)
• Moby - 𝙈𝙚𝙢𝙤𝙧𝙮 𝙂𝙤𝙨𝙥𝙚𝙡
So this year, I finally got around to watching Richard Kelly's much-less-revered 2007 follow-up to Donnie Darko, the thoroughly strange Southland Tales.
I wound up watching it a total of three times - the first viewing being of the original Cannes Cut, the second being the Theatrical Cut, and the third being the Cannes Cut again, just to compare and contrast it with the changes made in the Theatrical Cut one more time. (Side note: the Cannes Cut is better.)
I also bought and read the prelude graphic novel.
And I bought a copy of the soundtrack CD.
(Look, if you were self-isolating for the majority of this year, we all had too much time on our hands to pursue weird endeavours in 2020, am I right?)
Anyway, Moby provided an original score to Southland Tales, alongside licensing some pre-existing tracks from his back catalogue, including 'Memory Gospel', a B-side from Moby's Play era. This song is a pivotal part of the film's maddening, compellingly convoluted narrative, as it not only appears as the subtitle to the film's middle section, but it's also name-checked in a line of dialogue spoken by Dwayne Johnson's character of Boxer Santaros, and is finally then used during a climactic sequence that intercuts between an interpretative dance, an office revolution, and a floating ice cream truck.
(It honestly makes a smidge more sense in context...)
• Shriekback - 𝘾𝙤𝙚𝙡𝙤𝙘𝙖𝙣𝙩𝙝
I re-watched Michael Mann's Manhunter (or Mann-hunter, if you will) for the first time in maybe fifteen years, as part of an impromptu retrospective movie marathon I decided to hold for all of the Hannibal Lecter movies (Hannibal Rising excluded). I used to find this pre-Silence of the Lambs, pre-Anthony Hopkins iteration of a Hannibal movie to be my least favourite of the bunch; but watching it now, I viewed it a lot more favourably - particularly the superior Director's Cut - when I came to the realisation that it's better not to view Manhunter as a Hannibal Lecter movie, but as a Michael Mann movie first and foremost. (Hell, Mann's version of Lecter is spelled "L-e-k-t-o-r", and he's never even mentioned as being a cannibal!)
Part of re-watching Mann-hunter was becoming reacquainted with its superbly retro 1980's soundtrack, which included three songs by the band Shriekback, one of them being the calmly meditative shakuhachi instrumental, 'Coelocanth', from their album Oil and Gold, which I included in many a night's playlist of songs to lull me to sleep.
FUN FACT: As I learned from a few online sources, one of the personnel on that album, and the one whose idea it was to use the shakuhachi instrument, was none other than a pre-superstardom Hans Zimmer!
Speaking of which...
• Hans Zimmer - 𝙇𝙞𝙜𝙝𝙩
I always listen to a ridiculous amount of Hans Zimmer music every year, as my Spotify Rewinds often make clear from his annual appearance among my Top 5 artists. But the track that really caught my ear the most this year was this one from his soundtrack to Terrence Malick's The Thin Red Line. In line (pun unintended) with the rest of the album, it's a slow, elegiac piece that aches with a raw emotion that rises in waves of soaring, mournful strings, without ever tipping over into maudlin territory.
• John Tavener - 𝙁𝙧𝙖𝙜𝙢𝙚𝙣𝙩𝙨 𝙤𝙛 𝙖 𝙋𝙧𝙖𝙮𝙚𝙧
I told you Children of Men would turn up on here again.
As such, it's with John Tavener's original composition for the film, 'Fragments of a Prayer', that we fully emerge into an interlude within the playlist that musically embraces the agonising feeling of sorrow for the chaos and horror and death the world has had to face in 2020. If you've felt unable to articulate that feeling within yourself for fear it might break you, let this song bear the burden, and help express it for you.
• Francesco Lupica - 𝙎𝙞𝙩 𝘽𝙖𝙘𝙠 𝙖𝙣𝙙 𝙍𝙚𝙡𝙖𝙭 (𝙉𝙞𝙜𝙝𝙩 𝙏𝙞𝙢𝙚 𝙅𝙤𝙪𝙧𝙣𝙚𝙮)
Another cut from The Thin Red Line to ease us back into a more positive-feeling mood, this track from Francesco Lupica - and his patented "Cosmic Beam" (a.k.a. his trippy metallic drone music/sound design, made out of an electrified steel beam) - is an old sleep- and concentration-aiding friend that never fails to work wonders.
• Michael Kiwanuka - 𝘾𝙤𝙡𝙙 𝙇𝙞𝙩𝙩𝙡𝙚 𝙃𝙚𝙖𝙧𝙩
FUN FACT: I still haven't seen Big Little Lies. I hear it's good! (Well, season one, at least; season two I hear is a bit mehhhhh...)
• The Righteous Brothers - 𝙔𝙤𝙪'𝙫𝙚 𝙇𝙤𝙨𝙩 𝙏𝙝𝙖𝙩 𝙇𝙤𝙫𝙞𝙣' 𝙁𝙚𝙚𝙡𝙞𝙣'
FUN FACT: The Righteous Brothers? Not actually brothers!
(Not in the biological sense, anyway. But those sweet harmonies of theirs were amazing enough to make you think they'd spent their lives since childhood duetting together, so hey ho.)
• Arcane Roots - 𝘼𝙧𝙥
No affiliation with the "Yarp" guy from Hot Fuzz.
(Yes, I know he's Rory "The Hound" McCann, don't worry.)
• Miley Cyrus & Stevie Nicks - 𝙀𝙙𝙜𝙚 𝙤𝙛 𝙈𝙞𝙙𝙣𝙞𝙜𝙝𝙩 (𝙈𝙞𝙙𝙣𝙞𝙜𝙝𝙩 𝙎𝙠𝙮 𝙍𝙚𝙢𝙞𝙭)
Remember how I've been talking about songs that are good enough to hold up to the scrutiny of complete media saturation as they get played everywhere all the live-long day?
I have a sneaking suspicion that 'Midnight Sky' is not going to be one of those songs for me, as I can already begin to feel that twinge of mild annoyance at the idea of hearing it again.
Still, I went with the Stevie Nicks mashup version, because Stevie Nicks is obviously the greatest, but also the funny thing is that when I first heard 'Midnight Sky' on the radio, I remember thinking it kind of sounded to me like Miley had taken a sprinkle of inspiration from The Weeknd's sound here (like in the way she sometimes sings the line "don't need to be loved by you" with that small vibrato tremble on the "loved by" part), and a pinch of inspiration from Stevie Nicks' 'Edge of Seventeen' there (perhaps because of the chord progression, or the way the bass line sounds vaguely reminiscent? That part's a little trickier for me to discern); so when I then saw a couple of months afterward that Miley and Stevie had done this 'Edge of Midnight' collab together, I thought: "Huh. I guess they heard the similarity too..."
• Daði Freyr - 𝙏𝙝𝙞𝙣𝙠 𝘼𝙗𝙤𝙪𝙩 𝙏𝙝𝙞𝙣𝙜𝙨
Did you happen to see this video floating about on Twitter during the early days of lockdown?
You too?
Well, that's where I heard 'Think About Things' for the first time, completely unaware that it had anything to do with Eurovision whatsoever, because I don't watch Eurovision.
'Think About Things' is the first Eurovision-related song I think I've ever unironically loved, let alone liked. Months removed from originally listening to that skilfully catchy banger on repeat, I still have it sneaking into my noggin rent free, the chorus playing on a loop while I'm in the shower, or on the bus, or writing these very words right this second.
(Also: am I the only one whose mind was blown when they saw someone explain that the lyrics are talking about an actual baby, or am I just incredibly dense...?)
• Ava Max - 𝙆𝙞𝙣𝙜𝙨 &𝙌𝙪𝙚𝙚𝙣𝙨
FUN FACT: I genuinely thought the catchy chorus to this song was an uptempo riff on 'Hark Now Hear The Angels Sing' (and, like, you can see how it would sort of make sense, considering the lyric "a king was born today", right?), but in researching this article, I found that the chorus is actually interpolating the Bonnie Tyler song 'If You Were A Woman (And I Was A Man)'. So again, there is a very good chance I am denser than a black hole...
• Yazoo - 𝘿𝙤𝙣'𝙩 𝙂𝙤
FUN FACT: Only this year did I find out Alison Moyet, and the lead singer of Yazoo, were one and the same person!
(So many eggs on my face right now, I swear to god...)
• Fall Out Boy (feat. Foxes) - 𝙅𝙪𝙨𝙩 𝙊𝙣𝙚 𝙔𝙚𝙨𝙩𝙚𝙧𝙙𝙖𝙮
Another song harkening back to a relatively simpler nostalgic time in my own life, back in the days of 2013, when I finally got into Fall Out Boy, I was still a frequent user of Tumblr during the "SuperWhoLock"/DashCon era at its height, and YouTuber gatherings were still a thing.
It's also another song that explicitly wishes for a yesterday in the face of today! (See also: 'Roll Back'.)
• Travis Scott - 𝙏𝙝𝙚 𝙋𝙡𝙖𝙣
I don't listen to rap music too often, so I don't know much about who exactly is considered a good rapper or a bad rapper within that genre's community of fans, and ergo I don't know what the general consensus is on Travis Scott. The most I know about him is that he was once involved with the Kardashians, he had a very popular album I forget the name of, and he has a McDonald's sponsorship with his own burger.
The only other thing I know is that Ludwig Göransson thought Scott would be a good choice to make a song for the soundtrack to Tenet, and this is that song, and this song is pretty good. Sure, it's weird to hear a Christopher Nolan movie have an accompanying theme song that talks about whippets, and has that "skrrt, skrrt!" noise, but it's catchy all the same.
• Ólafur Arnalds (feat. Arnór Dan) - 𝙎𝙤 𝙁𝙖𝙧
FUN FACT: The only good things about series two of Broadchurch are the cinematography, the acting, the fact it has a pre-Fleabag Phoebe Waller-Bridge, and Ólafur Arnalds' music and Arnór Dan theme song for the season. Other than that, series two is pretty terrible. But at least series three - which was also the final series - redeemed the show greatly in its wake.
• Gustavo Santaolalla - 𝙄𝙜𝙪𝙖𝙯𝙖
FUN FACT: Michael Mann loves this song.
• Ludwig Göransson - 𝘼𝙣𝙘𝙚𝙨𝙩𝙧𝙖𝙡 𝙋𝙡𝙖𝙣𝙚
This is the sound of everybody's collective heart breaking on the day we all woke up to the news of Chadwick Boseman having passed away so suddenly, and so unfairly, and then so retrospectively painfully to comprehend how he had all along been silently battling the cancer that took him from the world throughout the making of so many great films he'd made over the past five years. The shock and the hurt of it still stings to recall to this day.
• John Williams - 𝘼 𝙋𝙧𝙖𝙮𝙚𝙧 𝙛𝙤𝙧 𝙋𝙚𝙖𝙘𝙚
So many mornings in 2020 have I woken up to this melody playing in my head as a response to the mood in the air.
• Clint Mansell - 𝙏𝙤𝙜𝙚𝙩𝙝𝙚𝙧 𝙒𝙚 𝙒𝙞𝙡𝙡 𝙇𝙞𝙫𝙚 𝙁𝙤𝙧𝙚𝙫𝙚𝙧
Ditto.
• Nils Frahm - 𝙏𝙝𝙚𝙢
Likewise.
• Rainsford - 𝙇𝙤𝙫𝙚 𝙈𝙚 𝙇𝙞𝙠𝙚 𝙔𝙤𝙪 𝙃𝙖𝙩𝙚 𝙈𝙚
A late discovery in the year, found via having been a follower of the actress Margaret Qualley on Instagram for ages, and as a result seeing her promote her sister Rainsford's song - and adjoining music video - 'Love Me Like You Hate Me'.
It's a melancholy piano-driven ballad of a song that can really get you in your feelings, and the music video - starring Qualley and Shia LaBeouf, and choreographed by JA Collective (a.k.a. the group who choreographed the 'Still Feel' music video) - is a great little work of art (that is somewhat NSFW, but not in a way that's pornographic or anything), which is sadly now hampered by FKA twigs' recent revelations about LaBeouf's abusive behaviour in their past relationship, making this song unintentionally attain an uncomfortably descriptive dimension of LaBeouf himself that I doubt anyone involved with the video wanted.
• Oneohtrix Point Never (feat. Iggy Pop) - 𝙏𝙝𝙚 𝙋𝙪𝙧𝙚 𝙖𝙣𝙙 𝙩𝙝𝙚 𝘿𝙖𝙢𝙣𝙚𝙙
The spoken word portions of this song, from the soundtrack to the Safdie Brothers' film Good Time, still give me chills, most especially the weary, dejected, tragic way Iggy Pop delivers the line: "But it's a nice dream. A nice dream..."
• Mogwai - 𝘿𝙤𝙣𝙪𝙩𝙨
I really have no idea what the context is behind why this song is called 'Donuts', as I've not seen the film Kin that it's attached to, and I just can't quite imagine what it could be in reference to...
• Sam Cooke - 𝘼 𝘾𝙝𝙖𝙣𝙜𝙚 𝙄𝙨 𝙂𝙤𝙣𝙣𝙖 𝘾𝙤𝙢𝙚
There is no other version of 'A Change Is Gonna Come' that comes close to rivalling the unparalleled emotional wallop, and sheer singing perfection that Sam Cooke achieved with his gold-standard rendition. Al Green's version is probably the closest, but other than that, nothing beats Cooke. His voice just has this power to reach through the space and time separating his recording of it, and your listening to it, and just grab you by the heart, and not let go.
So yeah. His is the best. Believe me, I checked!
(Literally. Like, every available cover version on Spotify, I listened to it, and none of them compare. Like I said, a lot of spare time in 2020... and more than enough stuff on the news to make this song feel none more timely...)
• R.E.M. - 𝙄𝙩 𝙃𝙖𝙥𝙥𝙚𝙣𝙚𝙙 𝙏𝙤𝙙𝙖𝙮
I first heard this song via Adam Scott and Scott Aukerman's podcast, at the time entitled R U Talkin' R.E.M. RE: ME? (previously entitled U Talkin' U2 To Me?; thereafter briefly entitled RU Talkin' RHCP RE: Me?; then swiftly abandoned to become - as it's presently known - U Talkin' Talking Heads 2 My Talking Head), and much like with any and almost every R.E.M. song, I dug it immediately, and consequently, it became one of their songs I returned to the most in 2020, its potentially ironically insincere lyrics counterpointed by the heartfeltly joyous upbeat nature of the music itself.
Also worth checking out is the lovely ambient dub mix they released concurrently with what would be their final album:
• Manic Street Preachers - 𝙏𝙨𝙪𝙣𝙖𝙢𝙞
I'm an Englishman born of an Irish mother and a Scottish father, who's lived in Wales for over fourteen years as of the time of writing, and only during 2020's lockdowns did I finally start properly getting into Manic Street Preachers, one of Wales' greatest exports, alongside Michael Sheen, and the reboot of Doctor Who. (Why'd it take me so long? Because as we well know by now, me me dumb boy.)
• The Prime Movers - 𝙎𝙩𝙧𝙤𝙣𝙜 𝘼𝙨 𝙄 𝘼𝙢
The Mann-hunter soundtrack returns apace! Now with a great song by a band who have nothing to do with working as Amazon Prime delivery workers...
• Richard Hawley - 𝙍𝙪𝙣 𝙛𝙤𝙧 𝙈𝙚
There's a personal connection I have to this song that I'd rather not divulge in this forum, and which would really spoil the mood of this whole affair anyway, but suffice it to say that this song, and the ways in which it got me through dark times in the past and the present, cannot be overstated.
• Pixies - 𝙒𝙖𝙫𝙚 𝙤𝙛 𝙈𝙪𝙩𝙞𝙡𝙖𝙩𝙞𝙤𝙣 (𝙐𝙆 𝙎𝙪𝙧𝙛)
The Southland Tales soundtrack makes a comeback, via this chilled, groovy alternate version of a Pixies track that originally appeared on their album Doolittle, in a much grungier, rockier, fast-paced mode. Perhaps it's because I heard the 'UK Surf' version first, but when comparing the two, I gravitate to this one more.
• Nine Inch Nails - 𝘼 𝙒𝙖𝙧𝙢 𝙋𝙡𝙖𝙘𝙚
Calm, with a subtle hint of unease.
The perfect encapsulation of so much of what living through 2020 felt like while in quarantine.
• Low - 𝙇𝙪𝙡𝙡𝙖𝙗𝙮
There's no two ways about it: Low was the band I listened to more than any other in 2020. They were my number one fixture in the Top 5 Artists list for the second year in a row, and boy oh boy, they sure earned their stripes in terms of the listening time I dedicated to their work overall.
(11,742 minutes / 195.7 hours / 8.1 days. But who's counting...?)
Even the band was like: "WOW."
No, literally:
There was a lot of stiff competition, and if I wasn't decisively stringent, this playlist could've been nothing but Low songs. But I chose the one I latched onto the most, and that was 'Lullaby', from their debut album I Could Live In Hope.
(Honourable mentions to their albums The Great Destroyer, Ones and Sixes, and Double Negative, which all got similarly played to death from front to back.)
• Jimmy Scott - 𝙎𝙮𝙘𝙖𝙢𝙤𝙧𝙚 𝙏𝙧𝙚𝙚𝙨
FUN FACT: Twin Peaks is love. Twin Peaks is life.
• Fossil Collective - 𝙏𝙝𝙚 𝙈𝙖𝙜𝙥𝙞𝙚
We're entering the wintry, acoustic guitar-heavy section now, which means we're nearing the endgame, folks!
• King Creosote & Jon Hopkins - 𝘽𝙪𝙗𝙗𝙡𝙚
No relation or connotation with the sort of "bubbles" we heard talk of so infuriatingly often in 2020.
• Andy Hull & Robert McDowell - 𝘼 𝘽𝙚𝙩𝙩𝙚𝙧 𝙒𝙖𝙮
Swiss Army Man fans, where you at?! Hey, can you believe they used the 'Montage' song in an eBay advert? Can you imagine what people would think if they knew it came from the farting-boner-corpse-musical-comedy-drama with Harry Potter as the magical corpse?! Ah, what a goof...
• Cristobal Tapia De Veer - 𝙏𝙝𝙚 𝘿𝙖𝙧𝙠 𝙄𝙨 𝙃𝙚𝙧𝙚
HBO's The Third Day was one of the best shows you probably didn't get around to seeing in 2020, but it's well worth a portion of your time. (After all, you have enough of it, as do I, as do most of us.)
It's by a lot of the same creative team behind the original series of Utopia (from long before Gillian Flynn's ill-advised Amazon remake that came and went in 2020 to minimal fanfare), including writer Dennis Kelly, director Marc Munden, and composer Cristobal Tapia De Veer, whose imponderably stellar scores I've been an ardent fanboy of since the first series of Utopia back in 2013. Since then, he's also done soundtrack work on The Girl With All The Gifts, Black Mirror, and most recently, the first three episodes of The Third Day, which sees De Veer working in a folk-horror mode, complete with tribal percussion, gentle acoustic guitar, lilting lullabying vocals, and a strings-heavy orchestra, but which is then all twisted and distorted and subverted with his usual evil genius manipulations of sound design, and his incredible knack for always finding the exact perfect unearthly mood for everything he scores.
(Oh, and a side note: If you do watch The Third Day, make sure to watch the middle Autumn live event narrative part that bridges the Summer and Winter parts of the show together. And if you've got the tenacity and willingness to do so, I'd strongly recommend watching the entire 12 hour version, warts and glitches and tedium and all, rather than HBO's official 90 minute highlight reel version, because there is just so much plot and character and thematic stuff that they left out! So, assuming they don't take the livestream archives down by the time you read this, you can check out Part One and Part Two of the Autumn event via those handy little hyperlinks...)
• Michael Giacchino - 𝙄 𝙎𝙚𝙚 𝙁𝙧𝙤𝙯𝙚𝙣 𝙋𝙚𝙤𝙥𝙡𝙚
This piece of music from the first season of Fringe, from one of the earlier episodes still scored by composer god Michael Giacchino, marks the first moment I knew I was watching a show that would become a firm favourite of mine. (And that was before Chris Tilton took over for the rest of the show's five season run, and made the show's best music from there on out, doing even better work than even Giacchino had done... besides this track, which is awesome, and I love.)
• Jóhann Jóhannsson - 𝙎𝙤𝙘𝙘𝙚𝙧 𝙂𝙖𝙢𝙚
A piece of score from Denis Villeneuve's Sicario that encapsulates the monotonous melancholia, and merciless march of doom that was typical of the 2020 experience.
• Vangelis - 𝙋𝙞𝙣𝙩𝙖, 𝙉𝙞𝙣𝙖, 𝙎𝙖𝙣𝙩𝙖 𝙈𝙖𝙧𝙞𝙖
Chill lo-fi Ridley Scott soundtrack beats to relax/study to.
• Thomas Newman - 𝙎𝙞𝙭𝙩𝙚𝙚𝙣 𝙃𝙪𝙣𝙙𝙧𝙚𝙙 𝙈𝙚𝙣
Sam Mendes' 1917 was one of the last movies I saw in cinemas, before March came along and shuttered them all. Thomas Newman's been one of my all-time favourite composers for as long as I've had the capacity to form memories, and this track is one whose spine-tinglingly driving intensity, and mood of courageous determination in the face of insurmountable odds (as per the sequence it's made for in the movie) was a great motivator for me.
(Although... it does kind of sound justttttt a bit similar to Hans Zimmer's 'Journey to the Line' from The Thin Red Line, I gotta say. But hey look, it's all tying together, coming full circle, and all that jazz!)
• Max Richter - 𝘿𝙚 𝙋𝙧𝙤𝙛𝙪𝙣𝙙𝙞𝙨
A song from the soundtrack to The Leftovers?
Could I be any more on the nose?
(But seriously, this is another one of those songs I woke up to with it already playing in my head of its own accord, because it sounded like how the world felt...)
• Nick Cave & Warren Ellis - 𝙎𝙤𝙣𝙜 𝙛𝙤𝙧 𝘽𝙤𝙗
FUN FACT: I have listened to the soundtrack to The Assassination of Jesse James by the Coward Robert Ford infinitely more times than I've watched the film The Assassination of Jesse James by the Coward Robert Ford, which is to say a grand total of... um... zero.
• Richard Strauss, Jessye Norman -𝙑𝙞𝙚𝙧 𝙇𝙚𝙩𝙯𝙩𝙚 𝙇𝙞𝙚𝙙𝙚𝙧, 𝙏𝙧𝙑 296: 4. 𝙄𝙢 𝘼𝙗𝙚𝙣𝙙𝙧𝙤𝙩
A late-in-the-year random inclusion in Spotify's algorithmic Discover Weekly playlist, this Richard Strauss piece of awe-inspiring opera pinned me to the spot when I heard Jessye Norman's time-stopping, breathtaking voice begin to sing. Words cannot even begin to describe the feeling of it. The closest point of comparison I can make is to the 'Marriage of Figaro' scene from The Shawshank Redemption, and I'm not even exaggerating. It really is that sensational.
• Dan Deacon - 𝙋𝙧𝙚𝙩𝙩𝙮𝙗𝙤𝙮
Having been previously acclimated to Deacon's excellent work as a producer on the album Riddles by Ed Schrader's Music Beat, a lot of his solo album America is abrasive, experimental, rhythmically adventurous, genre-bending stuff. But on the track Prettyboy, that musical weirdness gives way to this exceptionally lovely orchestral piece that sounds like watching dark clouds on a mountaintop parting ways to reveal a startlingly bright, incandescently beautiful sunrise breaking across the vast horizon down below.
• M83 (feat. Susanne Sundfør) - 𝙊𝙗𝙡𝙞𝙫𝙞𝙤𝙣
FUN FACT: In the movie Oblivion, Tom Cruise plays a character named Jack Harper. This is bemusingly surreal for me personally, as for the thirteen years before my name became Jack Keane, my birth name was indeed Jack Harper. So, every time Tom Cruise says that name in full in this movie, it kind of triggers a silent knee-jerk muscle memory of my body instinctively reacting to my old name being called out for the register by teachers in primary school.
("Jack Harper?" "Here!")
• Ryuichi Sakamoto - 𝙈𝙚𝙧𝙧𝙮 𝘾𝙝𝙧𝙞𝙨𝙩𝙢𝙖𝙨 𝙈𝙧. 𝙇𝙖𝙬𝙧𝙚𝙣𝙘𝙚
Finally! A Christmas song un-tarnished by yearly repetition!
(I assume the film this song comes from is a Christmas movie, right? I mean, it's got "Christmas" in the title, so it surely must be...)
• Smith & Burrows - 𝙒𝙝𝙚𝙣 𝙩𝙝𝙚 𝙏𝙝𝙖𝙢𝙚𝙨 𝙁𝙧𝙤𝙯𝙚
I think this song's closing refrain of harsh-reality-tinged optimism says it all better than anything else:
"So tell everyone that there's hope in your heart / Tell everyone or it'll tear you apart / At the end of Christmas Day / When there's nothin' left to say / The years go by so fast / Let's hope the next beats the last."
• Thom Yorke - 𝘿𝙖𝙬𝙣 𝘾𝙝𝙤𝙧𝙪𝙨
And now, consider this final song an epilogue of sorts to cap off the playlist, as well as the year itself.
Yorke's lyrics herein are mostly too abstract and oblique to have the kind of specificity to 2020 that so many of the other songs on this list have had, but the way he performs them in this bleak monotone register, juxtaposed with the warm, repetitive synth pattern that constantly speeds up and slows down in tempo, as if time itself keeps alternating from too fast to too slow without any temporal consistency, all conspires to precisely capture that very 2020 feeling of time losing the anchors of structure, meaning, and value our lives once imposed upon it, like stones in a rushing river being knocked loose and falling beneath the torrent out of sight.
Basically, it's a song whose intangible narrative is one you feel more than you understand.
(Hey, that's almost that line from Tenet! Full circle, baby!)
And with that, this playlist, this article, and this year, have all reached
THE END.