An Eagles Tribute
Hell froze over.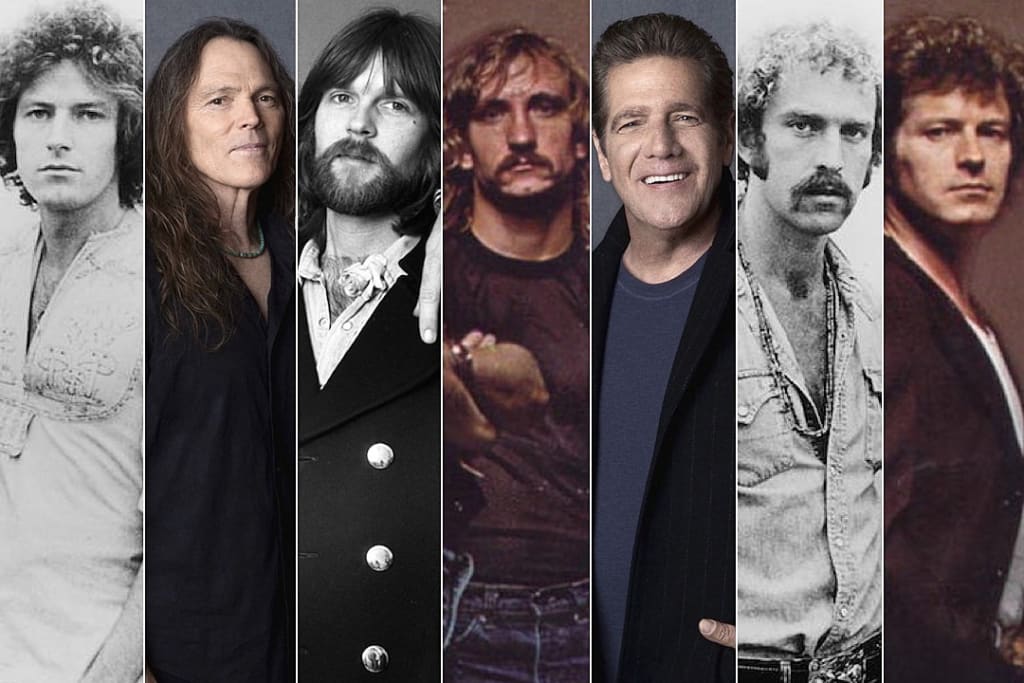 No matter what generation you were born of or where you reside on planet Earth, you are aware of the country/classic rock band known as The Eagles. While I was in the Navy, I went all over, and it was always surprising to hear of the familiar trio of things that Americans are known for: cowboy hats, Zippo lighters, and The Eagles. I was amused the first time I heard this random list, but then I kept hearing it – no matter the country I visited. I tried to assure these local nationals that: 1) Not everyone wears Cowboy hats in America – even out west, for that matter. 2) Zippo lighters are nice and come with a lifetime guarantee, but not all Americans smoke, and of the ones that do… well, most of them use cheap throw-away lighters. However, for The Eagles, I could not rebuke, They are the American band... and we are proud of them.
I could write a book about their humble beginnings, their flight to fame, their sordid tales on the road, fighting and band changes... but doing so will take away from the best rock documentary I have ever seen: The History of the Eagles (2013). If you have not seen it, I highly recommend it. I promise you will not be disappointed. Personally, the band has had a profound impact on my life, and I am lucky to have seen them in concert several times over the years. Of the hundreds of shows I have seen, they have made my top five list... along with Elton John, Paul McCartney, Fleetwood Mac and Alabama.
Indeed, from their formation in 1971 to their breakup in 1980, the Eagles managed to accomplish in this short span what many artists work their entire lives to achieve unsuccessfully: five number-one songs, six number one albums, six Grammy Awards and five American Music Awards. Their Greatest Hits(1971 – 1975) and Hotel California albums were ranked amongst the twenty best-selling albums in the United States. Hotel California is ranked thirty-seventh in Rolling Stone's list of "The 500 Greatest Albums of All Time," and the band was ranked number seventy-five on the magazine's 2004 list of the 100 Greatest Artists of All Time. All past and present members were inducted into the Rock and Roll Hall of Fame in 1998. Having sold more than 150 million records worldwide, they have come in as the fifth-highest-selling music act and the highest-selling American band in US history.
The List:
1. "The Last Resort (Live)" – from 'Hell Freezes Over' (1994):

Of all the versions of this song, the one from "Hell Freezes Over" is my absolute favorite. The song speaks about how man destroys man – how we go and ruin a good thing by letting our mere presence pollute it. Don Henley specifically wrote the lyrics in 1976 about how we drove out the Native Americans. Decades later, not a whole lot has changed: we are still mistreating others and destroying our environment. The song always brings a tear to my eye, and the haunting harmonies at the end is chilling... especially highlighted in this live track.
http://www.dailymotion.com/video/xp7fh9
2. "Take it to the Limit" – from 'One of These Nights' (1975):
Their only hit single with ex-Poco member Randy Meisner on lead vocal. Janice Cherry, my Dad's oldest sister, was born mentally handicapped and required round the clock care and supervision. Because I lived with my father's parents six years of my life, Jan became more of a sister to me. She loved music, and when my Aunt Joy bought this 45 single in 1975, it literally played non-stop until Jan died in January 2009. Because Jan could not communicate beyond a two-year-old, none of us could quite fully understand the immense impact this song made on her. I hope in the afterlife I can ask her.
https://vimeo.com/152666733
3. "Hotel California" – from 'Hotel California' (1976):
A number one single penned by guitarist Don Felder (music), Don Henley, and Glenn Frey (lyrics). It has long been considered the most famous song by the band, which earned them a Grammy Award for Record of the Year in 1978. Featuring an outstanding lead vocal by Don Henley, it is also recognized for the extended electric guitar coda, which interplays between Felder and Joe Walsh at the conclusion of the song. In 1998, Guitarist magazine voted it the best guitar solo of all time. The lyrics have been deciphered in many interesting and sometimes fantastical ways over the years; however, Henley described them in 2013 as being "a journey from innocence to experience… that's all." Regardless of interpretation, none can dispute the fact that the song has become a part of international popular culture, having been covered by numerous artists since its release.
http://www.dailymotion.com/video/x3xc35
4. "Lyin' Eyes" – from 'One of These Nights' (1975):
This is the first song in this list with Glenn Frey singing lead. This track reached number two on the Billboard Hot 100 chart and crossed over on the country chart, where it peaked at number eight. The band received a Grammy Award for Best Pop Performance by a Group for the single and were also nominated for Record of the Year. The song was almost written exclusively by Frey with minimal input from Henley with the verses and music. According to Frey, he and Henley were in Dan Tana's Los Angeles restaurant where they noticed a stunning young lady with a portly and much mature wealthy gentleman. Frey turned to Henley and said, "She can't even hide those lyin' eyes."
https://www.youtube.com/watch?v=r5KtEToyWrI
5. "Seven Bridges Road (Live)" – from 'Eagles Live' (1980):
Written by Steve Young in 1969, the Eagles used the song to specifically warm up to before a show – singing it acapella in a locker room shower area. Don Felder recalled that the band eventually added the song to their live set list where they would all gather around a single microphone and blow the audience away, stating, "It was always a vocally unifying moment, all five voices coming together in harmony." The band's performance of the song was recorded live July 28, 1980, at the Santa Monica Civic Auditorium, as the live album dropped four months later. The track was released as a single and reached twenty-one on the US Billboard Hot 100 chart, becoming the band's final Top 40 hit until "Get Over It" was released in 1994 when the group reformed.
https://www.youtube.com/watch?v=hufU6MIS2vw
6. "Life in the Fast Lane" – from 'Hotel California' (1976):
My favorite Eagles 'rocker,' written by Walsh (music) and Frey/Henley (lyrics) which went to number eleven on the Billboard Hot 100 Chart. According to Don Henley, "The song actually sprang from the opening guitar riff. One day, at rehearsal, Joe just busted out that crazy riff, and I said, 'What the hell is that?' We've got to figure out a way to make a song out of that." Telling a story of a couple that is living on the edge with their excessive lifestyle, Glenn Frey stated the title came to him one day when he was riding on the freeway with a drug dealer. He asked the man (known as 'The Count') to slow down. The dealer responded, "What do you mean? It's life in the fast lane!" Rolling Stone magazine ranked it the eighth greatest Eagles song.
https://www.youtube.com/watch?v=rsYhDSR9mGI
7. "How Long" – from 'Long Road to Eden' (2007):
This is a 1972 anti-war song written by longtime friend and collaborator J. D. Souther. The Eagles frequently performed the song in concert in the early to mid-1970s. As the band was working on Long Road Out of Eden, the group's first full studio album since The Long Run (1979), they decided to cover the song. In 2008 the band won their first Grammy in almost thirty years for Best Country Performance by a Duo or Group with Vocal. The track was a great crossover hit, entering six different charts and topping Billboard's US Bubbling Under Hot 100 Singles.
https://www.youtube.com/watch?v=LmW5McLF-Uk
8. "Those Shoes" – from 'The Long Run' (1979):
This is a track written by Don Felder, Don Henley, and Glenn Frey. The song was not released as a single; however, it has been a fan favorite and sometimes included in their live setlist. The guitar solo was performed by Joe Walsh. The ending of the song features Don Felder and Joe Walsh doing an unusual double talk-box guitar solo. The device was created by Bill West (husband of country singer Dottie West). West gave Walsh a prototype that he had which Walsh used on his solo hit Rocky Mountain Way in 1973.
https://www.youtube.com/watch?v=tBLzFeOHtnM
9. "Pretty Maids all in a Row" – from 'Hotel California' (1976):
Oddly enough, this number was the 'flip side' of the Hotel California single. It was written by Joe Walsh and Joe Vitale, who was a member of Wash's band Barnstorm. The track features Joe on lead vocal and playing piano and synthesizer. The song is very melancholy and somewhat atypical of the Eagles sound. Nevertheless, Henley and Frey liked the song and helped Walsh put it together, who claimed in 1981 "[it was a] reflection on my life so far… Heroes they come and go…" It became a popular enough album track from their most successful studio album to include in the Hell Freezes Over setlist and subsequent tours.
https://www.youtube.com/watch?v=q-omzU4kuRA
10. "I Can't Tell You Why" – from 'The Long Run' (1979):
When original bass player Randy Meisner had refused to sing "Take it to the Limit" during the Hotel California tour, the founding members replaced him with another Poco member, bassist Timothy B. Schmit. Schmit brought this unfinished song to the band, and the polished version Henley and Frey completed featured Schmit on lead vocals. This R&B sounding track turned out to be a Billboard Top 10 hit in April 1980, where it peaked at number eight on the Billboard Hot 100. It also made it to number three on the Adult Contemporary chart.
http://www.dailymotion.com/video/x16zf3o
11. "Visions" – from 'One of These Nights' (1975):
This song was written by Don Felder with the assistance of Don Henley. It is the only Eagles track which features Felder on lead vocals.
https://open.spotify.com/track/7dvL8p3pOPVQRDnOPIErMm
12. "New Kid in Town" - from 'Hotel California' (1976):
This single was written by Henley, Frey, and J. D. Souther; with Souther writing the chorus and Henley and Frey on the verses. It features Frey on lead vocal and reached number one in the US, and number twenty in the UK. It won a Grammy Award for Best Vocal Arrangement for Two or More Voices. Henley reminisced in the liner notes for The Very Best Of by stating, "It's about the fleeting, fickle nature of love and romance. It's also about the fleeting nature of fame, especially in the music business. We were basically saying, 'Look, we know we're red hot right now but we also know that somebody's going to come along and replace us — both in music and in love.'"
https://www.youtube.com/watch?v=IR_Ii0hXLEk
13. "James Dean" – from 'On the Border' (1974):
This less successful single only reached number seventy-seven on the US Billboard Chart, although, it remains a popular song amongst fans and sometimes included in the live set lists. The track was written by Henley, Frey, Souther and Jackson Browne about the abrupt death of American actor James Dean (1931-1955).
https://www.youtube.com/watch?v=DxeeZ2JtVEI
14. "Please Come Home for Christmas" – non-album track (1978):
Released as a holiday single, their rendition of this Christmas classic peaked at number eighteen on the US Billboard Hot 100. It is the first Eagles song introducing new bassist Timothy B. Schmit. The track was re-released as a CD single in 1995, where it peaked at number fifteen on the Billboard Adult Contemporary chart. It is interesting to point out that Henley changed Charlie Brown's original opening line "Bells will be ringing the glad, glad news" to "Bells will be ringing the sad, sad news."
https://www.youtube.com/watch?v=bHy8xzqUmaw
15. "Train Leaves Here This Morning" – from 'The Eagles' (1972):
A sweet, country, twangy deep track off their debut album sung by original guitarist Bernie Leadon. It was written by Leadon and Gene Clark (of The Byrds). After the release of "One of These Nights," Leadon left the band... mainly due to their departure from folk/country to an edgier pop/rock sound. He was replaced by Joe Walsh, who kicked the band's 'wildness' up a notch.
https://www.youtube.com/watch?v=aenYBX1c-p0
16. "Take it Easy" – from 'The Eagles' (1972):
This is the first track and first single off their first self-titled album. Written by Glenn Frey and Jackson Browne, Frey often referred to the song as "how it all began." With Frey on lead vocals, it peaked at number twelve on the Billboard Hot 100 chart and has become one of their signature songs. It has been included on all of their compilation and live albums and listed as one of The Rock and Roll Hall of Fame's 500 Songs that Shaped Rock and Roll. Not bad for a start.
https://www.youtube.com/watch?v=4c3FD6msOzo
17. "Love Will Keep Us Alive" – from 'Hell Freezes Over' (1994):
Written by Jim Capaldi, Paul Carrack, and Peter Vale, and featuring lead vocals by bassist Timothy B. Schmit. The song spent three weeks at number one on the Billboard Adult Contemporary chart and peaked at number twenty-two on Billboard's Hot 100 Airplay chart. The liner notes which accompanied their 2003 Very Best Of compilation explains that the lyrics were penned in the late eighties with the aim to form a band with Don Felder and Max Carl called Malibu Men's Choir. Having never materialized, Schmit proposed it for the Eagles' reunion album.
http://www.dailymotion.com/video/x22oqrl