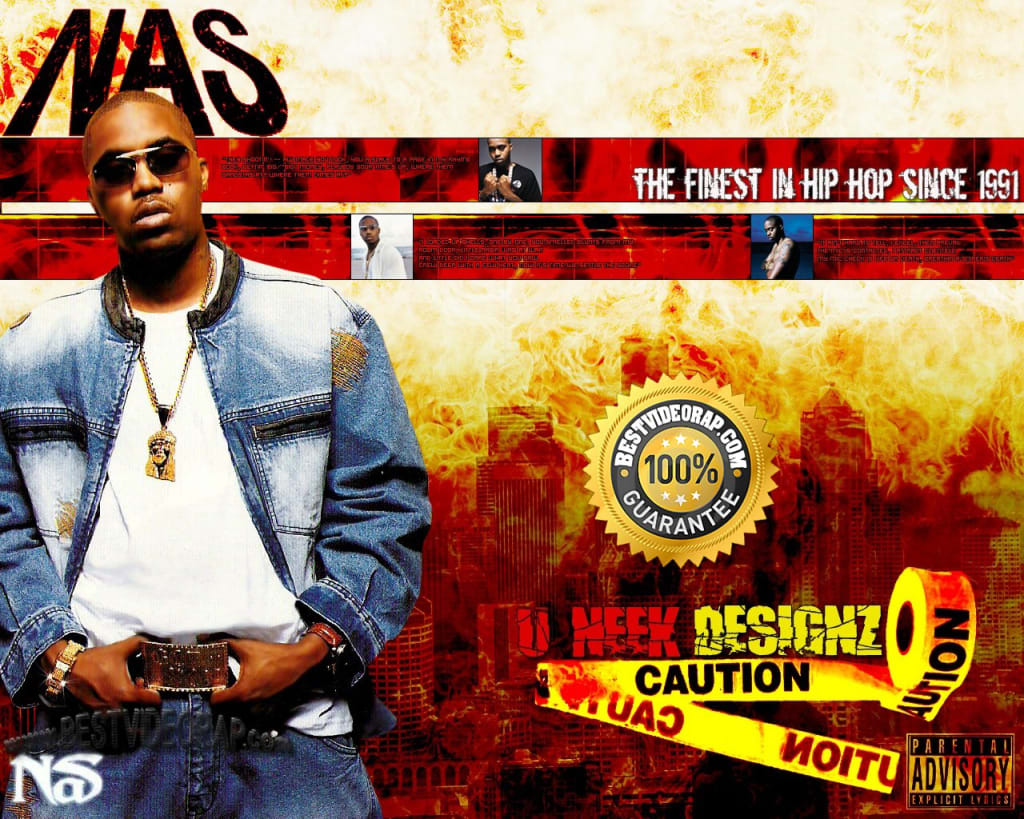 Nasir Jones, better known as Nas, has been navigating challenges his whole career with a fearless sense of trial and error through his music. To be clear, while his worst is far superior to many at their best, the musical missteps he's made throughout various points of his four-decade-long career have nearly cost him his G.O.A.T. status on several occasions.
Yet over the past couple years something magical has been happening. You don't have to pardon the pun. The release of...
THE MAGIC SERIES

A Deep Dive

By Brian Salkowski
Since his 1994 breakthrough debut Illmatic famously earned five mics in The Source, the expectations for Nas albums have always been exceedingly high. This often led to subsequent projects either being unfairly scrutinized — like his mainstream, polished follow-up in 1996, It Was Written — or harming his musical credibility if an album fell short of his own high precedent, as was the case with 1999's Nastradamus, 2018's Kanye West-produced NASIR, and 2019's heavily anticipated yet disappointing The Lost Tapes 2. Prior to 2020, he was taking further heat for his questionable beat selection too, the rapper having been dubbed "the worst beat picker in hip-hop" (though the validity of that, while having some truth, never was accurate).
There has been a theme, or more like a question. Can an artist still excel with multiyear breaks or God forbid I say age? I believe the answer to that is everywhere. Example:
At the same time Nas is having his victory lap to immortality, Atlanta's firebrand street pastor Killer Mike is having his own run to glory as an impactful elder statesman. He recently released his first solo album in 11 years, Michael, after redefining his career as one-half of Run The Jewels with producer El-P.
Although, for the last few years, Nas has quietly been dropping some of the best work of his career. Since 2018, Nas has dropped 9 albums — 4 of these released in the past two years. Nas has been a musical machine, churning out lyrically adept, introspective and ultimately triumphant work that never feels stale. "Magic 3," the third album in a series that started with "Magic" in 2021, is the product of an artist who knows he's at the top of his game, even after three decades in the rap world.
In a 2021 interview, Nas mentioned the growing stakes in having as long of a career as he's had and reckoning with survivor's guilt while acknowledging and celebrating his legacy as one of the most successful and respected rappers in all of hip-hop.
"The longer you stay around, the more of a target you become. That's the danger of staying around," he said. "You don't want to be the one-hit wonder, you don't want to have a short career, but if you do have a long career, then you are a target for so many people." In many ways, Nas is the hip-hop Robert Downey Jr., having his Iron Man moment after having been counted out. Having endured so many uncertainties in his personal and professional life, Nas was always deeply aware of his career mortality, having watched so many others come and go while trying to adapt to a constantly changing musical landscape.
Nas also said in that interview: "I haven't done it all yet and I have so much ahead of me. I realized that I am my own movement. And I don't just talk it, I'm walking it," he said. "I want to be something that people can see and know, 'Hey, I can do that too.'"
On Christmas Eve, 2021 Nas dropped his Magic project to an unsuspecting audience. If the Grammy win and nomination for his first two King's Disease projects with producer Hit-Boy weren't enough to grab listeners' attention, this sublime collection of stellar songs certainly will. Nas spits "I am 21 years past the 27 club" on the grimy yet melodic opener "Speechless," confirming his longevity in the game on an album where the themes are timely but the flow is reminiscent of the Nasty Nas era.
I was initially suspicious of the hyperbole surrounding "Magic" but weeks later, the dust has settled and it's clear Nas and Hit-Boy have developed into something special. Nas and Hit-Boy is a thing that has blossomed and there's now an identity to the duo. It's remarkable how these beats all have their own feel yet still work as a cohesive whole. The well-worn joke in hip-hop circles that Nas picks bad beats is effectively wiped. Nas is, in his own words, reincarnated, but with an additional self-awareness that is more grounded than his last few performances.
On its face, the decision to link up with Hit-Boy could have seemed to an outsider to be confusing at best, if not downright cynical. Here you had two artists who were opposites in almost every way you could think of: East Coast/West Coast, old-school staple/new-school hitmaker, one recovering from back-to-back duds, the other, still celebrating his most recent beat placement winning a Grammy for one of LA's most-revered late rap titans, Nipsey Hussle. Nothing about it made sense; maybe that's why it worked.
For Nas, Hit-Boy's production was a jolt of both fresh air and much-needed consistency, providing a diverse array of complementary soundbeds for Nas' complex, time-tested flow. He also plugged the weathered veteran into a whole new world of contemporary collaborators, allowing him shake off the mantle of disgruntled old head and instead play the role of the sage mentor, the voice of experience guiding his successors' generation with a steady hand and just enough burst to keep up with the kids.
But Nas' generation has proven … less than generous in issuing accolades, advice, or acknowledgment to their successors. Instead, there has been a slew of gruff admonitions, gatekeeping, and laments about the "state of hip-hop." Nas himself had been accused of the same when he released Hip-Hop Is Dead in 2006.
It showed that hip-hop doesn't HAVE to be just a "young man's game" (if anything, I wish he'd included more women's voices to prove it's not only a man's game, either). It showed that the vets don't have to dismiss the kids in their own twilight; in fact, by embracing subsequent generations, the older artists get to hang on to their golden years just that much longer. And it showed that the best approach for anyone isn't just to chase trends or follow the market, but to find the spark that comes from doing what you love out of inspiration, not obligation.
And it's wild to think that we have Hit-Boy to thank for lighting this fire under Nas; aside from both being cast aside by a certain super producer who couldn't be bothered to dedicate his time, resources, and appreciation to them for their collaborations with him, both had incredible bounces back as a result. Hit-Boy got even more prolific while working with Nas, churning out enough material for collaborative projects with Dom Kennedy, Dreezy, Music Soulchild, and even his own formerly incarcerated father.
Thanks to Hit, Nas gets to have the last laugh, and thanks to Nas, Hit's name is buzzing more than ever. Their collaboration resulted in the producer taking home even more Grammys hardware and the rapper bringing in his first-ever trophy despite his 30-plus years of hip-hop prominence. It was, as they declared with the title of their second trilogy, Magic.
You even get glimpses of Nas' admission to not fitting into certain circles on "Hollywood Gangsta" – you can take the man out of the 'hood but – you know the rest. There's just a lot to like about Nas as a person on "Magic". Citing his Grammy should have come in 1996, or that he should have done that verse for Biggie's "Gimme the Loot" remix in 1995. This is an album designed for Nas' devoted fans, whereas the "King's Disease" albums often tried to cater to a wider audience.
There are many highlights throughout the magic series that are quick to become memorable. Like Motion where Nas gives his most spectacular rap performance to date. The NYC rapper says his stuff early and frequently, propelled by this cunning, sinister sound. Along with bragging about the sizable checks he's getting, he also flaunts his outstanding cars and disheartens his rivals. Nas seems quite competitive throughout this song, which is impressive. Yes, the flows he plays with are excellent, but his aggressive tone really stands out. Or Sitting With My Thoughts, forces Nas to a different zone for his reflective bars, giving the song a chilly, synthetic atmosphere. Its one of my favorites. Nas delivers wisdom and reflects on his life and to question one's own mortality. Its an immersive word fest.
Hit-Boy explained the kind of production he wanted to give to Nas, describing it as "Some classic shit, but with a fresh approach."
"When you listen to 'Blue Benz' and '27 Summers,' the beats switch up, come on man. We're already in 2021 with the sound for real, it's different levels to this shit. It's seamless," he said. "It's not a beat switch where it fucks your head up, damn this shit belongs in the song. There really hasn't been expert-level production like this since, fucking, My Beautiful Dark Twisted Fantasy or Watch The Throne. King's Disease is a derivative of what I learned listening to them projects."
Fast forward to Magic 2, the sequel to 2021's Magic, and that same refreshing creativity can be felt and heard in the album's sampling, production, and lyricism. The pair have dropped consistent, Grade-A quality albums over three years in a bloated and tumultuous era in hip-hop, with Nas still captivating generations of hip-hop fans beyond his older core through these releases.
Everything changed when Nas and Hit-Boy linked for their first effort, King's Disease, that same year. Their newfound chemistry resulted in a notable pairing, with Nas returning to hip-hop as a fully restored and upgraded version of the unpredictable rap virtuoso he became known as. The passion and bond the two created through extensively working together harnessed a redefined core sound still loyal to Nas' roots, while freshening his style in a way that meshes with today's block-hugging stars like Lil Durk and Fivio Foreign.
What the magic series did and why I think it's so important and poignant is that it serves a specific purpose - a letter to the fans proving endurance. Strength. Consistency. Longevity. A true artist wants a loyal fan base that appreciates his art. Ironically, Nas' jokes and boasts land better when mixed in with his trademark eye for storytelling. Take the second verse of "What This All Really Means," which he talks about art, well past art when he converts his frustration about his double album I Am…The Autobiography leaking before it's release, he turned it into fuel to keep making music on his own terms well into old age; or how, on "Earvin Magic Johnson," he looks back on memories of fights at McDonald's in Manhattan and playing stages in Australia with the same reverent eyes. He's getting better at balancing aged reflections without trying too hard for the kids.
The Magic Series is something else: Not exactly an atonement, but a gracious gift to the day-one listeners who are still with him. After some questionable artistic decisions in the past, Nas appears to have found contentment in remaining prolific. Here's to anticipating this elite storyteller's next chapter.
Here here!

About the Creator
I am a writer. I love fiction but also I'm a watcher of the world. I like to put things in perspective not only for myself but for other people. It's the best outlet to express myself. I am a advocate for Hip Hop & Free Speech! #Philly
Reader insights
Be the first to share your insights about this piece.
Add your insights