A Generation of Angst
We Listen Because We Feel It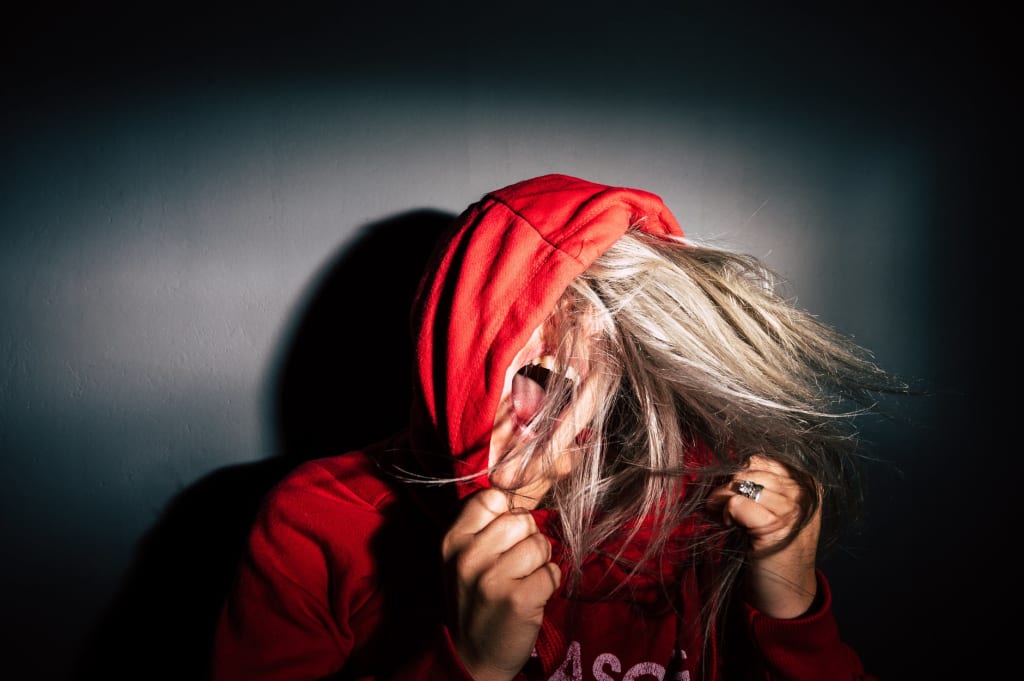 Angst-filled teenager
In 1985, I was about 14 years old and in the eighth grade. Where I come from, we have Junior High schools, so I spent three years in Junior High, seventh, eighth, and ninth grade. Looking back there were some of the most angsty and defining moments of my life.
You see, I had grown up in elementary school in private school and was a straight A student. But in public school, I had failed a class on my report card with a 66 (which was actually still passing at time, but not in my mother's eyes
She grounded me. From everything. I lost my television privileges telephone privileges, going out with friends and letting friends come out. Rather than take the television out of the room to prevent me from watching it, my father cut the electrical cord that plugged the television into the wall.
I ended up grounded for three full years. When she found I was content to just read a book, she took my reading away from me too. I had nothing left but my music, which for some strange reason, didn't get included in the grounding.
Songs like Adam Ant's Pussycat and The Police with Every Breathe You Take, these were the songs of my generation and they kept me sane.
The only concert I ever attended as a child was with my parents, Tina Turner. I managed to allow them to allow me to go sit with my friends. I spent the night outside the venue, terrified my parents would find out but excited to be able to go out and do something. I returned to the song, We Don't Need Another Hero.
1.
Because of this special night at the defiance of my parents, this song will always be special to me.
Once I became an old woman, though, 30 some-odd years later, I ended up going to a Bon Jovi concert. They played all the current songs but all the best hits too. I sang every word to every song they played like they were singing right to my heart.
2.
You haven't lived until you've seen Blood on Blood played by two talented guitarists like Bon Jovi and Sambora. I'm so lucky to have seen it, and it brought back my past to me in good ways, remembering things different than I had experienced them when I had gone through them.
You might as well Jump!, by Van Halen…. I danced to this at a band camp party when we were closing down for the season. I remember feeling happy and unashamed and free. Until my moth walked in the door and made fun of my dancing. Might as well Jump!
3.
Sometimes songs just don't mean what you think they mean. We turn them around to mean what we need them to mean. In fact, I think one of the best songs you can write is one that was meant to mean a certain thing but when sung, either people take it multiple different ways.
There's a little Renegade in all of us, which don't know where it comes from, but we all know it's there. This angst-filled hit from Styx from 1978 does not disappoint, as the audience clearly shows.
4.
The next group on my list could take every spot on this list just about any of there songs, but I decided to narrow it down to two because this is a newer group for me than the other groups. I wasn't a teenager when I listened to this music, but it has the effect that an angst music list needs, so I included two of their songs.
::drum roll please::: Evanescence…..
The year was 2004, and I was a single parent of two, alone in the world, and Evanescence had all the elements I needed to feel for myself. They made me angry. They made me cry. They made me anxious. Mostly, though, they made me stronger.
"Bring me to life….I've been living a lie…"
5.
It was 2003, and I had broken up with him. I was angry and wanted revenge more than I have wanted anything before. It was this song that made me feel that I didn't need to react that way but that it was okay to feel that way. "Maybe I'll wake up for once, not tormented daily, defeated by you….. I dive again, I'm going under."
6.
"I won't be broken again!"
Bouncing in time on my playlist, I go back all the say to the British Pop Invasion. Duran Duran, so named from a character in Barbarella.
7.
"Where are you now, cause I don't want to meet you. I think I'd die. I think I'd laugh at you. I know I I'd cry. What am I supposed to do, follow you? With a careless memory…"
Music had softer edges in the early '00s, but there are still plenty of hard songs that grab you by the throat and drag you through the lyrics so expertly. Ronnie James Dio held that place in my heart that was harder than other songs. The song takes us back to 1984.
"We'll know for the first time if we're evil or divine, we're the last in line…"
8.
I couldn't end this list without a modern song from today. DISTURBED had made a name for themselves recently by remaking an angt-filled version of "Sound of Silence". But they have so many other songs that need to be recognized. The next two are current modern songs.
"Hold on to Memories, hold on to every moment, to keep them alive.. The world's greatest tragedy: Souls who are not remembered cannot survive…"
9.
A Reason to Fight
10.
"When the demon that's inside you is ready to begin and it feels like it's a battle that you will never win. When you're aching for the fire and then begging for your sins…. Don't let it take your soul…. This is nothing worth dying for…."
From 1978 to modern days, I've given you ten songs to put on my angst teenaged playlist. Many of these songs I wasn't old enough or experienced enough to understand until much after my teenaged years, but that didn't change the love I had for them or the feeling that the singer had crawled into my head and heart and was speaking directly to me.
playlist
An award-winning author and professional dreamer....Michelle Devon lives on the southern Gulf Coast of Texas with five amazing parrots, and a very tolerant cat. http://michelledevon.com
Receive stories by Michelle Devon in

your feed