A Conversation with Country-Pop Superstar Max Jackson
Say hi to the Aussie songstress taking the world by storm.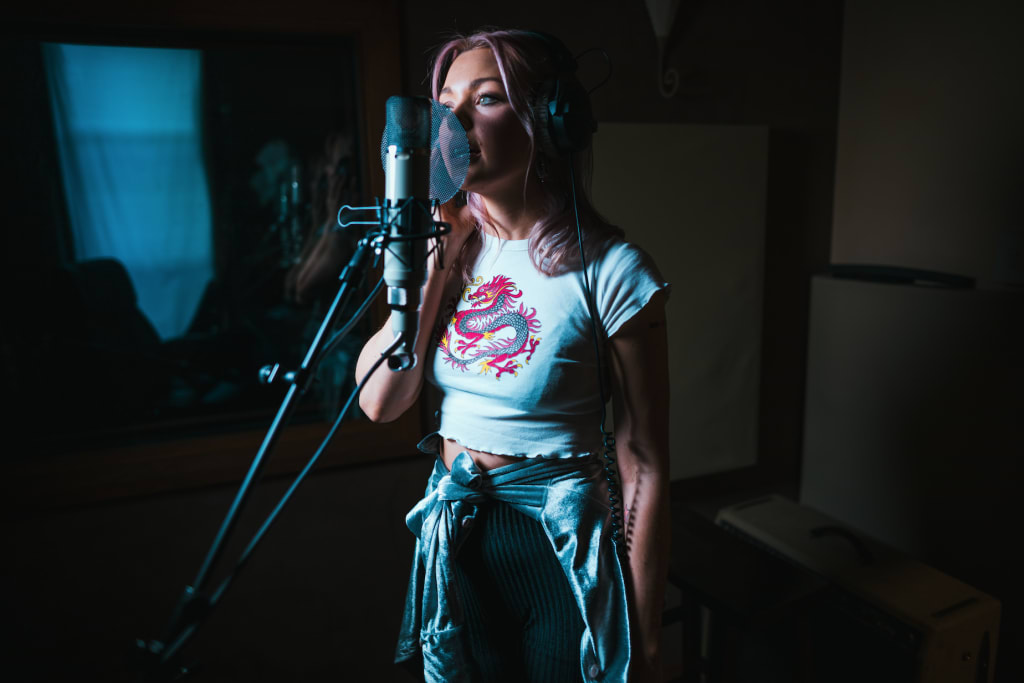 Young Aussie Talent Max Jackson (Photo: Talya Jacobson)
Max Jackson is taking the country-pop music world by storm, releasing two singles in the last month and truly setting her place in the industry.
A graduate of the prestigious Talent Development Project Program, she has been spending her time as a behind-the-scenes songwriter travelling between Australia, Nashville and Los Angeles working with numerous talents on their projects.
Having worked towards the release of her first album Life of the Party for the past 10 years, Max is getting ready for the big moment it finally debuts early next year. She couldn't resist telling her own life story after writing for others for so long.
Before she heads out on tour again, I took the chance to ask her what it is that makes her the human version of fairy dust, glitter and everything that sparkles.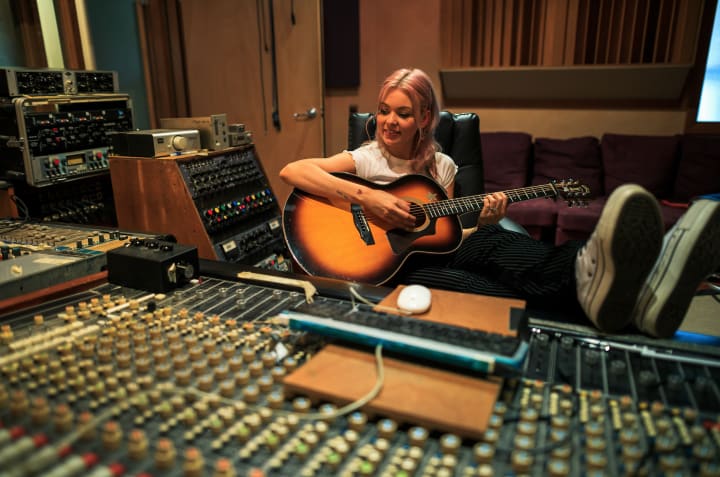 T: So you're releasing music!
Max: Yeah. Finally!
You've got "Saturday" and "How to Love a Girl" out in the world, congratulations!
Two songs out, thank you for that.
How does that feel?
It feels really exciting I think; I mean that's the obvious answer but it has been a really long time coming. I've been making this album in particular writing for it for about six years and it just feels really exciting and kind of scary to think that people are hearing the songs because they're so personal. So it's a mix of emotions.
Where do you get your inspiration for your songs?
Every single song on the album is really out of my life. It's just a piece of my story. So I wrote a lot back to my childhood and also wrote into my future. But very, very personal songs about my family. I've got a song on there for my sister. A song for my fiancé Jeremy. A song for parents and just a lot of a lot of it is kind of autobiography style. It's just telling my story.
And that's what music's all about. Yeah it's just telling a story and getting it out there.
Yeah absolutely and I really wanted to be quite vulnerable and just honest. I think when you're younger you write towards what you think is cool or what you think people want to hear. And I guess when I started to really go inward and figure out like what I wanted to write about it was just more honest and more conversational.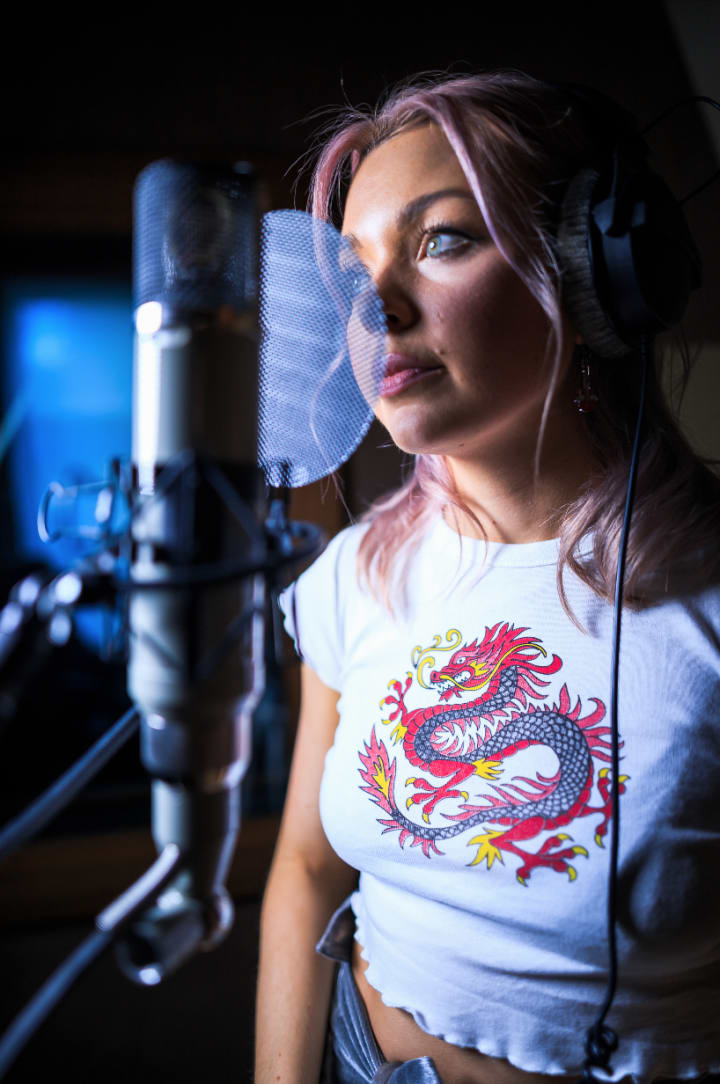 What kind of responses have you been getting from people with the new music?
I've been getting just the coolest feedback a lot of the people… obviously I'm just at the beginning so my community is a lot of my friends and my family, and then their friends and their family and it has kind of just grown from there. Actually I had one girl write to me last week and she said, "I heard your song 'How to Love a Girl' and it made me cry because it made me realize how lucky I am to have my partner."
Aww.
That meant a lot to me because lyrics mean a lot to me. I know that when people listen to music they're not kind of really tuning into what every line is saying and what the underlying meaning was. But I think when people reach out to me and say, "Oh look I really connected that because it made me think about how lucky I am to have my partner," or somebody reaching out to me and saying, "It really made me excited to find somebody who really gets me as well"..] When people are really connecting to those lyrics I think it's been them really special thing about it.
And you've had so many opportunities come out of your songwriting and your music like you've been to LA and Nashville which is insane… Angels and Outcasts* as well. How is it collaborating with all these different people and having the experiences that you've had?
Yeah it's crazy. The greatest thing about social media is meeting people that you would never ever have the opportunity to meet. And I mean, imagine if there was no Instagram. We wouldn't be sitting here now. And I never would have met Elle from Angels and Outcasts. I'm so lucky to have these opportunities.
Social Media! Yay! I have a few friends and also know Australian musicians that have ended up in Nashville. Do you know Seaforth?
Yes! I do. Their ads always pop up on my socials, they're really colourful and eye catching and I love that. That's something that I'd really love to do as well.
Yeah, they're awesome.
That's where dreams are made. You go to Nashville and that opportunity is there.
And Miley Cyrus is my other number one favourite female vocalist growing up. I was a fanatic.
I love every part of every part of her.
Everything (laughter).
She can do no wrong.
I remember when I was younger and she was from Nashville, and she used to play in the Bluebird Café, and that was the place that you went. And now seeing you and the boys and everyone going over there and going to the café is insane.
And it's weird isn't it how you can form a bond with a place that you've never been. I felt like I had that bond before I'd even been there because I just knew I was gonna meet people there that you know would feel the same way that I do about music and especially about country music. As soon as my feet hit the ground there I felt at home. Every time I go, it's way harder to leave. I love where I am and living in Newcastle as well is such a hub of music and history. So I love coming home too but I hate leaving.
So tell our readers a little bit about yourself and your career so far, and also the overall vibe of your music.
I grew up in a really small country town in Coonamble in Western New South Wales and when I was there, there was around 1500 people in the town and the surrounding areas.
One of the most exciting things was when an artist would come to town and do a show and people would count down the days to going to a concert and a lot of the time, because it was a country town, it was country singers. So that's when I would go see people like Gina [Jeffreys] and Becky Cole and Troy Cassar-Daley. I just grew up with a real passion and I loved the stories. I would sing the lyrics like with so much passion even when I didn't understand.
When I was twelve we moved and that was a massive shock for me because I went from this tiny little school where literally my grandma was a teacher at the school to going to a really big school. In that journey, I really went into my music a lot. I picked up the guitar cause all my favourite artists played guitar, so I had to play guitar. But at that time it was really good because it was a really great distraction.
So that led to a bit of a journey, I went to LA, wrote heaps of pop songs… I was writing a lot for other people so I went into my songwriting a lot. And then I met my publisher and I started to deliver her songs. Every week I would send in five or six songs, whether it be with another artist or by myself. She'd ask me what the songs were about, and it just got to the point where she said, "You have all of these songs that I cannot place with anybody else because they're literally about your life. So I feel like there's an album in that," and I was like okay… ! And it just from there just felt really right.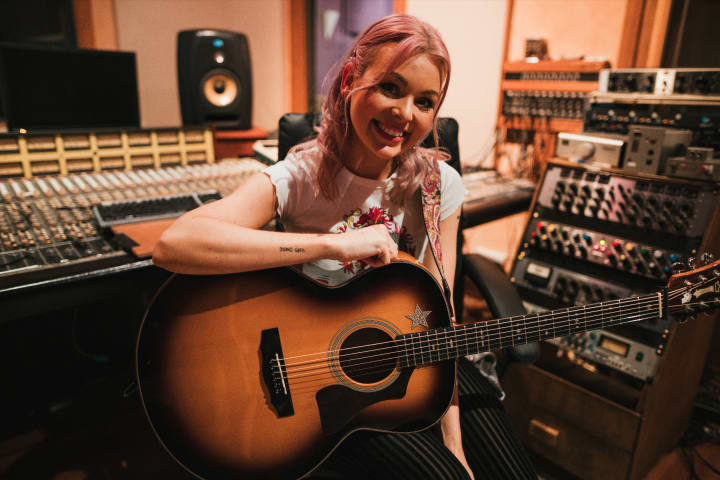 You must feel very, calm and relaxed into the whole industry now because it has been so long that it's not such a whirlwind of craziness.
Yeah absolutely. And meeting Rod McCormack and Gina [Jeffreys] in 2009, I had actually entered a talent quest here on the Central Coast, and winning that it was a full day of mentoring with Gina and a recording with Rod. So that was the beginning of my really, really close team, and they've supported me and taught me everything that I know. Nobody in my family is musical either, so I felt like when I met Rod and Gina, I met my musical parents.
What made you realize that you were wanted to do music as a career?
I don't remember a moment. But I just have never ever had anything else that I wanted to do. Like I wasn't like oh I really want to be a singer but if that fails I'll… I don't know.
Be a hairdresser.
Everyone said to me, "Do you want to be a hairdresser?" because my mum is. But I just never ever, ever had anything else. And I had missed a lot of things growing up, things that you would usually really look forward to weren't things that I was looking forward to. Even on my school formal, I was doing a soloist part in School Spectacular. I did my makeup on the two-hour drive home from Sydney, threw my dress on and jumped in the car and went to the formal. I never looked forward to anything else other than music. I understand why people look forward to those kind of things but I just always looked forward to what was the next musical thing that I was doing or could be involved in.
You did start out at a young age when you were still in school. How did you manage to juggle the lifestyle of being in school and starting your career?
Yeah, it's obviously tricky. And I am a perfectionist so I like to really try my best at everything. I'm also quite well known for spreading myself way too thin; so doing too many things at once. But I think music was always my priority and I was at school because I really wanted to finish school. I was doing the School Spectacular each year, I was doing Star Struck which is the Newcastle version of that, and I was also in the Talent Development Project for the last three years of school. So I was at school really just so that I could do all of these extra opportunities.
What is your favourite part about working in the music industry?
So many things. I think it's human connection and that I can stand on a stage and I can see somebody emotionally connecting with what it is that I'm singing, because that was me. And I honestly look into the crowd sometimes and I'll see a little girl and I think that is me, and it makes me really emotional to think about.
There's an old quote, it's that music is the closest thing we have to magic.
Oh wow. It really is and it's so universal. And it can change your daily experience. Another thing that Jeremy and I decided to do is listen to a new album every morning or a new artist. And so we do that every single morning now.
I do that too!
Yeah! And how much does it change your day!
It really does. That's the whole reason I started Friday's Five at 5 as well, because I want people to actually start to think about listening to new artists. There's so many out there.
And the artists you love at one stage were that unknown artist that was out playing to a few people a night.
Yeah, and I think that a lot of people listen to independent artists like, "Oh that's nice, but they're never going to go anywhere," and it's such a negative outlook. You literally never know. Every single independent artist is creating a story, and I think that so many people can get so many different things out of everyone's stories. And that's what music is.
Yeah. I feel like I learn new things every day from songs. Even just like a different perspective on something when somebody words something in a different way, and I'm like wow! I've never thought about it like that that.
Yeah. I definitely agree. What are some of the challenges that you face in the music industry?
Yeah, a lot. I think a massive challenge about the music industry is it can be really lonely. I think it's like the kind of thing where you're constantly surrounded by people and you're constantly in contact with people. But a lot of the things that you do are by yourself.
A lot of my time is spent at home working on my laptop, but I have to spend that time to do things like release music; getting through that that it can be quite isolating.
But also industry things. I think there's always bumps in the road when you're figuring out who you are. Also, I think the biggest thing that I've learned is to find your team, find people that you trust, and cherish them, and really look after them.
What does an average day look like for you?
Every day is really different. It starts out the same though. Every day we [my fiancé and I] always go for a walk, have breakfast together, listen to some music, check emails, and then it goes from there. Sometimes I have a bunch of students that I mentor. A lot of them are young songwriters or guitarists, and I teach for most of the afternoon.
It's good that you keep your days productive, even if it's not doing your own music.
Yeah. Well I think like honestly I consider songwriting time as so many things. Like it's writing a song, it's listening to a new album that you're inspired by, it's listening to an old album that inspired you. Yeah. I think anything to do with finding inspiration or ideas is time songwriting.
Yeah. Who are some of your greatest musical inspirations?
Ooh! So many! I am super connected to late 90s early 2000s country. So I loved at the time it was like so female led at that time there were so many super successful female singer songwriters. So I was really connected to people like Shania Twain, and I've always been really connected to Dolly Parton. I think she's just such a stunning songwriter and so unique and funny and charismatic. I liked a lot of like that era kind of female artists. A lot of those power the women who were very commercial but when you actually listen to the songs had a lot to say.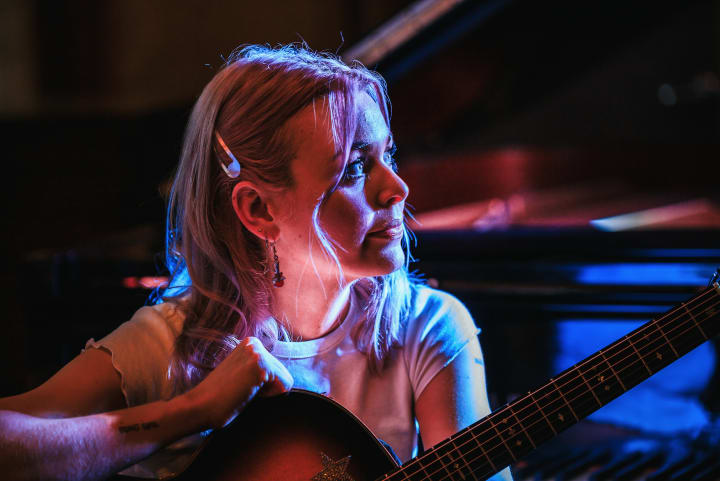 And you can tell because you're such a powerhouse and a strong female presence.
Thank you so much. And I always have been connected to that you know people who have something to say. More recently Kacey Musgraves; I think she's done so much for modern day country music and I love that.
What advice would you have someone wanting to follow in your footsteps as a musician?
I'm really at the beginning, I'm just releasing my music. But like I said it's taken 10 years to get to this point. I think something I would say to my younger self is to be patient.
Yes.
Because I was always in a hurry and I always felt, this is gonna sound so ridiculous, but I always felt like I was too old. Like when I was 18 I was like oh I'm too old, Taylor Swift was 16, this is me I'm done. And I would be so stressed about how old I was, but now I look back and think why did I even think like that? That's just insane. So I would just say be really patient, find people to surround yourself with that really inspire you but really support you and are really honest with you. Take your time. Find your people and really look after them. And be disciplined.
Making your own music videos. Tell me more about that!
Weirdest thing we've ever set out to do. There's two reasons why we did it. One; how can I make everything as authentic as I can and make it me. Secondly, how do we save money.
The first one, "Saturday," we recorded in the studio with a green screen. I learned how to like key images and get the backdrops and everything, then we edited everything ourselves. And then "How to Love a Girl," we were really lucky to have a friend's music store in Newcastle called Jack's Music. They loaned us their new space and we just went in there one day and we literally filmed it in two hours.
Learning how to do it has just been invaluable because being able to create things myself at midnight when I randomly need something has just been amazing to be able to do. So yeah it's been fun.
Okay. So quickly, some quick fire questions! Say the first thing that comes to mind. Cats or dogs?
Dogs. Yeah I really, really want a bulldog, it's like my biggest dream. We cannot walk past a bulldog on the street. My mum and dad have a beautiful Neapolitan mastiff. And that's why I love dogs.
Do you have a go to late night snack?
Cashews! I'm obsessed with cashews. I can't stop eating them at all times of the day, and a lot. Or any kind of nut butter.
I do celery and peanut butter. Or just a spoonful of Nutella.
I write my name on the jar because I just eat straight from it. Can't help it.
Haha! What's one thing you couldn't live without.
Jeremy…
Awww. (both laugh)
No, no, I'm trying to think, my guitar. I really, really love my guitar, and this particular guitar. But both those things.
What playlist are you currently listening to? (Whispers: Say Friday's Five at 5.)
Yeah, Friday's Five at 5. Actually I really do listen to it. I love your suggestions. Honestly so many of the people that you write about I go and follow.
Aww! Amazing!
Sometimes I write to them and be like hey! I've been on the Five at 5 as well, just found your music, love it. But I've really connect with people through that.
Wow, that makes me so happy.
Another playlist that I listen to all the time is, this is so weird right, but it's called Floating Through Space, and it's just really ambient. It's like almost nothing but it sounds like really bass-y and like really like... It feels like you're literally floating in space.
I actually heard it for the first time when I was having acupuncture once and I fell asleep within twenty minutes.
You'll have to send it through to me. What's the best concert you've ever been to?
Oooohhhh, The Eagles. I think the Eagles.
They were here? When!?
Gosh it must have been six years ago... yeah something like that. Ever since I was a little girl, my dad has been obsessed with The Eagles, and he's just a music fan but really, really, really obsessed. Every single time he would have friends over we would put the Hell Freezes Over DVD on. So, I think they were super nostalgic for me.
What's the craziest experience you've ever had?
Recording my album in Nashville. We were at the Sound Emporium which is a really, really iconic old recording studio; it has a lot of history and when you walk in there's pictures on the wall of every single person who's recorded there.
There was like, Jason Isbell, just the most amazing people and while I was there Trisha Yearwood was recording in the next room and I walked into the coffee room at the same time as her and I just… I just stopped in my tracks. Like in my mind I was going, "what is life." And she turned around and she said to me, "Hi! I'm Trisha!" And I was like, I know who you are! (laughter)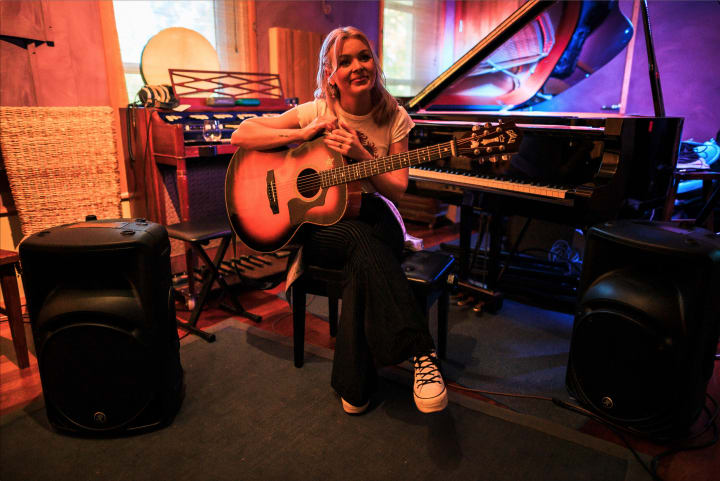 Well that's amazing. Is there anything else you'd like to add?
Oh gosh I don't know. I've got another song coming out soon and then the album next year. And just on tour with Gina. Yeah I think they're the main things that I've got going on. So exciting. That's it really. I don't talk about myself.
Only when you're made to.
I don't know what's interesting about me. Actually I saw this thing yesterday, I can't remember exactly how it was worded but it was something like, "everything that is normal to you is amazing to everybody else." And I thought wow that's really true.
Wow, I love that.
That's what inspired me to share about my journey to where I was.
It's like that saying with the butterfly wings. You don't see your beauty but everyone else does.
Yeah, weird isn't it. It's like every day you feel like you're just like doing the same thing but you'll be working towards something that's really special for you and there's other people out there who are working towards the same thing. I think I've been inspired by that to be a bit more open and to think about the things each day that you know were really cool about that day, like this!
No thank you. You inspire me so much.
Aww, Thank you. I'm so grateful for you sharing my songs and everything with your friends and, love Instagram for this moment.
Yeah thank you! Thank you Instagram!
Follow Max on her socials and keep an eye out for new releases very soon!
Follow me!
Twitter @JacobsonTalya | Instagram @talzisme
About the Creator
Journalism Student at Macleay College, Sydney.
Budding Music and Photography Enthusiast 🎶📸
Reader insights
Be the first to share your insights about this piece.
Add your insights