A Beatles' Workout
Music to Twist, Shout, and Bench-press To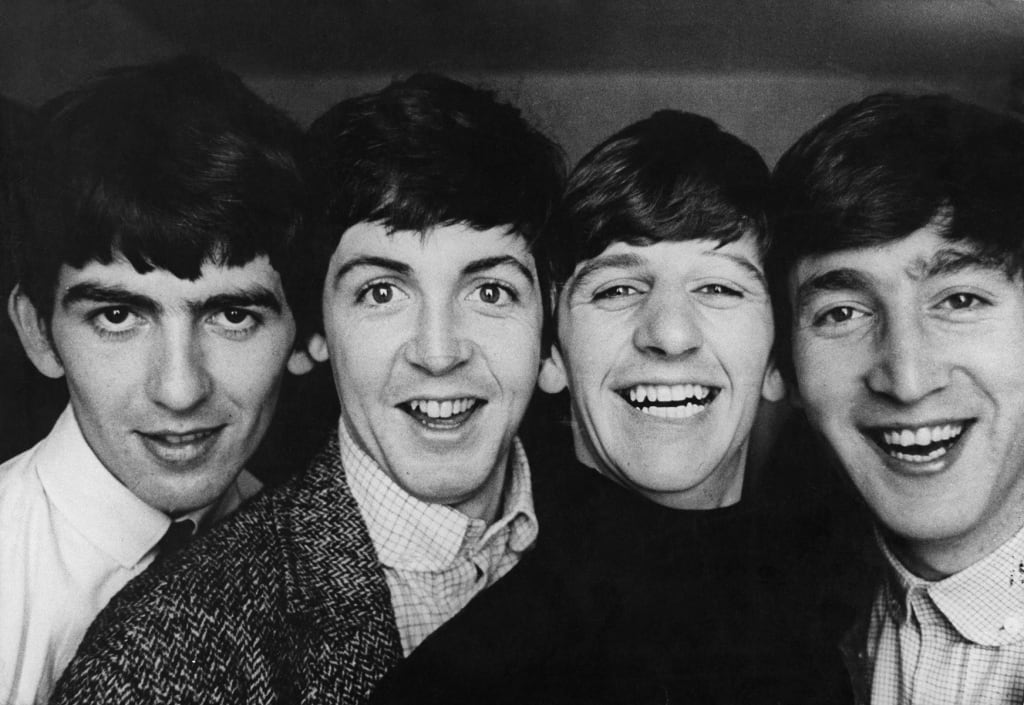 The Beatles gave us music for all occasions, and all our many moods.
If you're nursing heartbreak, the Fab Four have got a dozen (or two) songs for you. Conversely, if you've just found love, John, Paul, George, and Ringo have got plenty to say about that.
Missing loved ones? Easy - bury yourself in 'Abbey Road' for a few hours. Need to study? Delve into 'The White Album.' Feeling creatively 'stuck', and in need of inspiration? The double whammy of 'Sgt. Peppers...' and 'Magical Mystery Tour' should get your creative juices flowing.
For every occasion, and every mood, there's a raft of songs in The Beatles' back-catalogue for you.
It only stands to reason that, buried among their wonderful discography, are songs that could make up the perfect workout playlist.
So, here's my list of Top Ten Beatles' songs to get physical to.
1. 'Yellow Submarine' (1966)
Let's start with a warm-up. We're looking for something bouncy, and happy, but not too fast - ideal accompaniment as you stretch out your muscles in readiness for the work to come. I give you 'Yellow Submarine.'
It's frivolous, very daft, and - honestly - makes no sense (despite what Ringo tell us, we blatantly DON'T all live in a yellow submarine, and are never likely to). However, it's three minutes of surreal joy - if this doesn't get your dopamine levels pumping, check your pulse to make sure you're still alive.
2. 'Help!' (1965)
Warm-up complete, let's start. And why don't we do so with a bang, and get those endorphins flowing too? Here's 'Help!'
By the time The Beatles' second movie hit cinema screens, they were the biggest recording artists in the world. Elvis fans might have something to say about that, but - let's be honest - as wonderful as he was, The King's cinematic adventures were a damp squib.
The film version of 'Magical Mystery Tour' might be a self-indulgent mess, but 'A Hard Day's Night Night', and 'Help!' are fantastic, and rare instances of musical-based films being as good as the soundtracks.
And, musically, the highlight of 'Help!' is its opening number. Strangely, despite the fast-tempo, it's actually a song about sadness, about being 'lost' - it was primarily written by John Lennon who was beginning to feel suffocated by fame. His cry for 'Help!' wasn't just a lyrical one.
However, ignore that today - we've got a workout to complete!
3. 'Birthday' (1968)
Next up, 'Birthday.' Not just perfect for continuing the mood created by 'Help!' but also the ideal riposte for anyone who still thinks Ringo couldn't drum. There are many wonderful things about this track, but chief among them is Mr. Starr's manic drumming.
For someone who has so rarely been taken seriously, this song alone shows that he was astonishingly good.
The Beatles had long stopped touring by this point which meant we never got to hear them perform this song 'live.' If tracks like 'Love Me Do' had so excited their audiences that they drowned out the music, goodness knows what would have happened if they'd ever unleashed this one in a concert hall.
Predominantly written by Paul McCartney, it was a song that has became a regular standard in his solo, post-Beatles', shows. Luckily, I saw him perform live in the early 1990's, and 'Birthday' was the highlight. It invigorated me that night, and it will propel you on as you push your body through your workout.
4. 'A Hard Day's Night' (1964)
Okay, you're flagging a bit now. You need an energy-boost. So, take a sip of whatever sugary, glucose-fueled drink you're carrying, and let the title track from The Beatles' debut film give you that lift.
Much like 'Help!', for a song that sounds so joyous, it's actually not. Although the title may have come courtesy of a harmless Ringo malapropism, it's also a none-too veiled dig at the treadmill their manager, Brian Epstein, had placed The Beatles' on, and the rigorous demands of suddenly finding yourself in the most famous music group on the planet.
However, for now, that's not important. From that easily-identifiable opening chord, to the discordant fade-out (which, briefly, acts a herald for the experimentation to come in the years that followed), it's musical motivation, fuel to move you forward.
5. 'Good Morning, Good Morning' (1967)
There's a break coming soon, but there's one last song to power through: Lennon's brilliant 'Good Morning, Good Morning.'
'Sgt. Peppers...' showcased just how much The Beatles had developed. Experimentation was no longer confined to just one song; it was spread across the whole album. But, for a record that is full of inventiveness, this song is relatively simple. Well, apart from the rooster crowing, and the dogs barking, that is.
On the surface, this track is about the mundane, banalities of everyday life; the person in the song does little more than go to work, and come back again. But, musically, it's a different matter.
In a direct contrast to McCartney's more saccharine offerings on 'Sgt. Pepper...', Lennon's song is 'rockier', and more harsh. It has a great Harrison guitar solo, and yet another pounding beat from Ringo. The perfect way to get us to 'half-time.'
6. 'Flying' (1967)
We're half-way through - so it's probably time for a brief pause to catch your breath, and give your muscles a short rest. Whilst you relax, let this strange, yet comforting, instrumental piece from 'Magical Mystery Tour' wash over you.
A rarity, in that all four members of the band were credited with writing it, there are also many different versions of 'Flying.' Some faster, some slower; some more elaborate, some more stripped back. You can't help but get the impression that, although they all liked it, they also never fully knew what to do with it.
But, in my opinion, nothing beats the original version. Weird, and dream-like, it's a blissful way to spend a few minutes before we get back to work.
7. 'Drive My Car' (1965)
'Rubber Soul' is an interesting album. If there is a clear marker between The Beatles' early, high-octane music, and their later more complex, inventive compositions, then this record is probably it.
However, 'Drive My Car' (like 'Good Morning, Good Morning' on 'Sgt. Peppers...') is a rare act of simplicity. Although slickly-produced, it's also a no-frills, straightforward, pop song. The lyrics are nonsense, although good to sing along to, but it's got an energetic tempo, and is a good way to ease yourself back into things after our short break.
All together now, "Beep, Beep, Yeah!"
8. 'Can't Buy Me Love' (1964)
Time to increase the pace a bit, courtesy of one of the group's biggest selling singles.
'Can't Buy Me Love' was written, quickly, by Paul McCartney in between a punishing schedule of live performances in Paris. And the pressure was on; 'I Want to Hold Your Hand' had just reached number one in America, and more hits were needed, and fast.
McCartney (with a little help from the band's producer, George Martin, who re-worked Paul's much rougher, original version) obliged.
The song was also recorded with German lyrics; if The Beatles wanted to 'break' Germany, it was felt they needed to do so singing in German. It worked, and the group became as big there as they did in the US.
However, they became so big, they didn't need to issue dual-language recordings afterwards.
Like much of their work, there is a tinge of melancholy underneath the frenetic beat; music may have brought them all untold wealth and fame, but not necessarily happiness.
But, there's always a winner somewhere, and - in this case - it's you: It's given you another excellent workout track.
9. 'One After 909' (1970)
As the 1960's drew to a close, the Fab Four were barely speaking. It's easy to blame Yoko, but that's just lazy.
If you've ever watched any documentary about The Beatles, then you know we're talking about four very strong individuals. Any cracks in the group were always going to be magnified when you've got four such overpowering personalities.
By the time Ms. Ono arrived, the fissures - which had been years in the making - had simply grown deeper.
And, recording 'Let it Be' they knew the end was nigh.
But, for a brief time, Lennon and McCartney buried the hatchet, and wrote this gem, which harked back to the American Blues that had inspired them both to take up the guitar back in 1950's Liverpool.
It's a lesser-known Beatles' song, but it's always been one of my favorites. There's no barbed digs at the other members of the group, no real, deep meaning behind it. It's just four supremely talented musicians enjoying jamming with each other.
It's fast, and joyful, and is our penultimate track on our workout playlist.
And we're going to end on a high...
10. 'Twist and Shout' (1963)
Yes - it's a cover version, but WHAT a cover version! If this doesn't get your endorphins cascading, nothing will.
Raw, and vibrant, it should hopefully enable you to both push on through the final minutes of your workout, and ensure you finish on a high.
The Fab Four's debut album doesn't have the technical slickness of 'Revolver' or 'Rubber Soul', or the invention of 'Sgt. Pepper's...', or the variety of 'The White Album.'
But what it does have is energy. Lots of it.
When you listen to 'Please Please Me' you get a glimpse into what it must have been like seeing The Beatles at The Cavern, or in those dingy venues in Hamburg, before they became famous.
It's an energy their experienced producer, George Martin, tapped into - the album was essentially recorded 'live.' Over the next decade, both he and his protegees would relentlessly experiment, and push the technical limitations of a 1960's recording studio to its limits. Not here.
Drums, bass guitar, rhythm guitar, lead guitar. And John's voice.
Let it wash over you, and motivate you on this final leg. Go on - do it! Let your body be as drained, as spent, as Lennon's voice is by the end of 'Twist and Shout.'
So, that's my Beatles' workout. A fabulous playlist from the Fab Four. Ten songs, although I could have chosen dozens. Perfect for the gym... actually, the band's music is perfect for anywhere.
But especially so when you need to exercise. Download, and begin...
"In the town, where I was born..."
----------------------------------------------------------------------------------------
If you've liked what you've read, please check out the rest of work my on Vocal. Among other things, I write about film, theatre, and mental health - https://vocal.media/authors/christopher-donovan
If you've really liked what you've read, please share with your friends on social media.
If you've really, really liked what you've read, a small tip would be greatly appreciated.
Thank you!
playlist
Hi!
Film, theatre, mental health, sport, politics, music, travel, and the occasional short story... it's a varied mix!
Tips greatly appreciated!!
Thank you!!
Receive stories by Following the Flow in

your feed