9 Hottest Non - Album Singles of 2020
Some people view the non-album single as a dying art, but 2020 still offered up a handful blazing top 40 hits that will never appear on a studio album, here are 9 of the very best!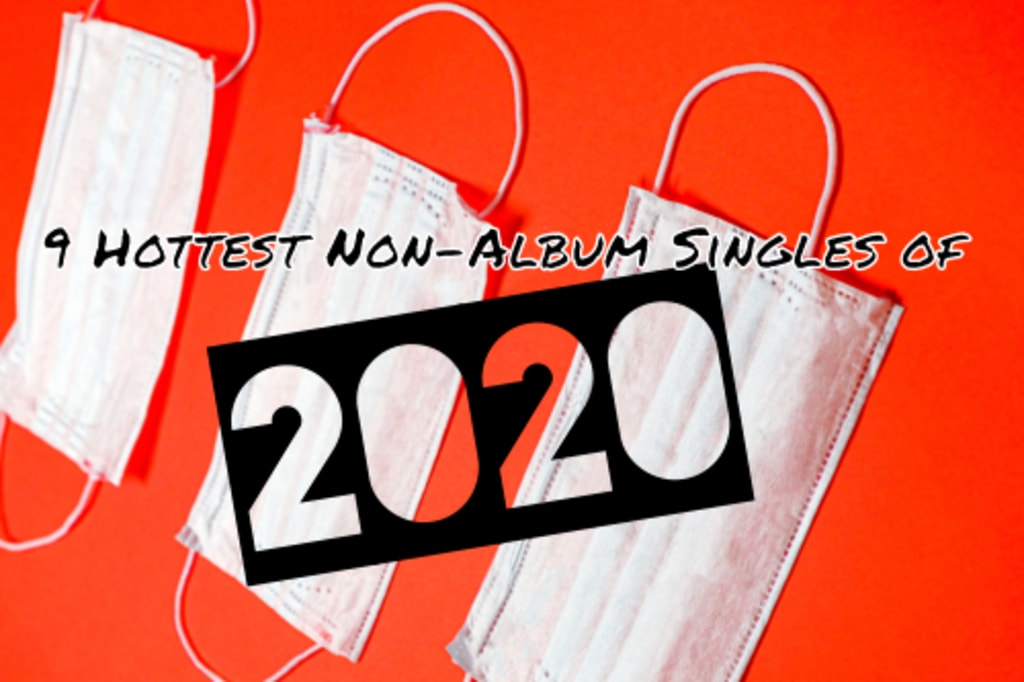 While 2020 forced most of us into our homes, several artists used this as an opportunity to make new music. Probably the most notable example would be Taylor Swift who released 2 full-length albums during lockdown. But even if T-Swift hadn't been there to keep us afloat, there was no shortage of piping hot bangers and collabs pouring into radio stations and streaming services around the world, today I'm going to take a few moments to recognize some of the hottest non-album singles of 2020.
Number 9. Baby, I'm Jealous - Bebe Rexha feat. Doja Cat
Release Date: October 9, 2020
Peak Position: #4 (New Zealand Hot Singles) / #21 (US Mainstream Top 40)
Is this a perfect song? No.
Is it a pretty good bop and an absolute MOOD? Yes.
What more does pop music owe us? Despite the tendency of people to demand more of the genre, and then crucify it when it delivers - nothing. Pop doesn't owe us anything else.
Full disclosure, I lowkey ❤ Bebe Rexha and I might be an avid user of her Sinful Colors nail polish line. But with that said, this song feels like a deeply toxic counterpart to the #4 entry on today's list.
"Baby, I'm jealous

Of the pictures that you like

Baby, I'm jealous

Of the girls with lighter eyes

Baby, I'm jealous (ooh)

And I know that it ain't right

But I'm jealous, jealous

The jealous kind"

- "Baby, I'm Jealous"
In total, 3 versions of this song have seen mass release now, probably the best was the original with Doja Cat released in October. Next a remix with Dominican singer Natti Natasha was released on November 27, 2020, there is little to say about this as it's identical except for the addition of Natti Natasha rapping in several spots. But then on December 11th, she dropped the 3rd mix, "Baby, I'm Jealous (Stripped)" with the original as a B-side. "Baby, I'm Jealous (Stripped)" is a far shorter solo version with a run time of just 1:58, this particular version succeeds in being tragically mixed, and entirely more off-putting than the original. Explain? Ok, I will… *Engage Rant* In an effort to "strip" this version down and lend it what? Authenticity? Spare me...they take away 99% of the reverb that gave the first its neomodern pop charm, as a result, they left behind a heavily autotuned shell of Bebe Rexha that receives crude treatment from a pitch slider on more than one occasion. This whole cacophony is set atop an easily forgotten jazz-trap (yeah, I said it) beat of sorts, this version was inspired by Rexha's November 26th solo performance of the song at the 94th Annual Macy's Thanksgiving Day Parade. Remixes aside, the original does its job well enough, and will certainly predict that it will see some sustained popularity going into 2021.
Number 8. Feels In My Body - Icona Pop
Release Date: August 7th, 2020
Peak Position: #22 (Billboard Dance/Electronic Song Sales)
Icona Pop always promises to make you dance, and that's just what this underappreciated gem delivers. With a run time of just 2:39 it is the perfect length to leave you wanting more, leading to an easy replay value that will keep you leaning on that repeat button. Icona Pop are masters of the non-album single, with over 19 singles and just 2 full-length albums (the last of which dropped in 2013) it's no surprise that this track will probably never be included on a studio album or EP. Nonetheless, it's more than deserving of a cozy position on your favorite dance playlist.
Number 7. Afterglow - Ed Sheeran
Release Date: December 20, 2020
Peak Position: #1 (Israel) / #5 (New Zealand Hot Singles) / #N/A (US Mainstream Top 40)
Much like Taylor Swift's Evermore, "Afterglow" came as a total surprise to fans who hadn't heard anything from Sheeran in nearly 18 months (and the first solo single since 2017). Perhaps this timing isn't so surprising given that he has discussed the symbiotic relationship between him and Swift, saying that the two have a healthy sense of competition. In a 2015 interview with Seventeen, Sheeran said "At the moment, Taylor is a benchmark in America and a lot of other countries. In America, I want to catch up with her" when asked in the same interview about the possibility of that happening he went on to say "I think she'd then get more competitive and do more stuff. I think it would only be healthy. Like her surpassing me in sales in the U.S., that's healthy for me because I now want to get up to that point.". Indeed "Afterglow" fits very well sonically beside Swift's Evermore which is currently devouring the charts. Despite this, it seems unlikely that "Afterglow" will find a spot at #1 domestically but its success abroad is a testament to the fact that this soft and sweet little number is worth a listen.
"We were love-drunk, waiting on a miracle

Tryna find ourselves in the winter snow

So alone in love like the world had disappeared

Oh, I won't be silent and I won't let go

I will hold on tighter 'til the afterglow"

- "Afterglow"
Lyrically we have come to expect a certain something from Sheeran and this fits very well into that spot, an introspective look at a single Saturday morning moment in a relationship that has matured and sweetened over several decades, the whole song feels like it takes place entirely in a split second, a single firing of synapses polished to a sheen and magnified. While I'm not convinced that "Afterglow" will ever truly breakthrough in the way that previous tracks like "Shape of You" and "Perfect" did, I know that the sentiment of this surprise release will stay with fans for a long time.
Number 6. ily (i love you baby) - Surf Mesa feat. Emilee
Release Date: November 26 2019, Reissued February 20 2020
Peak Position: #1 (Slovakia/Romania) / #2 (US Mainstream Top 40)
Rarely is a chillwave release such an absolute bop, this is one of those songs that I knew immediately was worth another listen. Lyrically the song is a repetition of the chorus from Frankie Valli's 1967 hit "Can't Take My Eyes Off You". Sonically though it is a rich and well-organized soundscape that dares you not to vibe. If this song was a moment in time it would be peeling your sticky clothes off at the end of a long week, and closing your eyes as you lay your head back in a warm tub of soothing bubbles.
"ily (i love you baby)" was produced by EDM up-and-comer Surf Mesa and is based around Emilee Flood's cover of the original, this original version was simply titled "ily" and was released in November of 2019 before quickly gaining massive popularity on Tik Tok. Shortly afterwards, Surf Mesa was signed to Astralwerks and Universal who jointly re-released the track with the extended title "ily (i love you baby)" on February 20, 2020.
Number 5. Stuck with U - Ariana Grande and Justin Bieber
Release Date: May 8, 2020
Peak Position: #1 in 8 countries including the Billboard Hot 100
"It's just for fun" says Ariana at the top of this retro tinted R&B track from May. The song represents the second collaboration between Grande and Bieber after the 2015 remix of the latter's "What Do You Mean". The song seems like more than a fitting addition to 2020, as many were crashing into the harsh reality of sheltering in place, the single dropped with cover art depicting two people sitting alone together in a transparent house. The picture itself is a bone-chilling representation of how many people were left feeling during this global health crisis, conversely, the lyrics depict the song's stars finding the best in their forced companionship.
"And there's nothin' I, nothin' I, I can do

I'm stuck with you, stuck with you, stuck with you

So, go ahead and drive me insane

Baby, run your mouth, I still wouldn't change

Being stuck with you"

- "Stuck with U"
The song offers a more grounded view of being quarantined with someone you love while also accepting the stressful realities that can challenge even the strongest relationships. The track was released as one of several charity singles coordinated by manager Scooter Braun, with all proceeds going to the First Responders Children's Foundation, an organization that funds scholarships for children of frontline workers affected by the Covid-19 pandemic. Even though it was released for charity, the song is a hella smooth R&B duet with heart, that manages to be relevant without the ham-fisted we-shall-prevail-sentiment of other covid era charity numbers, and maybe one of few that we will still enjoy unironically a decade from now.
Number 4. I love me - Demi Lovato
Release Date: March 6, 2020
Peak Position: #4 (New Zealand Hot Singles/Hungary)/ #12 (US Mainstream Top 40)
Despite bringing a more pop-y and bouncy feel than other recent releases like 'Anyone' or 'Sober', the lyrical content of this track is anything but vapid pop fodder. The track actually documents a great deal of Lovato's own battles with mental health and the video for the song hits this directly on the head. In the video Lovato walks through scenes from her life in a dramatized version of New York, these flashbacks include events like her mother taking her to auditions, her time filming School of Rock with the Jonas Brothers, and her 2018 overdose. The song has a number of poignant lines and when discussing the track on The Ellen DeGeneres Show, Lovato said, "It's an anthem, and it talks about how hard we are on ourselves and this, the negative self-talk. You know, how easily we can listen to that. But when is loving yourself gonna be enough?". This song dropped right before quarantine got super real for people in most countries, March 6th, and it was a great letter of self-love to keep us motivated and positive during a particularly rough year.
"'Cause I'm a black belt when I'm beating up on myself

But I'm an expert at giving love to somebody else"

- "I Love Me"
Number 3. Ur So FxxkInG cOoL - Tones and I
Release Date: May 29 2020
Peak Position: #3 (Sweden Heatseeker) / #23 (US Hot Rock & Alternative Songs)
The next big thing for Tones and I after 2019's "Dance Monkey", this track failed to really penetrate the charts in a powerful way, yet it's hard to find someone who knows it and doesn't like it. With 73.5 million Spotify streams it is still her 4th most streamed track on the platform.
"Walk into a party, feelin' out of place

Everyone's too cool, everyone's too fake

I try to start a conversation but I can't seem to relate"

- "Ur So FxxkInG cOoL"
As with the majority of her catalogue, the track is written and produced by Toni Watson (otherwise known as Tones and I). "Ur So FxxkInG cOoL" was also accompanied by a video directed by Tones and I, Nick Kozakis and Liam Kelly. The video kinda feels like the ultimate social distancing power move, in it Watson plays the 7 different characters from the single's cover as they all wind up at a house party where the remainder of the guests just happen to be mannequins. The video is probably quite fitting of the song though, as Tones and I told Rolling Stone that "Ur So FxxkInG cOoL'' was inspired by a party she attended in Los Angeles. Overall this is just a really chill bop that will probably remain in heavy rotation for years to come, however, despite being popular with fans this song barely remained on Billboard's US Hot Rock & Alternative Songs for 2020 finishing the year at #99.
Number 2. Bang - AJR
Release Date: February 12, 2020
Peak Position: #2 (US Hot Rock & Alternative Songs)
AJR have had a pretty good few years now, with 2019's Neotheater debuting at #1 on both the Billboard Alternative and Top Rock charts. As of the writing of this article, "Bang!" remains a non-album single, though it seems that it could eventually end up on an album, to elaborate it "SHOULD" wind up on an album, but as the Ivy-league trio of brothers work on their 4th album, they seem to be pushing for a highly creative approach that will do away with traditional rules. In a May 4th Instagram post about their next album, they wrote, "An album isn't a cake recipe where you have to add the same correct ingredients that you added last time, the truest, most real version of this album is the version where we make it up as we go along, rewriting the recipe as we go." because of this approach, it is entirely possible that "Bang!" might not make its appearance on a full-length album as soon as we'd expect, and that said, who knows if it ever will? In perfect harmony with the track's hook, "Bang!" really went out with a bang, ending the year at #4 on Billboard's US Hot Rock & Alternative.
"So put your best face on everybody

Pretend you know this song

Everybody come hang (come hang)

Let's go out with a bang

Bang! Bang! Bang!"

- From "Bang!"
Number 1. Savage Love (Laxed - Siren Beat) - Jason Derulo, Jawsh 685
Release Date: June 11, 2020
Peak Position: #1 in 17 countries including US Mainstream Top 40
This crushing banger dropped June 11, 2020, and within seconds it was literally all over Tik-Tok and many people (myself included) first heard this song because of the accompanying dance craze. This incredibly infectious (and incredibly short) 2:51 second long BANGER came out as most countries were at the height of quarantine. Jason Derulo has been a well-established artist ever since his 2009 hit "Whatcha Say". But most people had never heard of Jawsh 685, a New Zealand electronic artist … so obviously, this must be the touching story of Derulo giving an up and comer his big break? But not so much...actually, this is where things get scandalous.
Jawsh 685, or Joshua Nanai is a New Zealand electronic artist who was just 17 when "Savage Love (Laxed - Siren Beat)" became a global phenomenon. The original track "Laxed - Siren Beat" was composed consistent with a New Zealand trend of beats that could be played through siren speakers attached to cars or bikes, to accomplish this, specific tones worked best, and low frequencies are typically less effective. Even though it was composed for such a specific purpose it was immediately evident that the track was pure auditory heroin, there is just no other way to say it. After Jawsh 365 released the track he started to hear from artists and labels that wanted a piece, Nanai was no fool though and he was more than happy to sit out any arrangement that wouldn't benefit him in order to keep the song as he envisioned it. Jawsh 365 was surrounded by a team of experts who were advising him as he met several high profile artists interested in laying down vocals, one of these artists was Derulo. Following the meeting however, Derulo decided it would be better to ask forgiveness rather than permission, and set to work on recording vocals for what would become a song known simply as "Savage Love". Needless to say, when Derulo released a teaser for "Savage Love'' on May 11, 2020, Jawsh 365 was not impressed and released a statement explaining that he wouldn't be, "bullied by a larger artist into putting [the song] out". Immediately, talks began between the two artists and their legal teams until exactly one month later an agreement was reached, the track was re-released as "Savage Love (Laxed - Siren Beat)" with Jawsh 685 being credited as a performer, a writer, and the sole producer.
Following the success of "Savage Love (Laxed - Siren Beat)" it went on to receive another remix with the megastar boy band BTS, which was released on October 2, 2020. This song truly did rock the landscape of music in 2020 and became a genuine pop classic that will be fondly remembered by an entire generation, even those who hate this song will roll their eyes in recognition 30 years from now when it comes up on a retro playlist (à la Darude's Sandstorm). For totally rocking the landscape and being so fiercely addictive, this track is easily the hottest non-album single of the year.
Check out the entire playlist, uninterrupted, below:
playlist
Music blogger, writer, just looking to be heard really, follow me on Twitter: @SabrinaJay19
Receive stories by Sabrina Johnson in

your feed