5 Best Disco or Disco Inspired Tracks of 2020
And why they went oops upside your head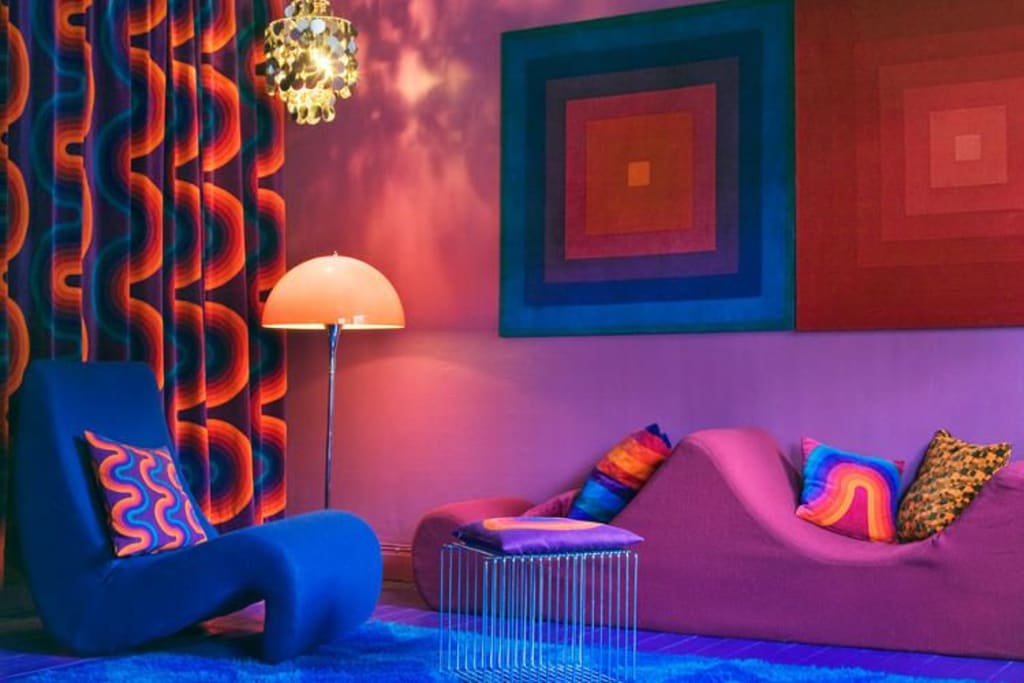 Your formally IKEA bedroom after listening to 'Dynamite' the first time
Ah yes, time for the semi-annual dragging of the '5 best...' trope out of my closet, dust blown of its surfaces. Only this time it its to be reimagined, attached to my ceiling to slowly rotate a constant flurry of light and disco fever over my impassioned, cold face as I sit in my dressing gown eating cereal at 10:10 pm.
Or as it was better known, 2020.
But never fear! Disco came back with a vengeance and came for all our necks and silent discos....you know, the ultra exclusive ones with no discernible dress code and that only exist in your bedroom. Those ones. But seriously, 2020 was lousy with infectious disco hi-hats, luxury trumpets and more routines to bang your elbow to than ever before. Why? Cos, as science proves - disco makes you happier. Honestly, if those vibrant trumpets that belong to YMCA comes on, are you even remotely still sitting down? Be honest now.
And yes, one could argue disco never truly goes away - *looks at you pointedly in Bruno Mars* but that my friends, was Disco funk, and disco punk, disco Daft Punk even, and epic as they were, in 2020 we returned to what Questlove of The Legendary Roots Crew would call 'true' disco - which is always about the drums. Many hits of the last year that found themselves in the top 40, top 100, at the top of the YouTube/Spotify stream count did so by paying extra attention to the folk that usually sit at the back of the outfit, wearing the same one: a fringed all in one, unobtrusively being the main reason your feet were stomping and your arms rolling: 2020 was truly the year of the drummer.
So without further ado, and in no particular order, I present the 5 best disco grooves of 2020.
Doja Cat, 'Say So'
Miss Cat herself has grown so tired of performing this smash hit all over Vevo, MTV and Radio One's Big Weekend that she was forced to reimagine it as a rock/thrash metal anthem at the most recent EMAs. (Though this was brilliant, bold and pulled off to the max we collectively mourned her tongue in cheek 'uh-huh' uh0huh uh-huh's' that adorn the OG as we shed sparkly tears) Despite her Say So fatigue, the same cannot be said for its fans. At recent tally, the mere audio of the track from her official YT channel has a hefty 104,572,683 views at last count. Her visual offering alongside the infectious tune released early 2020 has topped 264 mill and too many Tik Tok covers to count. I'd like to say it's also because of the infectious syncopation of the guitar hook that gives us a constant three strums on beat, then a cheeky three off - or the fact the hi-hats come in with no remorse in the second chorus (the hips too), or the somehow fully in-era rap she emits more than halfway through that ends in 'all that bady-addy-/them ass and titties' before innocently going back to that chorus. But most likely its due to the array of amazing outfits she dons throughout her video below and her innate sex appeal. Either way, as a society, we loved it. I say so.
BTS, 'Dynamite'
This little ditty has impressively not left the Billboard 100 and mostly its number one spot since it dropped in August 2020. I've been stubbornly resistant to BTS' wiles for a while now, but when the algorithm delivered this to me.... let's just say, Army, I got it. Anyway, what they really seemed to ace is that Western disco groove....better than we can. It's like, they were like we see your Earth, Wind and Fire, Jackson 5 and Chic and raise you this definitive 70s jam out of frickin nowhere. It follows the four chord structure sure, but it dances, quite literally between the shifts and that, paired with the infectious clap rhythm and, you guessed it, the on/off beat topped with the cherry that is the groove and we were all gonners. Not to mention the video which gives, as is usual with BTS, choreo in spades, easy to learn and sexy as it is. Also, a hand for the juicy horn section giving us octaves and the customary slow jam section that evolves into the drop into the next key like one of those fancy chocolate domed desserts that are tapped and fall away like elegance. Finally, the last four notes of the track to announce its ending cheekily slide a little 'I want you back' nod, bestowing due deference to the tracks that came before it. And that's why its *the* jam.
Dua Lipa, 'Levitating'
One could argue Dua's entire album 'Future Nostalgia' was an exercise in the music stylings of old, but single out 'Levitating' for its undeniable disco roots - drums, guitar and synths. There's a flavour of the early 00's disco trope that was everywhere the first half of the 21st century, first founded when outfits like Stardust's 'Music Sounds Better With You' or Modjo's 'Chillin' featured some kind of turntable distortion or a computer made element that wouldn't have been available in the days of Studio 69 but somehow delivers the groove you are looking for. All of which has Daft Punk's 'Homework' to thank for the innovation - and the homage is in 'Levitating' also. There are also shameless double claps at the end of every phrase that add to the vibes, but the real moment of disco nirvana comes with Dua's crisp British tones intoning she wants to 'dance her arse off' over the descant. It all comes together in an 'all together moment' where the listening has paid off and you quite literally take off to the disco planet...Disconia, there to be happy and groovy forevermore. The video is full of references also: sprinkled in glitter and roller disco, as it rewards with an easy to learn infectious dance, which is, after all, 70% of the genre. Fight me.
Lady Gaga, 'Replay'
Not an obvious disco track, sure, (and undoubtably my favourite off her stunning 2020 'Chromatica' album - a dance track about anxiety? My two personalities, jamming together) but where the previous tracks on this list used disco beats to root their songs, Gaga and her producer Bloodpop (A cool name, not a lifestyle, don't worry) use a disco hi-hat drum sound for the gradual and exciting build up to the distinctly House inspired chorus. Used to just the right degree to not dislodge house-disco event taking place the super angsty and apocalypse-like landscape 'Replay' inspires, it's used just enough for a reference, a citation, if you will, to 'real' drums before the punishing beats take over. What may, at first glance sound like a house dance track has disco in its soul for its repetition, descant and actually, subject matter. Disco doesn't need to be happy all the time, and this is most certainly an anthem that references possible PTSD with lyrics like 'The Scars On My Mind Are on Replay' something that epitomises Gaga's talent and honesty. Might be the main reason I revisit it time and again for its out of the box production and disco beat outta nowhere. But hey, it is Gaga. Listen to the whole thing, but hear what I mean at 00:40 timestamp and throughout.
Kali Uchis, 'Telepatia'
Delivering brilliance since day one, and peaking with her summer disco jam 'After The Storm' (another video to check out on YouTube for this artsy collab with Tyler the Creator, Bootsy Collins and the imaginarium that is Nadine Lee who curated the absurdist 70s vibes to a T) Uchis latest offering, as of November just passed, includes the sultry 'Telepatia' which again is not purist disco, more a slow jam with disco beats with added heft curtesy of a juicy bass and minor synth line that repeats throughout, a sturdy foundation for Uchi's delightful airy voice to trip all over in bilingual sensuality. Perfect for a quarantine doomed romance, especially with lyrics 'Stay on The Phone Just to Hear Me Breathe' summing up the yearning perfectly even as your be-socked foot taps to the infectious rhtyhm. Uchi is one to watch for her sad sexy jams and this is no exception as the verse is sparse, just her and that real drum tick that borrows straight out of the disco era. Its the only solid part of the instrumental, explicit while the other instruments are more vague, flirting by. Without the disco drum reference, there would be less of an edge to it, less heft, less solid ground, and it is said, less of an opportunity to sway some hips.
Honourable Mentions
You know, disco is like creamed spinach, it's a great side order to any main you may choose, whether your fare is Hip Hop, Pop, Indie, or R n B. Albums in 2020 reflected this either discreetly or, if you're Kylie, you go all out, release 'Disco' and be done with it. Check out the below for honourable mentions of some other disco hybrids that came out of the dumpster fire that was 2020.
Jacob Collier: 'Sleeping On My Dreams'
Childish Gambino: 'The Violence'
Anderson Paak: 'Jewelz'
Whee-In: 'Easy'
Kylie: 'Magic'
Happy grooving, kids. And remember: no-one can judge your dancing in your bedroom. Awww, freak out. But oh, close the blinds. Learnt that the hard way.
J x
About the Creator
I am a freelance writer, playwright, director and lecturer from London. Self professed nerd, art lover and Neurodivergent, vegan since '16, piano player since 7 - let's see...oh and music, lots and lots of music
Reader insights
Be the first to share your insights about this piece.
Add your insights