24 Songs You've Never Heard Of To Get You Through an Isolated Day
Listen up and follow the schedule. Playlist included.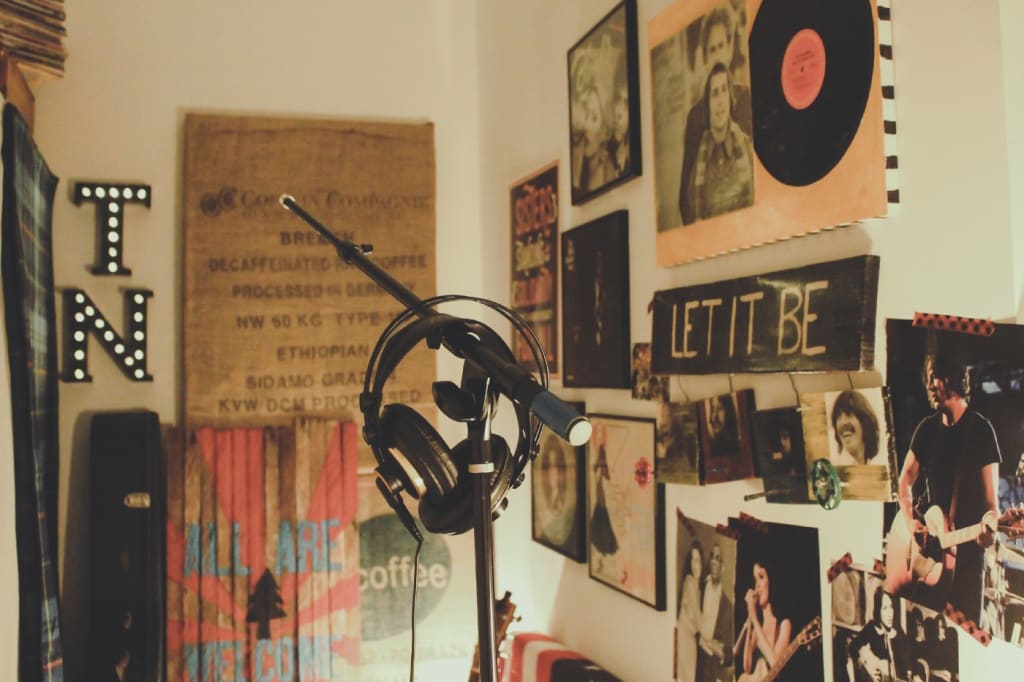 Photo by Paulette Wooten on Unsplash
Inhale. "Woooo-sahhhh."
Good. We can do this.
Has your isolation just begun? I'm living in South Korea and have been off work and isolated since February 28th. Welcome to the party!
The secret to insanity is accepting it. Having been isolated for more than a month, I've had to structure my days in strange and uncomfortable ways. Fight crazy with crazy, if you know what I mean.
I pride myself on having great taste in music. I try hard to find songs that are not well known or long forgotten. Finding good music in 2020 is like finding a needle in a stack of needles that are all dressed up in large fur jackets with cat-eye sunglasses and straight cut bangs.
To help, I created an isolation playlist. A collection of songs you've probably never heard of to make the day just a bit more interesting.
Here is the PLAYLIST:
Put it on and follow the schedule.
If you have heard any of the songs before, make note of them. Add up your numbers and score yourself below.
Let the day begin.
- - -
12:00am — Deep breath. Another day of isolation.
SOURCE (Fever the Ghost)
1:00am — Coffee, followed by cigarettes, then coffee.
A Little While (Yellow Days)
2:00am — Open curtains. Stare into mirror.
Bambi (Hippo Campus ) — Music video featuring Sexy Harry Potter.
3:00am — Shower with loofa-microphone.
Gimme All Your Love (Alabama Shakes) — Live, of course.
4:00am — Contemplate breakfast, have cigarettes.
Ode to Viceroy (Mac DeMarco)
5:00am — Writing time.
Sunflower (Rex Orange County)
6:00am — Writing time.
I'm Just Snacking (Gus Dapperton)
7:00am — Impromptu dance session.
This Song Is Not About a Girl (Flume & Chet Faker) — Music video required.
8:00am — Writing time.
Goodie Bag (Still Woozy)
9:00am — Make ham sandwich with kimchi.
Sex n' Drugs (Abhi The Nomad)
10:00am — Start office work.
Time to Pretend (MGMT)
11:00am — Abandon office work.
These Days (Wallows)
Noon — Put on clothes.
Kickback (Scotty Sire/Heath Hussar/Myles Parrish)
1:00pm — Ponder future.
Take Me Dancing (Will Joseph Cook)
2:00pm — Cigarette break.
Jungle (Tash Saltana) 8-minutes? Okay, 2 cigarettes.
3:00pm — Nap. Optional ASMR.
Sunny Afternoon (The Kinks)
4:00pm — Existential crisis.
Alrighty Aphrodite (Peach Pit)
5:00pm — Have bitchy thoughts about my ex.
Television (Forth Wanderers)
6:00pm — Miss girlfriend.
Cupid's Chokehold (Gym Class Heroes)
7:00pm — Girlfriend gets home from "essential" work.
A Love Letter From Me to You (Sticky Fingers)
8:00pm — Giving her the sexy eyes.
Agoraphobia (Deerhunter) — Music video required.
9:00pm — Wineing down the evening.
All the Wine (The National)
10:00pm — Like, feel stuff.
Boyish (Japanese Breakfast)
11:00pm — Mentally prepare for the next day.
Peach Scone (Hobo Johnson and the LoveMakers)
(BONUS): Midnight — Slowly go completely insane.
Crazy Bird (Wild Child)
- - -
Music is an equalizer. It can bring people together from all parts of life who share in a song they like. The best way to get through this time is by accepting our fates and working together. So score yourself below and see who you're working with!
- - -
Score
Add up how many songs you have heard before. Check your score to see what kind of a music lover you are.
1–6 — Top 40
(In the words of Hermione, "You have the musical range of a teaspoon.")
7–11 — 7-Eleven
(You spent your youth slurping Slurpees and sticking it to the man.)
13–17 — You're So Cool
(You are the inventor of the word Hipster.)
19–24 — Vincent Van Gogh
(You're so original nobody will even know who you are until after you die.)
- - -
If you'd like to read more from the guy with weird music taste:
list
If I wrote as much as I sleep, I'd probably be famous. Will strip for tips. https://www.youtube.com/farewellalarms