24 Songs You Need To Hear - Week of March 22nd - Part One
Free Form Telephony - Go Be Free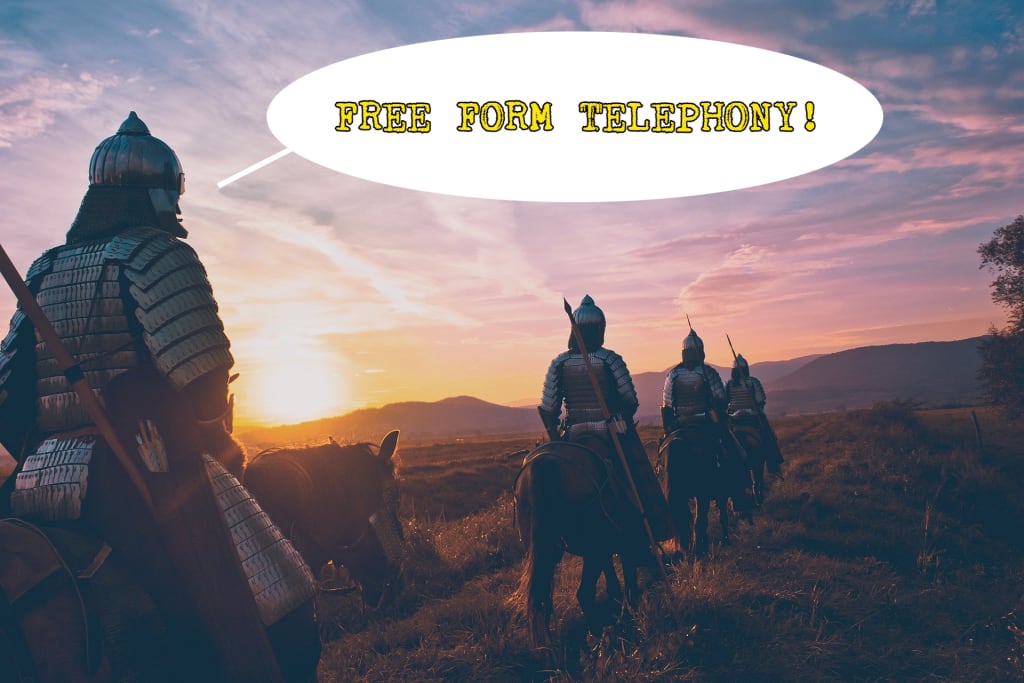 Free Form Telephony is your cure for the paradox of musical choice, or a weekly mixtape of 24 songs presented in two parts.
Scroll to the bottom to hear the first 12 songs or explore them one by one. The choice is yours.
However you choose to enjoy this content, please do drop me a tip below. Your support helps further manifest this Music Curation dream of mine, and as always is greatly appreciated.
Gretchen Parlato - FLOR
The daughter of Dave Parlato, bassist for Frank Zappa, and granddaughter of Charlie Parlato, trumpeter for Tennessee Ernie Ford and Lawrence Welk, Gretchen Parlato was born with music flowing through her veins. Her latest album FLOR combines her minimalist aesthetic with Brazilian influences and has Jazzwise describing it as, "one of the greatest feats of musical alchemy you'll hear all year."
The songs reflect my own life and past, but my hope is that the listener can hear these songs and define their meaning for themselves, and maybe even see or hear their own story as they listen.
Chance The Rapper - The Heart & The Tongue
Chicago rapper, singer, songwriter, record producer, activist, actor, and philanthropist Chance The Rapper has been writing rhymes since the 6th grade and his dedication to the craft shines through his intricately playful lyrics. On The Heart & the Tongue he dolls out his best life advice to all who'll listen. And why wouldn't you? He's one of few independent artists to win a grammy.
The Big Day was way more reflective of my own life, because for one, I had a way better relationship with death and eternal life and understanding that, and then also spending so much time trying to keep my masters and my ownership and everything.
Lainey Wilson - Sayin' What I'm Thinkin'
Leaving her hometown of Baskin, Louisiana for Nashville with a camper trailer in tow she's established herself as an in-demand songwriter on Music Row quickly signing a record deal with Broken Bow Records. The title track off her new album Sayin' What I'm Thinkin' embraces her small town values of putting honesty above all else even when the truth hurts.
At the end of the day, they're all my babies, you spend hours and hours just trying to perfect these songs and some of them might sit up on a shelf for the rest of my life, catching dust, but also, at the same time, I feel like every song serves a purpose, even if that's just to get me to the next one.
Tiger's Jaw - New Detroit
Tiger's Jaw, formed in Scranton, Pennsylvania by Ben Walsh and Adam McIlwee was named after a song from their favorite bands The Microphones. New Detroit off their latest album I Won't Care How You Remember Me is full of catchy guitar riffs and subtle lyrics exploring the desire to take a relationship to a deeper level when the other half is ambivalent.
When there's a relationship or a friendship that's come to an end, you can control how you grow from it and you can control your perspective on it but you can't control the other person's. Once you let go of that, then you can maybe start to move forward from it.
Meg Myers - Underground
Born Janice Sue Meghan Myers in the Smoky Mountains to Jehovah's Witnesses she moved to Ohio with her mom when her parents divorced before they settled in Florida. While there she taught herself to sing, write songs, and play the keyboard. A few days before turning 20 she decided to move to LA to pursue a career in music. On her latest single Underground she draws on her idols Kate Bush and Sinead O'Conner to deliver an uplifting, guitar driven ode to independence.
I went through an eclectic mix of old and new music on Spotify. I really got into a lot of Solfeggio frequencies especially 432 HZ. Camino De Flores by El Buho was very inspiring. Aside from music, nature and therapy with a Shamanic practitioner really helped keep my bananas in the basket.
Maxwell - Ascension
Born in Brooklyn, New York to a Haitian mother and a Puerto Rican father, Maxwell is credited as one of the originators of Neo Soul alongside D'Angelo and Erykah Badu. Ascension (Don't Ever Wonder) the second single off his 1996 debut album Maxwell's Urban Hang Suite puts his ingenuity and creativity on full display.
It's soul music with a message, with a meaning, and where there's meaning, there's merit and legacy. And that's all I'm trying to reach for. That said, I just work humbly to make the best possible version of the moment I'm living in. And sometimes that moment has been written years before you ever get to hear it.
Lido Pimienta - Coming Thru
Lido Pimienta was born in Barranquilla, Colombia before settling in Toronto, Ontario. In 2016 she garnered the spotlight when her album La Papessa won the Polaris Music Prize earning her $50,000, and paving the way to her performance at the 63rd annual Grammy Awards. Coming Thru off her latest release Miss Colombia has her exploring indigenous Colombian roots over an entrancing synthpop background.
I often think, what would have happened if Lido Pimienta wasn't Lido Pimienta. What if I was Lido Pepper and instead of singing in Spanish I sang in English. Then add another layer and instead of singing about all the complicated shit I sing about, just sing about the man that didn't write me back. It makes you wonder, you know? I might have a house by now.
Dreamshade - Stone Cold Digital ft. Rose Villain
Formed in 2006 in Lugano, Switzerland, Dreamshade, has gained attention within the metal scene for their unique blend of melody, heaviness and uplifting lyrics. Over the years they've toured extensively while simultaneously expanding their sound to include electronic and hip-hop influences. Their single Stone Cold Digital off their latest release A Pale Blue Dot has them expounding on the dangers off our increasingly technology obsessed culture.
We took inspiration from many kinds of music outside metal and then turned what we learned into our songs, that's why our album sounds new and we believe it's a modern way to write melodic death metal.
Leyla McCalla - Money Is King
Leyla McCalla was the cellist in the grammy winning band Carolina Chocolate Drops before leaving to focus on her solo career. Born to Haitian parents in Queens, New York who both worked as human rights activists leaves no mystery as it where she draws inspiration for her work. Money Is King tackles the plight and persecution of the lower class as the wealthy are allowed to do all they desire without repercussion.
Not just in the folk world, but white people are not used to being challenged and confronted. That's kind of a new thing. We have this whole call-out culture, which is perpetuated by social media, but this is deeper than calling anybody out. It's part of a larger conversation of: how did we get here?
LSDREAM & Taylr Renee - FOLLOW THE VIBE (R.A.V.E CAVE Cut)
LSDream is latest incarnation of trap and electro producer Brillz who was born in Israel before moving to New Jersey at the age of five. He was a founding member of an east coast dance crew called Liquid Pop Collective who merged the dance styles of funk and hip-hop with the rave culture dance "Liquid". LSDream is a return to his funky, soulful side after developing a harder bass driven dubstep sound throughout much of his career.
I'm very proud of everything I accomplished with Brillz. It was an established brand and I put a lot of work into it. But I hit a point in my life where I had an epiphany. I felt like a bigger purpose came into focus and the way that needed to be expressed was with this new project. I needed to write about the things that move me and are more in line with my spiritual being.
Shunia - Sa Ta Na Ma
Shunia is the work of Lisa Reagan and Suzanne Jackson. Lisa has been recording since the age of 16 and was driven to creative expression by the untimely passing of her brother. She's performed at The Kennedy Center, The Arena Stage, and becoming a resident artist of the Washington National Opera. Suzanne has spent 25 years on stage as a resident artist with the Washington National Opera. She teaches a unique blend of Yoga and Vocal Training to help people find their soul voice and personal destiny through music, movement, and meditation.
The state of "shunia" means stillness, receptivity. A stillness of power, not passivity; Quiet, Unmoving and Totally Focused.
KWAYE - RUN
Kwaye is a Zimbabwean singer and songwriter now working out of Los Angeles. He began performing at an early age learning to play the viola, sax, and guitar. His music has appeared in Netflix's Tomboy and On My Block. His latest single Run beautifully explores the struggles of growing up in a concrete jungle.
Beauty in brutality, showing that there's beauty in everything, you just have to choose to see it.
Hurray! You've reached the end of Part 1!
Or, you simply scrolled down here...doesn't matter because here we are at the first 12 songs you need to hear this week!
And, as always, remember to check back on Friday when I guide you through 12 more songs you need in your life.
Is the playlist different than expected? I hope you're not prone to intense bouts of FOMO, my friend, because you've missed out! As the playlist is updated weekly, it's in with the new and out with the old, as they say.
But, there is hope for you yet!
I'm working on a patreon page where all this does not simply become dust in the wind. Stay tuned for updates. Many exciting developments are in the works.
If you enjoyed this content and would like to see more please drop me a tip below. Much love from my family to yours!
Namaste,
Charlie Le Fol
playlist
About the author
Bonjour! I'm Charlie Le Fol, a father of two wonderful daughters, and a lifelong enjoyer of music.
Isn't modern technology wonderful? I no longer have to push Play/Record on a Boombox to create mixtapes for you.
Profiter de la musique!
Reader insights
Be the first to share your insights about this piece.
Add your insights