14 Totally Tubular Songs From 1984 That 'American Horror Story' Fans Must Listen to Now
'AHS' fans will want to spend the rest of their summer blasting these killer 80s tunes on their boomboxes.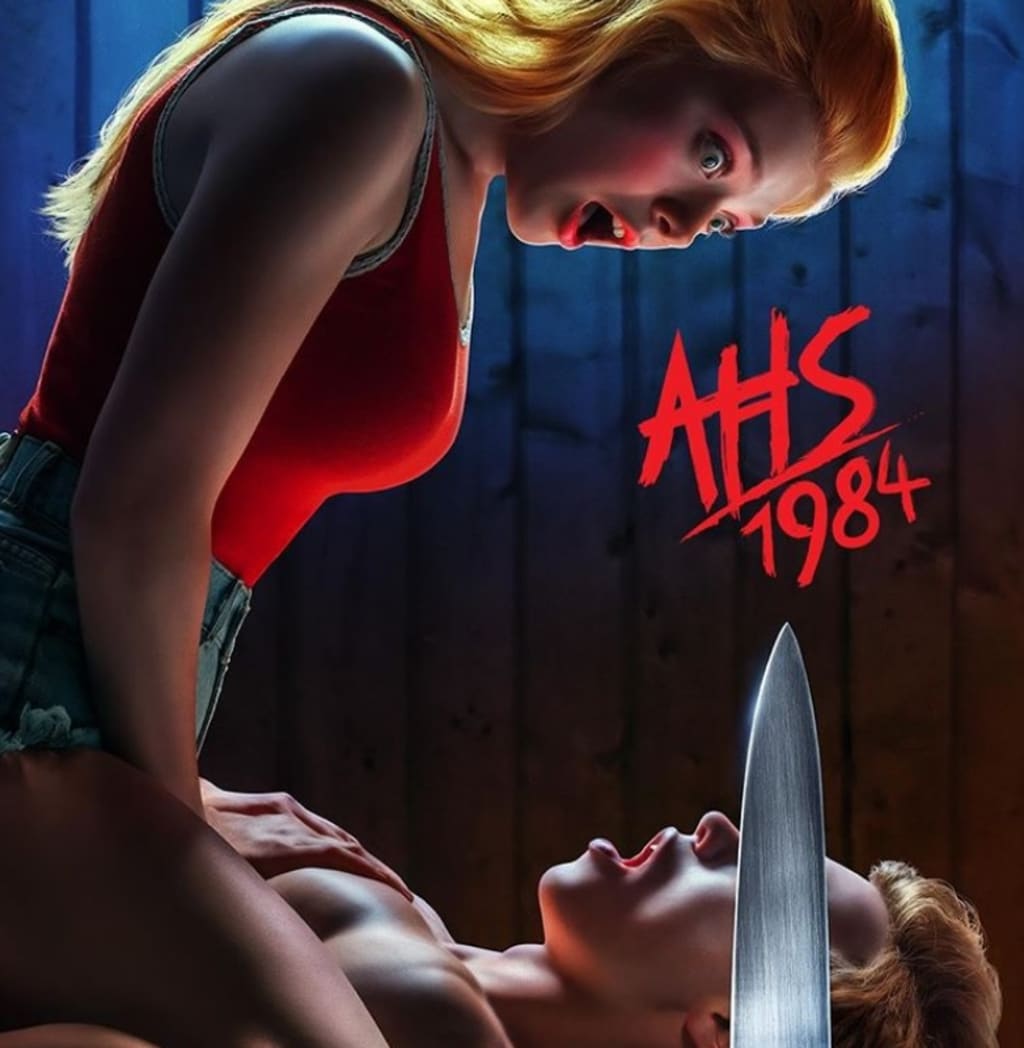 Image credit: FX
American Horror Story is back, and Season 9 of Ryan Murphy's FX anthology series is taking viewers back in time to 1984. Fans couldn't be more excited about the show going retro with its references to 80s slasher flicks like Friday the 13th and A Nightmare on Elm Street, and, judging from the series' new opening credits, AHS: 1984 is going to feature an awesome soundtrack.
The show's title sequence was recently revealed, and it does an amazing job capturing that 80s vibe with a spooky synth sound that rivals the now-iconic opening music of fellow throwback series Stranger Things. It plays over a montage of footage that serves as a 80s time capsule with glimpses of Ronald Reagan, cassette players, bikini-clad babes with big hair, and gym rats all decked out in their best aerobic wear.
I have my fingers crossed that the soundtrack for American Horror Story: 1984 will feature some of the best tunes from its titular year, and boy are there a lot of them. To celebrate the season premiere, I've selected 14 songs from 1984 that I feel would fit with the show's vibe. Hope you enjoy!
1. "Sunglasses at Night" by Corey Hart
AHS: 1984 takes place at a summer camp called Camp Redwood, so we'll likely see a lot of sunglasses. I doubt that Mr. Jingles, the show's axe-wielding serial murder, will sport any shades after the sun goes down since he already dons a hood that covers his face. However, maybe some broody camp counselor who had his heart broken will wear a pair of sunglasses at night to hide the tears in his eyes.
This song also includes a line that's perfect for a slasher-inspired show:
"Don't switch the blade on the guy in shades oh no / Don't masquerade with the guy in shades oh no."
2. "You Might Think I'm Crazy" by The Cars
At least one person is going to be crazy in American Horror Story: 1984, but it will be difficult for actor John Carroll Lynch's killer character to surpass the creepiness of The Cars lead singer Ric Ocasek in the music video for this upbeat tune. The sunglasses-clad creeper engages in some truly sinister supernatural stalker behavior: he uses a periscope to spy on a girl while she's in the bath; he walks into one of her photos to replace her boyfriend; and he shrinks himself so that he can hide in her lipstick tube. He then proceeds to make himself massive so that he can grab her like a like he's King Kong and she's Fay Wray. It's absolutely crazy, and I love every minute of it.
3. "Obsession" by Animotion
There's probably going to be a lot of sex in Season 9 of AHS, because there's definitely going to be a lot of killing, and we all know the rules of slasher flicks: Promiscuous teens are always the first to get the axe. This banger of a dance tune works for this horror movie trope because it's all about getting the object of one's obsession to give it up. Here are a few of the song's not-so-subtle lyrics:
"You're my obsession / Who do you want me to be / To make you sleep with me."
There's also a line about capturing and collecting this obsession "like a butterfly," and how disturbing and unnerving is that?
4. "Cruel Summer" by Bananarama
The summer is definitely going to be cruel for everyone at Camp Redwood, so this might as well be the theme song for this season of AHS. There's also a reference to "strange voices," which are definitely something you might hear on the show.
5. "Forever Young" by Alphaville
The young might want to live forever, but they definitely won't get to do this at Camp Redwood. At least they'll be forever young in their friends' memories.
6. "Eyes Without a Face" by Billy Idol
The syth music that opens this song sounds like something you would hear in a horror movie, which is fitting since it was inspired by one. The classic film that this surprisingly moving Billy Idol hit shares its name with could also serve as inspiration for a season of AHS: It's about a plastic surgeon who abducts young women and removes their faces so that he can graft their features onto the disfigured face of his daughter.
7. "The Boys of Summer" by Don Henley
This is the perfect song to play at the end of 1984, when the "boys of summer are gone."
8. "Legs" by ZZ Top
Let's switch things up a bit with a rock song from 1984. The characters on this season of AHS better know how to use their legs so that they can flee from Mr. Jingles. This song also works because some of the show's characters—including those played by Michael Langdon, Billie Lourde, and Gus Kenworthy—are into aerobics.
9. "The Killing Moon" by Echo and the Bunnymen
Mr. Jingles will probably rely on moonlight to see a lot of his victims, so this song would be a perfect fit for the AHS: 1984 soundtrack. It's a haunting tune that opens with some otherworldly string music that will send shivers down your spine, and its lyrics match its seductively dark sound:
"Though I know it must be the killing time / Unwillingly mine / Fate / Up against your will / Through the thick and thin / He will wait until / You give yourself to him."
10. "Holding Out for a Hero" by Bonnie Tyler
Some of the girls at Camp Redwood might be holding out for a hero to keep them safe from Mr. Jingles, including Emma Roberts' "wide-eyed ingenue whose new friends coerce her into spending a hellish summer" at the cursed camp. They might not get their hero, but maybe we'll get to watch Mr. Jingles' victims flee for their lives to this cheesy 80s hit. I can also totally picture Langdon's fitness instructor character teaching an aerobics class to this manic tune.
Or maybe the hero everyone is holding out for will turn out to be Matthew Morrison's massive you-know-what.
11. "I Want to Break Free" by Queen
One of my favorite Queen tunes was released in 1984, so I have my fingers crossed that it will be used in American Horror Story: 1984. It could serve as an inspirational song for someone who has been tied up by this season's sadistic killer.
The music video for the song also tops my list of the best of all time; Freddie Mercury in drag is a mood (and great Halloween costume inspiration).
12. "Mama He's Crazy" by The Judds
I had to include one country song on this list, and this one is definitely the most fitting for its subject matter. It would be great for creating a surreal moment with one of the show's crazy killer characters.
13. "Self Control" by Laura Branigan
The lyrics of this song definitely have a horror vibe:
"I, I live among the creatures of the night / I haven't got the will to try and fight."
14. "Like a "Virgin" by Madonna
Last but not least, we have a song that's all about horror movie survival. We all know that those who are not sexually active have a better chance of surviving slasher flicks, so everyone at Camp Redwood is going to be praying that Mr. Jingles will treat them "like a virgin."
American Horror Story: 1984 premieres September 18 on FX.