14 Myth-Busting Anti-Valentine's Day Musical Anthems
Love is in the air. Wear a mask to avoid inhaling the mushy galore of lovesickness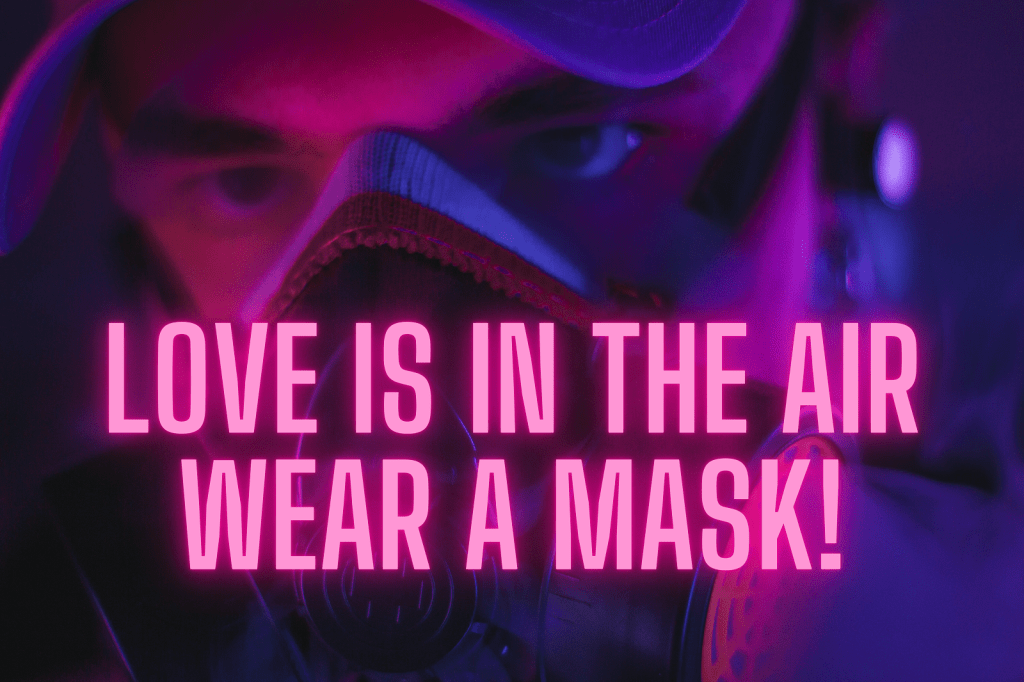 Photo by Daniel Ramos on Unsplash (adapted)
I think it was Ernest Hemingway who wrote the mindful verses: "If my Valentine you won't be, I'll hang myself on your Christmas tree." Thus, let's dive into the holiday spirit; but please mind your masks!
Bah, Humbug!
Valentine's Day: 50 Shades of Red
There are two theories on Valentine's Day origin, and both of them are far from lovely. The real Valentine was a clergyman who ignored the Roman empire rules and continued to celebrate marriages. Claudius II, the emperor, preferred unmarried soldiers. Valentine was allegedly arrested and then beheaded on February 14, 271, for his heinous crimes.
The second version of the story goes further back in time. Between February 13 and 15, Romans celebrated the Lupercalia, a pagan fertility festival that included sacrifices, the occasional c, and a great deal of whipping.
Drunk Romans could quickly get bored from all the whipping; hence there was also a lottery. Singletons would draw girls' names by lot on a piece of paper inside a jar. During the festival, the couple would remain together, and some of them ended up marrying. This could explain why Valentine's Day is associated with romance or the beginning of a love affair.
One way or the other, Valentine's Day origin looks like the episode from Game Of Thrones where a wedding turns into 50 shades of red.
How did this pagan gore-bacchanalia, with all that hacking and flaying, become a worldwide celebration of Eros?
"Happy Valentine's Day! And if this is news to you, my guess is you're probably alone. Valentine's Day is often times a, well, it's a manufactured day that really doesn't mean anything."   —  Jon Stewart
Thus, hereafter, I will run a case study attempting to deconstruct common belief (myth) by screening some well-known quotes against my favorite Anti-Valentine's Day musical anthems.
Anti-Valentine's Day Playlist
1. Joy Division - 'Love Will Tear Us Apart'
Myth: "There is only one happiness in life: to love and be loved."  — George Sand
Busted! "Love Will Tear Us Apart" by Joy Division clearly shows that happiness isn't always an outcome of love. But death might be! The lyrics were inspired by lead singer Ian Curtis's marital problems, as he struggled with mental illness, ultimately leading to his suicide.
"Why is the bedroom so cold turned away on your side?

Is my timing that flawed, our respect run so dry?"
The musician hanged himself using the kitchen's washing line. In the suicide note, he declared his love for Deborah, his wife, even if the divorce proceedings were ongoing at the time.
2. Queensryche - 'I Don't Believe In Love'
Myth: "Tis better to have loved and lost than never to have loved at all."  —Lord Tennyson
Busted! Queensryche's lyrics are the antithesis of Tennyson's thinking. The poet believes in the power of love to transport humans to a higher plane of existence. The negative feelings that come forward when we lose a loved one will cause more pain:
"I don't believe in love

I never have, I never will

I don't believe in love

It's never worth the pain that you feel"
Everyone breaks love promises, leaving others with disappointment and an overwhelming feeling of loss:
She said she'd meet me on the other side

But I knew right then, I'd never find her
Thus, I had to include this song in my playlist because those verses have a palliative effect and help me realize how there are always two sides to everything, and not even love is forever.
3. My Dying Bride - 'I Almost Loved You'
Myth: "You always gain by giving love."  — Reese Witherspoon
Busted! "I Almost Loved You" is a lesson regarding the dangers of love and should be carefully listened to by all those who tend to fall in love easily on Valentine's Day.
"Across her body I fled. 'You never knew' she said.

All me listened, and listen still. 'All things betray you - and I will.'"
The lyrics note how betrayal is everywhere.
Let him who was never betrayed, cast the first stone.
4. Type O Negative - 'Everything Dies'
Myth: "True love stories never have endings."  — Richard Bach
Busted! "Everything Dies," despite its harshness, it's undeniable that in this case, the Gothic Metal band gets the better of the American writer and aviator. It's commonplace how even the greatest love stories have a limited nature and that the most significant myths surrounding love crumble under the tragic notion of finitude.
Though my girl's quite fit, she will die.
There's no great love that can be saved from the irrefutable certainty of death, and few convey this better than Type O Negative. Peter Steele has become my go-to singer on Valentine's Day. I could create an Anti-Valentine playlist made-up only of Type O Negative songs.
5. Danzig - 'Blood And Tears'
Myth: "You know you're in love when you can't fall asleep because the reality is finally better than your dreams. "  — Dr. Seuss
Busted! "Blood And Tears" clarifies how things happen, contrary to what the quote says. Dreams are always better than reality. Glenn Danzig's words are cruel, but they help unmask the veil of joy shrouding Valentine's Day.
You cry a thousand tears

Darling don't despair

I know your heart still bleeds

Darling don't you care

There's blood in your tears
In this song, Danzig uses the hyperbole "a thousand tears" to state how love brings more tears than smiles. I love the unusual way how this song addresses the theme of love with unsettling rawness.
6. AFI - 'I HopeYou Suffer'
Myth: "I love her, and that's the beginning and end of everything."  — F. Scott Fitzgerald
Busted! "I Hope You Suffer" is at the opposite end of Fitzgerald's thinking. I'm a die-hard fan of the flamboyant writer of the Jazz Age. However, one of the greatest American writers of the 20th century got it wrong here.
The beginning and the end of everything is our inner self. Love is a projection of our feelings as sentient beings. Failing to realize this takes us on a downward spiral.
Your love was written so true

And now I can't speak your name

I faced destruction and you

just killed me and walked away

I gave my heart to the cruel

Now it will not beat again
7. Twisted Sister – 'Love Is For Suckers'
Myth: "You can't blame gravity for falling in love."  —  Albert Einstein
Busted! "Love Is For Suckers" is a devastating song for all St. Valentine zealots. Albert Einstein was indeed a genius, and in a way, it's possible to detect a trace of irony in his words. Of course, we cannot blame gravity for falling in love. Nevertheless, the image created by Einstein depicts his original way of conceiving reality. Humans are the only ones to blame for falling in love. Twisted Sisters shout it at the top of their lungs:
Listen, love is for suckers, love is for suckers

Suckerfy me, suckerfy you (love is for suckers)

Always been suckers and do most anything

I don't want to be a sucker (love is for suckers)
I've also been a sucker for love; thus, I know how to dance to that tune. Nowadays, I abandoned all hope in the theory of gravity, and now I only believe in the relativity of love.
8. Alice Cooper - 'Poison'
Myth: "Life is the flower for which love is the honey."  — Victor Hugo
Busted! "Poison" evokes a tragic leitmotiv of love. All lovers after Romeo and Juliet know this all too well. Love can become poison ivy and plunge you into a coma. Victor Hugo was a fiction icon, and in that quote of exquisite poetic refinement, the French writer builds a beautiful figure of his imagination.
Alice Cooper abandons fiction and makes an accurate portrait of the harsh reality of love. There's poison and not honey in her lips, and the kisses exchanged are a death sentence rather than a promise of life.
Don't want to touch you but you're under my skin (deep in)

I wanna kiss you but your lips are venomous poison

You're poison, running through my veins
9. Scorpions - 'Tainted Love'
Myth: "If you find someone you love in your life, then hang on to that love."  — Princess Diana
Busted! "Tainted Love" is a classic anti-love song. There are currently several versions of this theme initially recorded by Gloria Jones. This is one of my favorite feel-good tracks about love; hence I include it here in my playlist.
Princess Diana's life wasn't a fairytale, as she fell for what Lady Gaga calls a bad romance. Afterward, she tried to hold to it until she could hold no more. Her life hers was also tainted by love.
Once I ran to you (I ran)

Now I'll run from you

This tainted love you've given

I give you all a boy could give you

Take my tears and that's not nearly all

Oh … tainted love

Tainted love
10. Pantera - 'This Love'
Myth: "To be brave is to love someone unconditionally, without expecting anything in return."  — Madonna
Busted! "This Love," by Pantera, shatters Madonna's belief in unconditional love. Love and possession go hand in hand, and wanting someone is a desire to exercise power over another.
All I wanted

Was the keeping (of someone like you)

As it turns out

Deeper within me

Love was twisted and pointed at you

Never-ending pain. Quickly ending life
However, this relentless pursuit of ownership is the death of love and often results in suffering, as we listen to in Phil Anselmo's growls.
11. Dokken - 'It's Not Love'
Myth: "Love is composed of a single soul inhabiting two bodies"   —  Aristotle
Busted! If love has only one soul, Dokken responds: "It's Not Love."
Why, baby, why did you make me let you go

And leave you so lonely

Why, baby, why did you have to hold on

You know it's not love anymore
Love joins, and love divides. The ultimate conclusion is the heart has its reasons, which reason knows nothing of... Love can baffle Aristotelian logic.
12. Orgy -  'Blue Monday'
Myth: "Love does not dominate; it cultivates." — Johann Wolfgang von Goethe
Busted! Nowadays, the concept of dominance is still subliminally introduced in the love narrative, and not even Hollywood escaped the temptation. Ring a bell?
"Blue Monday" is a New Order original, here reinterpreted by Orgy, that completely deconstructs the commonplace cited by Goethe.
How does it feel

How should I feel

Tell me how does it feel

To treat me like you do
13. Five Finger Death Punch - '100 Ways to Hate'
Myth: "If you live to be a hundred, I want to live to be a hundred minus one day, so I never have to live without you." — Winnie the Pooh
Busted! One hundred is a number that symbolizes wholeness. Living a hundred years of love is a mirage, and Five Finger Death Punch prefers to point out how it's easier to find 100 ways to hate. Unfortunately, we cannot control the number of years of our lives, let alone how many of those years we will have the opportunity to spend with the person we love. Only the Moirai grasp the threads of fate at any time and place.
Hate your nails, hate your hair, hate the fact I even care
14. GWAR - 'Hate Love Songs'
Myth: "Everybody should start listening to love songs." — A Boogie Wit da Hoodie
Busted! GWAR started as a joke band, but the musicians are now well established as "shock rock" tycoons. Love them or hate them! They couldn't care less! One thing is clear, GWAR has feel-good mock-songs for any occasion. "Hate Love Songs" would be the perfect anthem for any Valentine's Day.
I never saw a peer-reviewed case study on how listening to love songs improves our musical expertise. Hence, I stand with GWAR:
I hate love songs

And I hate lovers

I hate everything that I can't have

So I hate you

I hate movies

With happy endings

Like the one I saw

Where all the girls were

Beautiful like you
Final Thoughts
As we know, nothing in life and romance is ever completely one-sided. Love in times of pandemic is a multifaceted conundrum that holds no answer. Lockdowns are in place to enforce social distancing measures, which could mean dire news for Valentine's Day. Not really!
"There is no question the pandemic has disrupted many aspects of Americans' daily interactions and activities," said NRF President and CEO Matthew Shay. "However, there remains a special significance around Valentine's Day, and consumers are committed to celebrating friends and loved ones, even if that means having to alter those traditional holiday celebrations."
According to the annual survey released by the National Retail Federation and Prosper Insights & Analytics, an estimated 52 percent of U.S. adults will spend a total of $21.8 billion on Valentine's Day. Therefore, it's fair to say that not even a life-threatening virus managed to boycott the holiday.
The news from the NRF led me to believe that COVID-19 only made it worst and placed even more pressure on couples and singletons because everyone needed to overcompensate for physical absence.
I hope you have enjoyed my playlist of anti-mushy songs. I'm a die-hard full-metal-jacket headbanger. Hence on Valentine's Day, I'll be doing a lot of air-guitar playing and social-distanced-moshing around my living room during another solo act. You are invited to Zoom and join in. There's only one rule:
Love is in the air. Wear a mask!
________________________
Thanks for reading this article. Please feel free to come back at any time and pick up another thread from my Vocal book of content. Till next time, cheers.

-Rui

Rui Alves
I write to find the surrogate writer in me.
Rui is a graduate of the University of Porto, teacher, and life-coach.
He is also a partner of Rock n'Heavy and the founder of ZENite.
See all posts by Rui Alves →