10 Video Game Soundtracks to Work or Study to
Great music to get you through your workload!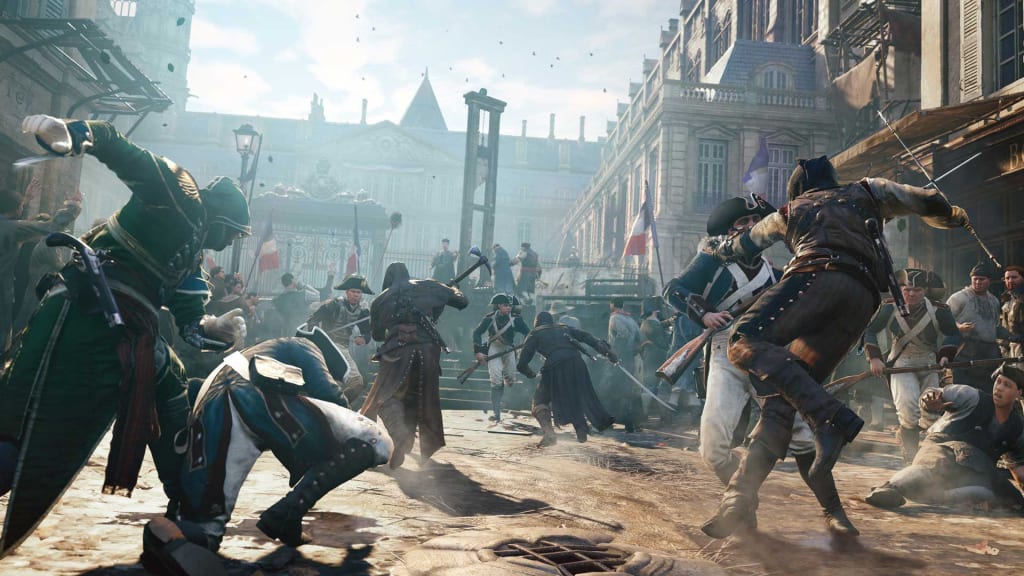 Assassin's Creed Unity by Ubisoft
A lot of amazing games are accessorised with highly enjoyable soundtracks, which are great to listen to even when you're not playing. With their calming vibes, thrilling tunes and inspirational build-ups, video game soundtracks are great for putting on when you need extra motivation. Here's a list of ten tracks I personally find greatly helpful for getting work done.
1. Halo: Reach - The Pillar of Autumn
I think we can all agree that Halo is a cool franchise. It also has consistently good music throughout, with a mix of calm, thrilling and exciting. I love the suspense this track creates, and how many different feelings it contains. It does a great job motivating me to complete what's on today's agenda.
2. Mario Kart 8 - Cheep Cheep Beach
I love summer themed Nintendo music, and I can listen to it for hours on end. The vibe makes me happy, and they're a great addition to any work-playlist. Cheep Cheep Beach is a fun map to race through, and it's great that the music can lend me some of that fun when I'm working (and would rather be playing).
3. Gears of War 2 - Finale
I haven't actually played any of the Gears of War games (shame on me), but I've listened to the soundtracks for years. They've helped me through exams all the way back since my teenage years. This one specifically is one of the most empowering tracks I know, and it makes me feel like I can do anything, which, I can't really ask for more. It absolutely needs to go into your playlist right now.
4. Crash Bash - Pogo Painter
To be honest, Crash Bash is a heavily underrated game. It's one of the greatest multiplayer games out there, and you can have so much fun with it. With the cool mix of mini-games, you have the chance to beat your friends in many different kinds of settings. From racing to straight-up fights, this game is just great. The soundtrack is fun to listen to, and does nicely in a playlist for focusing on your work.
5. Donkey Kong Country 2 - In A Snow-Bound Land
This song is an amazingly relaxing addition to your playlist. Its calm tones and soft notes help my mind feel at ease with my workload or current task. It's an absolutely wonderful listen, and shows that SNES games definitely shouldn't be overshadowed by newer video game soundtracks.
6. Rayman 3: Hoodlum Havoc - Check It Out, the Fairy Council!
Who else considers Rayman a huge part of their childhood? It's such a fun game, though definitely challenging enough for me as a kid. The soundtrack is mysterious and exciting, and brings back lots of good memories. The fairytale style of the music serves as great stimulation for my creativity, at the same time as it soothes my brain enough to stop me from procrastinating.
7. Final Fantasy VII - Mako Reactor
Final Fantasy soundtracks are a safe go-to if you need background music for working. The games have a great variety of themed music, and it's easy and comfortable to go through multiple sets of them in a day. They help me stay focused and motivated, and make me feel in charge.
8. Maplestory - Ludibrium: Fantasia
Another amazingly calming tune. I'd honestly recommend just putting on the whole Maplestory soundtrack for your work or study session, as this music is great for getting stuff done. It's so nice and relaxing, and puts me in the right mood for creating stuff. This one is enchanting and soothing, and makes me feel like everything's okay (and I'll beat my deadline).
9. Assassin's Creed Unity - Versailles for Sore Eyes
What's more empowering than music from a game about taking back the power? While the assassin's fight for freedom for the people, I fight for... my freedom from work? Okay, it's not that bad, but the music is great regardless. It's calming and reassuring, and makes me feel in control of my productivity.
10. World of Warcraft - Enchanted Forest
World of Warcraft is another game with amazing music throughout. The Enchanted Forest soundtrack is fast-paced enough to give me a boost, while the calm vocals are relaxing. It makes me dive into a wonderful world of creativity, where the possibilities are endless.
That was my list of soundtracks that I hope can help you while working or studying. If there are some you feel are missing, don't you fret, more lists are on the way!
----------------------------------------------------------------------------------------
If you enjoyed this article, please share it on your social media and send it to someone you think will like it too!
If you enjoyed this article and would like to support me, you can send me a tip below this story, which would be greatly appreciated.
Thank you so much for your support!