Why The Russian Founder of Telegram Gave Putin The Middle Finger
...before fleeing Russia
Pavel Durov at the DLD Conference | Source Getty Images
With the ever-increasing headlines surrounding data breaches and privacy concerns, is it any wonder that the greatest threat to your freedom of expression right now, relies on one crucial question.
How private are the messages you send?
When you consider that the vast majority of people around the world store their entire life on their mobile devices. When you consider that the vast majority of people use this medium of communication the most.
A medium of communication that you trust to store your pictures either natively, or on your Instagram account. A medium of communication where you store all your contacts, and for some - their unencrypted passwords.
Imagine the possibility that your connection to the world at large was taken away from you, either accidentally or forcibly—then what?

Not convinced?
Think back to the last time you reconnected with a friend, a colleague, or a family member. What was your medium of communication?
I'm going out on a limb here, but I'm guessing it was your mobile device, no question no doubt.
This is why, when a Russian 28-year-old entrepreneur founded messaging app Telegram, he sought to solve the greatest threat to our freedom of expression.
This entrepreneur is Pavel Durov, and while the tech giants of Silicon Valley have intriguing origin stories to tell, none of them can claim to have given Vladimir Putin the middle finger. None of them, that is, until one Russian-born emigre by the name of Pavel Durov.
Before we dive in, it's worth noting that Telegram is not Pavel's first multi-billion dollar company. Nevertheless - his decision to build a secret messaging platform that is not overseen by government officials nor has its data sold to advertisers is the most intriguing element of Pavel's origin story.
So what drove this young man to create a secret messaging platform? A platform that pledges no ads and no sell-offs of its users' data to third parties, a platform where all messages are encrypted and will remain so for good.
While this pledge is all well and good, you'd be forgiven for assuming that this is merely an example of virtue signaling and nothing more.
However, the foundations of Telegram's pledge - a pledge its founder has sworn to forever uphold are interconnected with Pavel's abrupt departure from Russia in 2013. Without further ado let's explore why Pavel Was Spirited Away From Russia.
The Creation Of Russia's Rival To Facebook
Inspired by the explosive growth of Facebook, in 2006 a then 22-year-old Pavel founded Russia's answer to Facebook in the form of VKontakte (or VK for short).
Drawing inspiration from Zuckerberg's social media platform, VK enabled its users to post status updates, engage with content via likes, shares, and tags as well as the functionality to upload and stream content. And like Facebook, VK's engine also enabled live news feeds.
While VKontakte shared similarities with its precursor - the core focus of the platform was to enable its users to message each other privately.
Pavel Gives Putin The Middle Finger
Fast-forward to 2011. On the orders of Vladimir Putin, Pavel was challenged by government officials outside his apartment in St Petersburg.
In a tense exchange, the government officials demanded that Pavel (VK's CEO at the time) deplatform senior politicians who Putin felt opposed his regime. Politicians who posed a threat to the growing unrest surrounding the parliamentary elections.
The demands did not end there. In addition, the government officials also demanded access to all private messaging data held on VK's servers.
In response, Pavel took to social media and posted a picture of a dog dressed in a hoodie with its tongue sticking out.
Later, on his Instagram feed, Pavel is pictured dressed in black giving the middle finger. While the post was quickly deleted, it did not escape the attention of government officials, and most of all, it did not escape the attention of Putin's inner circle.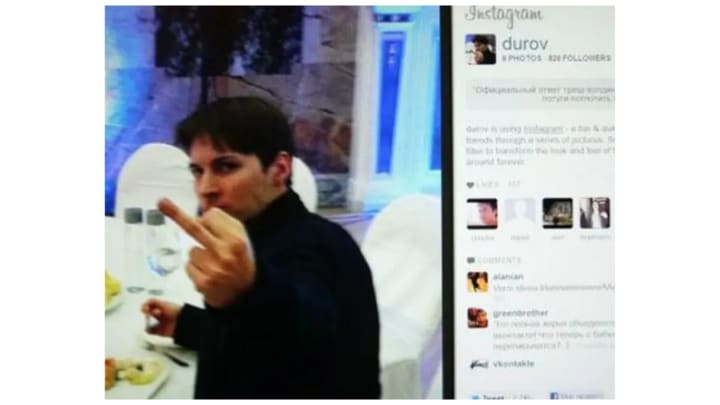 In a bid to discredit this young upstart, in 2012 Pavel was accused by the Russian police of being involved in a fatal hit and run.
Given that Pavel neither held a driver's license nor could he even drive, these trumped-up charges were designed to marginalize his reputation and provide a justification for government officials to gain State control over Russia's biggest social media platform and thus, oust its founder.
As far as Vladimir Putin was concerned, this high profile social media mogul was becoming a problem and needed cutting down to size…
The Great Escape
In August 2013, fearful of becoming exiles in their own country, Pavel and his older brother and co-founder Nikolai, set up a new private messaging app which they headquartered in Berlin.
The brothers called their new app Telegram.
A few months later, under the cloak of darkness, Pavel and Nikolai fled Russia. In addition, VK's twenty-strong team of engineers were spirited away from the clutches of Putin's henchmen.
Having escaped Putin's clutches, Pavel had no choice but to step down from VK, selling his 12 percent stake for less than its true worth in 2014.
Fast forward to the present day, Telegram has amassed over 500 million monthly active users across its platform, offering end-to-end encryption capabilities that enable its users to send "secret" messages which will never be redistributed to third parties.
Notably, since his middle finger to Putin, Pavel's outspokenness has far from dampened. At a TechCrunch sponsored event, Pavel took a pop at rival messaging app Whatsapp stating "it sucks".
While his journey has been a rollercoaster ride it's worth noting that when you challenge a man like Putin, fleeing the country isn't a guarantee that you're safe from harm. And, knowing this, Pavel is constantly on the move.
While not based in a singular location, he currently resides in Dubai. For good measure, and in a strategic move to safeguard his liberty, in 2021 Pavel became a citizen of France.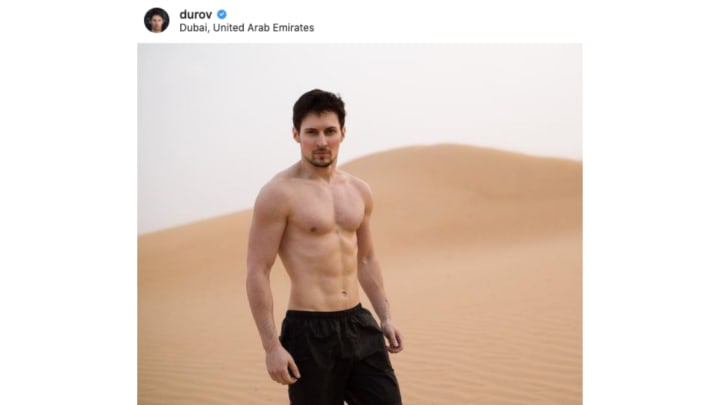 Since the great escape of its founders, the Russian government has continuously tried and failed to seize Telegram's user data under the guise of securing its counterterrorism strategy.
But as always, Pavel and Nikolai have proven to be the one thorn Putin can't remove from his side.
Author Ella Graysun
Reader insights
Be the first to share your insights about this piece.
Add your insights