Why Is A Digital Menu with A QR Code System Essential for Hotel & Restaurant Businesses?
QR Code System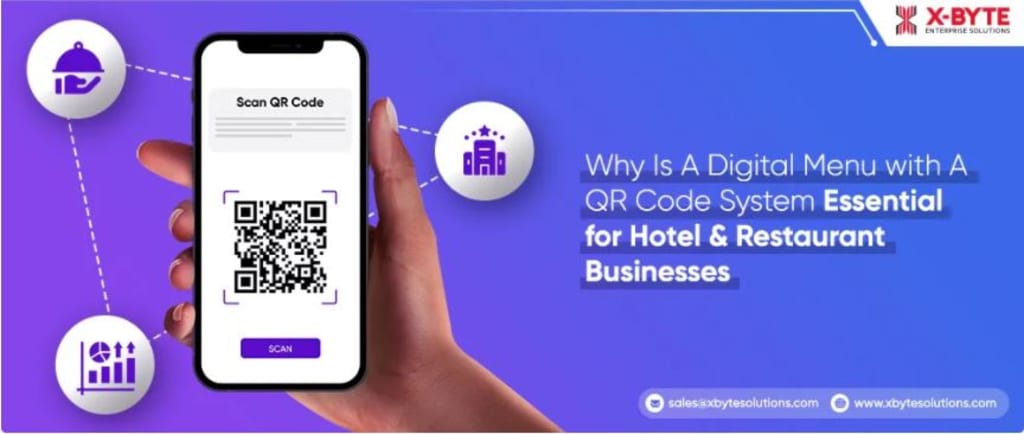 Incorporating QR codes into product marketing and packaging strategies is helping restaurants earn profits. Well, what exactly do QR codes mean for restaurants? It is about allowing customers to use QR codes for daily interactions to connect with products and businesses.
Why mobile restaurant QR code menus are gaining popularity for restaurants, hotels, food ordering, hospitality, etc. Let us look at some of the benefits of QR code menu
Benefits Of QR code Menu For Hotels And Restaurants
The food chains are getting benefited from the switch from the conventional food menu to interactive online menus. These menus have helped them accelerate and organize the business process.
With QR code digital menu a lot of restaurants and food chains are serving the industry. Here are some of the benefits
Contact-less Operations For Customer Safety
With the start of the corona pandemic, social distancing and hygiene were the most crucial factors implemented to stay away from a virus. This brought in the interactive digital menu to follow safety protocols through contact-less ordering and delivery. It helped restaurants and hotels help people browse through digital menus, order, and pay digitally.
A Cost-effective Approach For Customers As Well As Restaurants
One of the primary advantages of restaurant QR code is that they proved to be cost-saving for both restaurants and customers. As a customer, you don't have to wait in a queue to place your order. You can just view the digital menu for various cuisines and meals and save time going to the restaurant.
As a restaurateur, a digital menu QR code helps save money as you can update the menu electronically. It saves your printing costs on new menus. On the other hand, even if you need to print & distribute QR codes inside your premises, it will not occupy much space which in turn saves the running costs.
QR Code-based Menu Systems Enhance The Brand Value
The main aim for restaurants is to create brand awareness. It is possible through the introduction of a digital menu for restaurants, bars, hotels, etc.
The restaurant managers will make sure that the menu deals and offerings are updated constantly. Also, the managers ensure that the deals are highlighted properly in different locations. It aids synchronized marketing and communication.
Also, if the digital QR-based menu comprises high-quality photos, videos with food preparation details, it accelerates sales.
Creates Brand Awareness On Social Platform
When people check out the online menu of your restaurant via mobile phone, it helps them share the menu, brand, or food on social media.
Impressive Menu Design
A digital menu is created to aid excellent user experience at the front end. The menu can be designed to highlight the popular items to increase order value and maximize conversion rates.
Error-free Experience For Stakeholders
Using digital menu QR code for restaurants is the best way to reduce the possibility of errors. For example, a waiter making mistakes while taking orders from the customers. When it comes to digital menus, they are programmed to allow customers to place their orders on their own thereby reducing the chances of errors.
QR menus for hotels offer benefits as they can be the perfect attraction for tourists. This is because these menus are easy to browse, prompt services, and menus can be displayed in multiple languages.
Well, language can be a barrier while ordering food, but this problem can be sorted out by using the QR menu. QR menus being available in multiple languages and accessed easily, it allows consumers to place an order just by viewing the menu.
Why Do You Need To Adopt Digital QR-based Menus For Restaurants?
Looking at the benefits above, you must have got a fair idea about how QR code menus can help your restaurant business. Customers are used to QR codes for purchases, payments, food orders in their daily life.
It has helped businesses integrate this technology for improved business operations. When consumers view a restaurant QR code menu, they know how to use it. Hence, QR codes are widely accepted and used by consumers easily.
Also, consumers are aware of the safety associated with QR code digital menu for restaurants. All they need to do is just place their order without any direct physical contact using the digital display systems of the restaurants.
Restaurants have used QR code menus to
Reduce high costs related to screens and tablets that enable self-ordering
A Digital menu is a software-based menu wherein companies bear the costs while integrating a digital QR-based menu for the restaurants.
The new QR code trend has helped restaurants enhance the consumer experience while keeping them safe.
Conclusion
With QR code digital menus, the restaurant business has been simplified. Technology has helped restaurants offer amazing customer experiences.
The above-mentioned benefits of a QR code menu for restaurants are just a few to be counted. There are a lot of other benefits that help restaurants keep their customers and staff safe.
With time, consumers' preferences are changing too. It can help restaurants increase margins, accelerate table turnover and resolve staffing issues too.
In the coming years, restaurants will be taking more data-driven steps while introducing opportunities that increase profitability.
You can introduce a QR code menu for your restaurant to enable easy and swift operations. Get in touch with X-Byte Enterprise Solutions to embrace the technology for your restaurant. We will help you improve the consumer experience.
| Read Original Blog Here : QR Code System For Hotel and Restaurant Business
apps
About the author
Reader insights
Be the first to share your insights about this piece.
Add your insights