Why ERP Software is Best Choice for Your Retail Business Operations?
ERP Software for Your Retail Business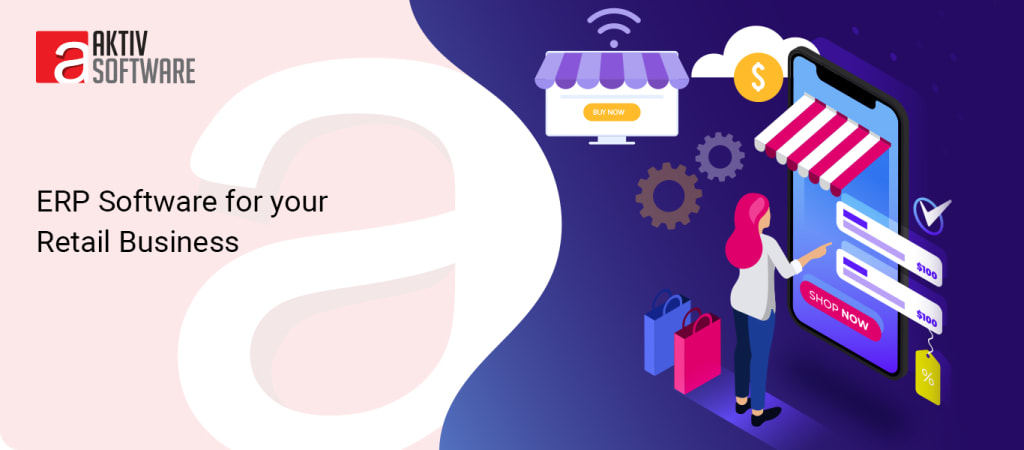 What could be worse than you getting stuck with reconciling financial reports, guessing sales forecasts than solid stats, trouble in keeping a record of product volume or customer satisfaction, or being clueless about inventory operations?
If you are facing all of these issues, then your business is in trouble, and it also clearly states that "It's time, your retail business needs an ERP software!"
Let me start over this conversation another way- Have you considered any ERP system before for your business? If not, then this blog is undoubtedly going to make you rethink it.
This blog would lead you to indicators that point out the need for an ERP system for your business, facing some severe problems and frustrations.
Keep reading to discover the signs that your business needs an ERP system.
Are you Using Different Software for Different Processes?
Well, let's consider that you are keeping a record of employee's daily information, which includes working hours, attendance, salary, or sales.
On the other hand, you also are keeping track of warehouse operations manually, or let's say with some other software.
It's just the tip of the iceberg as these are some normal operations to which we are referring to. Let's say you use different software for managing finances, website data, project details, CRM, and sales analysis.
Don't you feel using different software for each of these operations could create havoc in your business management process?
When various front-end and back-end processes work on different systems, there are always chances that you couldn't get accurate results.
Due to which your sales may fluctuate, inventory may suffer, and finance could ripple off the marketing budgets and payroll.
Whereas using an all-round ERP software will bring all the business functions on a single database.
Moreover, you could avail of accurate and real-time data solutions that could help you in making better decisions and pull out strategies that could generate higher revenue.
You may or may not be aware about the benefits of ERP software but, if you really want to find out, then continue reading the content:
Point-of-Sale: Let your customers check out faster
Be it any industry; a customer spends more time selecting items and not on the billing process. When it comes to checking out, the slow billing process is something unwise, and if not resolved, it could lead you towards losing sales.
However, we know low computer literacy is widespread in the retail industry, and lack of an appropriate POS system could become a hindrance to accurate and legitimate results.
Well, in such cases, all you require is a user-friendly ERP software with a smart POS interface that any retail company could use without facing many hassles.
Inventory Management: Make your inventory customer and supplier friendly
In case your retail business doesn't have an ERP software integrated. You might face difficulties such as the frequent occurrence of product deterioration leading to waste, unsold inventory, delay in payments, etc.
Customers usually don't like the habit of seeing out-of-stock. If you don't have a managed inventory, then you might skip out the stock management part, and as a retailer, you might be knowing that the cost of lost sales kills you badly.
Not only it affects your profit ratio, but such customers could spread negative word of mouth, which could decrease your brand value.
So, what could you expect from the ERP system in such circumstances?
• Error-free handling of a large inventory
• Organized hierarchy of products
• Re-order management
• Keeping track of good and bad performing products
• Boosting customer experience
• Generating inventory reports for accurate decision-making.
Financial Management: Taking care of all-inclusive accounting demands
Be it purchase return, sale, or sale returns, a retail business requires an integrated system that will automatically update all of the necessary data into books of accounts.
Managing accounting information also consists of transactions like receipt, payment, journal, and reports, which could get you on nerves.
With an organized ERP system, you could do more in less time following the facility of creating/sending/receiving professional invoices and payments online.
Moreover, one could also set up automatic follow-ups for payment as well as create invoices automatically from sales/delivery orders.
So, stop recording financial transactions manually and switch to an integrated ERP system that saves your time and adds accuracy to your accounting operations.
Payroll Management: Paying the right amount on the right time
Most of the operational cost of any retail business goes into its employees' payment. Significantly, all the employees get paid the right amount that too at the right time.
If you don't have an integrated ERP system to manage the payroll of your employees, you might cling to mistakes like unsolved complex calculations and transfer of wrong payment amounts. This all might let your employees down and reduce their motivation to work.
In such cases, a managed ERP software would help your organization to look after some important facts such as salaries, overtime compensation, referral commission, target bonuses, holiday pay, due payments, and deduction against the loan.
Features available on ERP software:
• Organized Pay head and Salary structure
• Computing Payroll events (promotion, leave, tax)
• Create Holiday and Work Policy
• Configurable Attendance System
• Generate Payroll Reports
Reinvent Manufacturing: A modern solution to an old problem
Are you still tired of looking after real manufacturing times measures? Are you not able to access MRP, Quality, and Maintenance operations within a single integrated system? Does the real-time display of worksheets and quality alerts are skipped? Are you not able to manage and capture real-time data from your equipment?
These are common pain points from the manufacturing side for any retail business. So, have you given a thought to an ERP system that could eradicate all of these issues and make the manufacturing easy and powerful?
From engineering to maintenance, everything that manufacturing operation needs could be easily managed as you decide to integrate your business with a well-managed ERP software.
The Bottom-Line
Customizing processes, integrating systems, and maintaining them with security updates or patches could seem like a nightmare if your business is working on multiple orders.
Not only complicated, but it could become time taking and costly to maintain the outdated versions of all the business software.
Rather than adding multiple software for your business process, there should be an effective system that could give agility to respond to the changing needs of your business with fewer hassles and complexity.
While using ERP technology, you could harness its power and deal with system upgrades and on-premise system maintenance. Selecting ERP could add new functions and help your business grow parallel to the changes.
Now the question is which ERP technology you would select for your business. Well, let me tell you selecting an open-source ERP is one of the best options if you haven't used any of the ERP software to date for your business.
And what could be a better option than Odoo when it comes to Open-source ERP?
You might become aware of how Odoo perfectly integrates with different systems once you start using it.
Having everything managed on a single platform will eventually save you from the complexity of maintaining separate software for POS, back office, web store, and so on…
To learn about why Odoo ERP is ideal for your business, contact experts at Aktiv Software for a free consultation. We are an Odoo development company in India, and we have worked on Odoo from basic to complex projects.
So, you can consider our experience when it comes to building custom ERP solutions.
Note- Check the original version of this article: https://www.aktivsoftware.com/have-you-given-a-thought-to-using-erp-software-for-your-retail-business/