Things To Consider When Selecting Mobile App Development Platform
You are a newbie entrepreneur and have no idea about how your mobile app should be. Definitely, you will require a mobile application development company/service provider to lead you from this dilemma. Here we will list the top 7 factors to consider when selecting various mobile app development platform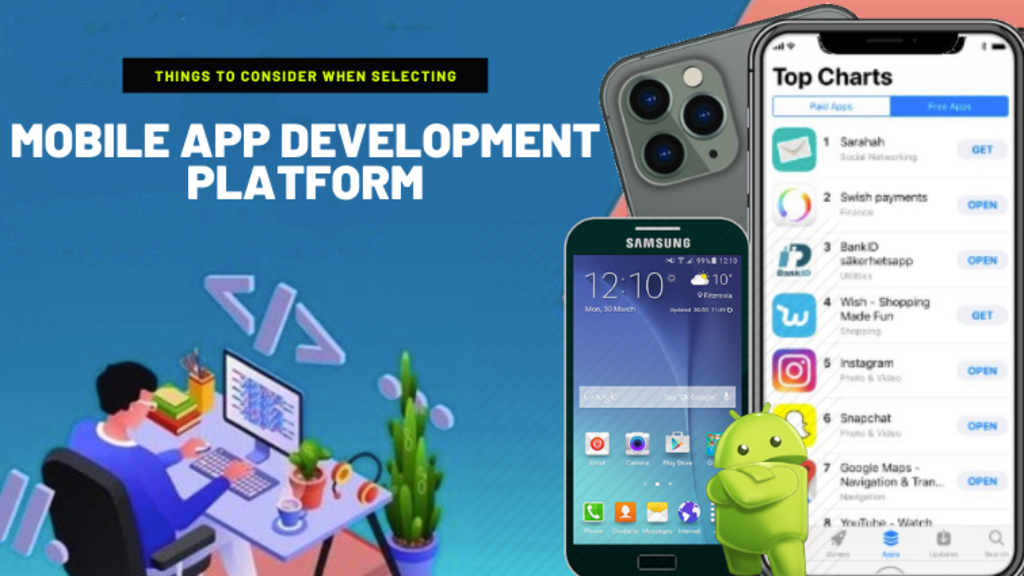 The rise in the usage of smartphones has led to significant growth in the demand for mobile applications. Enterprises have realised that mobile apps can assist them to increase the value of their brand, and also improve their business offering to their customers.
Before developing any mobile app, however, it's necessary to decide which mobile app development platform the app is going to be built on. And deciding which mobile app development platform to go with is one of the most requisite decisions when it comes to building an app.
What do you prefer? To go for a native app or a cross-platform app? Are Windows and Blackberry phone meriting your attention? Or do you just concentrate on iOS and Android? If you do this, which of these two do you pick - Android or iOS or do you pick both?
There's a lot you need to consider when choosing between mobile app development platforms.
So, if you're wondering which Mobile app development platform to pick, here are a few for starters:
Things To Consider When Selecting a Mobile App development platform
#1. Market Share
The first way to determine the right mobile app development platform is by discovering each of their market shares. For example, Android by Google manages 80% of the world's mobile devices. On the other hand, Apple's iOS runs about 14% of global mobile devices. Still, this doesn't take iOS out of the running. iOS is favoured by users from countries like the US, Japan, and Australia. And so, if they are your target audience, you should reconsider iOS. Android is preferred by users in Asian and African countries and is the more secure mobile app development platform if you're looking to reach users in these regions.
#2. Demographics
When selecting from a variety of mobile development platforms it's also necessary to consider demographics. Android users are normally those from a lower income group and prefer Android, as these devices are pretty affordable. In addition to this, Android mobile devices are normally owned by people from an older age group. However, because a majority of Android apps is available for free, there is less engagement with them. iPhones on the other hand, are favoured by users who belong to a medium and higher income group. These users are usually younger, educated individuals who are open to spending money when it comes to buying digital products like mobile apps.
#3. Content
Content categories also play an important role in deciding which mobile app development platform to choose from. Various research has discovered that those who have iOS devices tend to explore for a variety of app categories when looking to download a mobile application. Right from gaming and entertainment, to social media and education, iOS users have the tendency to download different sorts of apps. It has also been found that Android users, unlike iPhone users, usually download solely social apps. That's why, when picking a MADP( Mobile App Development Platform), it's crucial to take content categories into consideration.
#4. Customization
This also plays an essential role when choosing the right Mobile App Development. Android is the more suitable option here, as this platform enables developers to add a lot more features and customizations to their apps, whereas iOS can be considered limiting.
#5. Generation of Revenue
As mentioned in one of the earlier points, iOS users are more likely to purchase apps. This is why iOS apps make higher revenues as compared to Android apps. Hence, if you're looking to build an app that is a product all by itself, like a gaming app, then the mobile app development platform you need to pick is iOS.
#6. Development Costs
The costs that come with various mobile development platforms vary. For example, when an Android app is being developed, the developers are expected to write 40% more code, and this, in turn, costs the app owners 30% more extra.
#7. Launching The App
If you're looking to quickly launch your app on an app store, then Android is the mobile app development platform to choose. This is because, it's much easier to launch an app on Google Play than Apple's App Store, as Apple needs every app to go through an exhaustive approval process.
Wrapping Up
Now that you have figured out top 7 things to ponder when you are sitting with your mobile application development service provider, Always choose the best Mobile App Development service provider for your growing business.
Good Luck!