These Fast-Growing Apps Might End the Era of TikTok
US competitors are chasing down TikTok at breakneck speed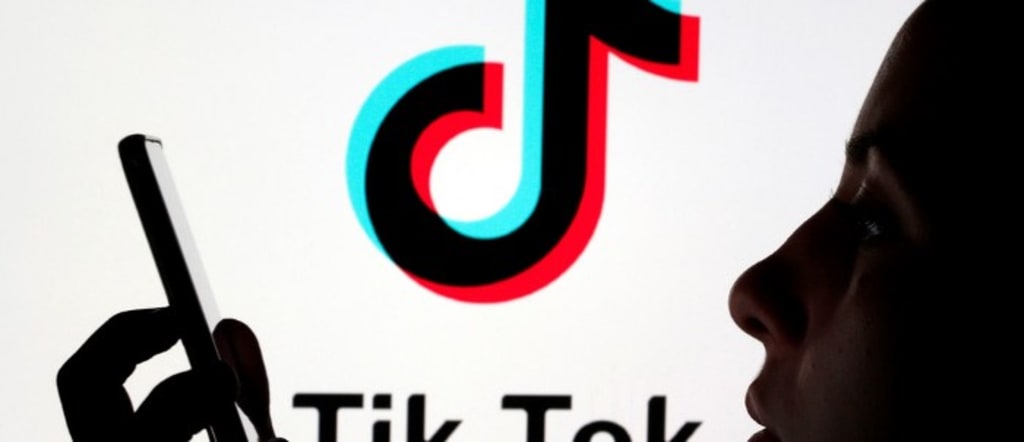 Image credit: Weforum
The world turned upside down with the TikTok app launch in 2016. More and more users have created accounts on TikTok to open themselves to the world and showcase creativity. The video feed plays the minute the app opens, instantly sucking viewers in.
TikTok calls itself the "destination for short-form mobile videos." While Mark Zuckerberg referred to TikTok in the following way: "It's almost like the Explore Tab that we have on Instagram."
However, it is not.
The statistics show us a massive growth of TikTok popularity in the US within the last few years. Regardless of the app ban in some countries and the data protection conflicts, TikTok managed to make the worst Facebook and Instagram nightmare a reality.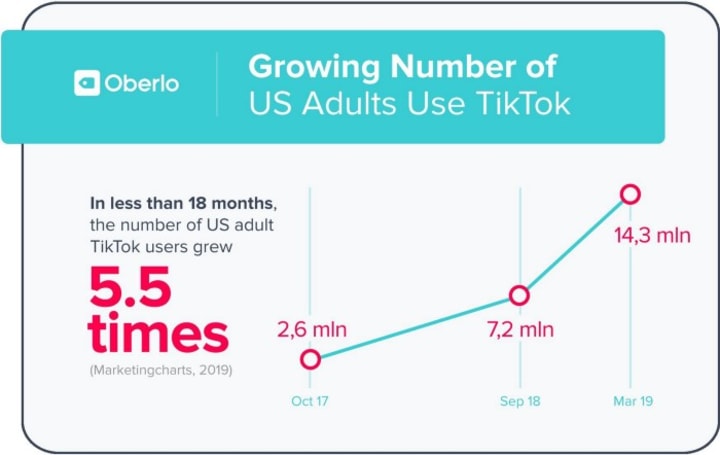 TikTok has recently opened a new office in California, a location formerly occupied by WhatsApp, Facebook's messaging app. What adds even more fuel to the fire is that TikTok has hired more than twenty employees from Facebook, along with staffers from Apple and Google. Pretty smart move, right?
It is doubtful that the United States will let its biggest companies sink because of a random Chinese rival. Guess what? Several apps currently being developed in the USA might become a severe threat to TikTok and intent to bring back the lost fame to America.
Here is an overview of what is already known about them.
1. Facebook's Lasso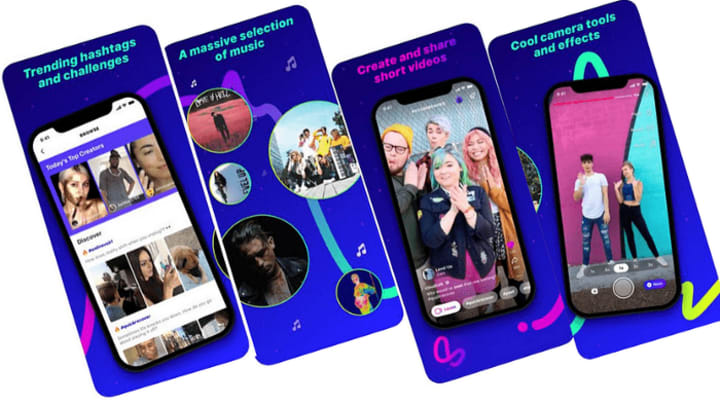 Facebook and Instagram are the biggest competitors of TikTok that have started developing and testing a new app.
The app "Lasso" was released in 2018, and it is a copycat of TikTok. It seems Facebook does not care much about which app users would prefer to the biggest extent, Instagram, Lasso, Reels, etc.
The biggest Facebook concern is to make users utilize any of its platforms, better all of them. It possesses a vast user database, which attracts businesses and lets Facebook maintain its status as the most popular social media platform.
Back in 2018, Facebook was very quiet about Lasso's launch. There were no official statements on its website. Facebook's product manager Andy Huang announced the app's release on Twitter. Later Bowen Pan, Lasso PM, tweeted about it as well.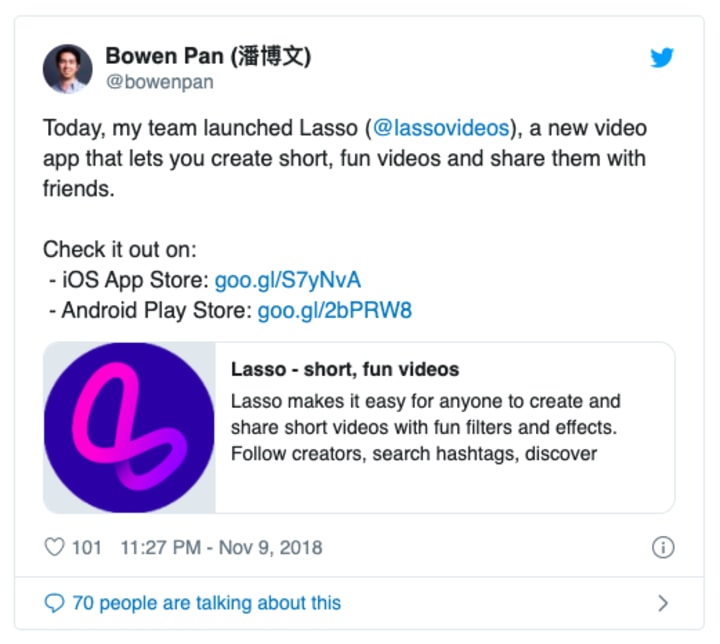 At this point, although, Lasso did not reach any milestone yet. It will be interesting to see if the app can pick up some trends and finally kick-off.
Still, you never know. Facebook is a very powerful company that has enough capacity to make hard times for TikTok.
2. Instagram's Reels
Instagram is secretly testing a new feature called "Reels" in Brasil, which is very similar to those that make users love TikTok so much.
Instagram is a platform for visuals that already possesses a vast user database. Reels might potentially become a real threat to TikTok if users get the same functionality set as TikTok.
Reels was launched in early 2019 for Android and iOS users in Brazil and can be found in Instagram Stories, next to Boomerang and Super-Zoom. Users are encouraged to share Reels to their Stories and re-send them to their friends to get more likes and engagements.
3. YouTube's Shorts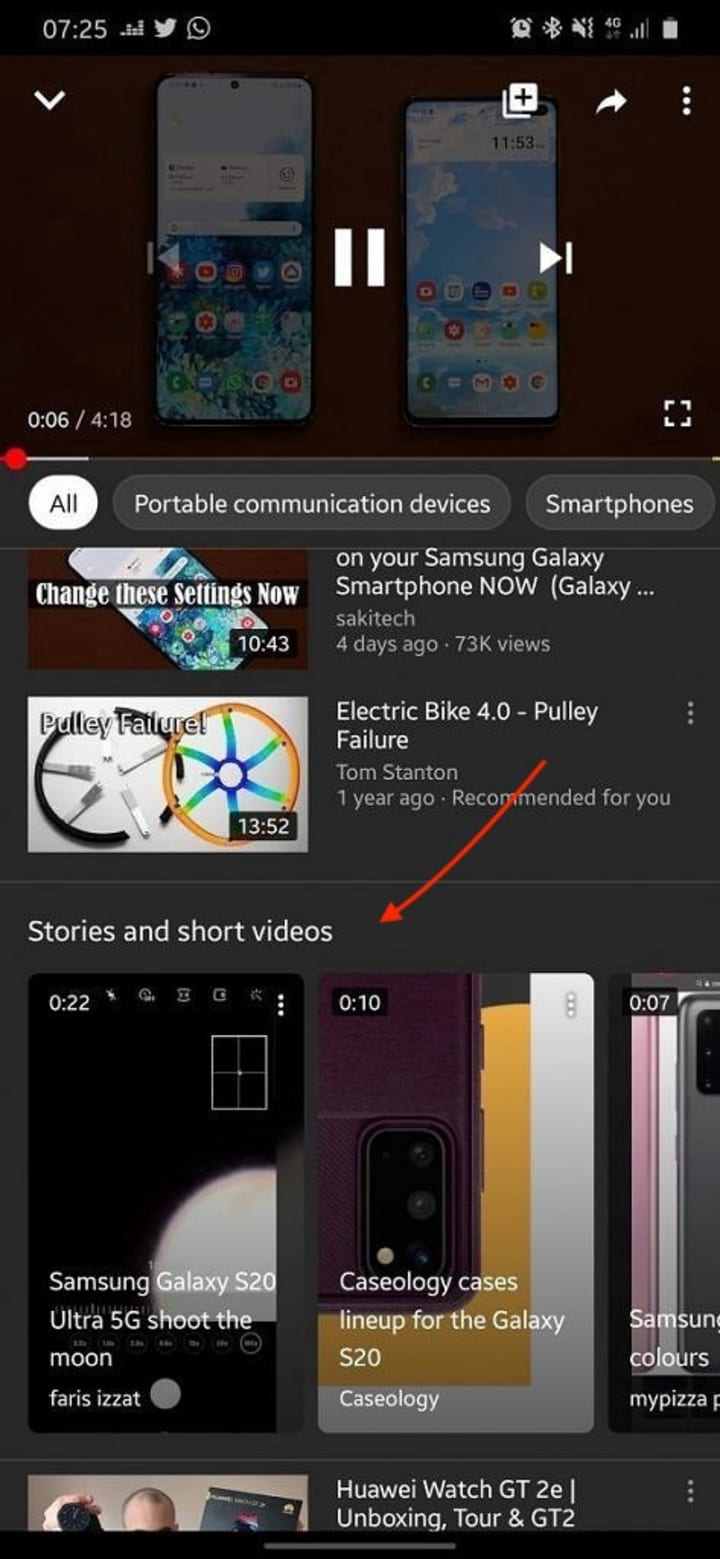 Youtube used to be the main platform for video sharing. There were no rivals that could potentially compete with the power of Youtube and steal its users. However, Youtube video editing functionality might be a bit complicated for an average user. Besides, it requires video shooting skills.
Suddenly, TikTok showed up and changed everything. These days Youtube is trying to compete with the short-form, low-quality, user-generated content by introducing its app extension called "Shorts."
"Shorts" extension has been launched and running since the end of 2020.
The functionality seems to be pretty straightforward and aimed at mimicking the concept of TikTok: a feed full of short videos that are supposed to appeal to the segment of users who are not willing to watch long vlogs and clips on Youtube.
4. Byte App
TikTok lovers have a brand new toy to play with. Byte is a successor of Vine, a social media app that was owned by Twitter and was shut down in early 2017.
Byte is a new app launched in January 2020 and has already seen its first spike of user downloads.
Even though it is still too early to talk about outperforming TikTok's success, it is becoming popular among teens in the US.
What is the Byte app?
A short and straightforward answer: Byte is another copycat of a well-known TikTok with a few slightly different features.
Users can either shoot a new or upload existing six-second videos of whatever catches their attention and they want to share it with the world. Here is what Byte itself says about their app launch: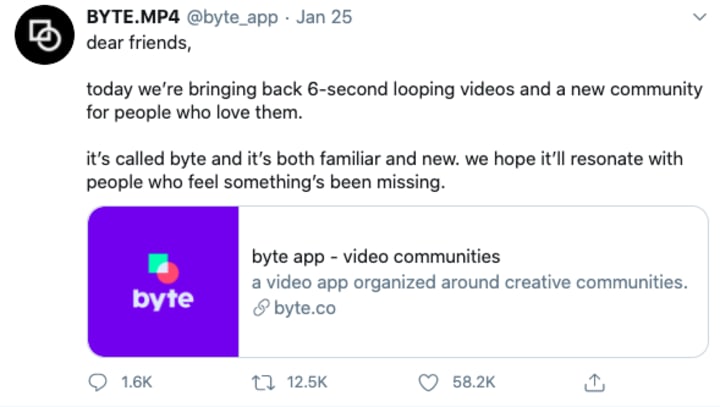 Unlike other social media platforms, Byte does not reveal the followers count on user profiles. It might have been intentionally done to cope with the user's social media anxiety.
Moreover, the platform might not reveal that they do not possess a vast user database yet. Byte is also planning a creator's program to help influencers gain some cash.
5. Google's Response to TikTok
Of course, I could not leave out Google from my attention when checking TikTok rivals. This technical giant will most probably not stay aside and will try to create its version of TikTok. And I was 100% right.
The Wall Street Journal has reported that Google wanted to acquire a video-sharing startup in October 2019. The startup was called Firework. Its functionality is, again, very similar to TikTok. It allows users to share 30-second homemade videos online.
Since 2019 there was no more public information or official announcements from Google about the deal. We might assume that they are unwilling to reveal any information about the purchase and the app's ongoing development process.
How It All Affects TikTok
The competition in the world of IT technologies is very tough. Once a new and creative product appears, multiple businesses try to copycat its success and outperform the first-mover.
Statistics show that TikTok is indeed a much more popular app than its American rivals. However, Youtube, Facebook, and Instagram are not that far behind. They are breathing in the back and waiting for a moment to return former success.
The USA has always been a country of startups, where new technologies are born. It will most likely try to retain its position as a leader and implement measures to outperform TikTok. Besides, we should not forget that TikTok was created in a communist country with strict state regulations.
US lawmakers have already raised concerns regarding the Chinese company, claiming that it may censor politically sensitive content and pass user's personal data to third parties.
There is tension here. Let's wait a bit and see who will become the winner of this race.
social media
About the author
Self-made marketer & content writer. Writing daily. Creating SEO-friendly content for 3 years.
My site: selfmademillennials.com
Let's get in touch: linkedin.com/in/victoria-kurichenko
Reader insights
Be the first to share your insights about this piece.
Add your insights