The Sideclick Remote Attachment Will Change the Way You Stream TV
With the emergence of streaming devices, the Sideclick Remote attachment eliminates the use for multiple remotes.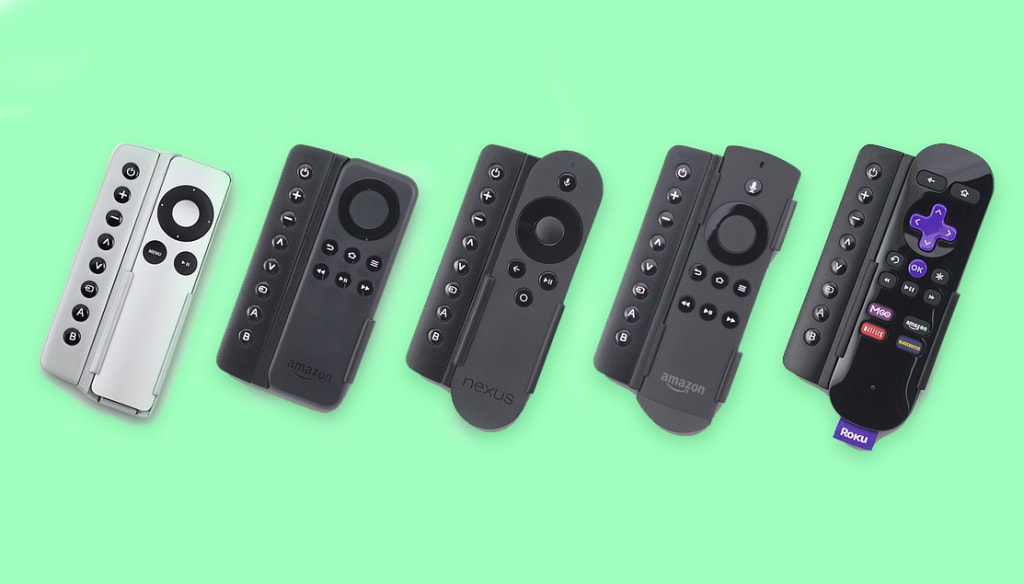 How many times have you lost your tiny remote for your Apple TV, Roku, or Amazon Fire TV? In addition to your streaming device, there's also your remote for the sound bar and the television itself. I personally have a basket that's full of different remotes for different devices. We've all seen universal remotes like the Logitech Harmony, which can control up to eight different devices. But with the Sideclick remote attachment, you can control your Amazon Fire TV Stick or Apple TV remote while controlling your TV's basic functions. Sideclick snaps onto your streaming remote, making it easy to hold and hard to lose.
It controls both your TV and streaming device.
Streaming devices like Roku, the Amazon Fire TV, and Apple TV all have small remotes that only control the content you're watching. But in order to control the basic functions of your TV like adjusting the volume or changing channels, you'll need a different remote. With Sideclick, you're able to control both your streaming device and your TV. By connecting the Sideclick to your regular TV remote, you can select which remote function you want to assign to the Sideclick remote attachment.
This device eliminates the need for multiple remotes.
Between your television, streaming device, gaming system, Blu-Ray player, and sound bar, you could be juggling multiple remotes—and streaming devices' remotes, like those from Apple TV or the Amazon Fire Stick, are easy to lose. The Sideclick remote attachment eliminates this by combining all of your remotes into one. Get the streaming shows that have redefined mainstream entertainment with fewer steps.
Sideclick is compatible with just about any streaming device, including Roku, Apple TV, Amazon Fire TV, Google Nexus, and Mixbox. Just select which streaming device you have and you will be able to buy the corresponding Sideclick remote attachment. And because of its adapter clips, you will never have to buy another Sideclick. For example, if you have Apple TV and decide to upgrade to an Apple TV Gen 4 or 5 with 4K, you can just buy an inexpensive adapter clip for the Sideclick and streaming remote.
Sideclick makes it easier to switch programs.
Because of its one-touch ability, Sideclick makes it easy to switch programs without having to switch devices. Sideclick allows you to multitask, giving you the ability to access streaming content on one device while either loading or saving a game at the same time.
It allows you to customize the way you control your TV.
With Sideclick, your remote works for you, being able to accommodate any device you may have. On one remote, you will essentially be able to control eight different devices or eight different functions for your TV. This way, you can customize exactly what your Sideclick can control. Sideclick not only saves time, but makes streaming TV more convenient.
Streaming has slowly taken over the cable industry, forcing cable networks to adapt. It has created a certain urgency, not just giving viewers what they want to watch, but where and when they want to watch their favorite programs. While Comcast and Disney developed the on demand service, Hulu, major networks like CBS have developed their own streaming subscription service. Even if new Apple TV streaming remotes become available, by using Sideclick's adapters, all you will have to do is buy a new inexpensive clip for under $10.
It's immediately ready to use.
With its sleek and simple design, the Sideclick is shipped with a basic programming guide and set of batteries. Just point the Sideclick directly in front of another remote and assign which remote function you want to utilize on the Sideclick. Then just snap it alongside your streaming device and it's ready to use.
Sideclick is compatible with any kind of television.
Any digital TV these days uses IR technology for its corresponding remotes. The Sideclick remote attachment relies on this technology to sync up with other remotes and devices, making it virtually compatible with just about any television. While universal remotes have already been introduced in the past, Sideclick is the first universal remote for television streaming services like Amazon Fire TV and Apple TV, eliminating the need for multiple remotes.
Sideclick uses IR technology.
Using infrared radiation technology, Sideclick and other remotes are able to connect through wavelengths, similar to radio waves in the electromagnetic spectrum. Because of the abundance of this technology, Sideclick is able to communicate with any remote device. IR technology is everywhere, making it easy to control devices without leaving the couch. The Sideclick remote attachment is the perfect accessory to your easy-to-lose streaming remotes, making television more convenient to access and enjoy. With the evolving nature of streaming TV, Sideclick is ahead of the game.
Cable television has changed drastically with over-the-top services, allowing viewers to decide what exactly they want to watch. As a result, cable subscriptions, which feature a selected package of channels, quickly dropped. Streaming, along with the Sideclick remote attachment, helps eliminate the redundancy of both cable boxes and remotes. We've seen a steady decline in cable subscriptions over the years, with more and more people switching to streaming services. Because of this, cable companies have begun developing free TV apps that could replace your cable bill such as Sling TV, eliminating the use for boxes.
gadgets
Spends most of his time working on his car and fixing things up around the house.