The Future of Mobile Game Development: Trends and Predictions for 2023
Mobile Game Development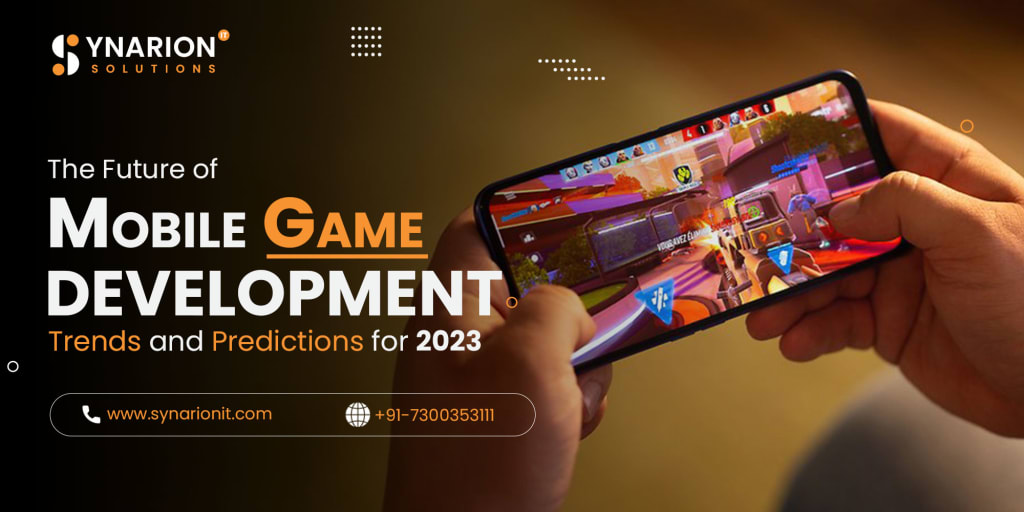 Introduction
The mobile game development field is continually growing, with new developments pushing the envelope of what is conceivable. Each game development business and its product owners must maintain a lead to remain competitive as the market for video games keeps expanding.
Developing Games using Emerging Technology
The creation of video games is no exception to the ongoing technological evolution. Here are some of the cutting-edge technologies that businesses offering game development services are investigating:
Augmented and virtual reality (VR/AR)
Although both augmented and virtual reality technologies have been available for quite a long, they have only just begun to acquire widespread acceptance. A fully immersive gaming experience is provided by VR and AR, which let users enter the game's world and interact with it in novel ways.
Gamers who use virtual reality have an extremely captivating experience. With virtual reality goggles, players may interact with items in small spaces. Although headsets are now expensive, technological advancements will reduce prices and make them affordable for casual and frequent gamers. We may also anticipate better graphics and overall game quality.
When tech giants, including Intel, Google, Sony, Microsoft, IBM, Facebook, Samsung, Telecom Siemens, and Snapdragon, start developing virtual reality games, the genre's future looks incredible. The worldwide sales of HMDs, accessories and content expos will significantly impact mobile gaming in the next few days.
Altering Socialisation through Gaming
Mobile games are now more interactive due to the rise in social media use. Mobile gaming has become a social pastime during the pandemic due to the isolation and frequent search for interactivity.
According to Facebook, 38% of younger players in the USA enjoy chatting while playing games, and many are beginning to choose multiplayer or online options over individual games.
Quality like guilds, social networking connectivity, discussion forums, and other features is paying off for game makers. The socialisation of gaming is primarily due to the rise in social media usage and gamers. By providing incentives via the newest social features, marketers may take advantage of the sociability that comes with gaming.
Mobile Cross-Platform Gaming
Another development that will influence the gaming ecosystem in 2023 is cross-platform gaming. You can use consoles and various systems to play cross-platform games. Money and Technology were the most significant barriers preventing players from playing across platforms. Gamers have, however, really used game codes to play cross-platform games in 2021.
Game developers aim to create games that can be played on various devices, including tablets, smartphones, and computers. Also, because of the cross-platform Technology these programs use, consumers may find them easily.
Internet gaming
A comparatively new technology called cloud gaming enables users to stream games online instead of downloading them for their local devices. Even though a few firms in this field have failed, Technology is still in progress. Despite this initial setback, one advantage of cloud gaming is that gamer can download games on every device, no matter how powerful, and play them with little lag or latency.
eSports are Growing
eSports are not a recent craze. That has long been a common trend in the mobile gaming sector. It can be viewed as a competitive match for gamers and top players.
Many people follow and watch these games worldwide, physically seeing them on TV, at other live events, or by browsing online resources. Those who use live streaming services can watch and play their favorite games in real time.
By the end of 2021, the value of the global eSports market was predicted to exceed $1 billion, an increase of about 50% from 2020. Therefore, you can anticipate growth of approximately $2 billion in 2022. Hence, we may expect that in the years to come, eSports will continue to be a popular and consistent trend in game development.
Worn-based Technology
Electronic devices known as wearables have sensors that can collect, identify, and share data among users in real time. Smartwatches, fitness rings, and wristbands are a few examples of standard wearable devices that use wearable Technology.
Wearables are typically connected to health and well-being but are also swiftly emerging in the gaming sector. A data-tracking wearable gadget can monitor players' participation in gaming sessions. Thus, using and evaluating this information enhances the gaming experience for the players.
You may utilise wearables to improve the broadcast quality by employing various microphones, which will enhance the gameplay experience for players worldwide and use them to keep track of everything, including checking, analysing, and monitoring gamers' performance in real-time.
Augmented reality gaming
Virtual reality gaming is a method of fusing auditory and visual elements into games, allowing players to watch and interact with the game's visuals and information in real time. In contrast to VR gaming, augmented reality gaming creates a playing area using the current environment.
In reality, AR systems don't require specific headsets. Games for augmented reality can be seen, accessed, and played on portable gaming systems like tablets and smartphones.
Pokémon Go is among the most cutting-edge applications for augmented reality games that use GPS, phone cameras, a calendar, and a gyroscope. It encourages a location-based expanded reality setting.
Hyper Casuals will take the initiative
In 2020, the video game industry will be dominated by hyper-casual games, according to Sensor Tower's Industry Trend Report. The simple, hyper-casual games let players unwind and have a good time without exercising their brains.
According to BusinessWire, the global online gaming market will expand at 11.9% by 2026. As a result, our market assessment and prognosis prompt the hyper-casual computer game industry's extreme development by 2026.
For games played on Desktops or consoles, specific well-known examples like Online Games, Monster Striking, and Coin Masters can swiftly become fierce competitors. These simple games don't require special abilities, so that you may anticipate their increased popularity in 2023.
Multiple-Player Features
Compared to using a gaming console, mobile games are more readily available. They are known to many people and will be available to even more in 2023. Mobile games have become an all-encompassing, multiplayer function thanks to transportable smartphone devices and the variety of games they provide.
We have seen a considerable desire for multiplayer games in recent years. Multiplayer gaming will become a powerful trend in 2023 as eSports become a global phenomenon and titles like PUBG Mobile gain popularity.
Mobile games are made for various things, such as mental renewal, relaxation, and strengthening bonds and connections. Everyone wants to enjoy themselves when playing online games alongside their loved ones. They seek out multiplayer games as a result.
Multiplayer games make online connections and teamwork possible so players can participate in in-game activities. Also, the growth of social media has increased the popularity of these games. Mobile games have become an essential item people want to examine since users use the same platform simultaneously.
The Metaverse
One of the newest trends is the Metaverse, but how it will affect the mobile gaming sector must be clarified. This year, mobile gaming will be integrated with the Metaverse, creating a richer in-game experience. Consider the Fortnite Concerts.
Other companies, like Nickel and Roblox, will also construct their gaming universes. Companies also intend to help the Metaverse infrastructure by providing their users with tools for building the Metaverse, such as creating lifelike avatars. In other words, the Metaverse will be easier to access and the best place to watch in 2023.
Artificial intelligence (AI)
AI-powered gaming systems provide superior gameplay. The use of AI in game creation could decide the success or failure of your project. The popularity of well-known technologies like augmented and virtual reality has already been discussed. And the combined power of AR, VR, and AI will fundamentally alter the gaming industry.
In 2023, we expect AI to impact gaming more significantly. AI aids game developers in creating more thrilling games. AI has just introduced NPCs with the ability to learn. NPCs can also use this AI-powered training to modify their reactions, which makes mobile video games more challenging. The market research estimates predict that AI will continue to advance in mobile gaming.
Blockchain
Blockchain-based games and NFTs
The mobile gaming business is relying more on blockchain and NFTs. NFTs resemble cryptocurrencies like Ether and Bitcoin in many ways. People use these non-fungible tokens to tokenize real estate, music, and artwork. Contrarily, blockchain offers endurance thanks to its consensus algorithms.
As a result, NFTs can be used to tokenize characters. They can also be utilised to tokenize cards in card games. Some well-known Metaverse games include NFT games as well. The market for blockchain games and NFTs is quickly growing.
The number of cryptocurrency wallets connected to the gaming industry reportedly climbed from 29,563 at the beginning of 2021 to 754,000 in Q3-2021. These claims also claim that in Q3-2021, blockchain games generated $2.3 billion in revenue.
Business Models for New Video Games
Game production companies are looking into new business models to adjust to the shifting ways that people play and pay for games. The new business models for Hire Mobile Game Developer that we anticipate seeing shortly are described below.
Games with subscriptions
With companies such as Xbox Game Pass and PlayStation Anytime providing gamers access to a library of games for a monthly charge, subscription-based gaming is growing in popularity. This business model guarantees that users will always have access to different games while providing a consistent source of income for game producers.
Play for free
Free-to-play games are a well-liked business strategy, but we anticipate seeing more games use this strategy in the future. Although these games are free and downloadable, they make money from in-game purchases and built-in advertisements.
Crowdsourcing
Crowdfunding to finance video game development initiatives is growing in popularity. Developers may build a community among supporters and admirers while raising funds required to construct their games by presenting their concepts to people on websites like Kickstarter.
Game advertisements
A relatively new concept called in-game advertising enables game makers to make money by showing advertisements inside their games. Because the advertisements are frequently incorporated into the game world, this strategy may provide users with a more seamless experience.
Potential Careers in Game Development
The positions available and the qualifications needed will change as the game development business does. Let's address what professions and competencies will be in great demand in future years.
• Gaming designers - A game's general concept and vision are created by game designers, who will continue to be in high demand even as the industry develops.
• Programmers of AI - AI programmers will continue playing a significant role in developing realistic and captivating gaming environments as games become more complex and dynamic.
• Designers of the user experience (UX) - As games get more intricate and deep, UX designers will be in short supply as they are in charge of setting up an intuitive and enjoyable user experience.
• Managers of communities - Community managers create and oversee a fan base for a game development company. Community managers will be essential in forging and preserving connections with players as games grow more social and networked.
• Publishers of mobile games - To produce compelling and cutting-edge games for this industry, studios will require skilled mobile game developers because mobile gaming is becoming an increasingly popular platform.
Conclusion
Given the emergence of new Technology, business models, and employment prospects, the future of game creation is exceptionally bright. Companies that create video games and stay on top of these developments will have the opportunity to thrive in this competitive market. The most significant trends in game production are expected to rise faster than in past years. As previously indicated, augmented and virtual reality will continue to be used in mobile gaming. Furthermore, the development of mobile games will be significantly impacted by these technologies.
According to a poll done in 2021, the global gaming market is expected to grow at a steady rate of 8.7% per year, reaching $218.7 billion through 2024. Thus, we anticipate an increase in game enthusiasts in future years.
About the Creator
We are the top Mobile App Development company in India, expertise in Grocery App Development & Fantasy Sports App Development. We present high-quality results as the world's best and leading mobile app development company in Jaipur, India.
Reader insights
Be the first to share your insights about this piece.
Add your insights