The Benefits of the Windows Clipboard
Windows Key and "V" Gets You There
Note this only refers to a Windows based computer setup. Other operating systems may have similar facilities or tools but this only refers to the Windows one. Also sorry for the long introduction , if you scroll down to the end you will find what you really need to know. I often see articles on Google about "Bob Dylan's Favourite Beatles Songs" and if you try to read them you often give up in exasperation before you reach the first song. Hopefully this is not that bad, and maybe those writers have a word count target too.
I discovered this tip probably about a year ago when I was having to do something at work where I needed to to copy and find an order number to close , then in the process I had to give a long text reason for the reason for closure. The reason is always the same but while I could copy the reason, I then had to copy the next order number , which meant that I lost the long text using copy / paste or CRTL-C / CTRL-V.
I have recently created a sort of rod for my own back with The Vocal / Facebook Pen Name Directory (A Directory To Find Who Is Who on The Sites) because although usually stories are fixed, this has become a never-ending story because on an almost daily basis new people need to be added to the post using the quick edit facility.
For each person, this requires having their Vocal name and URL of their profile copied to set up the link in the post. This process needs repeating with the Facebook name and URL so can be very tedious. It is also very awkward with the ordered list in the Vocal editor but that is a complete other kettle of fish.
This directory was ditched due to legal reasons but I update my story directories and the Windows clipboard is a major part of that and you can watch it here (best in Full-Screen Mode on a Computer)
So everyone knows that they can copy and paste things using whatever method they are used to , but Windows Clipboard also maintains a history which you can access by pressing the Windows Key and the Letter "V" Key. It looks like the picture below. Today I am having an issue trying to post a photograph into a Vocal Social Society photo request thread and it keeps rejecting the photograph. Text is fine , but photograph no way. I may try later.
You can now select which clipboard item you want to paste. You may be putting an article together and pulling pictures and quotes from disparate documents and sources , and may want two or three items before creating and updating your document. This is an ideal tool. Apparently To activate this shortcut, select Start > Settings > System > Clipboard, and turn on the toggle under Clipboard history as in the image below. I must have done this a long time ago and forgotten about it.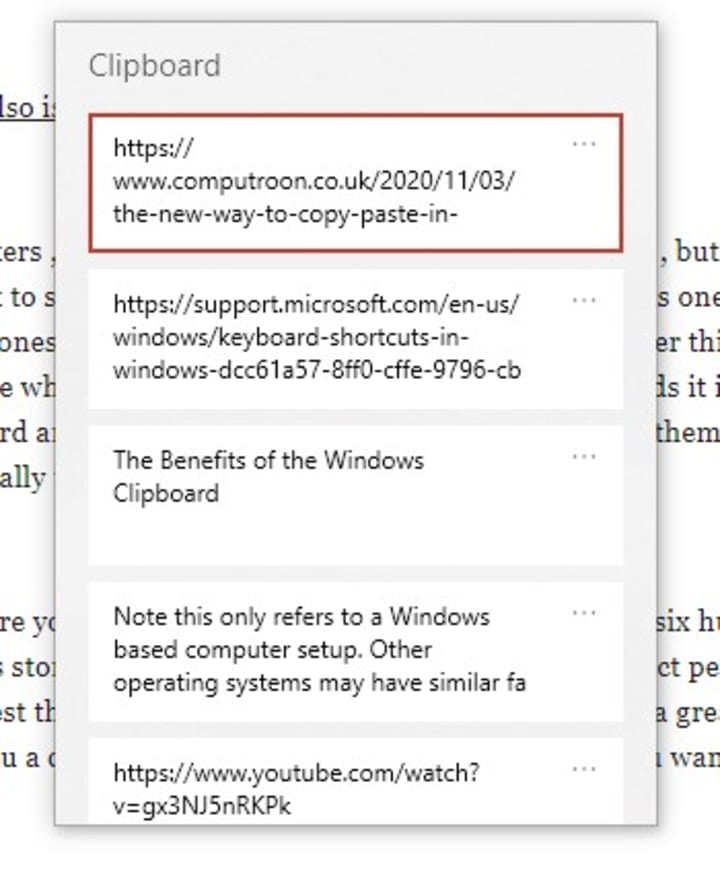 Here is a page with a full explanation of how to use this.
Here also is a list of Windows Shortcuts
As writers , our mind is the most important tool we have , but any aid we can get to support that is always very welcome, and this is one of the most useful ones that I have added to my toolbox. I put together this article because when you realise that someone else actually needs it it can be very awkward and time consuming trying to communicate to them by text how to actually use it.
I 'm sure you can tell that I have had difficulty in hitting six hundred words for this story , but I really need something that I can direct people to when I suggest this as a solution, and the Clipboard History is a great window to give you a choice of what you want to post and where you want to post it.
I decided to use a video of Steve Miller's "The Window" to be the lead in on this , yeah it's cod mystical , but so many people see lot's of computer functions as magical or mystical , I always try to explain them.
Reader insights
Outstanding
Excellent work. Looking forward to reading more!
Add your insights