Testbirds: Another Functional Testing Website (with payment proof)
Testbirds pays you to report bugs/irregularities in websites and apps, similar to uTest. Works better in European Countries.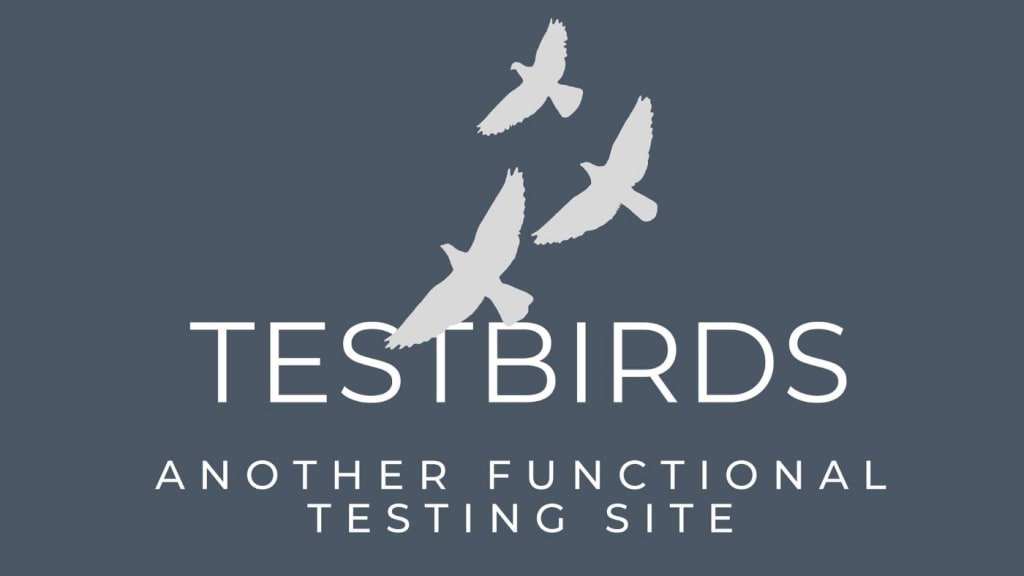 Test birds is a user testing website. It pays users to find bugs in applications, websites, games, etc. Essentially the "test bird" (this is what they call testers) checks the usability and reports back to get paid.
Their platform is extremely flexible and you can work on your phone or your laptop.
Although the earning potential isn't huge, you can still make a decent income through their platform. Just don't expect to get rich overnight.
Update: Testbirds does not have frequent test cycles, especially for people outside of the UK. You can still sign up and you will be emailed if they get a new project for you.
Test birds offer a legitimate source for their testers, and since they pay in euros, countries with depreciation in value can benefit quite a lot from their platform.
And the best part? You don't require any prior IT experience to join. They teach you everything you need to know.
Testbirds Payment Proof
Before we get into the nitty-gritty, let's post the payment proof of Testbirds.
To cast away any doubts you might have regarding the legitimacy of this platform, here is the payment proof from test birds: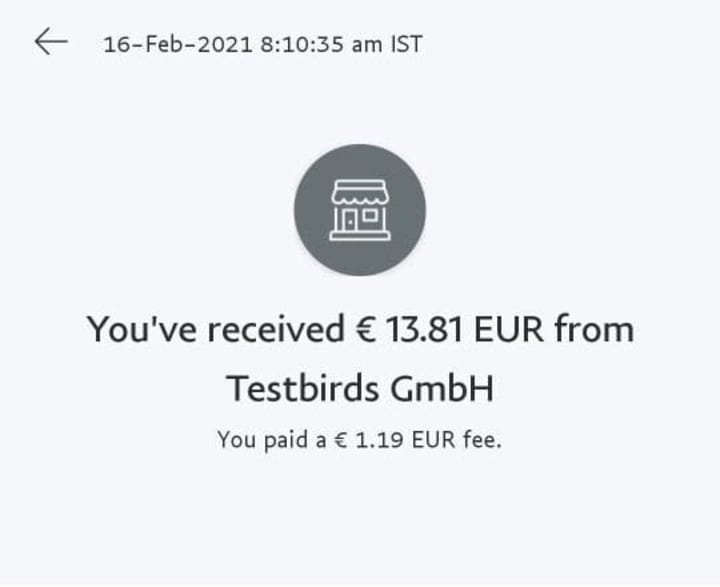 How do I signup for Testbirds?
When you first go to the Test birds website, you are immediately greeted with a pop up: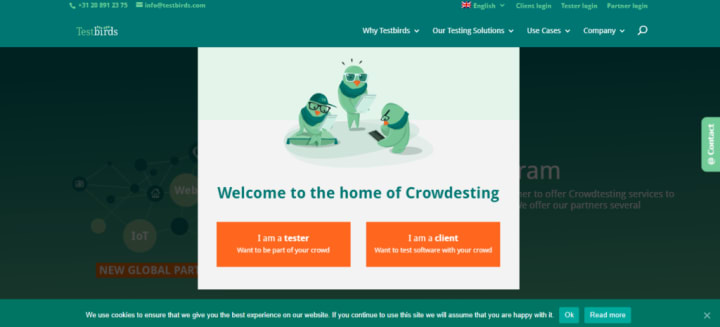 Here you can choose that you want to apply as a tester for their website.
You are then redirected to their sign-up form.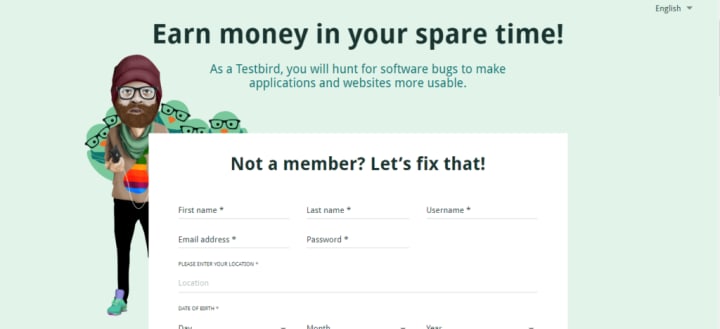 The sign-up form doesn't contain anything more than basic personal information, like your email address, name, location, etc.
The location you choose at this time is critical because it plays a big role in the number of tests you are invited to.
After the signup, you have to confirm your email address, confirming it will take you to their start-up page.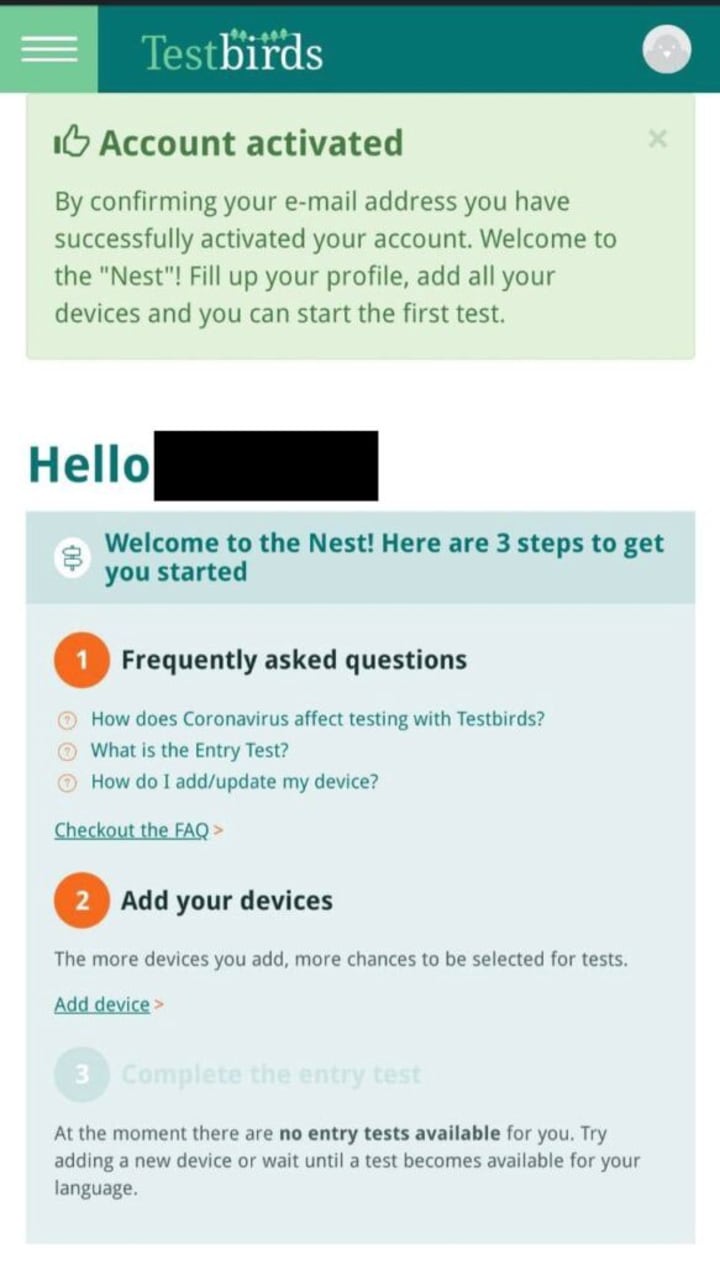 Here you get the option of adding the devices you own so you can get invited for tests.
Just remember the more devices you add, the higher the chances of you getting invited for tests. So take the time and fill in all the smart devices you own. It will really benefit you in the long run.
Once your devices are added, you get an invitation to an entry test which determines your skills.
However, they also pay you 5 euros for this entry test. So no matter if you get selected or not, you still end up with this pay.
How much Can I earn from Testbirds? (Earning Potential & Payments)
The pay that Test birds offer its testers is substantial for most people. The pay rate varies but usually averages about 15 to 20 euros per test.
The length of the test and the complexity changes, and that mainly determines the price you get for it. You can also build up your profile to gain experience points.
The more experience points you have, the better the pay rate you will get. You can also receive bonuses on top of this base pay depending on how critical of a bug you were able to find and the number of bugs you find.
If the bug you find is critical enough, there is a high chance that you will get a good bonus.
The only payment method they offer is through Paypal, which might not be available to everyone, but most can still take advantage of the opportunity.
There is no minimum payout and no payments dates; they process the payments immediately after they have verified your work.

You are invited to the tests, and you get a set time to complete each one. You only get paid when you are able to complete the test within the given time frame.
What type of work will I be doing on Testbirds?
The industries you work in can vary greatly. You can practically get any type of company that is looking for testers.
It helps if you have a certification for Bug Tester, as it helps you to complete their Advanced Profile.
It might help to unlock more testing opportunities for the user. However, there are three main categories the tests fall into:
Bug Test: This is the most common type of test where you will be required to search for technical errors in your work. Your pay will be based upon how many bugs you are able to find and how critical each bug is.
Usability test: This is a very simple type of test; you aren't meant to look for anything, all you have to do is use their product and give feedback in written form or as a rating so they can make improvements. Your pay isn't dependent on anything you get a fixed amount of money. While this method isn't the most lucrative, it is the safer route to go to for steady pay.
Bug ability test: This type of test offers the best of both worlds. You check the useability of the project and also keep an eye out for any bugs. So you get a fixed payment for the useability, and any bugs you find can get an added bonus added to that pay.
These aren't all there are other types of tests they offer such as video recordings, comparison studies, and much more. It all depends if you qualify for them.
Remember, Bug Bounty and Bug Hunting pertain to functional testing sites (like Test IO & uTest) while Usability Testing is different (like Usertesting)
How to get more test invitations in Testbirds?
The first way to get more tests is through experience points.
There are many ways you can get experience points on their platform. They offer one-time experience points as well as recurring points which are essential to get a high pay rate.
These experience points also show your credibility so the more points you have, the more likely you'll get tests.
Some basic points you can receive are through registering your device or completing your profile, but later you can also receive points for passing the bird quiz on your first attempt, or your test report getting accepted without any revisions, or a multitude of other achievements.
So try to rack up more points to qualify for more test cycles. The second way to get more tests is to add more devices. Try adding devices that other people in your house own, and you can borrow the device from them if you get an invite.
The amount of work you get on this platform varies greatly and depends on your devices and your location.
For some, they can get around 2 to 3 tests a week which can end up making a pretty solid income. However, others have also claimed that they get 1 test a month which can't be considered more than some extra cash on the side.
So it mainly depends on your luck, but the more tests you complete and experience points you rack up, the more your chances of getting invited to more tests. So it is kind of a self-fulfilling circle.
Overall, Test birds is a legitimate high-paying company, and you can get a relatively steady stream of income if you are living in countries like America or the UK.
For other countries around the world, you can still get a couple of tests a month which when converted from euros can end up being a considerable amount.
Finally, if you are interested in bug testing and similar jobs, I suggest you sign up for all the websites I have listed on the Crowdtesting Sites Megalist. You can earn a full-time income if you actively work on all those sites.
---
Hello, people of Vocal. I quit my full-time desk job in search for an adventure. I wanted to work whenever, however and whereever I felt like.
Now, I write about online earning websites and tips.
My ultimate goal is to have a digital nomad lifestyle, but right now my goal is to get to 100 subscribers on Vocal. Follow my journey on https://digitalbazaari.com
About the Creator
I quit my full-time job for an adventure. To live a digital nomad lifestyle by working and earning money online. Follow my journey at digitalbazaari.com
Reader insights
Be the first to share your insights about this piece.
Add your insights