Samsung Z flip
The review months after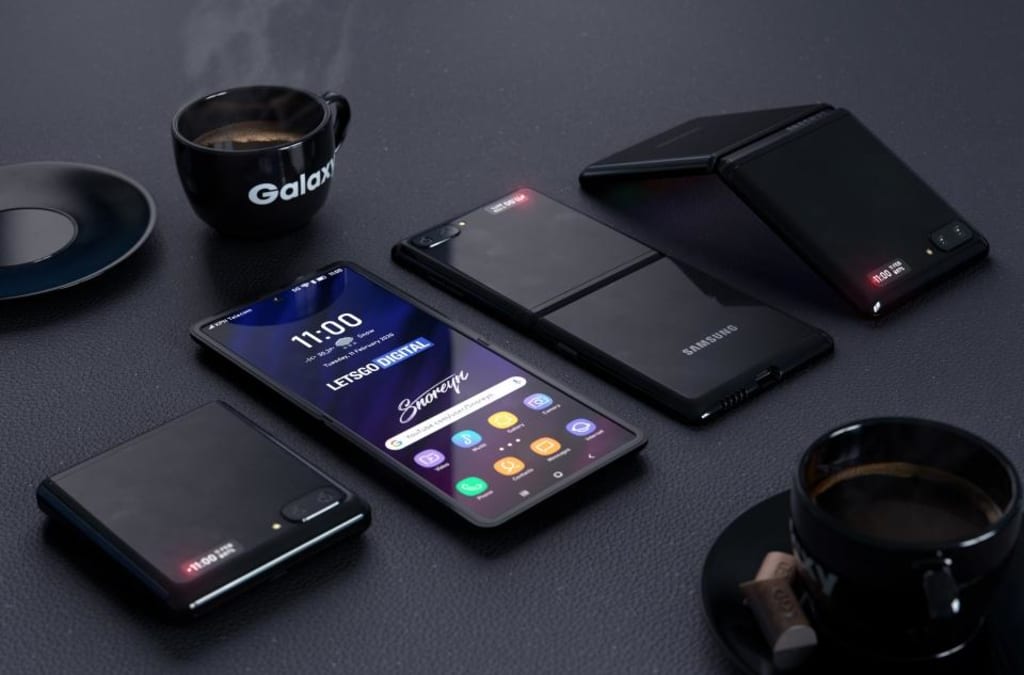 There was a time where phones were fun. There was a time when phone manufacturers were putting out devices that pushed what a phone actually is. While a significant number of these phones were… questionable at best, there were a lot of fun phones out there that not only showed great (all be it not fully thought out)ideas, but also displayed imagination and personality.
My last great phone was the Motorola Flip-out.
This was a small phone. Square screen that rotated - or flipped out, to reveal a qwerty keyboard underneath.
This phone was fun. Sure typing on the touch screen wasn't great but that's what the keyboard was for. The shape of the screen wasn't perfect for watching videos and mine did develop a fault where it would turn off when you flipped it open- a problem that made the phone almost useless as a phone as you needed to flip it open to answer phone calls. It's specs were nothing special- honestly it was at least a year behind the flagships of the time.
But it was still a phone that I loved.
And that was the last phone that I really loved.
Enter 2020 and Samsung released, 'The Galaxy Z Flip.'
Foldable phones have had my interest for a while now. I miss the days where phones could be wacky and really showed imagination.
So any time we get to see something like that again, I am all in.
I have the Samsung Z flip and it has been my phone since the end of March. It is not my 'main' phone- it is my only phone.
I chose a black covering for a simple reason that the phone is so reflective, the purple case seemed to show smudges and dirt far too easily- and this thing really does pick up the dirt.
I have been using skins for it for a while and personally I would recommend D-Brand. The skins are thin enough for me to be able to use the complimentary Samsung case that came with the phone.
The front elegantly shows of a small viewing widow. I measure it at just over 2cm wide so don't get carried away with ideas of magnificent things.
Sure the display is really clear, but something so small has significant downfalls over it's competitor - The Motorola Razor.
You can see notifications- and by that I mean you can see up to 4 notification app icons. While these are really well displayed, the screen simply isn't big enough to show you much detail. With even short messages it simply isn't worth trying to read the notifications from the small screen.
As an additional down full, if you have more that 4 notifications at anyone time you will only see 3 icons and a small '+' symbol.
Motorola defiantly won this round.
But of course that's not all this screen can do. Simply turning it on will show you the date and time.
Swipe left will give notifications.
For a while this was all there was so I was very happy when an update came out allowing me to swipe right for music or audible options- if I was using an app.
This was a big draw back for me in the early days while I was walking to work. I'd want to listen to audio-books or maybe music (RIP Google Play), but to pause, skip ahead or back I'd need to open my phone- and in the rain… I'd rather not.
So the update was a big win- but as far as the front 'screen' goes, I would certainly prefer the Motorola and would very likely sacrifice some of this great battery life for a bigger screen.
Now I could go into all the specs but to be perfectly honest, I don't think they are that important.
You see I've been saying for a while now that, 'todays average phone is an amazing phone by last years standards.'
And while that might not exactly line up, the point is that a good phone is just that- a good phone. Most people don't really care what the difference is between Snapdragon and Jellybean. What really matters is, 'does the phone work?' and 'How does it work?'
I am very pleased to say, yes this phone works and it works well. The user interface is very well done. Of course there is a crease in the phone. Though I have to say, if the screen is bright it's not that easy to see. At certain angles - depending on the screen brightness, the folding line is very easy to spot, but to the person using the phone, it's not that easy to see when you are using the phone.
Speaking of that folding line, I do need to talk about the hinge Samsung has gone for.
There is a very simple reason why I am using the Z flip and not Motorola's Razor.
In the UK, the razor is only available on EE. For the area I live in this means I'd only be able to use the phone in my home town when I am connected to WIFI - yes the coverage really is that bad.
While I did originally want to have that 'snap flip' experience that I have missed so much these last few years, Samsung's hinge has won me over.
In the past when I have used my phone for a video chat I have had to put it in a dock or lean it against something awkwardly. With Samsung's hinge design I don't give it a second thought.
Being able to open the phone half way and then set it down has become something that I appreciate so much. Weather I am on a business call and need hands free to take notes, or on the phone to family giving cooking lessons.
And even while relaxing with some stress-relieving gaming, it's nice to be able to have the phone half open while I watch Youtube. Going forward if I go to a phone without this function, I am really going to miss it.
So is it worth buying? Well, this isn't a flagship phone. There are simply better phones out there- and they ask for a lot less cash. So if specs are important to you, then no. This phone will not satisfy your needs.
If however you want a smart phone that works really well and puts style above features (like me) then yes. I use my phone all the time and I love it.
It is a fun phone that does everything my previous phone did (the Samsung Galaxy S8).
Yes I wish the front screen was more like the Motorola and I wish there was a standard headphone jack- but this is a phone that I love to use. A phone that shows a little bit of crazy and beauty that honestly I don't think smart phones have had for years now.
If you are like me, then you will love this phone.
But the really amazing part of all of this, I have just review a smart phone that flips shut; and I have not made one 'Flip' pun.
And that is flipping amazing.
Reader insights
Be the first to share your insights about this piece.
Add your insights