Samsung Might Be Developing AR Glasses.
Samsung's "XR project" was announced to be developed by Samsung, Qualcomm, and Google.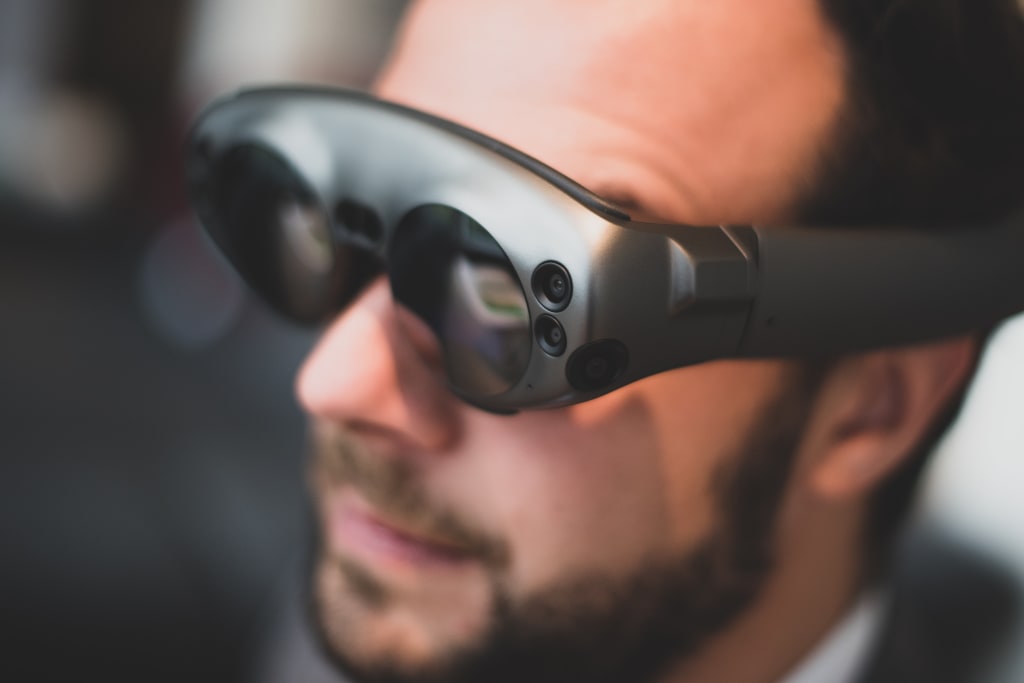 Photo by Bram Van Oost on Unsplash
Last month's Galaxy Unpacked event proved to be a feast for Samsung enthusiasts. The event showcased new products, including the Samsung Galaxy S23 Ultra and the Samsung Galaxy Book 3 laptop range.
However, the show's highlight was the announcement of a new XR project being developed by Samsung, Qualcomm, and Google.
While the project was not fully revealed at the event, a recent trademark filing for Samsung Galaxy Glasses has given us a hint of what to expect. The device is expected to resemble the Xiaomi Wireless AR Glass Discovery Edition and other AR technologies showcased at the MWC 2023 event.
Tech tipster, The Galox has hinted that we may glimpse the Samsung Galaxy Glasses sooner than expected. According to The Galox,
In August, Samsung is set to launch a range of new devices, including new phones, tablets, and an update to the Samsung Galaxy Watch line.
The Galox has also teased that there may be a few surprises, followed by a sunglasses emoji, indicating the possible unveiling of the Samsung Galaxy Glasses.
While it is likely that the device will be a work-in-progress version, it is still a significant update that could pave the way for the next generation of consumer technology at Samsung.
With the name only recently trademarked and the partnership with Qualcomm and Google announced earlier this year, it is unlikely that a commercial variant of the Samsung Galaxy Glasses would be ready so soon.
The Samsung Galaxy Glasses are expected to be an augmented reality device allowing users to experience digital content in the real world.
Like other AR technologies, the device will likely use sensors and cameras to track the user's surroundings and overlay digital content. This could include anything from virtual objects to interactive games and applications.
The development of the Samsung Galaxy Glasses marks Samsung's continued push into the world of augmented and virtual reality. The company has invested heavily in this space, with previous releases such as the Samsung Gear VR and the Samsung Odyssey VR headset.
The introduction of the Samsung Galaxy Glasses could also have significant implications for the broader technology industry.
Augmented and virtual reality are expected to be major growth areas in the coming years, with predictions that the market could be worth over $160 billion by 2023.
The Samsung Galaxy Glasses could also provide a new avenue for Samsung to compete with other tech giants such as Apple, Google, and Microsoft.
While Samsung has traditionally been known for its smartphones and other consumer electronics, the company has made significant strides in other areas, such as wearables and smart home devices.
Final Words
The rumored launch of the Samsung Galaxy Glasses in August is an exciting development for Samsung and the broader technology industry.
While it is unclear precisely what the device will look like or its features, it is clear that Samsung is continuing to push the boundaries of consumer technology.
With the company's history of innovation and its partnerships with Qualcomm and Google, the Samsung Galaxy Glasses could be a significant step forward in the world of augmented reality.
If you enjoy my posts and would like to stay updated on the latest gaming-related news, technology advancements, design trends, and social media insights, I invite you to follow my profile.
I will continue to share my thoughts and insights on a wide range of topics in the world of entertainment and technology.
With that being said, thank you for reading my post, and have a good one.
The original version of this story was published on another platform.
About the Author
I write articles in my field covering gaming, filmmaking, media, technology, and design. You can subscribe to my account to get notifications when I post on Medium and Vocal Media. I support Illumination Integrated Publications as an editor and moderate the Slack Workspace, where you can share your Vocal Stories with thousands of members free of charge. I own and manage two publications, one for gaming and one for YouTube. You may join via my referral link if you are new to Medium. You can also join Vocal Media to share your inspiring stories. I look forward to reading your posts on both platforms.
About the Creator
I specialise in Media, Design, and Filmmaking. I support Illumination Integrated Publications on Medium as an editor and YouTube coordinator. https://www.youtube.com/watch?v=F9DhuGQYbpI& I also own two publications for Gaming and Podcasts.
Reader insights
Be the first to share your insights about this piece.
Add your insights