Munch Your Favorite Meals With The Rising Use Of Food Delivery Apps
Order hot delicious meals in a few taps!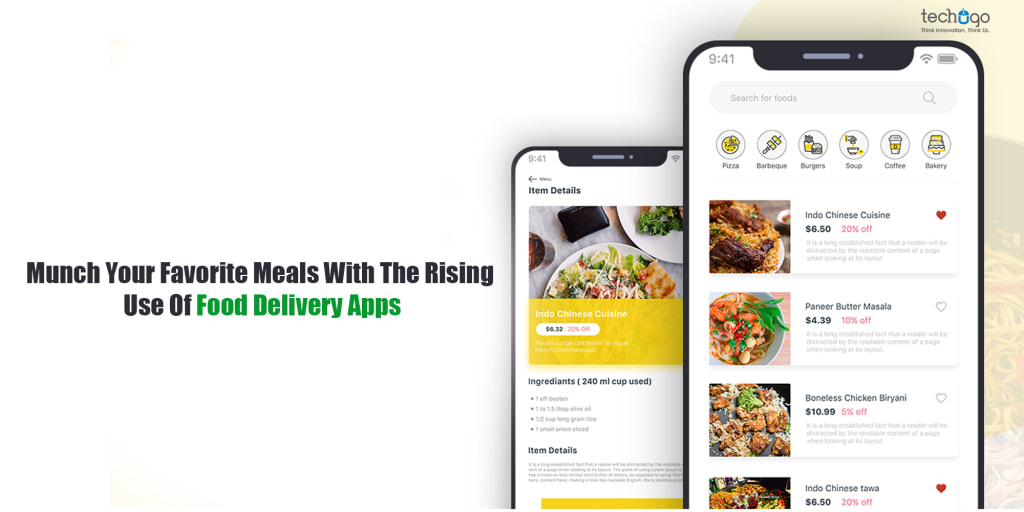 Are you craving something special to eat and want to get it ordered?
Do you want to try out a new recipe at home but don't have all the ingredients available?
STOP PANICKING!
After all, mobile apps are built to relieve you from all the stress by bringing the items of your need to your doorstep.
How? Keep reading!
The 2020 pandemic played a massive role in providing you with all the convenience, that too just a few taps away. Many businesses recognized the bubbling opportunities and turned them into services that would favor them. For instance, the outdoor movement got entirely refrained, after which grocery and food delivery apps gained a lot of emphases.
One of the recent examples is a Europe-based startup, Rohlik, a Czech grocery delivery app.
Rohlik Food Delivery App: A Silver Lining
Rohlik recently secured funding of €100 million, the round led by Index Ventures, which invested in Series B funding.
The startup aims to expand its horizons to other European countries, including Germany, France, and Spain, with the amount secured.
Notably, there was a rise in the use of grocery and food delivery apps by 21% in the year 2020. As the demand is moving higher, more and more companies are adopting such services to reap higher returns.
Are you hooked up with the food industry? Though we've dropped numerous hints about how the digital approach is benefitting business, if you still haven't picked it up, here we'll say it again- DEVELOP A DEDICATED FOOD DELIVERY MOBILE APP.
If you don't know how or where to get started, do not worry, as it is precisely what this article is going to talk about.
So, are you all set?
Advantages of Food Delivery App Development
Here are a few top-notch food delivery app development advantages for your business.
Take a look!
1. An Improved Customer Experience
What would be better: visiting a restaurant and waiting for your food to get packed or getting it delivered to your doorstep? Of course, the customers will opt for the latter option, which will offer them higher convenience.
Sure, building such an app that handles the overall mechanism, from order placement to delivery can be a complicated project. However, it is not impossible to execute.
Additionally, these apps offer customizations, which is why it has become a top priority for the customers while ordering food.
2. Enhanced Brand Visibility
Restaurants that were initially popular only in a specific area have now gained recognition; the credit goes to the food delivery app system.
Users can't visit a restaurant because it's too far? No worries, the restaurant can come down to the customer with its delicious meals.
3. Online payments
Imagine a customer keeps the delivery guy waiting just because they couldn't find their wallet?
This is exactly why you need to integrate an online payments feature. Not only this, but it is the digital era, and nobody likes taking around cash. Therefore, it'll be a great option for the customers to pay for the food within the app using their phones.
4. Digital Menu Card
At home, users can take as much time as they want to decide what they want to eat for dinner. A digital menu card offers a hassle-free experience, and it takes only a few clicks to order delicious meals. Therefore, it draws more attention from the customers.
Cost of Developing a Food Delivery Mobile App
While reading this article, you might have a fear of investment in mind. Well, to be straightforward, there's no universal figure as to how much it will cost to develop a food delivery app. In fact, there are numerous factors that influence the overall figure. Thus, some of these factors are as mentioned below:
Choice of platform
Tech stack
Number of features integrated
Complexity of the project
UI/UX design
Developer's cost
AND MORE!
In a Nutshell
Who isn't a foodie? Everyone likes tasting new dishes and trying out new cuisines. Therefore, food delivery apps have now bridged the gap between customers and new restaurants.
So, are you now convinced to turn this idea into an entrepreneurship opportunity?
If yes, a mobile app development company in Germany should be your next stop!
Don't wait up! Schedule your first consultation today and get additional insights on your idea.
Keep innovating!
apps
Ankit Singh is a seasoned entrepreneur, who has crafted a niche for himself at such a young age. He is the COO and Founder of Techugo.