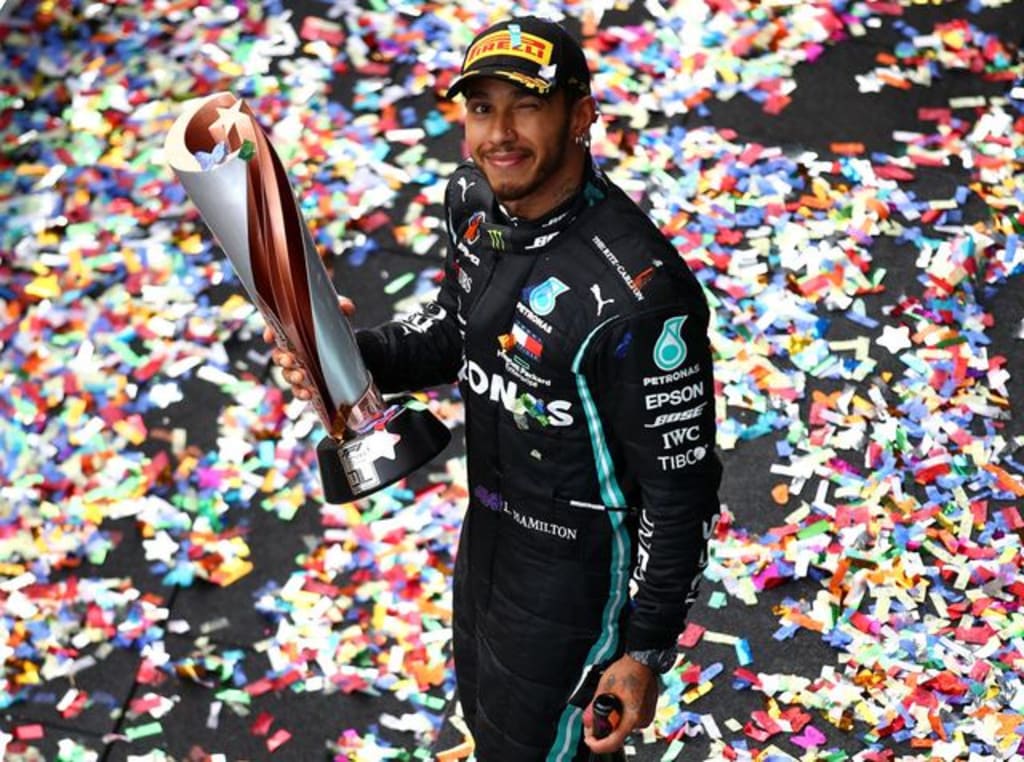 Lewis Hamilton
Lewis Hamilton is a British Formula One racing driver, widely regarded as one of the greatest drivers in the sport's history. Born on January 7, 1985, in Stevenage, England, Hamilton was introduced to racing at an early age by his father, Anthony Hamilton. He started karting at the age of six and quickly showed a natural talent for the sport.
Hamilton's racing career began in earnest in 1998 when he moved up to the British Formula Renault Winter Series. He won the championship in his first year and then moved up to the full championship the following year, where he finished third overall. In 2002, Hamilton joined the British Formula Three Championship and won the championship in his second year.
In 2007, Hamilton made his Formula One debut for the McLaren team, becoming the first black driver in the history of the sport. He finished his debut season as runner-up to Kimi Räikkönen, narrowly missing out on the championship. Hamilton's talent and charisma quickly made him a fan favorite, and he soon became one of the most popular drivers in the sport.
Hamilton's breakthrough year came in 2008 when he won his first Formula One championship in a dramatic season finale in Brazil. He started the race in fourth place but overtook Timo Glock on the final lap to secure the championship by a single point. The victory made Hamilton the youngest ever Formula One world champion at the age of 23.
Hamilton's success continued in the years that followed, with further championships in 2014, 2015, 2017, 2018, 2019, and 2020. He is tied with Michael Schumacher for the most championships won in Formula One history. Hamilton's success has been built on a combination of raw talent, hard work, and a relentless drive to improve. He is known for his intense focus, meticulous preparation, and incredible work ethic, which have helped him to stay at the top of his game for over a decade.
In addition to his success on the track, Hamilton has also been a vocal advocate for social justice and equality. He has used his platform as one of the most high-profile sportspeople in the world to speak out on issues such as racial inequality, environmentalism, and animal rights. Hamilton has been particularly outspoken on issues affecting the black community, using his position to call for greater representation and opportunity in all areas of society.
Hamilton's success and activism have made him a role model for millions of people around the world. He has been recognized with numerous awards and honors, including a knighthood from the British government in 2021. Hamilton's achievements are a testament to the power of hard work, talent, and determination, and he continues to inspire people from all walks of life to pursue their dreams and make a positive difference in the world.
One of the key factors behind Hamilton's success has been his ability to adapt to changing circumstances. Over the course of his career, Hamilton has raced with different teams, different cars, and different regulations, but he has always found a way to stay at the top of his game. He has an incredible ability to read a race and make split-second decisions that can be the difference between victory and defeat.
Hamilton's mental toughness and resilience have also been critical to his success. He has faced numerous setbacks and challenges over the course of his career, including mechanical failures, crashes, and intense competition from his rivals. However, he has always bounced back from these setbacks with renewed determination and focus. Hamilton is known for his ability to stay calm under pressure, even in the most challenging of circumstances.
Despite his success, Hamilton has remained humble and grounded throughout his career. He is known for his respect for his rivals and his willingness to learn
Reader insights
Be the first to share your insights about this piece.
Add your insights